Cheltenham Racecourse Guide
The track at Cheltenham is unique in that it has an 'old course' and a 'new course'. The old course is used for the Showcase and November Meeting + the first two days of The Cheltenham Festival.
Many of our Cheltenham tips today will include an understanding as to whether the horse will perform on the unique course. Some horses can have amazing form but just don't like the characteristics of the horse at Cheltenham.
Horses for Courses is a term that is more significant at Cheltenham than perhaps any other course. Many horses become course specialists and win many times at Cheltenham, some coming back to the festival each year to win or run well in top-class races. So a major Cheltenham tip is to look at horses with proven course form.
The New Course is used for The International Meeting, New Year's Day which includes the New Year's Day Premier Handicap Chase, Festival Trials Day, the 3rd and 4th days of The Cheltenham Festival and the late-season April and May meetings which feature the Silver Trophy Chase.
The 'old' course is said to ride faster, meaning strong-travelling, prominent running types are favoured over hold-up horses or those who take some kidding along.
Type of Racing: National Hunt Only
Highlights: The Cheltenham Festival (March) and 'The November Meeting'.
TV Channel: Racing TV.
Check out our Best Bookmaker For Live Streaming Guide for alternative live viewing options for watching your Cheltenham best bets.
If you are off to Cheltenham races today then why not download the OLBG app to get all the latest Cheltenham tips at the course?
* All statistics below are based on the previous five years at Cheltenham
Cheltenham Outright Favourite Statistics
Handicap Chases: 24-103 (23%) -9.67
Handicap Hurdles: 21-88 (24%) +0.08
Non-Handicap Chases: 50-119 (42%) +4.19
Non-Handicap Hurdles: 43-114 (38%) -19.42
Cheltenham Racecourse Map
Course: ('Old' and 'New') Left-handed, undulating, galloping with an uphill finish.
The make-up of each is broadly similar in that they are vast, galloping, undulating and left-handed. The last half mile is taken uphill placing emphasis on stamina and, whilst the fences are more forgiving these days, the fourth and third last taken on the side of the course before the turn for home, still catch plenty out.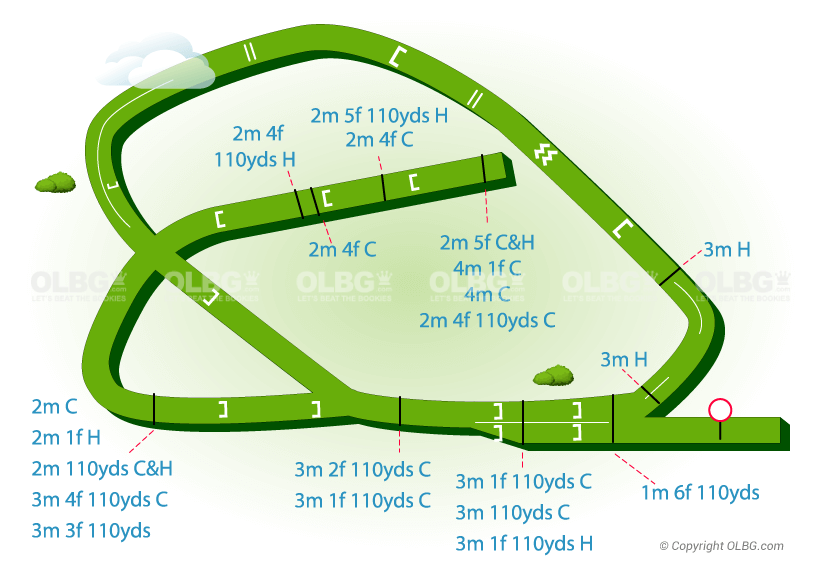 Tips From The Racecourse for Cheltenham
Racing has taken place at Prestbury Park since 1831. Now considered the home of National Hunt racing, the Gold Cup was first run as a National Hunt race in 1924. Its iconic modern status wasn't always as such – the County Hurdle and the National Hunt Chase were the 'big' races in the early days.
'All roads lead to Cheltenham' is the recognised trend nowadays and whereas the Grand National may still be regarded as the most significant one-off race, the Cheltenham Festival is the target and the climax of the present-day jumps calendar.
Along the way, other significant meetings take place in October and conclude in May with a Hunter Chase evening. After the Cheltenham Festival in March, the November meeting featuring The Paddy Gold Cup (formerly the Mackeson) is the next best in terms of importance and participation and then the December Gold Cup.
In recent seasons, the number of Irish-trained Cheltenham winners from the Willie Mullins and Gordon Elliott yards has increased hugely. There is also a large number of UK trainers based in or nearby Cheltenham, including Nigel Twiston-Davies, Jonjo O'Neill, Fergal O'Brien and Tom George who are always to be respected. Nigel Twiston-Davies tends to have winners at the October and November meetings, but generally finds winners harder to come by as the season draws on.
As you'd expect, the facilities at Cheltenham are extensive. Viewing the action and the paddock can be challenging at the Festival, although at other meetings it's excellent. Accommodation and travel arrangements should be planned as far in advance as possible as the town and surrounding routes can get extremely busy. Any challenges aside, the racecourse itself is a must-see, positioned as it is with the beautiful and iconic backdrop of Cleeve Hill. They don't come much better than the modern-day Cheltenham, whichever way you look at it and the anticipation, buzz and roar from the spectators as the tapes go up for the first race of the Festival meeting is an experience to savour.
How to Bet at Cheltenham
Finding winners at Cheltenham is no easy task but you will be helped by the Cheltenham tips today or whenever there is a meeting scheduled at the track. The best horses, trainers and jockeys always feature. Consequently, races at all meetings are seldom uncompetitive or lacking in class and depth. To make the challenge slightly easier here are a few general considerations.
Course and distance winners are positive at any meeting, on any given day. At Cheltenham, this is more so and any horse that has proven capable of negotiating the undulations and defying the 'Cheltenham Hill' should be kept on the short-list. Look for the letters 'CD' next to a runner on the race card.
2018 was rare in that the Festival was run on bog-heavy ground. This was an exception to the norm and typically 'Good' ground features in the going description. If this is the case, look for form in the book on the quicker ground, it is not uncommon for horses to have been running under par on winter ground only to come into their own in springtime. Whilst not impossible, it can be difficult for hold-up horses that do not 'travel' well on the bridle to land a blow at Cheltenham, especially at the Festival where races are usually run at a relentless pace with large field sizes.
Certainly, any horse that travels on and off the bridle, or has a history of unwillingness is probably not going to have the heart or the luck in running required to feature at the finish. Horses that can jump and travel fluently in strongly run races with plenty of stamina reserves and the ability to see out the race distance up the Cheltenham hill have the key attributes for Prestbury Park. Be cautious of horses with a history of falls and be careful of Novice Chase events where a lack of experience can prove costly, regardless of class or form over hurdles.
You can view the latest betting odds for each horse in every race at Cheltenham along with comments from OLBG tipsters. You may soon find one particular tipster you like and want to follow!
You'll notice the number of tips made on each horse, also expressed in % terms and the number of tips made with comments for each one. Our star rating is extremely useful in that it combines the popularity (i.e. how many tips were made) and the latest betting odds.
Once you have chosen your bets, be sure to check out the latest betting offers as betting websites will often have generous Cheltenham offers to encourage people to open a new account in the run-up to or during the Cheltenham festival.
Cheltenham Jockey and Trainer Statistics (All Meetings)
Who are the best national hunt jockeys and trainers to bet on at Cheltenham?
N J Henderson is the leading trainer here at Cheltenham with forty-one winners but you would have recorded a loss if you backed all of their runners whilst following Gordon Elliott would have returned the most winners (thirty) from a profitable trainer. When looking at trainers and looking for some eachway value at Cheltenham then the trainer who shows the best eachway profit is R J Bandey, that LSP is +31.02 which has been accumulated by a total of six placings which includes two winners. The trainer with the worst record at Cheltenham based on LSP is P F Nicholls who has only a 9% strike rate with twenty-one winners from two hundred forty-one runners which have returned an LSP of -114.76.
Backing all of the Harry Skelton rides would have produced backing the most winners for a jockey here at Cheltenham with twenty but you would have returned a loss by doing so, Nico Boinville leads the way for profitable jockey with an LSP of +23.89 from their twenty winners. Adam Wedge is the jockey to follow at Cheltenham if you are backing eachway as they show the best LSP of all the jockeys in the eachway markets, that is +22.20 which is courtesy of their thirteen placings (five winners). A total of eighteen winners from two hundred fourteen rides at Cheltenham has Sam Twiston-Davies at the wrong end of the jockeys' list with their 8% strike rate and worst LSP of -93.84.
Cheltenham Top Jockey and Trainer Combinations
Here are the best trainer and jockey combinations here at Cheltenham based on the number of winners:
19 Wins: Daniel Skelton & Harry Skelton
19 Wins: N J Henderson & Nico Boinville
17 Wins: W P Mullins & P Townend
13 Wins: N A Twiston-Davies & Sam Twiston-Davies
13 Wins: Fergal O'Brien & P J Brennan
Cheltenham Top Trainers By Most Winners and a Level Stakes Profit
| Trainer | R-W-P | Win | EW |
| --- | --- | --- | --- |
| Gordon Elliott | 230-30-81 | +9.14 | -43.01 |
| Henry De Bromhead | 119-18-32 | +24.78 | -20.94 |
| John C McConnell | 41-9-14 | +26.88 | +9.53 |
| Nick Williams | 38-6-11 | +3.50 | -5.60 |
| Miss Kerry Lee | 35-5-13 | +3.00 | -4.46 |
| M J Scudamore | 33-5-7 | +23.25 | +13.30 |
| M F Harris | 26-5-8 | +16.50 | +6.36 |
| Gavin Patrick Cromwell | 25-5-9 | +34.00 | +16.25 |
| Jamie Snowden | 40-4-11 | +1.00 | -7.65 |
| C Gordon | 32-4-11 | +9.00 | +0.32 |
Cheltenham Top Jockeys By Most Winners and a Level Stakes Profit
| Jockey | R-W-P | Win | EW |
| --- | --- | --- | --- |
| Nico Boinville | 145-20-45 | +23.89 | -12.49 |
| Rachael Blackmore | 79-14-23 | +16.66 | -11.67 |
| J W Kennedy | 65-10-25 | +21.56 | +1.37 |
| Charlie Deutsch | 72-8-24 | +3.00 | -2.45 |
| M P Walsh | 65-8-19 | +22.75 | -5.48 |
| Richard Patrick | 42-8-17 | +16.25 | +3.88 |
| Adam Wedge | 69-5-13 | +42.00 | +22.20 |
| D E Mullins | 52-4-15 | +5.00 | +0.60 |
| Gina Andrews | 23-4-8 | +5.25 | +1.83 |
| Liam Harrison | 19-4-8 | +12.83 | +4.53 |
Cheltenham Festival Trainer Statistics
Willie Mullins is well out in front when it comes to the number of winners at the Cheltenham Festival in the last ten years with sixty-five winners which ranks him as the best Cheltenham festival trainer.
Willie Mullins has over thirty more winners than the next best has and that is his Irish counterpart Gordon Elliott (34). The best of the Brits is Nicky Henderson with 23 winners.
At the other end of the spectrum, Charlie Longsdon has had 47 runners without recording a single winner and only two placed runners.
Others who have failed to record a win in the last ten years are Fergal O'Brien (45) and Donald McCain (34).
Gordon Elliott has an excellent win LSP and his place statistics are good too with 34% of his runners placing for an eachway LSP of +52.69.
Best Cheltenham Festival Trainers over the past ten festivals:
| Trainer | R-W-P | Win | EW |
| --- | --- | --- | --- |
| W P Mullins | 568-65-178 | -135.50 | -131.20 |
| Gordon Elliott | 305-34-104 | +67.40 | +52.69 |
| Nicky Henderson | 305-23-83 | -132.17 | -90.11 |
| Henry De Bromhead | 166-18-41 | +7.03 | -23.16 |
| Paul Nicholls | 230-15-43 | -28.50 | -52.48 |
| David Pipe | 100-7-18 | -11.50 | -21.81 |
| Dan Skelton | 116-6-23 | -5.00 | -12.13 |
| Jonjo ONeill | 96-5-14 | -44.50 | -45.34 |
| Philip Hobbs | 115-4-18 | -97.00 | -69.56 |
| Mrs John Harrington | 48-4-9 | -2.00 | -10.74 |
Cheltenham Festival Jockey Statistics
In terms of the best Cheltenham festival jockey, both Paul Townend and Davy Russell have notched up forty-two winners between them over the past ten years and both show healthy profits too.
Townend is the only jockey who has passed the twenty mark with twenty-seven winners whilst Davy Russell has fifteen winners.
Nico de Boinville (16), Rachael Blackmore (14) and Jack Kennedy (10) are the only other jockeys in double figures, back those top five jockeys over the last ten festivals would have returned a combined LSP of +143.38!
Those who have not fared well and have not ridden a winner in the last ten years are Paddy Brennan (54) & Sean Bowen (38).
Best Cheltenham Festival Jockey by Wins over the last ten festivals:
| Jockey | R-W-P | Win | EW |
| --- | --- | --- | --- |
| Paul Townend | 158-27-65 | +28.76 | +4.33 |
| Nico de Boinville | 100-16-31 | +35.16 | +11.79 |
| Davy Russell | 122-15-47 | +26.07 | +20.27 |
| Rachael Blackmore | 87-14-23 | +12.66 | -13.77 |
| Jack Kennedy | 70-10-27 | +40.73 | +28.07 |
| Mark Walsh | 93-8-23 | +25.75 | -1.36 |
| Mr J J Codd | 36-8-18 | +32.50 | +19.05 |
| Sam Twiston-Davies | 134-6-16 | -67.00 | -69.59 |
| B J Cooper | 91-6-26 | -35.62 | -26.23 |
| Harry Skelton | 86-5-18 | -36.00 | -30.76 |
Cheltenham Festival Pointers
In this section, we have added some valuable trends and pointers from previous Cheltenham Festivals.
These Cheltenham Festival pointers below will hopefully help narrow down your selection process and shortlist for your Cheltenham best bets...
For runners coming to the festival having previously won at the festival, the 7yo runners are the standout with a strike rate of 29% since 2013. In 2018 Buveur D'Air, Presenting Percy and Penhill were all successful with only Road to Respect and Ibis Du Rheu unsuccessful. In 2017 Yorkhill, Tiger Roll and Altior were all winners, however, they then went for a combined 0-12 in 2019 & 2020. In 2021 they were back with a bang producing four winners in Shishkin, Honeysuckle, Monkfish & Put The Kettle On, then in 2022 Sir Gerhard, Bob Olinger and Flooring Porter all went on to success and then last year Galopin Des Champs won the Gold Cup.
Last time out fallers do not have a great record with only 8 winners spanning over 186 races since 2003. In both 2018 (0-10) and 2019 (0-13), they drew a blank, however, in 2020 they did provide two winners in Ravenhill and Champ and then in 2021 Mrs Milner was successful but eight others lost, in 2022 it was another blank from 7 runners and then same again in 2023 with five blanks.
Since 2003, 76% of the races (418 from 548) have been won by a runner who had won within its last three starts in the UK/IRE.
Don't write off female jockeys, they continue to produce some top-class wins. Between 2011 and 2014 they were 0-57 at the festival. However, the number of wins has been steadily improving, 2015 (1), 2016 (2), 2017 (3), 2018 (4), 2019 (4) & 2020 (2) and then in 2021 they had their best festival with 6 winners and with the like of Bryony Frost and Rachael Blackmore they are proving their worth and in 2022 Blackmore became the first female jockey to win the Gold Cup at a festival the females picked up another 4 winners followed by another 3 wins in 2023.
Avoid old boys! When considering the age of the horse compared to the youngest in the race, those who are 5+ years older have an awful record. Just 13 winners since 2003 covering 244 races, in 2017 they were 0-26, 2018 they were 0-29 and although hitting a winner in 2019 that was from 28 runners and then again in 2020 they drew a blank from 30 runners and in 2021 they failed to produce a winner from 19 runners, they did have a couple in 2022 with Global Citizen & Coole Cody but there were also 12 other losers and then Sire Du Berlais is the Stayers in 2023 gave them another success, however, there were also 28 others who failed to win.
If you are planning on having a bet in any of the handicaps then be sure to first read our Cheltenham festival handicap pointers blog.
**Statistics in this section were all sourced from HorseRaceBase and were correct prior to the 2024 Cheltenham Festival.
If you are looking for individual race trends, past winners etc then we have pages set up for each race which you can find in the Cheltenham Festival blogs section.
Cheltenham NRNB Bookies for 2024
Ahead of the 2024 Cheltenham Festival, punters will be looking for the best option for using the Cheltenham tip and placing their ante-post bets with minimal risks because let's face it a lot of the current entries won't make it to their races.
This is where the Cheltenham NRNB comes into play, it stands for 'Non-Runner No Bet' and simply means if that runner does not start in the race selected then your stake is refunded, unlike the normal ante-post markets where you would lose your stake.
You may also see Cheltenham NRMB which is basically the same thing but put across in a different way, this stands for 'Non-Runner Money Back'.
| Bookmaker | NRNB or NRMB for Cheltenham 2024? |
| --- | --- |
| bet365 | None |
| 888Sport | None |
| Betfair | None |
| Betfred | None |
| BetVictor | None |
| Betway | None |
| Ladbrokes | None |
| Paddy Power | None |
| Unibet | None |
| William Hill | None |
**NRNB/NRMB information sourced from each bookmaker's website and correct as of 19/03/2023.
Cheltenham Tips 2024 - AntePost
One of the main questions for the 2024 Cheltenham Festival will be what will Constitution Hill be aimed at? The 2023 Champion Hurdle winner has done nothing but impress, will the yard keep him hurdling or will he go chasing?
Galopin Des Champs will only be eight at the next festival so he is likely to return for another shot at the Gold Cup after his success in 2023, will we see him repeat what the yard has already achieved and won back-to-back Gold Cups as they did with Al Boum Photo (2019-20)?
Cheltenham Gold Cup

08 Dec @ 02:50 - AntePost

Galopin Des Champs

4.00

Gerri Colombe

5.00

Fastorslow

6.00

Shishkin

17.00

Lhomme Presse

17.00

Bravemansgame

17.00

Gentlemansgame

26.00

Jonbon

34.00

I Am Maximus

34.00

Noble Yeats

34.00
Cheltenham Festival Tuesday Schedule - Champion Day
Cheltenham Festival races for Tuesday 12th March 2024
The feature on the opening day, otherwise known as 'Champion Day' is the Grade 1, two-mile Champion Hurdle, a race dominated by the Irish raider of late with three of the last five winners going to an Irish runner.
Have a look at our racing tipsters Cheltenham predictions for the Albert Bartlett Novices Hurdle. Next up is the Cheltenham Gold Cup, head over to find trends and tips.
Cheltenham Festival Wednesday Schedule - Ladies Day
Cheltenham Festival races for Wednesday 13th March 2024
Wednesday is Ladies' Day and whilst one eye will be on the fashion, the other eye will very much be on the feature race, the Queen Mother Champion Chase, a race that Nicky Henderson & Paul Nicholls have won twelve times between them.
Cheltenham Festival Thursday Schedule - St Patrick's Day
Cheltenham Festival races for Thursday 14th March 2024
The Irish will be in town on Thursday for St Patrick's Day, they had success in five of the seven races in 2023 including the Ryanair Chase, a race they have now won seven of the last eight renewals.
Cheltenham Festival Friday Schedule - Gold Cup Day
Cheltenham Festival races for Friday 15th March 2024
Friday is Gold Cup Day, the race that all racing fans have been anticipating to see which chaser will be crowned the best, the last twenty renewals are now split 10-10 between TeamGB & the Irish in this race, however, the Irish are starting to dominate and have now won the last five renewals.
Cheltenham - November Meeting Trends & Pointers
The Open at Cheltenham is a three-day festival which takes place in November, starting on Friday it runs through to Sunday.
The main race on Friday is the Hyde Novices' Hurdle which is currently sponsored and known as the Ballymore Novices' Hurdle.
Saturday which is known as 'Gold Cup Day' features the Grade 3 Paddy Power Gold Cup and a couple of Grade 2 trial races in the Triumph Hurdle Trial and the Arkle Trial.
'Open Sunday' as it's known features the Grade 2 Supreme Trial, the Grade 2 Shloer Chase, the Grade 3 Greatwood Hurdle and a decent Premier Handicap Chase.
The leading trainers at the open since 2003 are Paul Nicholls (43), Philip Hobbs (30), David Pipe (25) and Nicky Henderson (21).
The top jockeys are Paddy Brennan (18), Tom Scudamore (15) and Sam Twiston-Davies (12).
Outright favourites have a 32% strike rate, in Novice Chases they have a 48% strike rate and in Handicap Novice Hurdles they have a 47% strike rate.
The NHF races do not have a great record for favourites with 19% while runners within the first three odds positions of the market have a 65% strike rate.
Runners who ran at the Cheltenham three-day meeting in October last time out have produced 56 winners at this meeting, those who won at that meeting and then came here have a 21% strike rate.
Finally, on the whole, last time out winners have won 44% of the races which featured one since 2003.
Cheltenham - The International Meeting
The International meeting takes place during December at Cheltenham, this is a two-day meeting that takes place on Friday and Saturday.
It's a feel-good meeting to get punters in the mood for Christmas with the course hosting Christmas carols throughout the day as well as some top-notch racing!
The feature on Friday is the Racing TV Handicap Chase which is contested over 3m2f, the Premier Handicap is a Grade 3 and normally attracts a big field. In addition, the Cross Country Chase which is part of the Crystal Cup Series is also a popular race.
Plenty more action on Saturday too with the December Gold Cup, a race that attracts some top sorts, the Bristol Novices Hurdle sees some of the younger hurdlers on show and then the highlight of the meeting, the International Hurdle.
Top 3 Trainers (Last 10 Meetings)
Nigel Twiston-Davies (14 winners)
Nicky Henderson (14 winners)
Paul Nicholls (10 winners)
Top 3 Jockeys (Last 10 Meetings)
Sam Twiston-Davies (11 winners)
Tom Scudamore (8 winners)
Nico de Boinville (6 winners)
Cheltenham - Festival Trials Day
Trials day at Cheltenham can play a big part in the Festival in March, not only for horses looking to head to the festival but also for punters to get some idea of just how good those heading there are.
The trial's day usually takes place late in January, about six weeks before the festival itself and there are a total of seven races which take place on the day.
FAQ
Cheltenham Betting FAQ's
What horse should I bet on at Cheltenham?

Use the numerous statistics supplied above to find a good Cheltenham tip to bet on, you can see exactly how many tipsters are supporting the most tipped runner in each race today. In addition, you can see what percentage is predicting that runner to win based on the number of picks on the runner and the total in the race. You can also use the 'Value Rating', these statistics are available all year round when there is a meeting scheduled at Cheltenham.

Who is the best tipster for Cheltenham?

In terms of the festival, the Cheltenham tips from 6golftipster85 were the most successful in 2023 as they won our £1,500 Cheltenham tipster competition returning an LSP of +87.74. The year prior the tipster competition was won by slimey who returned an LSP of +48.40. You can head over to the best horse racing tipsters page which only shows profitable tipsters to find not only festival tips but also Cheltenham tips for today.

Which are the best Cheltenham tips today?

When there is a meeting scheduled to take place at Cheltenham, this page will detail the most-tipped runner in each of the races giving you Cheltenham tips today. The races will be ordered by time but you can see the percentage of tips which support each runner, the runner with the highest percentage could be the best Cheltenham tip for today if that is what you are looking for, alternatively, you could take the runner with simply the most picks as the best bet at Cheltenham today.
When is the Cheltenham 2024 festival?

The four-day 2024 Cheltenham Festival takes place between Tuesday the 12th of March and Friday the 15th of March. Tuesday is known as Champion Day and features the Champion Hurdle, then on Ladies' Day (Wednesday) the feature is the Champion Chase, the Irish will be in town on Thursday for St Patrick's Day with the Ryanair Chase the feature and finally, as the day suggests, Gold Cup Day, the Friday features the festival highlight, the Cheltenham Gold Cup.

Do you have Cheltenham accumulator tips?

By using the 'Add to Betslip' options above, you can build a Cheltenham accumulator bet, pick out the best runners and add them to your betslip, once you have them all you can see which bookmaker is offering the best odds and place your Acca bet with them. Alternatively, head over to the accumulator tips section where you can view pre-selected accumulator tips on a daily basis from a range of sports or use the My Acca tool to create your own accumulator.

Is backing favourites at Cheltenham a good tip?

Outright favourites at Cheltenham from the beginning of 2013 up to the end of 2022 have seen 31% of those be successful, however, backing them blind during that time would have produced an LSP of -107.89. Use the Cheltenham tips on this page to find strong favourites and check Cheltenham trainer statistics too, for example, for the time period mentioned, Philip Hobbs has been successful with 43% of his favourites whilst Henry De Bromhead has been successful with 46% and both show an LSP profit.