There are many things to consider when making any bet on any event. This section will guide you to thing that may be pertinent to take into consideration when making your selection.
The Ideal Profile
Producer Albert Broccoli once said that Bond should be played between 35 and 40 years old. This was evident when he met with Timothy Dalton to discuss the possibility of playing bond early in his career when in his mid-twenties but Broccoli said he was too young at the time.
If you look at the last three actors to play Bond, there were only four years between them when they first appeared on screen as 007. Dalton was 41, Brosnan 42 and Craig 38. Prior to that, there was quite some difference with Connery 32, Lazenby 30 and then Moore 46.
There certainly seems to have been a swing towards the older actors with Craig at 38 being the youngest of the last four so will the produces be looking at those in their late thirties / early forties?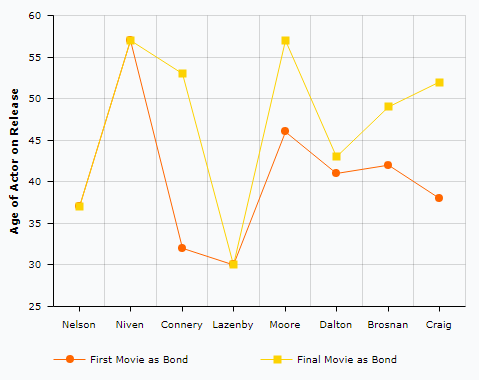 Another thing we could look at is where they came from in terms of their acting career. Sean Connery was more TV than movies featuring in the likes of TV series An Age of Kings and ITV Play of the Week.
Roger Moore was very much a TV man too, as already mentioned he starred in the hit TV series The Saint and The Persuaders.
Timothy Dalton before getting his role as Bond was also more TV than movies, starring in shows like Sins, Jane Eyre and Mistral's Daughter.
Pierce Brosnan was more of a Movie actor. He did a few TV movies as well as the likes of Mrs Doubtfire.
Daniel Craig started off in tv series but when it came to Bond he was already very much on the movie scene starring in movies like Layer Cake and Munich. So the last two were more movie actors before taking up the role which was different from those before them.
Previous Bond Nationalities and Place of Birth
Of course, the place of birth is not going to be enough to land the role, but we have had both English and Scottish actors playing Bond in the past. I don't think we need to look outside the British Isles, but who knows.
Can we find any James Bond betting clues from the leading contenders and former 007's place of birth? Here are the current contender's place of birth information
What Have Public Polls on the Next James Bond had to Say?
As you can imagine interest is growing in the next James Bond with the release of the 25th 007 movie No Time To Die.
The public opinion organisation YouGov asked a series of questions to the British Public on James Bond, you can see whether you agree or disagree below.
Would it be acceptable for the character to be female?
31% of respondents thought it would be acceptable for the character to be female, 53% thought it would be unacceptable.
This poll result is in line with our own OLBG.com poll.
Who do Brits want as the Next James Bond?
It was a battle of the Tom's when asked who should be the next Bond - Hardy (27%) was the most popular, but Hiddlestone (16%) polled well and was the only other potential 007 in double figures.
Is the character sexist or has he changed his womanizing ways?
37% thought that the character has always been a sexist one.
22% thought the character was once sexist but has changed his ways
11% thought the character has never been sexist at all.
Previous James Bond Actors and Profiles
So, who was the first actor to portray James Bond? Sean Connery, right? In fact, he was not the first, he was not actually the second either!
On the 21st of October in 1954 as part of the Climax Mystery Theater television series, Barry Nelson played the role of James Bond in an hour-long version of Casino Royale on CBS!
Best James Bond Ever
Sean Connery was overwhelmingly chosen as the favourite James Bond by OLBG members.
Two years later, Bob Holness of Blockbusters fame is credited as being the second person to portray James Bond. This time not on TV or in the movie theatres but on South African Radio! In a live broadcast, Holness played James Bond in an adaptation of Moonraker!
The average age of the last 6 James Bonds when they took up the role was just over 38 years old.
The average age of the last 6 James Bond when they finished the role was nearly 45 years old.
1. Sean Connery
Sean Connery was the first James Bond actor in a proper feature-length movie when taking up the role in the 1962 movie 'Dr. No' at the age of 32. Connery went on to feature in the next three films, From Russia with Love, Goldfinger and Thunderball.
The 1967 release of 'Casino Royale' was a role in which Connery turned down but he returned later in the year when starring in You Only Live Twice but would that be the end of Connery as Bond?
He did not feature in the next film in the franchise (On Her Majesty's Secret Service) but production wanted him back and it was an 'at any cost' move to bring back Connery as Bond. He agreed to a deal worth £1.25m to return as Bond in Diamonds Are Forever in 1971, in today's money, that is a deal worth around £27m!
Twelve years after starring in Diamonds Are Forever, Connery returned as Agent 007 to portray Bond in the 1983 film Never Say Never Again which was the last time he appeared as James Bond.
In total Sean Connery starred in six movies as James Bond over a span of nine years which brought in an approximate $632m at the box office.
2. David Niven
David Niven's career as 007 was a short-lived one but interestingly it could have been completely different as it is rumoured that Niven was actually Ian Fleming's first choice for the Bond role prior to Connery being signed up.
By the time this film came around, Niven wasn't the first choice anymore, the role was actually offered to both Sean Connery and Peter Sellers who both turned it down. David Niven was fifty-six years old when he played the character in the 'Casino Royale' film.
This wasn't your typical bond movie in it was more of a prequel to Dr. No where Niven played an elderly Bond who was coming to the end of his career and would be passing the torch on to the next 007 agent which would, in theory, be Connery.
In terms of money, the movie was somewhat of a flop compared to other Bond movies, it's reported that production costs were around $12m, more than any of the movies Connery starred in and only brought in $41m at the box office, the lowest-grossing Bond movie.
3. George Lazenby
The next man to play Bond was Australian George Lazenby in what would be his first major casting as an Actor having been spotted in an advertisement. Unfortunately, Lazenby is labelled by many as the worst Bond of all-time.
The thirty-year-old starred in the 1969 movie, On Her Majesty's Secret Service and actually left the role before the film was actually released and during filming never actually signed a contract because of a breakdown in negotiations.
Despite the film coming in for a lot of criticism for bringing in an unknown actor lacking any experience, the film still produced $82m at the box office when production costs were only around $8m.
George Lazenby continued his acting career and is still to this day performing roles in movies.
4. Roger Moore
The creators seemed to scrape their idea of bringing in an inexperienced actor after Lazenby and turned to forty-six-year-old Roger Moore. Moore was already a big name having starred in the TV hit series The Saint and The Persuaders and was actually considered for On Her Majesty's Secret Service but at the time was unavailable.
Moore's first film in a run which saw him become the actor to star in the most films as James Bond was Live and Let Die in 1973, a movie which became the most successful at the box office when released with it bringing in $161m worldwide from a production budget of just $7m.
The Man with the Golden Gun which was released a year later in 1974 but did not have the same effect as his first film, it only achieved $97m at the box office, some $64m less than Live and Let Die, however, things got a lot better for Moore.
After a break of three years with no Bond movies, The Spy Who Loved Me was released in 1977, the long-awaited movie saw the production budget doubled from $7m to $14m which resulted in the biggest return at the box office with $185m.
Moore appeared in his fourth Bond movie in 1979 when Moonraker was released and it smashed it again at the box office, beating the previous best with a return of $210m, the highest-grossing Bond movie of all-time at the time.
He then went on to appear in three more Bond movies taking his total to seven, those were For Your Eyes Only (1981), Octopussy (1983) and A View To Kill (1985). Over his seven movies, they saw a box office gross of $1.1bn!
5. Timothy Dalton
After Roger Moore retired in 1985 the search was on for a new Bond and there were three names considered, Sam Neill who was the directors first choice for the role, Pierce Brosnan and Timothy Dalton.
It turned out that producer Broccoli was not too keen on Sam Neill and with Pierce Brosnan being contracted on a TV show the decision was to offer forty-one-year-old Timothy Dalton the role as the new Bond.
The first Bond movie to feature Dalton as 007 was the 1987 release, The Living Daylights, with a production budget of $40m, the film grossed $191m at the box office, that was only the third highest-grossing Bond film at the time despite the large budget.
Dalton returned to our screens as Bond in 1989 in Licence to Kill, this movie had an even bigger budget of $42k but did not hit expectations grossing just $156m at the box office and only the eighth best-grossing Bond movie.
There was somewhat a lack of connection between the viewers and Dalton role as Bond and because of this, the decision was made to make a switch, therefore, ending Dalton reign as Agent 007.
6. Pierce Brosnan
Moving into the '90s, we had no Bond, there had been 5 years without a movie and then in 1994, the team behind the movies went back to an actor they had looked at before but was unavailable at the time, Pierce Brosnan.
The forty-two-year-old's first appearance as Bond came in the 1995 release, Goldeneye, a film which grossed over $356m at the box office! The success of that movie put him in a position where he could ask for anything, with a salary of $4m for Goldeneye, that jumped to $8.2m for his second movie, Tomorrow Never Dies.
Despite grossing $339m at the box office, the production budget was $50m more than Goldeneye. The team were keen to keep hold of Brosnan as Bond which saw his salary rise to $12.4m for the 1999 release, The World is Not Enough and then $16.5m for the 2002 hit, Die Another Day.
The World is Not Enough grossed $361m and Die Another Day grossed $431m meaning in just four films featuring Brosnan the total gross was $1.4bn.
Brosnan wasn't finished here, or at least that is what he thought, he wanted to feature in a fifth film as Bond in a movie planned to be released in 2004 however, negotiations broke down and Brosnan left the role of Bond.
7. Daniel Craig
And then there was Daniel Craig! Craig said once he read the script for what would be his first film as Bond (Casino Royale) that he loved it and he wanted to tell the story as Bond. There were many critics to the selection of the new bond, fans threatening to boycott the movie because Craig did not fit the image of Bond.
The thirty-eight-year-old was on a relatively low salary of just $3.4m (Brosnan's last film was a $16.5m salary), Craig took his place as Bond for Casino Royale. Released in 2006 with a production budget lower than the previous three Bond releases, the movie smashed it a the box office grossing a total of $594m.
Craig's performance in the film won over a lot of those who doubted him from Bond fans to the press and this led to him being retained for the next movie in the James Bond franchise, Quantum of Solace which was released in 2008 and Craig earned a bumper $8.9m salary.
The production budget skyrocketed, Casino Royale had $102m, this movie had $230! Even so, the box office gross was less than his first film, bring in $591m.
There was a four-year break until we saw Daniel Craig portray Bond again when Skyfall was released in 2012, the much-admired Sam Mendes was brought in to direct this movie, the budget dropped to $200m but at the box office, the film grossed over $1.1bn making it the most successful Bond movie to date and the 28th best movie of all-time.
Mendes & Craig teamed up again in 2015 to attempt to follow up on their success with Skyfall with the release of Spectre, there was an additional $100m thrown into the budget and the film was well-received even though it brought in less than Skyfall with it grossing $879m at the box office.
The upcoming 2020 release, No Time to Die will be Craig's fifth and final appearance as Agent 007, American filmmaker and producer of the excellent first season True Detective Cary Joji Fukunaga takes over director duties of the movie which was given a $250m budget.