Before you open your Matchbook Account
Full guide to everything you need to know before you click the link and sign up.
Latest Matchbook Free Bet Offer - Full Details
To help grow users of the site the Matchbook Exchange can have an industry-leading sign up offer.
There is often a Matchbook free bet or bonus, if you are ready to open your Matchbook betting exchange account then click on the links below.
Welcome Offer Terms
Please make sure that you read through the terms and conditions of any Matchbook free bet/bonus/promotion offers prior to joining the exchange.
There is no specific Matchbook Bonus code, but you can get the advertised Matchbook offer by using any one of the links.
Cash out
Asian Handicap
Live Streaming
Live Chat
Free Bet Club
Casino Betting
Bingo
Poker
Best Odds Guaranteed
Full Matchbook Bookmaker Review
Matchbook is a newish betting exchange site which is proving popular with OLBG users as an alternative to Betfair, largely due to low Matchbook commission rates.
There is no specific Matchbook Bonus Code, but you can use the link below to qualify for the current Matchbook sign up offer.
The Matchbook Exchange prides itself on being a growing betting exchange community and wants to drive forward with cutting-edge technology, and a focus on rewarding the customer.
Read on for the Matchbook review and Matchbook sign up offer.
As a new account holder, you can take advantage of one of the sign-up offers, which can be the most generous of all the betting exchanges.
To take advantage immediately click a link, or if you want to know more about opening a Matchbook betting account, read on.
Now 2% commission across the board
Matchbook has reduced their commission to 2%.
Matchbook are marketing themselves as low commission exchange, and currently, offer 2% net win on all sports markets.
When you place bets you will only pay 2% commission if you make a profit.
If you compare this percentage to other exchanges then if you win regularly on sport you would be wise to check out the matchbook website or app.
You can't help to be impressed with that deal right now.
Matchbook Exchange
There have been few, if any, real competitors to Betfair for the betting exchange market.
BetDaq has been around almost as long but has never really been a serious first choice or competitor and the addition of the Betfair Sportsbook only strengthened their hold on the #1 spot.
The Matchbook Exchange has some serious plans to infiltrate and grab a good share of the trading market, and their product is looking good, with their unique commission rate promotion something that is grabbing people's attention.
Liquidity is nothing like Betfair but there is enough there with the zero commission to find value in your exchange betting
Matchbook is a medium-sized exchange looking to grow, their Modus Operandi is to grow liquidity on core sports, and then we expect add more sports to their exchange.
There are currently 18 sports offered by Matchbook (if you include political betting, which is seeing more bets placed in these turbulent times).
Once that has been achieved they will add further sports and markets, the Matchbook focus is customers so they can add liquidity.
5/5 A Must have for Professionals
On checking a recent midweek EPL game a couple of hours before kick-off they had 25 markets and a turnover of $368,832, whilst on Betfair they had over 100 markets and a turnover of well over a million pounds, so there is a way to go, but Matchbook should be able to match your bets especially on big events.
Matchbook Accumulators
A new feature of Matchbook is the ability to place accumulators using matchbook exchange prices.
You can now place accumulators on Matchbook at exchange odds!
All sporting events with Matchbook acca selections available will be displayed.
You can place between 2 and 10 back selections to make up your acca.
Acca bet selections will be available on the following markets, Match Odds, Moneyline, Total and Single Handicap Markets.
Sports, where acca selections will be allowed, are Basketball, Baseball, Darts Football, Ice Hockey, Rugby, NFL, Tennis.
There is no commission payable on any Matchbook accas.
In many instances, your winning acca with Matchbook prices will return you a greater profit - why not test it out?
It's a great step by Matchbook and shows them definitely moving in the right direction.
Matchbook Bonus Code
There is no matchbook bonus code as such.
The current matchbook sign up offer is displayed in the banners on this page.
By clicking a banner and opening an account you support OLBG and our ability to bring you the latest Matchbook offers + reviews of new features as they arrive.
Matchbook Cash Out
Most of us are now aware of how cash out works but it's good to see the Matchbook Exchange embracing this feature.
It enables you to lock in a profit or reduce your losses on your bet.
The cash-out option will be displayed next to your selection when cash out is available.
N.B Cash Out is NOT available on accumulators.
Matchbook Betting
At the time of writing the exchange is offering an excellent and award-winning matchbook podcast.
Featuring Racing TV presenter Tom Stanley, it is an informative racing and betting preview.
The podcast is available on SOUNDCLOUD, ITUNES, ANDROID and RSS.
Matchbook Blogs
The Matchbook blogs feature previews of big betting events and strategies on how to profit from your Matchbook exchange account.
The NFL blogs are especially noteworthy and are packed with helpful insights to American Football.
Matchbook Sign Up Offer
Details of the current sign up offer are shown on this page.
Matchbook App
We have a review of the matchbook app and mobile offering below


Matchbook Mobile Review
The Matchbook app has been reviewed quite favourably on the Google Play store but on the App Store, the users have been much less positive about the Matchbook mobile betting app.
Matchbook Mobile Offering

Rated: 2.00 / 5
Rated: 4.80 / 5
Rating not available
The Android version is very well thought of and has generally been reviewed positively, however on iOS it seems the app doesn't operate half as well. Most reviewers seem to think it is a pretty poor product.
For all versions of the Matchbook app, many reviews suggest that recent improvements have been a big help so it is probably fair to say it is better than many of the older reviews give it credit for.
Installing the Matchbook App
On all devices, the Matchbook betting app is easy to find, download and install. In a minimum amount of time, you'll be betting with Matchbook on their app.
Matchbook Sign Up Offer on the App
Matchbook doesn't necessarily always have a sign-up offer, generally, they prefer to offer periods of 0% commission. When doing so that offer is available for customers who open their Matchbook account through the mobile app.
Matchbook App Promotions
On the Matchbook App, you get access to all the usual Matchbook features such as the ability to back and lay all selections. Plus if you fancy a casino flutter you can play their games for huge jackpots.
Live Streaming On The Matchbook App
Matchbook doesn't currently offer live streaming, either through their website or their app. We hope they can add live streaming to their website in the near future allowing them to add it to their app also. We think they'd get even better reviews if streaming was available.
Cashout on the Matchbook App
Cashout is available at Matchbook when highlighted, as well as the ability to lay your bets, so you have the choice in many instances.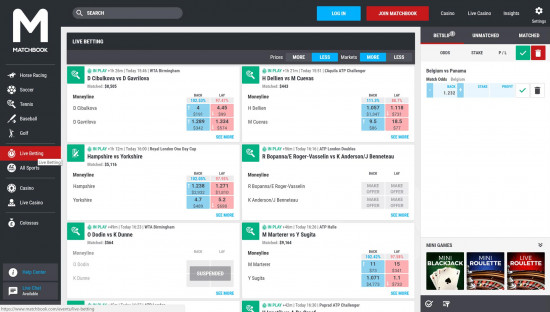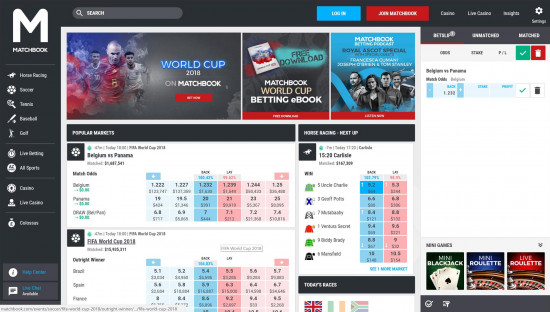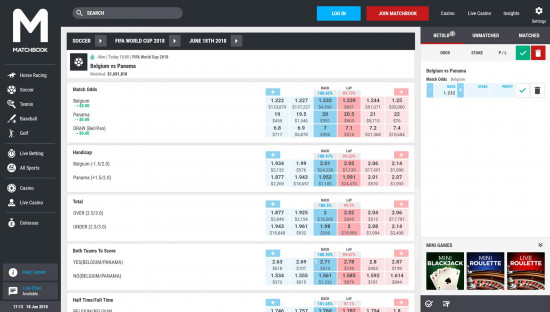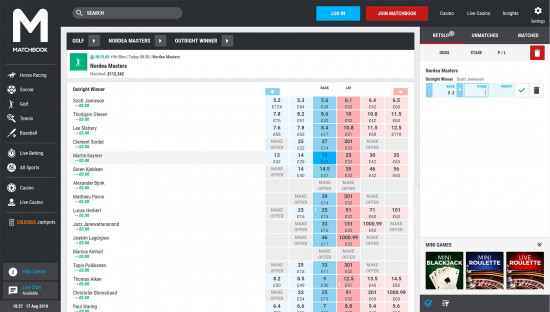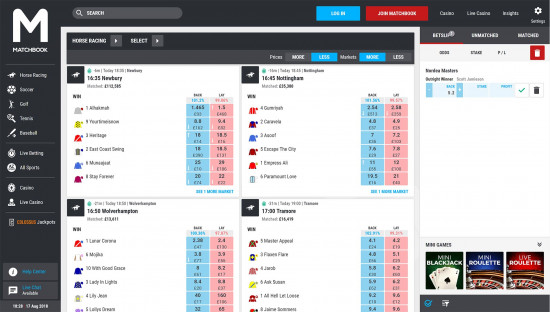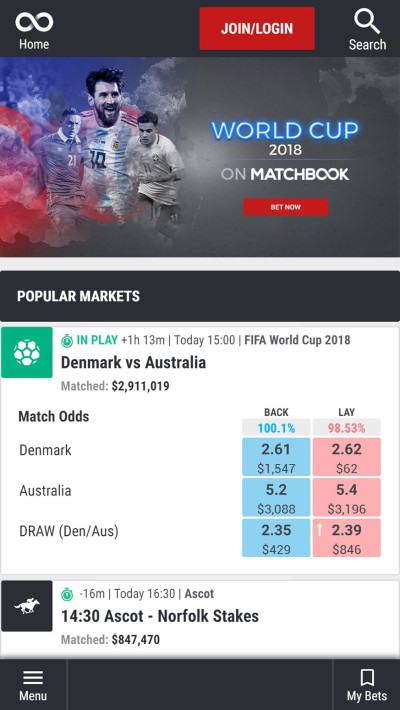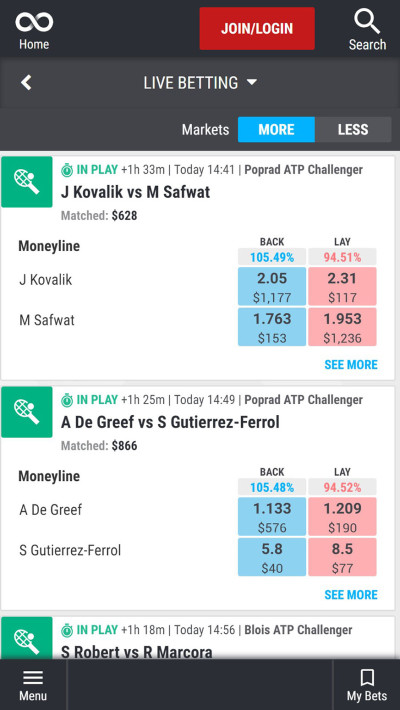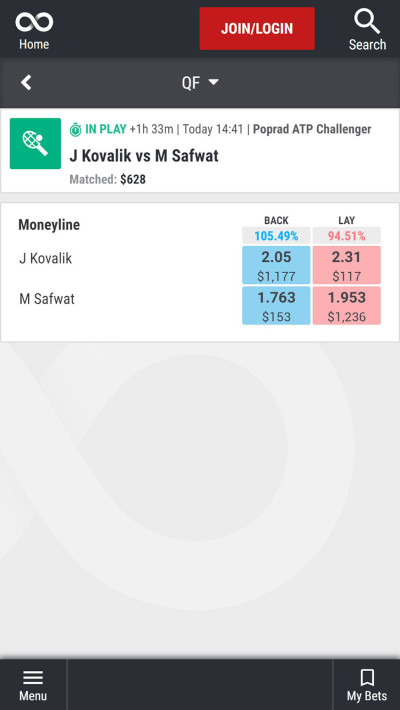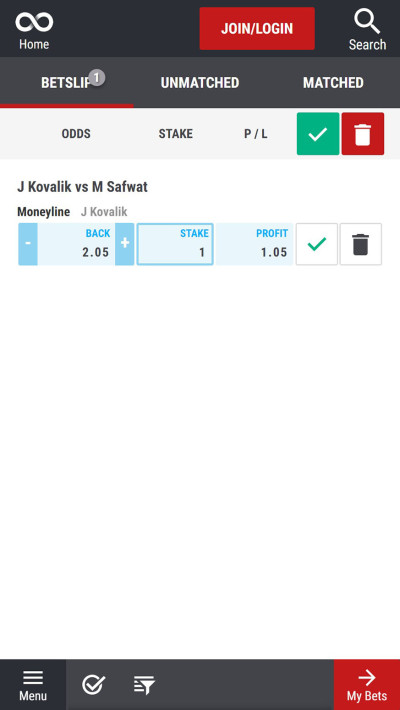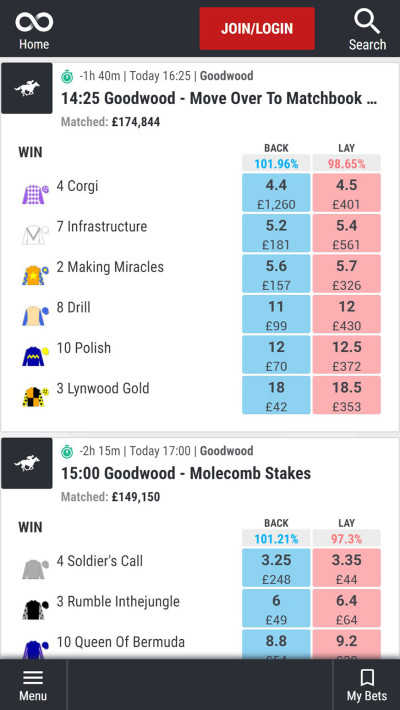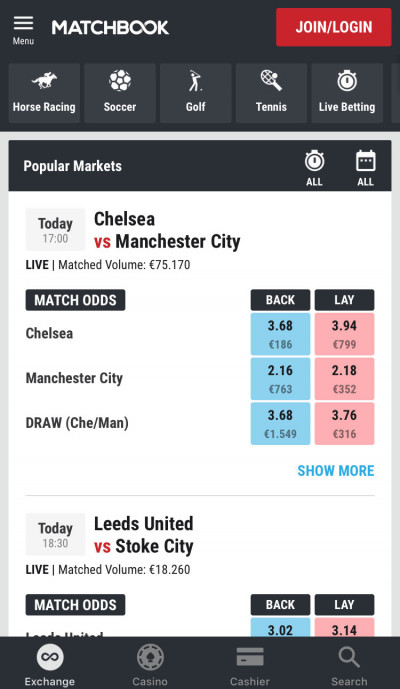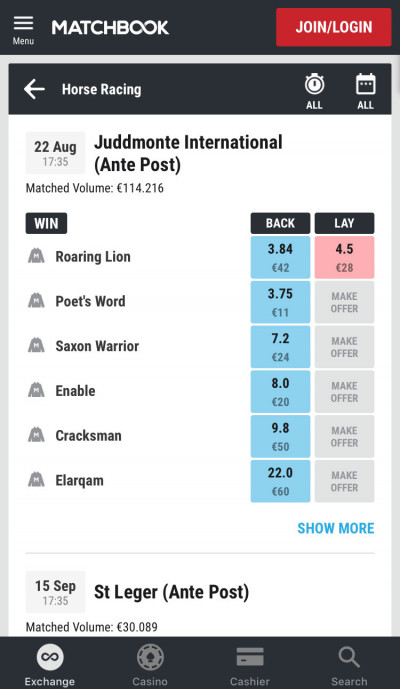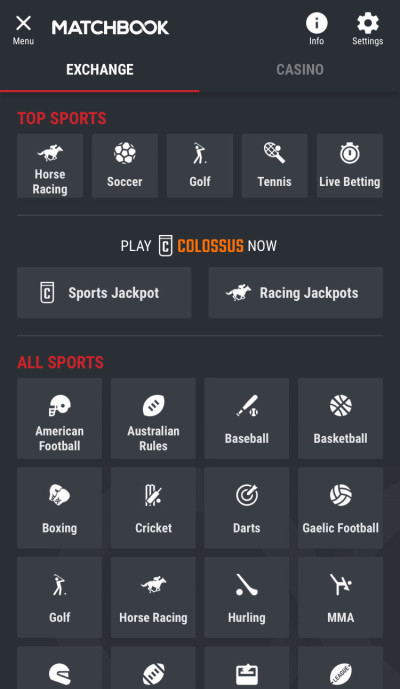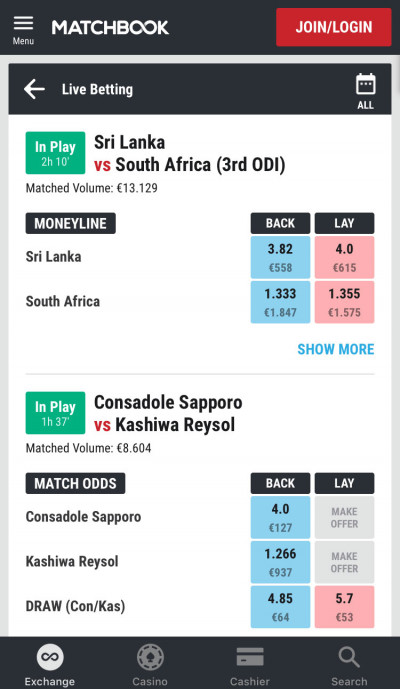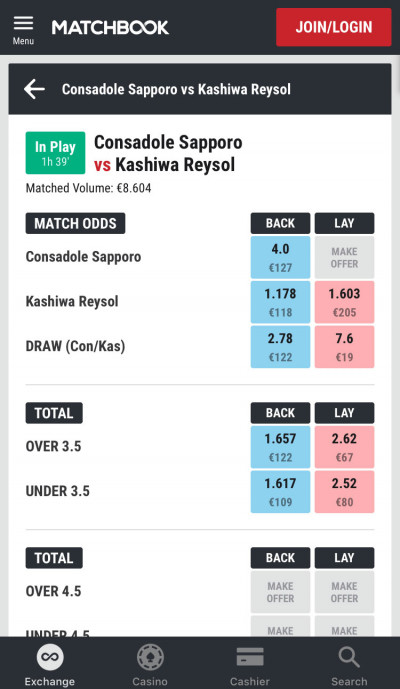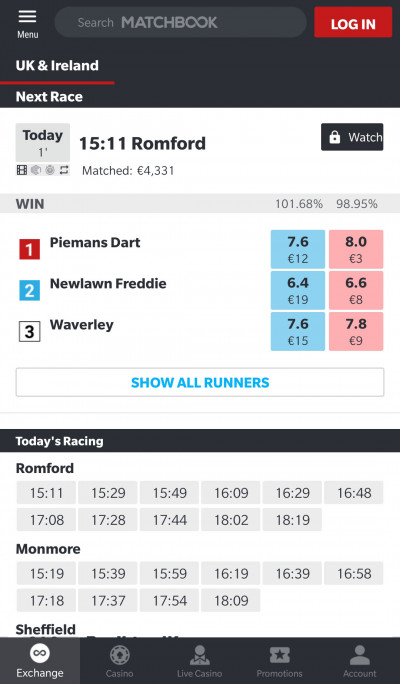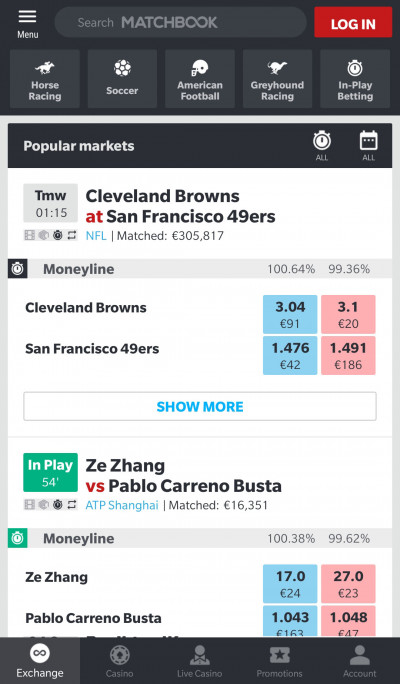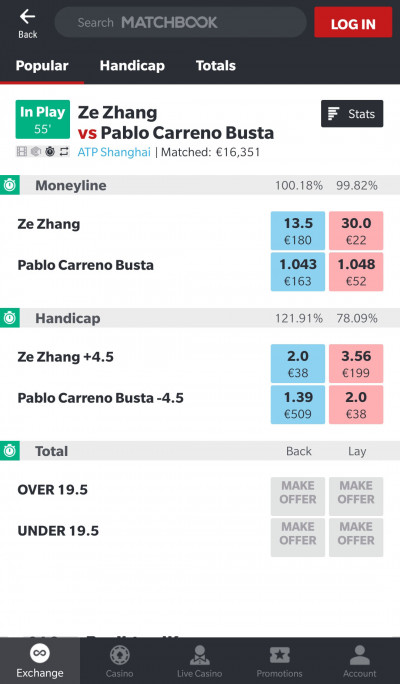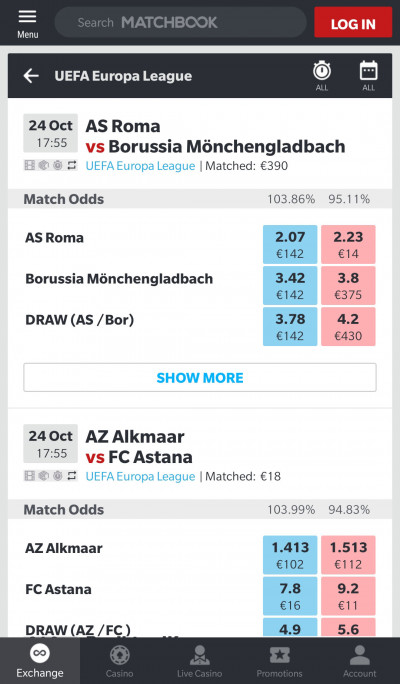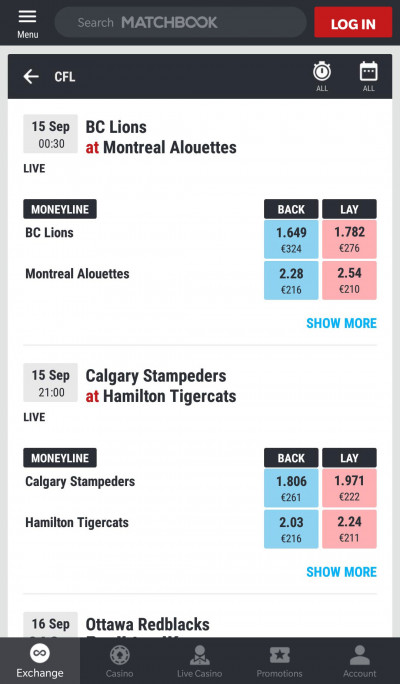 Matchbook Info & Bookmakers Reviews
Check What Others Say About Matchbook and Write Your Own Review
5
"Sure bettor? You must use Matchbook"
---
This newest exchange has overtaken Betfair in the back-lay sure bets markets. True, it does not cover all the sports yet, it offers less varied market selections and charges commission even on losing bets. But, at 1% it is still very competitive rate compared to 5% of betfair and other echanges. It offers much bigger liquidity from the start of the market opening. Additionally, it does offer very good prices for Lay markets that allow for decent 3-5% sure bet profits. Day in day out. If you are used to the betfair interface you will find it a bit tricky at the beginning to use Matchbook but eventually you will find it works just fine. There are a few annoying quirks but they are being chiseled out and from week to week it becomes an ever more important tool in a serious gambler's portfolio. It is still a new player on the market but I highly recommend using it as much as possible for bigger profits
---
Matchbook is one of a few Peer to Peer betting platforms , they have been around for a while and Matchbook has gained a reliable reputation. They offer the chance for small to medium bets to be placed , good turnaround times and Customer Services are there should you need them. If you like this type of betting, Matchbook is worth visiting. They often have good New Customer welcome bonuses (always worth reading the Terms and Conditions for that Welcome bonus offer).
5
"Check the odds daily you will be impressed"
---
So was looking one day at horse racing odds and was shocked by the excellent prices on matchbook. Take a look you will be pleasantly surprised that your selection is such a big price (in many cases). Because they are competing with betfair we can make more money from their prices. I was impressed. I hope they continue having stand out odds.
4
"Good addition to the Exchange Portfolio"
---
I find Matchbook an extremely useful Exchange Betting Account to hold. The prime benefit is the market leading commission rate of 1%. Beware that commission is taken out whether your bets win or lose - and that can take a little getting used to - especially if you are betting to large stakes when your losing bet can have further losses that you need to factor in to your accounts. However, once you get used to this, it is easy enough to quickly adjust your bets accordingly. Again, for those making significant bets, the difference between paying 1% and 5% commission is huge - so the potential benefit of using Matchbook should be considered. What then of reliability, look and feel and liquidity? I have found some slow response times when connecting via a laptop through Internet Explorer maybe Chrome or other browsers are better? However, I have never encountered a problem via the Matchbook Mobile App. I find the look and feel and ease of use of the Matchbook Site to be very good and I haven't yet encountered any reliability issues. It seems as least as robust as the competition. I am principally interested in liquidity for the major markets for Premiership and International Football matches WDW. The liquidity here is excellent. However this is not so good for the Correct Score Markets. For those that bet on Tennis and American Sports, again the offering is very good and there are often reductions on the already very low commission rates. The other principal sport on which I bet is Horse Racing. Unfortunately, Matchbook does not currently offer markets here, although I have read that they plan to introduce this in time for Cheltenham 2015. All in all then, I would recommend everyone to open a Matchbook Account. There is a fairly modest opening offer - but the benefits are principally longer term with the low commission. On the key markets in which they operate, they have the edge over the other Exchanges and they are a useful addition to the Punters Armoury.
1 user found this helpful
4
"An Improving Exchange"
---
For those unfamiliar with how a betting Exchange works, Matchbook provide a platform for customers to bet against each other rather than a traditional bookmaker where you are betting 'against the shop' Therefore they actively encourage winning bettors and even have an insights section with loads of educational articles on how to become a bettor gambler! They now have Horse Racing too which seems to have taken over as their most popular offering as well as Soccer, Tennis, US Sports etc. Their soccer markets have improved massively over the last few years with live offerings on a huge selection of leagues on top of lots of additional handicap/total markets. In terms of pricing, I have followed them on odds comparison sites and they frequently tend to be best priced, shopping around is definitely worth it as we all know. The sign up offer they have in place is pretty useful too, essentially commission free bets for the first 5 weeks which all adds up! Even after the 5 weeks their commission structure is about 1% which is a lot less than the likes of Betfair and Betdaq. Slowly but surely they seem to have become the main rival to Betfair and with Betfair having taken their foot off the gas with their Sportsbook I can see Matchbook going from strength to strength!
1 user found this helpful
4
"A Potential Rival To Betfair's Exchange Monopoly"
---
I recently took up Matchbook's offer of a £50 Risk Free Bet, and was pleasantly surprised by my experience. I'm a frequent Betfair user and have looked at other exchange firms in the past, finding their markets holding little liquidity or having a shocking book percentage. If I'm honest, I was expecting something similar with Matchbook but it was quite the opposite. The market I chose to bet in was the Handicap market of an NBA game. Washington Wizards were +1.5pts to beat Cleveland Cavaliers, and Matchbook's Back price was 1.952 with £1,291 available. I compared that to Betfair's Back price, which was 1.92 with only £15 available. Matchbook's commission is only 1%, again bettering the opening commission of Betfair's 5% and as 10/11 was the best price available with the bookmakers, Matchbook were standout best here. I wasn't able to place the full £50 on this selection, as you have to leave enough in your account to cover the commission if the bet loses. That may sound complicated to less-experienced exchange players, but the system is very good and tells you the exact figure you can use without going over your available balance. The commission rate on losing bets is also only 1% and will workout more profitable over time, assuming you do actually back the occasional winner! The lay market for the same game was a similar story, with £5,719 queuing up at 1.981 and only £174 at 2.02 on Betfair. The only real negative I found with Matchbook, was their lack of markets for events in comparison to Betfair. Overall, I've found Matchbook to be very competitively priced in the markets they do bet on, and as it's low commission and there's high liquidity essential for big punters, they're definitely a firm I will continue to bet with and highly recommend.
3
"Safe environment for betting"
---
The first time I remember seeing the name Matchbook was on Asianconnect's page. Because this brokerage firm offers only good to very good options to place bets, I consider that a plus for Matchbook. The fact that I was required to verify my identity through documents before making a deposit made a good impression for me, and is something I remember seeing only at Pinnacle. The majority of companies don't have the decency to ask for verification before you deposit funds. They do it only upon a withdrawal. Customer support seemed nice, and the verification e-mail with the approval was sent within ten minute after sending my scanned copies. The fact that they have their own "gravity" or personality with the lowest commission in the industry is great. They should strive to get more exposure through publicity though, because that would add more liquidity for all Matchbook customers. For example, why not make a promotion for new players that will give them ten or more days with 0% commission to try the exchange. Ten or more days to use the exchange with 0% commission and then get the lowest commission in the industry sounds more attractive than just the last part. The word would spread out among users from other exchanges and a lot of people would try it I think and remain to add more liquidity. The main problem with Matchbook is that there are only the mainstream markets to use. I couldn't find Italian Second Division for example. So they should really try to add more markets in the future. I like Matchbook overall, and I think it's a safe environment to be betting on sports, which for me is the number one requirement. For example, when they exited the US market some years ago, they made sure to pay the balances for all US customers. I would rate Matchbook 3.5 stars, but 3.5 is not allowed here so I will stay at 3 stars to try and remain objective. As a comparison, I would rate 5 stars only Sbobet and Pinnacle.
3
"Not the finished article but promising"
---
I was a bit sceptical at first but they seem to be quite promising. They have a smooth website, which is quite easy to find your way around particularly if you are used to Betfair. Most of the major markets have a fair amount of liquidity too, which I was actually quite surprised about, although some of their minor markets are shallow and others are very slow to form. Their selection of markets is OK, although they are missing some standard markets, i.e. their range of rugby union bets is limited. They also do not currently offer horse racing, which will be a big negative for many punters. The 1% commission is a good bonus though and I shall be checking their odds before I place any bets on the exchanges from now on. Settlement so far has been almost instantaneous, but I can't speak for their withdrawals, although they do seem to insist on the ID checks that are commonly annoying among certain bookies. They do not seem to be the finished article yet given the lack of some key markets and overall liquidity, but anything that challenges Betfair's monopoly of the exchanges is good in my opinion. So as more people start to use Matchbook hopefully the liquidity will grow and the range of markets will expand. I'll be keeping a close eye on them now and in the future.
---
I tried Matchbook last year as I was keen to see if there were suitable alternatives to the Betfair Exchange and I like some of their social media content. I tired, but failed. Whilst their App is seamless and they offer the right markets, there simply isn't the liquidity or structure in place to make it a viable option for serious punters
---
I'm not a regular user on the exchanges but with an attractive opening offer on enhanced odds I gave it a go. Site seems OK in general but I don't like the high minimum that needs to be used as a deposit 18.87 I believe and also found the number of markets limited to only a handful of the top games within the football section. The beauty of Betfair for me is that as well as the exchange I can also place an accumulator should I want to, which as far as I can see isn't possible here. With all that in mind, in its current state I won't look to use Matchbook going forward.
---
In my experience this is an over rated website and boookie. I have never enjoyed using them and have not been impressed by the odds offered generally.
There are no reviews with 1 star yet.
Matchbook User Guide
Current Matchbook Promotions
Matchbook 2 % Net Win
Matchbook are now offering an industry low commission rate of 2% on your net profit.
If you make a net loss, you will not pay any commission.
Net Win Commission is calculated as follows
Place a £ 100 Bet and win at odds of 2.0.
Profit = £100
£100 x 2% = £2.00 in commission
You win £98.00
This offer was introduced in August 2019.
Matchbook new account opening procedure in 5 simple steps.
Click the Matchbook free bet banner above.
Complete the matchbook new account details.
Name, DOB, Address and Email.
Add a secure password and confirm that secure password.
Choose a memorable security answer.
Remember to always keep your matchbook new account password and memorable answer secure.
Make sure you check the Matchbook free bet terms and conditions.
If you take a look at the reviews of Matchbook from OLBG members you can see they are overwhelmingly positive.
Members seem to like that a company is offering an alternative to Betfair +, of course, the matchbook commission being so low.
Great Commission Benefit for New Users Right Now!
..for those making significant bets, the difference between paying 2% and 5% commission is huge - so the potential benefit of using Matchbook should be considered.
Matchbook FAQ's
Can you cash out on Matchbook?

Matchbook does have cash-out feature. Matchbook calculates the cash-out figure by considering the amount of liquidity in the market at the current price available and makes you an offer that you can accept by clicking the cash out button. Cash out is also available on the IOS and Android apps for full flexibility.

What is Matchbook Commission?

Matchbook commission is a small % charge applied to your winnings when landing a successful bet. This can change, so check out the betting exchange comparison guide for the current figure.

How does Matchbook Work?

Matchbook is a betting exchange firstly and foremostly. Therefore they are somewhat different from a traditional online bookmaker - If you have yet to play on a betting exchange I would advise taking a look at our Exchange guide first and selecting the best betting exchange from there.
Is there enough liquidity on Matchbook?

On bigger sports there doesn't seem to be an issue, especially in the 30 minutes before the events start. Smaller sports are still building.

Do I need a separate account for the Matchbook Casino?

No, the one account covers all your activity on Matchbook.

You can back and lay and spin the roulette wheel from the same Matchbook log in.

What is Back to Lay on Matchbook?

You decide that you want to back (bet for) Liverpool to win the EPL at the start of the season. Liverpool are 14.0 on Matchbook.

You think that Liverpool offer good value and put £10 on Jurgen Klopp's team

They get off to a flyer winning their opening 3 games easily, the price for Liverpool to win the EPL has now reduced to 9.0.

You can now lay (bet against) Liverpool at 9.0 and have a Matchbook free bet on Liverpool.

You can lay £10 on Liverpool and will only pay out £90 if they win the EPL but remembering that you stand to win £140 if they do win the EPL.

You have a Matchbook free bet and cannot lose any money.

If Liverpool continue doing well you can lay them again to guarantee yourself a profit – win or lose.

Just divide the total amount you will win by the new lay price to calculate your lay stake.

With a matchbook new account you can back/lay/trade to maximise your returns.
Latest Welcome Offer