The Best Football Betting Sites, this is your ultimate Guide To Football Bookmakers. Within this article, you will find the best football betting sites to suit the type of football betting you prefer. You can find numerous free bet offers on the 'Best for..' article pages and throughout this one.
Choose a football betting site for the way you like to bet.
Choose a bookmaker for more info, or the 'best for' category for details on all bookmakers in that category
This table is a quick representation of the best football betting sites based on your football betting style.
The rest of this guide will go through in detail each of the areas and explains the research undertaken to produce this list of betting sites,
For more details on Best Acca Insurance, for example, simply click the text in the table to go to the complete guide for acca insurance bookmakers.
Marathonbet are the Best Football Betting Site for Odds
Which Bookmaker has the Best Football Odds?
Marathonbet is consistently the best odds for football. Adding less margin to the book, Marathonbet can offer better odds to their registered customers than other online bookmakers. Marathonbet has proven to have the best odds more often than any other bookmaker in our independent football odds comparison tests.
ESSENTIAL - Do you know who offered the best odds more often last month on football?
Our odds comparison below shows which bookie would have won you more!
Table Showing Best Bookie for Football Odds Last Month
The table below is the odds comparison for several bookmakers for football odds last month.
We record football betting odds every day from a range of top bookmakers.
This table displays how often [in percentage terms] who has offered the best football odds throughout the month
Best Odds Bookie Rank for Football
41.9%

20.8%

19.4%

17.5%

13.0%

10.2%

7.5%

7.1%

5.8%

5.4%

1.8%
If you are looking for great odds on teams to win their matches, then always check the ranking on this table for the best football bets.
Best Football Odds More Often
Getting better odds more often, even by fractions can make a huge difference for football accumulator returns. See just how much in our guide
Best odds comparison Info
There are many other criteria by which punters might judge a bookie to be one of the best bookmakers for football betting, and those will be addressed below.
bet365 Offer More Football Leagues to Bet on Than Any Other Betting Site
bet365 are in a league of their own with no fewer than 137 different leagues on offer for betting as of August 2019.
That's without domestic cup competitions which are also available and numerous!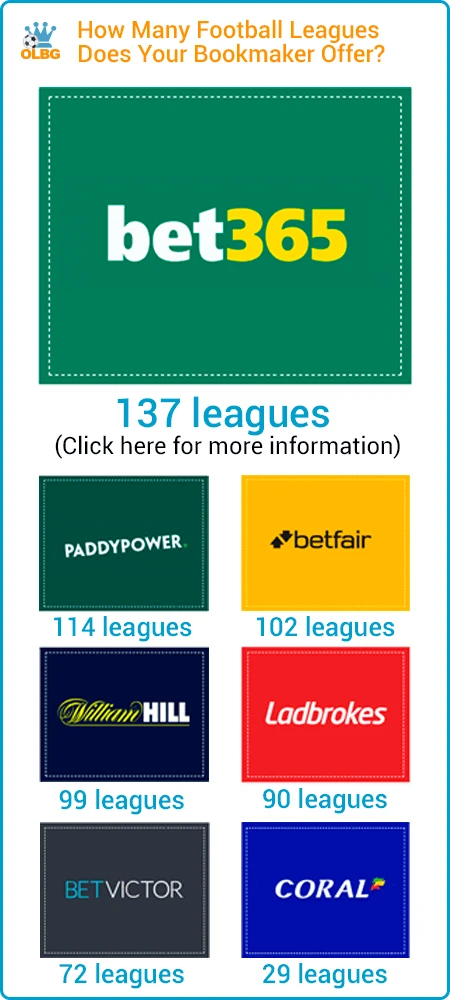 You'll struggle to find a bigger selection of football matches to bet on than at Bet365.
They offer betting opportunities from more leagues in more countries than anyone else.
Can you name 137 different football leagues?
Bet365 can, that's how many leagues they had markets for when we checked! More than 10 MORE than anyone else
The level of football coverage amongst bookies these days is excellent but Bet365 really take it to another level.
They offer the best football bets in in Finland, Gibraltar, Macau and El Salvador and even in the more popular countries that people bet on Bet365 cover an amazing depth of leagues.
There are 5 Italian leagues to bet on and in Germany you can bet on regional leagues and even the U19 Bundesliga.
William Hill Have More Football Betting Markets
Despite offering fewer league in the comparison above, William Hill looks to be the best bookmaker for football betting when it comes to the number of markets on offer for the top games.
You can often find around 250 markets in total for a popular Premier League game. [Who needs that many?]
Need 250 separate betting markets for Premier League Football?
Coral is a strong player in terms of markets on the top matches with over 150 markets available on the bigger games.
Again Bet365 is a great bookie when it comes to the choice of markets.
They offer over 120 markets on the big Premier League matches and that's with markets such as Asian handicap and goal line, of which there are usually around 15 variations of each, counting as just one market.
That compares well with Paddy Power who will have around 110 markets, and also BetVictor, Betfair and Ladbrokes who usually offer around 100 markets.
Non Premier League and European Match Markets
When it comes to the less high profile matches the number of markets offered obviously decreases, but William Hill, MarathonBet and bet 365 are still excellent choices for markets other than 1x2 on less popular games.
William Hill offer a great range of markets in Europe
William Hill football betting is extensive across European leagues
Taking a Serie B game between Benevento and Spezia in Feb 2020 as an example, William Hill and Bet 365 were out in front on markets offered, as you can see by the list below.
William Hill 98
bet365 92
Marathonbet 77
Betway 76
Ladbrokes 68
Coral 68
Paddy Power 66
Betfair 60
Bet Victor 43
MarathonBet came third in this test, so they are clearly a great choice for the smaller games, remembering as well that MarathonBet often has standout odds.
All the bookmakers covered the main markets where they differed were the range of options within those markets and supplying more obscure markets.
Football Betting Site Promotions
The football betting market is a very crowded place so bookies have to make football betting offers available to their customers in order to attract more bets. These are some of the most popular football betting offers:
Acca Insurance
BTTS Betting
Enhanced Odds Offers & Price Boosts
Cash Out
Edit Your Bet
Acca Insurance Refunds - What is Acca Insurance?
Acca Insurance is a promotion that bookies offer that sees stakes refunded (sometimes as a free bet, sometimes as cash) if exactly one selection lets your football accumulator down. In order to qualify for acca insurance you'll have to include a minimum number of selections in your bet (often 5).
Acca insurance dramatically decreases the risk of losing with football accas and is therefore extremely popular. The exact terms of the acca insurance should be checked on the bookmakers' websites before placing any bets. The following bookmakers offer the best acca insurance:
Paddy Power
Sportingbet
Ladbrokes
William Hill
Best Acca Insurance Bookmakers
28 bookmakers offering acca insurance have been analysed and tested and we've got an outstanding winner.
Read the Acca Insurance Guide
BTTS Betting Sites
Not a promotions as such but rather a football betting market, Both teams to Score is a very popular bet type that is often combined with enhanced odds and special promotions around big events. Take a look at the best BTTS Betting sites for more information
Cash Out Betting Sites
Cash out is the weekend staple for football accumulators. Some football betting sites offer better cash out options than others, so it is always worth doing some research into Cash Out betting sites to ensure you are using the best option for you.
Edit Your Bet
One football offer that goes one step further than cash out is the edit your bet feature. This allows you to remove selections from your bet after the events have already started. Obviously you will pay a penalty with the odds of your bet but it can be useful in turning losing bets into winning bets. Bookmakers that currently offer this facility are:
Price Boosts and Enhanced Odds Betting Sites
Every weekend you will find football betting sites offering enhanced odds and some price boosts available for the games and markets you want to bet on. Never is this more prevalent than when England is playing. Finding enhanced odds on England bets is super easy during things like the Euros or the World Cup, both in qualifying and the finals themselves.
Certain bookies offer some regular and huge enhanced odds offers for football betting. The best-enhanced odds offers tend to be reserved for those opening new accounts with punters often able to obtain odds around the 10/1 mark for a selection that was previously odds on.
It is becoming more common for most bookmakers to offer enhanced odds on selected weekend accumulators.
Bookmakers that regularly offer huge odds enhancements for new customers:
Paddy Power
Betfair
888Sport
Smaller odds enhancements are also available for existing customers with some bookmakers. The bookmaker will usually group a certain number of selections and boost the odds by somewhere in the region of 10%-25%. These price boosts can be great but you may find yourself betting on a selection you don't particularly fancy. Price boosts can also be found on single selections too.
Bookmakers that regularly offer enhanced odds for existing customers:
William Hill
Ladbrokes
Betway
bet365 best for Live Streaming
As football is such a huge sport for both bookies and punters it is no surprise to see a great level of coverage when it comes to live streaming betting sites.
bet365
bet365 has an excellent live streaming service for use as long as you have a funded Bet365 account.
Geo-restrictions apply.
To use the Live Streaming service you will need to be logged in and have a funded account or to have placed a bet in the last 24 hours.
For UK/Ire horse racing simply place a bet of at least £0.50 win or £0.25 each-way on your selection to watch that race.
Betfair
Betfair has a decent range of football offered in their live streaming services with 8 European Leagues (the only major league is Spain's La Liga) and they also have a good range of non-European and also International football on offer. Like Bet365, when it comes to football streaming you'll only require a funded Betfair account to access the feeds rather than having to have had to place a bet on the actual event.
William Hill
William Hill have a good selection of European Leagues on offer including Spain's La Liga, Germany's Bundesliga and France's Ligue 1 as well as a great range of International matches and football from around the world. In order to watch William Hill's live streams you just need to have a funded account or to have placed a bet in the past 24 hours.
Ladbrokes
Ladbrokes only have 6 European Leagues on offer but that does include Spain's La Liga and Italy's Serie A so there is some quality action available. Ladbrokes also offer action from around the world and a selection of international matches too. If you want to watch live streaming at Ladbrokes you just need a funded account or to have placed a bet in the past 24 hours.
Unibet
Unibet has a very good live streaming service with Spain's La Liga, Germany's Bundesliga, Italy's Serie A and France Ligue 1 all included alongside other European leagues, leagues from other continents and international football. You can watch live football streaming free with Unibet if you have a funded account.
One of the most important considerations when watching a live stream of a football match on a bookie website is that the 'live' stream is actually likely to be delayed by around 10 seconds so if any odds look too good to be true it is probably because a goal has already been scored but has not yet gone in yet on your stream.
Which Bookie Has The Best Mobile App?
The greater majority of football punters now make their bets on their mobile phone. This mainly for convenience and there is a wide choice available. The best are rated in the relative app stores [scores below], but we have an up-to-date football betting app article, that provides information on the latest offerings from all football betting sites.
| # | Bookie | No of ratings | App Store Rating |
| --- | --- | --- | --- |
| 1 | PaddyPower | 81000 | 4.7 |
| 2 | Betway | 12600 | 4.7 |
| 3 | Betfair | 55019 | 4.6 |
| 4 | William Hill | 18000 | 4.6 |
| 5 | BetVictor | 17800 | 4.6 |
| 6 | Sportingbet | 785 | 4.6 |
| 7 | 888Sport | 751 | 4.5 |
According to those reviews from users it is Betway and Paddy Power who have the best mobile app, given an average rating of 4.7 out of 5.
Further Reading on Football Betting Sites
Best Bookmaker for BTTS Betting
When making Both Teams to Score Bets, did you know some bookies are better than others depending on whether you are betting 'Yes' or 'No'? - This article dives in and finds out where you should be betting on BTTS depending on how you bet.
Read Now
Best Acca Insurance Betting Sites
Chances are if you bet on football you like to make an acca or two? Are you getting insurance and your money back when team lets you down? Find out which bookmakers offer the best accumulator insurance in our guide.
Read Now
Request-A-Bet and Bet-Builders
There are some bookmakers who should be avoided for giving terrible odds on these types of bets. Did you know some bookies offer 100% better prices than others in some cases? We have completed huge research and comparison to let you know where you should be making bet builder bets.
Read Now
Football Betting Sites FAQ's
Football Bookies Related Questions [UK]
Which betting site is best for EPL games?

In terms of the number of different bets you can make on a single game on football, bet365 are the best betting site for EPL football betting. They cover more different types of markets than any other site. That said, most online bookmaker sites will provide more than enough markets for the every day football punter or weekend accumulator player.

Can you make money betting on football?

It is possible to make money from betting on football but with the caveat that you have to pick winning bets. Selecting a good bookmaker offering good odds on your football bets will also help, but you should always remember to only bet what you can comfortably afford to lose.

is bet365 good for football betting?

bet365 are a great site for football betting offering coverage and markets on more football leagues from around the world than any other online betting site. If you want to bet on some marginal European lower leagues then bet365 probably have them covered and will offer at least the full time result markets.

Why are marathon bet so good with football odds?

Marathon bet offer very low margins on football odds and as such are more frequently best priced for any type of football bets. They are not one of the most well-known betting sites but anyone looking for great odds on football betting should take a look at their site and what they offer.