Ranked #1 for Overall Football Betting
Standout choice for football punters
Huge range of worldwide leagues
One of the best in-Play betting offers
100's of games live streamed each month
There is one clear winner as the best Bookmaker for betting Football.
Read our full review of everything you should be looking for when choosing and where to place your best football bets.
Best Football Acca Insurance, or Best Acca Boosts?
Check out the table below, fully linked to take you to the best bookmaker for your betting style
Read on to discover the Best Football Betting Sites, this is your ultimate Guide To Football Bookmakers
Best Football Betting Sites
Within this article, you will find the best football betting sites to suit the type of football betting you prefer. You can find numerous free bet offers on the 'Best for..' article pages and throughout this one.
Choose a bookmaker for more info, or the 'best for' category for details on all bookmakers in that category
This table is a quick representation of the best football betting sites based on your football betting style.
The rest of this guide will go through in detail each of the areas and explains the research undertaken to produce this list of betting sites,
For more details on Best Acca Insurance, for example, simply click the text in the table to go to the complete guide for acca insurance bookmakers.
Best Bookmakers for Football Odds [2019]
Football betting is extremely popular and the best football betting site will very much depend on what you value with your football bets.
Please also take a look at our bookmaker review page where OLBG members have reviewed UK bookmakers. Their ratings suggest who may be the best online bookmakers.
Getting Best Odds is Essential
Do you know who offered the best odds more often last month on football? Our odds comparison below shows which bookie would have won you more!
Best Bookie for Football Odds
The table below is your most reliable football odds comparison guide.
We record football betting odds every day from a range of top bookmakers.
This table displays how often [in percentage terms] who has offered the best football odds throughout the month


Best Odds Bookie Rank for Football
48.7%

47.8%

25.8%

25.5%

20.1%

11.0%

7.5%
If you are simply looking for great odds on teams to win their matches then BetVictor is an excellent choice for the best football bets.
Best Football Odds More Often
Getting better odds more often, even by fractions can make a huge difference for football accumulator returns. See just how much in our guide
Best odds comparison Info
There are many other criteria by which punters might judge a bookie to be one of the best bookmakers for football betting and those will be addressed below.
Which Bookie Covers the Most Football Leagues?
bet365 are in a league of their own with no fewer than 137 different leagues on offer for betting as of April 2019.
That's without domestic cup competitions which are also available and numerous!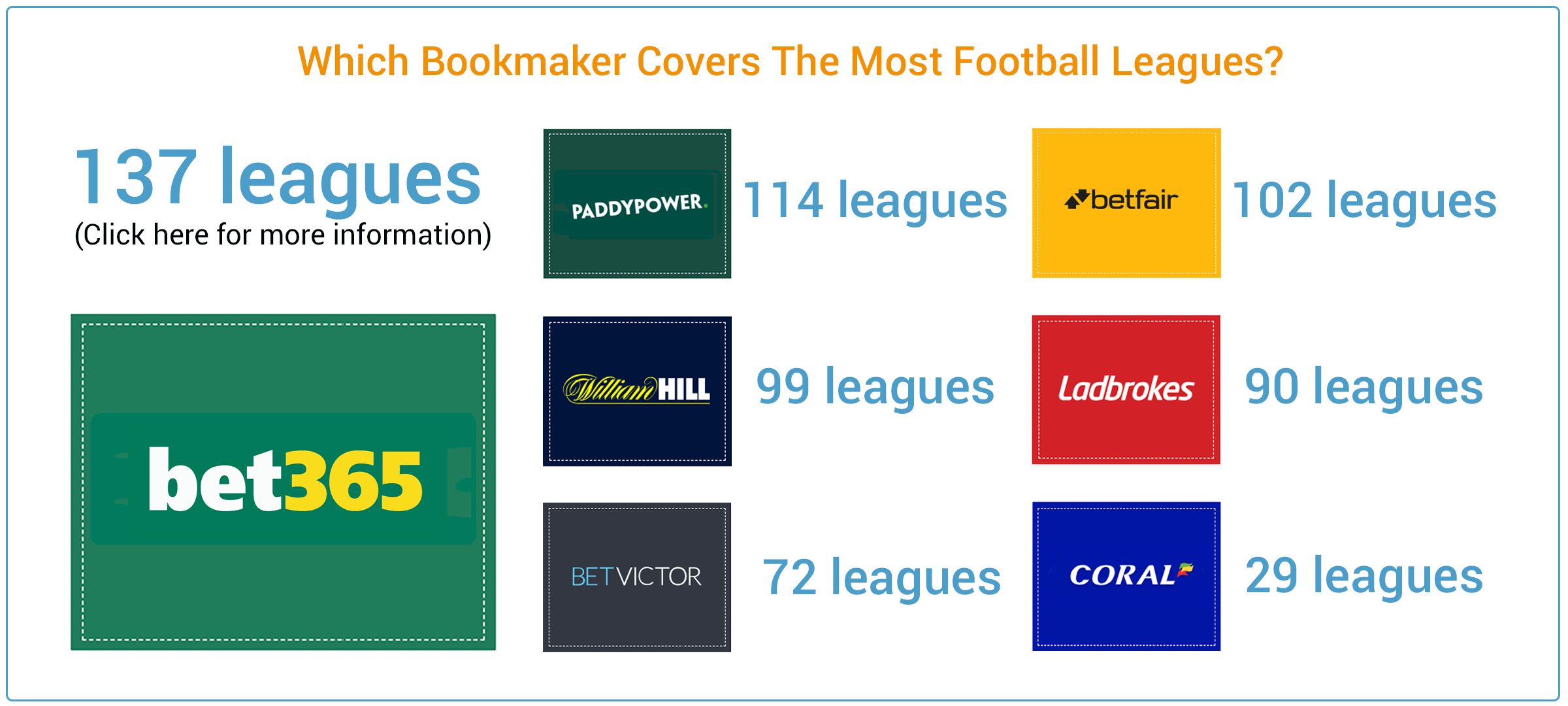 You'll struggle to find a bigger selection of football matches to bet on than at Bet365.
They offer betting opportunities from more leagues in more countries than anyone else.
Can you name 137 different football leagues?
Bet365 can, that's how many leagues they had markets for when we checked! More than 10 MORE than anyone else
The level of football coverage amongst bookies these days is excellent but Bet365 really take it to another level.
They offer the best football bets in in Finland, Gibraltar, Macau and El Salvador and even in the more popular countries that people bet on Bet365 cover an amazing depth of leagues.
There are 5 Italian leagues to bet on and in Germany you can bet on regional leagues and even the U19 Bundesliga.
Which Bookie Covers The Most Football Markets?
Despite offering fewer league in the comparison above, William Hill looks to be the bst bookmaker for football betting when it comes to the number of markets on offer for the top games.
You can often find around 250 markets in total for a popular Premier League game. [Who needs that many?]
Need 250 seperate betting markets for Premier League Football?
Coral is a strong player in terms of markets on the top matches with over 150 markets available on the bigger games.
Again Bet365 are a great bookie when it comes to choice of markets too.
They offer over 120 markets on the big Premier League matches and that's with markets such as Asian handicap and goal line, of which there are usually around 15 variations of each, counting as just one market.
That compares well with Paddy Power who will have around 110 markets and also BetVictor, Betfair and Ladbrokes who usually offer around 100 markets.
Non Premier League and European Match Markets
When it comes to the less high profile matches, the number of markets offered obviously decreases but William Hill and Coral are still excellent choices for markets other than 1x2 on less popular games.
William Hill offer a great range of markets in Europe
William Hill football betting is extensive across European leagues
Taking a Serie B game in April 2017 as an example, William Hill and Coral were way out in front with 148 markets and 140 markets respectively.
Bet365 was a clear third best with 92 markets (30 extra Asian handicaps and goal lines counting as one market) so they are clearly a great choice for the smaller games too.
Paddy Power and Betfair were similarly matched with 69 and 65 markets respectively whilst Ladbrokes and BetVictor also came out with similar scores with 42 and 40 markets respectively.
Football Free Bets
Many punters will be looking for the best football free bets to make the most out of their football betting.
There are many different kinds of football free bet that a bookmaker might offer.
These include refund offers where the stake is returned as a free bet, loyalty bonuses and in running free bets where you place a bet on the pre match market and get a free bet to the same stake on an in running market of your choice on that same match.
Bet365 are an excellent bookie for football free bets and they even refund stakes in cash to an unlimited amount on selected markets when games finish 0-0.
With the Premier League being the most popular league in the world for betting amongst punters it is no surprise that it's easy to find Premier League free bets.
Pretty much every bookmaker has some sort of ongoing offer or free bet available on the Premier League for existing customers and if not they would certainly have a new account free bet that could be used on the Premier League so you should never be short of Premier League free bets.
For each round of Premier League matches why not check out our football offers page for the latest offers.
Football Betting Offers
The football betting market is a very crowded place so bookies have to make football betting offers available to their customers in order to attract more bets. These are some of the most popular football betting offers:
Acca Insurance Refunds - What is Acca Insurance?
Acca Insurance is a promotion that bookies offer that sees stakes refunded (sometimes as a free bet, sometimes as cash) if exactly one selection lets your football accumulator down. In order to qualify for acca insurance you'll have to include a minimum number of selections in your bet (often 5).
Acca insurance dramatically decreases the risk of losing with football accas and is therefore extremely popular. The exact terms of the acca insurance should be checked on the bookmakers' websites before placing any bets. The following bookmakers offer the best acca insurance:
Paddy Power
Sportingbet
Ladbrokes
William Hill
Best Acca Insurance Bookmakers
28 bookmakers offering acca insurance have been analysed and tested and we've got an outstanding winner.
Read the Acca Insurance Guide
Edit Your Bet
One football offer that goes one step further than cash out is the edit your bet feature. This allows you to remove selections from your bet after the events have already started. Obviously you will pay a penalty with the odds of your bet but it can be useful in turning losing bets into winning bets. Bookmakers that currently offer this facility are:
Enhanced odds offers
Certain bookies offer some regular and huge enhanced odds offers for football betting. The best enhanced odds offers tend to be reserved for those opening new accounts with punters often able to obtain odds around the 10/1 mark for a selection that was previously odds on.
It is becoming more common for most bookmakers to offer enhanced odds on selected weekend accumulators.
Bookmakers that regularly offer huge odds enhancements for new customers:
Coral
Paddy Power
Betfair
888Sport
Smaller odds enhancements are also available for existing customers with some bookmakers. The bookmaker will usually group a certain number of selections and boost the odds by somewhere in the region of 10%-25%. These price boosts can be great but you may find yourself betting on a selection you don't particularly fancy. Price boosts can also be found on single selections too.
Bookmakers that regularly offer enhanced odds for existing customers:
William Hill
Ladbrokes
Betway
Which Bookies Have The Best Football Bets?
Bet365 Acca Bonus
You can earn a bonus of up to 100% in cash with Bet365's Euro Soccer Bonus. If you place a pre match accumulator with 3 or more selections made up of bets from the Champions League, the Premier League, La Liga, Serie A or the Bundesliga you can receive a bonus of as much as £100,000.
The bonus that you receive increases each time you add an extra selection to your bet with 3 selections qualifying for a 5% bonus and 14 selections gaining the full 100% bonus.
Bet365 Bore Draw Money Back
If you place a pre match correct score, half time/full time or scorecast bet on any match your losing stake will be refunded in cash if the game ends up finishing 0-0. This offer can be especially great when you are backing 1-0 or 1-1 in a match as if you are slightly wrong you may end up receiving your stake back.
Betway Acca Boost
The Betway Acca Boost is similar to that offered by Bet365 but there are a few differences this time around.
The Betway Acca Boost is open to all leagues, not just the 4 selected top leagues from Europe and the Champions League but bonus winnings are paid in free bets rather than cash this time around and no selections with odds of less than 1/4 can be included.
Only full time result selections can be made and the acca bonus kicks in when you include a minimum of 5 selections rather than 3. 5 selections will earn you a 10% bonus whilst 14 selections is once again the magic number in terms of achieving the full 100% bonus. The minimum stake to activate the Acca Boost is £5 and the maximum stake is £2000 with the bonus only being paid on winnings (stake not included).
NetBet Acca Bonus
NetBet also offer an acca bonus when bets with 3 or more selections (at odds of 1/5 or more) are placed. 3 selections will earn a bonus of 3% and 13 or more selections are required for the full bonus which is capped at 50%.
The acca bonus applies to more than just football too, bets on tennis, basketball, baseball and ice hockey. Potential bonus winnings are capped at £10,000.
Paddy Power Hotshot Jackpot
The Hotshot Jackpot is a free to enter weekly competition from Paddy Power. If you can correctly predict an anytime goalscorer in 8 selected fixtures you can win up to £250,000! If the jackpot is not won there is a prize of £2,500 each week for the participant who gets the most selections correct. There are also £25 free bets awarded to all participants who finish in the top 10.
William Hill Super Sub Offer
William Hill is a great bookie to use for goalscorer bets. Typically if your player is subbed off then your bet on that player to score a goal will end but that's not the case at William Hill. Instead the subbed on player becomes active for your bet and can make what would have been a losing bet turn into a winning bet.
Which Bookies Are Best For Both Teams To Score Betting?
Both teams to score (or BTTS) is an extremely popular market. When bookies first started offering odds on both teams to score great betting opportunities were easy to come by as bookies offered slightly better odds than they do these days. That doesn't mean you can't still find value though.
When selecting BTTS - Yes as an accumulator in all Premier League matches in the first weekend of April 2017 these were the best odds available:
10Bet - 652/1
888sport - 568/1
William Hill - 548/1
Coral - 547/1
Bet365 - 539/1
Betfair - 530/1
When selecting BTTS - Yes as an accumulator in all Championship matches in the first weekend of April 2017 these were the best odds available:
888sport - 1847/1
Coral - 1655/1
10Bet - 1523/1
William Hill - 1517/1
Ladbrokes - 1503/1
Bet365 - 1472/1
When selecting BTTS - No as an accumulator in all Premier League matches in the first weekend of April 2017 these were the best odds available:
BetVictor - 1097/1 (best price on every single match)
Betfair - 717/1
Coral - 682/1
888sport - 669/1
William Hill - 629/1
When selecting BTTS - No as an accumulator in all Championship matches in the first weekend of April 2017 these were the best odds available:
BetVictor - 4857/1 (best price on 8/12 matches)
Paddy Power - 3186/1
Coral - 2848/1
William Hill - 2571/1
Ladbrokes 2350/1
Best Bookies For BTTS - Yes
The above data suggests that five bookies stand out as the best for BTTS - Yes betting and they are listed with the best at the top.
10Bet
888sport
Coral
William Hill
Bet365
Best Bookies For BTTS - No
BetVictor well and truly wipe the floor with the competition here offering the best odds on 18 of the 22 matches examined and still being very competitive on those they weren't best price on. For both leagues the BTTS - No accas would pay at least 50% more winnings than the same bet with their nearest rivals.
Others bookies to score relatively well with the BTTS - No test were:
Coral
William Hill
Betfair
Where Can I Find Football Betting Stats?
Bet365 and Coral both offer football stats on their websites to aid punters with their selections. Both of the stats packages are exactly the same and extremely in depth covering a huge range of leagues.
These stats packages are particularly good for anyone who bets on obscure leagues or particularly wants to bet on goals markets or full time result markets.
Which Bookmakers Offer Football Live Streaming?
As football is such a huge sport for both bookies and punters it is no surprise to see a great level of coverage when it comes to live streaming on bookmaker websites.
Bet365
Bet365 has an excellent live streaming service with 36 European Leagues on offer including Spain's La Liga, Germany's Bundesliga, Italy's Serie A and France Ligue 1. Bet365 also have action from all around the world and it's all available for free, as long as you have a funded Bet365 account.
Betfair
Betfair has a decent range of football offered in their live streaming services with 8 European Leagues (the only major league is Spain's La Liga) and they also have a good range of non European and also International football on offer. Like Bet365, when it comes to football streaming you'll only require a funded Betfair account to access the feeds rather than having to have had to place a bet on the actual event.
William Hill
William Hill have a good selection of European Leagues on offer including Spain's La Liga, Germany's Bundesliga and France's Ligue 1 as well as a great range of International matches and football from around the world. In order to watch William Hill's live streams you just need to have a funded account or to have placed a bet in the past 24 hours.
Ladbrokes
Ladbrokes only have 6 European Leagues on offer but that does include Spain's La Liga and Italy's Serie A so there is some quality action available. Ladbrokes also offer action from around the world and a selection of international matches too. If you want to watch live streaming at Ladbrokes you just need a funded account or to have placed a bet in the past 24 hours.
Unibet
Unibet has a very good live streaming service with Spain's La Liga, Germany's Bundesliga, Italy's Serie A and France Ligue 1 all included alongside other European leagues, leagues from other continents and international football. You can watch live football streaming free with Unibet if you have a funded account.
One of the most important considerations when watching a live stream of a football match on a bookie website is that the 'live' stream is actually likely to be delayed by around 10 seconds so if any odds look too good to be true it is probably because a goal has already been scored but has not yet gone in yet on your stream.
Which Bookie Has The Best Mobile App?
All of the top bookmakers have an app that allows you the best possible mobile betting experience with their product. By comparing their customer ratings on the App Store we can see which bookies offer the best mobile apps.
| | | |
| --- | --- | --- |
| Bookie | Number Of Ratings | App Store Rating (out of 5 stars) |
| BetVictor | 5465 | 4.5 |
| William Hill | 20523 | 4 |
| Paddy Power | 14630 | 4 |
| Coral | 6748 | 4 |
| Bet365 | 5666 | 4 |
| Betfair | 5519 | 4 |
| Sportingbet | 401 | 3.5 |
| Unibet | 154 | 3.5 |
| 10bet | 64 | 3.5 |
| Betway | 167 | 3 |
| Ladbrokes | 2022 | 2.5 |
| 888sport | 140 | 2.5 |
According to those reviews from users it is BetVictor who have the best mobile app, given an average rating of 4.5 out of 5.
Best Football Asian Handicap Bookies
Asian handicaps allow punters to find value in a match that they wouldn't necessarily get from the usual 1x2 markets.
When you think a hot favourite is going to win very comfortably backing that team in the Asian handicap gives the opposition a head start and allows you to back your team at bigger odds.
Alternatively, if you think the match will be much closer than the bookies expect backing the outsider with a head start at shorter odds than they would be to win outright can be a nice bet.
Bet365 are the best bookmaker for Asian handicap betting as they offer a huge amount of Asian handicap markets.
Their 'alternative Asian handicap' markets will often allow punters to bet on 10+ Asian handicap markets helping you find the bet that is exactly right for you.