The Best Horse Racing betting site is bet365, offering the best odds on the sport more often than any other bookmaker. With versatile cash out, ITV Racing specials along with being the earliest available best odds guarantees and extra places in big races bet365 are the standout choice for fixed-odds horse racing betting.
Bet365 have come out at the top or joint top for the following factors analysed below
Rewards for Picking Winners
Most Betting Markets
Most ante-post Markets
Early, Overnight odds availability
Best Odds guaranteed [BOG]
Extra places in big races
Betting on Tote available
This guide is updated monthly so you have the latest information to choose the best horse racing bookmaker. For our overall list of best bookmakers head to our overall ratings and full list of UK betting sites.

Top 10 Betting Sites for Horse Racing
The top 10 betting sites for horse racing include some of the biggest brands in the UK but also some emerging brands who have iprved the betting odds on offer, as well as unique features and promotions
bet365 - No 1 Choice
BetVictor - Often Best Odds Available
Betway - Free Bets Club
Paddy Power - Promotions and Price Boosts
BetFred - Best Lucky15 betting Bonuses
Betfair - Choose your own odds and trade
Smarkets - Great alternative to betfair with Fixed Odds too
TonyBet - Most Popular New Betting Site
10bet - Odds Boosts Specialists
Marathonbet - Expected to be best odds soon
Unibet - Great Live Streaming Options
Best Horse Racing Betting Sites
For a quick guide to which bookmaker is best for your type of betting on horse racing, check the table below and use the links to go straight to your chosen bookmaker.
You can click on the bookmaker name above to go to the review page and see everything they cover + all their welcome offers, or if you prefer read on to find out why they come out top for these categories.
Good luck
ITV Racing Bookmaker Offers
ITV Racing is the staple of a weekend afternoon, terrestrial racing coverage in the UK. A few bookmakers support it with dedicated betting offers specific to the televised races on the channel. They sometimes extend to events like televised Cheltenham and Royal Ascot races too.
Having gained the coverage back from Channel4 who had owned Saturday racing since 1984, the return of racing on ITV was welcome. It has not been without its critics. There has been some criticism for booting the racing to ITV4 on occasion as opposed to the main channel.
Bookmakers had always supported Channel 4 with associated offers and with the switch to ITV, they could renew and refresh promotions and offers based around the free horse racing coverage.
These come in the form of price promises, best odds guaranteed and free bets on live racing. Let's take a look in more detail.
ITV Racing Promotions
At the time of this update [February 2020], there are currently three promotions running specifically for ITV Racing action and a further promotion from Betway based on a free to play on-site competition.
| Bookie | Promo | Value |
| --- | --- | --- |
| bet365 | 4/1 Offer | details below |
| Betway | Money-Back 2nd | details below |
| Betway | 4 to Win | details below |
| bet365 | Price Promise | details below |
bet365 4/1 Offer
Rewards for picking winners from the ITV Racing events is a long-standing promotion from bet365.
There are further terms and conditions you should be aware of; all listed below.


Betway Money Back Second
Betway approaches it slightly differently. Their promotion based on a bit of relief is you have a selection that finishes second in an ITV race. As long as there are six runners and your horse is second, they will refund with a free bet up to £20. (Minimum bet £5)
It is worth noting that the maximum any one customer can receive back per day is £60.
If you are fortunate, or unfortunate enough, depending on how you look at it, to have had three 2nd places finishes and got £20 back each time, you will not qualify again until the next ITV Racing date.
You will also have to ensure your selection is priced at least 1.50 [1/2] or bigger
Crediting of free bets is within 24 hours, but Betway aims to credit within an hour.
Read the full terms and conditions form the link below.


bet365 Price Promise
A bit like Best Odds Guaranteed which bet365 offer anyway, Price Promise goes a little further in stating they will be the best price or joint best price on every horse for all races shown on ITV Racing.
There are some bet restrictions. Read the full terms and conditions before placing your bets from the banner below. Click to view them and visit bet365
Betway - 4 To Win
Placing bets is not required for this competition from Betway.
An active account and opt-in is though.
It is a daily, free to play racing predictor game with big prizes available for picking winners. There is a £1000 daily prize available, but for ITV Racing this is extended to £10,000. Just select the winner of the nominated four races. Easy you think?
Well, if more than one player picks all four, it's not a split of the pot - Oh no! - It goes to a tie-break situation. The question asks for a prediction of the combined winning distance of all four races. It's Fun. It's Free, and it's worth playing if you are an ITV Racing fan.


Other Horse Racing Betting Promotions
There are many different bookie special offers there to tempt in the potential new customer or to keep existing customers active.
Everyone loves betting offers, but we would always advise only to take up opportunities for betting promotions if it fits into your regular betting activity.
Never make a bet to get an offer, enhanced odds, or free bet. Especially if it is not an event you understand, or an outcome you are confident will happen.
Most horse racing betting promotions fall into just a few categories:
Enhanced odds for new customers only
Enhanced odds promotions for existing customers
Money-back specials
Money-back on non-runners
Enhanced Odds for New Customers
It is not unfamiliar to see ridiculously enhanced odds from some betting agencies to lure in new customers.
To take it to the extreme, offering odds of 50/1 for a fence to be jumped by any runner in the Grand National to maximum stakes of £1 is not beyond the realms of possibility these days.
50/1 for any horse to finish!
I'm sure I saw something like 50/1 for "no fallers at the first fence" in 2018.
Of course, for the brand new punter, this looks attractive, [indeed it is], and with the bait well and truly taken, the bookmaker has a new customer who may well go on to become a regular customer. That's good business and cheap marketing.
Bonus Abuse Limits Betting Options
We have completed a guide on how to avoid restrictions and account closures from experts in the field and punters with real-life experiences of making the most of online bookmaker promotions
[TOP TIPS] - How to stop your account being closed
Massive odds enhancements reserved for customers opening new accounts is the normal procedure, but several bookmakers regularly enhance the odds on specific selections, and we look at those next.


Enhanced Odds Promotions for Existing Customers
Some people love them; some people take them as a sign to stay away from the chosen runners.
Examples of enhanced odds for horse racing might be
Happy hour, where board prices increase for a certain length of time on the morning of racing
During big racing festivals, individual runners will be available as a double or bigger at slightly larger odds
A jockey to ride a certain number of wins offered with enhanced odds
For existing customers, these enhancements are not as significant as for new customers.
You may see 6/4 increased to 2/1, or 10/1 increased to 12/1 - Small percentage increases that you might even be able to find with another bookmaker or an exchange anyway


Money-back specials
These tend to be very popular as they offer a risk-free bet.
Typically, money back is offered on a particular race if your selection finishes within a certain distance or specific places of the winner or a winning favorite.
If you are fortunate, you'll find a money-back special where all losing bets on a particular race are refunded.
Typical examples of bookie money back specials:
Moneyback if your selection finishes 2nd or 3rd in the Cheltenham Gold Cup.
Moneyback if you finish 2nd to the favourite in the Sussex Stakes.
Moneyback if your selection finishes within a length of the winner in the 2000 Guineas.
The amount of money returned is usually capped at around £50 (it can be much less depending on how likely you are to be refunded)
Also, be aware that the refund is often bet credits rather than cash.
Cash Back or Free Bet?
Remember, money back specials, are usually refunded in the form of a free bet, which you can bet with, but if winning will not be returned as stake.


Moneyback on Non-Runners
This is a bit of a grey area as by racing and betting rules, once the runners are 'under-orders' should they not take part in the race they will not qualify as a non-runner
In the past some bookmakers, most prominently Paddy Power have offered non-runner rules for some higher profile races where this has happened and refunded stakes.
Ultimately, refunding stakes is fairly cheap marketing, and so you will find this at the weekends and some big meeting.
However, BetVictor have a dedicated Run for Your Money promotion offering some insurance on these events, to quite a substantial sum it might be added.
Read the full terms and conditions on the link, but with the best Horse racing odds on offer coupled with this promo, BetVictor should be a serious consideration for horse racing betting
Read on for confirmation of which bookmaker offers the best odds on horse racing.
Horse Racing Best Odds
Which bookmaker has the best odds on horse racing?
There are many ways to collect data and compare odds, but we have come up with a solution, to provide you with the best odds bookmaker for horse racing every month.
Make sure you check out this page at the start of every month and find out which bookmaker you should be betting with on horse racing
Horse Racing Best Odds
Best Odds Bookie Rank for Horse Racing
59.1%

44.3%

34.5%

34.0%

34.0%

33.9%

32.8%

32.2%

30.0%

29.7%

24.6%
One way of finding out who has the best odds for a particular race is to go to an odds comparison website, choose horse racing, choose the meeting, choose the race, and choose the runner.
That's a pretty drawn out exercise, and even then you will get results for perhaps dozen or more bookmakers, some of which you may not have accounts with or even want accounts with
Making Horse Racing Odds Comparison easy!
Well, never fear, OLBG are here with a solution to that.
If you only bet on horse racing, and you only want one horse racing betting app on your phone, then you want an account with the bookmaker that sits the top of our list.
Every day we collect horse racing odds data, and on each and every occasion find who is top, or joint top best odds.
We then display in the chart above how often a bookmaker has provided the best price or joint best price each month.
We also add a banner below for that bookmaker.




Bet Victor Review
Either open a Bet Victor account through the link below or, read the full Bet Victor review to see what users think of this bookmaker across all sports and service - With the latest details on the Bet Victor welcome offer, the mobile app and more, we think you will find it useful.
Read Review
Best Horse Racing Odds for 2020
As the year progresses, we will keep records of the best bookies for horse racing odds, and we should be able to narrow down a shortlist of perhaps, just 2 or 3 bookmakers to choose from, to ensure you are always getting the best horse racing odds available
So you can ensure to get the best price more often than not, by simply checking this page, rather than trawling around a horse racing odds comparison website
Best Odds Bookie Rank for Horse Racing
Bookie
Rank
Percentage

1st
59.1%

2nd
44.3%

3rd
34.5%

4th
34.0%

5th
34.0%

6th
33.9%

7th
32.8%

8th
32.2%

9th
30.0%

10th
29.7%

11th
24.6%




Best Bookmaker Guides
Check out our other guides where we have collected the best odds data for a range of sports and advise which bookmaker is best odds for football, tennis, basketball and more
Horse Racing Today - Types of Bets. Which Bookie offers the most?
In horse racing today, punters are no longer restricted to just backing win, each way, forecast or tricast.
The bookies have lots of markets on each race and these markets are becoming increasingly popular.
Outside of fixed odds, win/each way betting and forecasts and tricasts you can find these extra markets at the best online bookies.
Ranked #1 for Most Horse Racing Markets on Offer
Industry-leading online bookmaker offers the greatest range of betting markets on horse racing
Betting w/o favourite
Place only and extended place betting
Insurance betting
and more
Looking at horse racing today for types of bets bookmakers offer, the most on day to day racing was Bet365 with 9 markets on most races and William Hill with 8 markets
Those two bookies really stand out against the rest of the bookies, who tend to offer just 3 or 4 markets on each race.
The markets on offer between Bet365 and William Hill are very similar but there are a couple of differences (as well as the fact that Bet365 has an extra market).
It's certainly worth having an account with both bookmakers and comparing the odds on the markets you think you can profit from.
Betting Without the Favourite
The ability to win at horse racing when you pick a loser
This was first introduced on course by bookies when a race contained a very short priced favourite that ordinary punters would not be interested in betting on
For instance, when a horse is as short as 1/20, it would mean you would have to bet £20 to win just £1
As a result, punters would retire to the bar, not have a bet and bookmakers would do little business with the majority of people
This was overcome by taking the favourite out of the market, reforming the odds and offering prices on all but the most likely winner
Regardless of what the favourite in the race does, your bet is now for your selection to either win the race or finish second behind the favourite
Betting without the favourite is a great option when there is a huge class gap in a race between the top runner and the rest of the field
---
Bookies offering Betting without the Favourite
bet365 - William Hill - Paddy Power - Ladbrokes - Bet Victor - Coral - Betfair Exchange - Betfair Sportsbook
---
This feature hs even been extended in some cases with many bookies offering Betting without the first 2 favourites.


20/1 winning returns for finishing 6th!!
Here at OLBG we have one member who plays this bet each way, often looking for big priced outsiders in big fields where betting this option [to 4 places] can ensure a good return even if the runner finishes well beaten in 6th place.
It is not unknown for him to find a runner at 80/1 in this market, play each way and gain a return of 20/1 [1/4 odds] for finishing 6th
It's all about knowing how to play these markets!
Insurance Bets
Often referred to as Insure Bet or Cover Bet, this is a bet on a horse to win but if it fails to win but gets a place, you get your stake back
Insure Bet - Cover Bet
Get your stake returned if your pick is beaten but gets a place
Many bookies offer insurance bets
You will be offered shorter betting odds about your horse winning the race but have the safety net that if they lose and finish in the places you at least don't lose your bet but get your stake refunded
Insurance betting is a bit of a take on each way betting but an alternative all the same.
If your selection finishes outside of your stated insured places you would lose your entire stake, just the same as each way betting.
Faller insurance
In National Hunt racing [over fences], often a faller insurance is offered too. Although often this is an existing promotion from certain bookmakers anyway. See above.
---
Bookies offering Insurance Betting
bet365 - William Hill
---
William Hill Bookie Review
We have reviewed in full the online William Hill experience and our users have had their say
William Hill Review
Place Only Betting
Available with almost all online bookmakers, place only betting, is a very popular bet type these days for serious betting fans interested in making small gains over time.
It can be a low risk, low reward system to making profits slowly over time betting on horse racing.
A place only bet is the place part of an each way bet, in that you are betting not on your horse to win, but to finish within the official number of places available depending on racing rules. Usually 2, 3, or 4.
I like to be able to bet down to 6th place in ALL big handicaps
Some firms will offer extended place betting options where places can go to 5th, 6th or even further, where odds will be reflective of the greater chances.
By the same token, you can also bet on 2 places where normally there would be 4 available to gain higher odds
Which bookmakers offer Place only Betting?
...pretty much all of them
We Recommend Betfair Exchange for Place Only and Extended Place Betting
With the largest range of place betting options Betfair Exchange can offer some excellent place betting opportunities
Try Place betting on the Exchange
Match Betting in Horse Racing
Match betting in horse racing is when two horses from a larger field are picked and odds offered against one finishing in the best position.
Neither horse has to win the race in question, just gain a better finishing position than the other
Another option of picking the loser of a race but winning anyway!
Often the 2 horses will be chosen and the match offered, in some cases, you may be able to select your own match
Do not get match betting in horse racing mixed up with Matched Betting and No Risk Matched Betting.
The latter doesn't technically exist as there is always risk, and the former is about using bookmaker bonuses only for betting which has a very limited life and will result in your account being restricted or closed
How to reduce the risk of getting your betting account restricted or closed down
---
Which Bookmakers offer Match betting?
bet365 - William Hill - Paddy Power - Ladbrokes - Bet Victor - Coral - Betfair
---
Note that Tote betting markets are not included above, you can find out which bookies offer Tote betting further down this article.
Which Bookie Offers The Most Ante Post Horse Racing Odds?
As of 2020, bet365 had by far the most Ante Post Horse Racing markets available to bet on
The amount of ante-post horse racing markets offered by horse racing bookies will vary depending on the time of the year.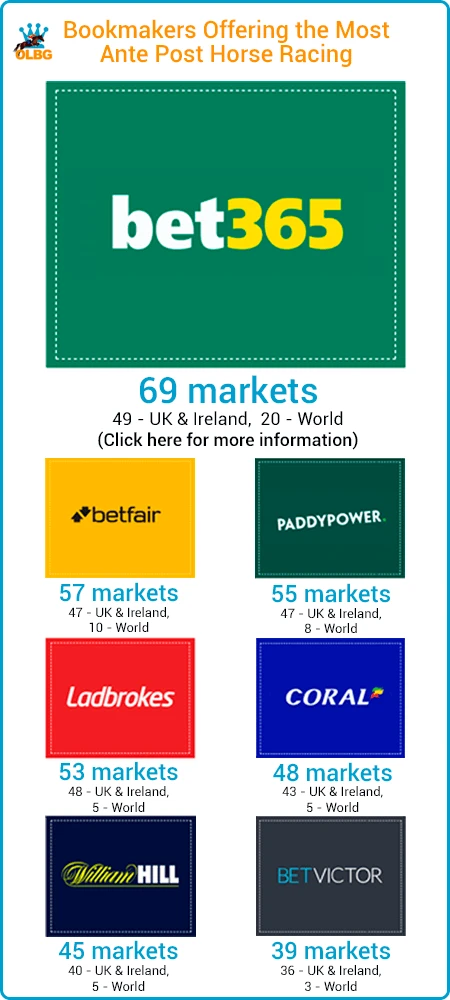 Generally, if a bookmaker offers more ante-post markets at one time of the year, they'll offer more than the competition for the rest of the year.
Ranked #1 for Ante Post Horse Racing Betting
With 77 ante-post markets at the start of the flat season both UK and Internationally, bet365 beat their nearest rival [Betfair 61] by a clear 16 events.
Biggest Ante Post Market Selection
Ranked #1 for most Racing Markets
Great Racing Odds
What is Ante Post betting?
Ante post betting is when you can place a bet well in advance of the event date. Days, weeks, months and even a year in advance when betting odds can be much higher. Beware, however, if your selection does not take part, Ante-post rules apply which means you receive no stake back, unlike the 'non-runner' rules
Ante post betting guide
Which Bookmakers Offer Early Odds On Horse Racing?
If you are looking for tomorrows racing odds as early as possible, these are the bookmakers first to price up races.
Bookies with Early Odds on Horse Racing
Bet365 - Paddy Power - Betfair - Betfred - BetVictor - Winner - Betway - Ladbrokes - William Hill - Coral
Who gives you early odds for horse racing tomorrow?
You will be able to get your bets on many races from around 5pm the day before the race with several online bookmakers.
This appeals to many punters as there can be bigger differences in the odds offered by each bookie when the market is first formed before the bookies tend to align their prices more with each other just before the race.
Spot the mistakes in the odds by looking early
It usually takes until the morning of the races for the odds to level out across all bookmakers - Getting in early, you can spot which bookmakers look to have their early odds out of line
The amount of races priced up the day before by bookies varies from bookie to bookie, as do the times that the odds are released.
Some bookmakers will offer horse racing odds on all of the next day's racing whilst others will only price up a few races - or even none at all.
The very biggest races should be priced up by all bookmakers as soon as the final declarations are made.
Bet365, Paddy Power and Betfair are usually the first to price each up the day before and also offer the best selection of overnight early prices so it is always worth having an account with all three of those bookmakers.
Which Bookmakers Offer Best Odds Guaranteed For Horse Racing?
Biggest BOG Guide Ever!
Click here for our view on the 40 bookmakers that offer best odds guarantee, and find out which one is best
BOG, short for Best Odds Guaranteed is the staple diet of online bookmakers horse racing promotions these days.
Quite simply if you take the current price of your horse when placing your bet but the starting price [SP] is greater, you will be paid at the bigger odds!
The following bookmakers all offer best odds guaranteed on horse racing but the times from which it is offered do vary, some are overnight, and some from early in the morning, always double-check BOG timings.
Best odds guaranteed on all racing
Bet365 offer BOG on all daily racing (except Australiasian) from the time they price up races, which is normally around 5.00 PM the day before.
Best odds guaranteed on all UK and Ireland Racing
Paddy Power offers BOG on all daily horse racing in the UK and Ireland. (8.00 am)
Ladbrokes offer BOG on all daily horse racing in the UK and Ireland. (Day of the race)
William Hill offers BOG on all daily horse racing in the UK and Ireland. (10.00 am)
Betfair offers BOG on all daily horse racing in the UK and Ireland. (8.00 am)
Coral offer BOG on all daily horse racing in the UK and Ireland. (Day of the race)
MansionBet offers BOG on all daily horse racing in the UK and Ireland. (9.00 am)
BetVictor offer BOG on all daily horse racing in the UK and Ireland. (9.00am)
Boylesports offer BOG on all daily horse racing in the UK and Ireland.

(Day of the race)
Best Odds Guaranteed on the day of racing
Betfred offers BOG from 8 am the day of racing on all horse racing in the UK and Ireland.
Betway offers BOG on all daily horse racing in the UK and Ireland from 10 am on the day of the race (£10/£5ew minimum stake).
Best Odds Guaranteed Plus Odds Boost
In 2016 Ladbrokes introduced a new offer called Best Odds Guaranteed Plus. This is basically the same as BOG except instead of being paid out at SP you are paid out at one price bigger than SP.
For example, If you take 3/1 and your horse wins at 10/3, ordinarily you would get 10/3 but with BOG Plus you get 7/2 instead.
This applied only to your first £200 on a selection.
This offer cost Ladbrokes an extra £5.5m in payouts in 2016 and it has proved too costly an offer for other bookmakers to stick with - the likes of Bet365 and Betway both offered best odds guaranteed plus for short time periods before removing the offer.
Which Bookies Are Best For Each Way Betting?
Generally, there isn't much variation in each way terms amongst bookmakers as each way terms are dictated by the type of race and number of runners but some bookies do offer either extra places or enhanced place odds on some races.
Each Way Betting
Remember that an Each Way bet is 2 bets, thus costing double the stake you enter
Each Way Betting Explained
In case you've arrived here looking for an each way bet explanation.
In each way betting [often wrongly referred to as Win and Each Way] your stake is doubled as you are placing, in effect 2 separate bets combined
The 2 bets are in fact 'Win' and 'Place' bets
1 x Win bet
1 x Place bet
So a £5 EW bet, has a cost of £10
Each Way Odds
No. of Runners (at the

off)

Race Type

Place Terms

2 - 4

All Races

Win Only

5 - 7

All Races

1/4 1st 2

8 - 11

All Races

1/5 1st 3

12 - 15

Handicap

1/4 1st 3

12+

Non Handicap

1/5 1st 3

16+

Handicap

1/4 1st 4

If your horse comes first, you will be paid both the "Win" and "Place" part of your bet.
But if your horse comes 2nd (or 3rd or 4th depending on how many places are paid) then you will get paid at either a 1/4 or 1/5th of the odds for you place stake, depending on the each way terms for the race.
Which bookies offer more than 4 places on big races?
In 16+ runner handicaps the standard each way terms are 4 places 1/4 odds but the higher the profile the race the more likely you are to see some bookmakers offering 5 places, or less commonly 6 places on each way bet
In these races the extra place is nearly always given whilst maintaining the place terms of 1/4 the odds.
Bet365, Paddy Power, Betfair and BetVictor are normally the most reliable with offering an extra place in this sort of race.
Which bookies offer 4 places instead of 3 places for each way bets?
It is becoming more common for some bookies to offer 4 places in handicaps that have just short of 16 runners, when the usual place terms would be 3 places 1/4 odds.
However, in this sort of race, you'll usually find that the bookies penalise you for getting the extra place by offering just 1/5 odds on placed horses.
Look for an angle to exploit the place terms
This isn't necessarily an advantage if you can only see one or two dangers but if you are simply looking for a horse to outrun its odds it can be great to take advantage of this.
Paddy Power, Ladbrokes and Coral are usually first to offer this extra place.
Which bookies offer enhanced place odds on each way bets?
If a handicap has less than 12 runners the place odds will switch from 1/4 odds to 1/5 of the odds but you'll find many bookies are willing to offer 1/4 odds 3 places even when there are as few as 8 runners.
It might not seem much but it can make a fairly big difference on some bets.
For example £10 each way on a 16/1 shot that places at 1/5 odds will only pay £42 whilst at 1/4 odds it pays £50.
That's almost 20% more winnings!
Bet365 are normally first to offer 1/4 odds 3 places when other bookies are offering just the standard terms of 1/5 odds 3 places.
Difference between 1/4 odds to 1/5 of the odds
It might not seem much but it can make a fairly big difference on some bets.
Each Way Accumulator
One huge frustration for a new punter is putting together 4 or 5 runners in an Each Way Accumulator, getting maybe 2 or 3 winners, and places with the other pair, and getting a false understanding that the payout should be much larger than what is returned.
Again what should be understood with the Each Way Accumulator is that there are again, 2 separate bets
1 x Win Accumulator
1 x Place accumulator
As soon as any runner doesn't win, the Win Accumulator is a losing bet
The place accumulator may have been a sucess but it is often forgotten that win odds do not count in the place part.
Where Can I Get Bonuses On Horse Racing Multiples?
Lucky 15s/31s/63s can be a fun bet for many punters as they cover plenty of races.
There are also bonuses for getting just one winner or if all your selections are successful.
Betfred has a standout offer on Lucky 15s as they give treble the odds on one winner. This offer alone is worthing signing up to Betfred for. Also, check out their current sign up offer below and click the link to take advantage.
We have a full Lucky 15 Betting Guide dedicated only to Lucky 15 information
Which Bookmakers Offer Live Horse Racing Streams?
There are few sports that can match the excitement of live horse racing
To able to watch live racing and have a bet is something not so very long ago, wasn't even a possibility
Gone are the days of sitting in a smokey bookmakers, looking at a guy with a blackboard marking up the betting odds and listening to a very poor audio feed.
Not only can you now watch live racing in bookmakers, or on the TV at home you can also watch horse racing live streams on your mobile phone.
Remember Live Streams are not Really Live!
They are close, but there will be few seconds delay at least, so bear this in mind when betting in play
Where Can I watch a Horse Racing Live Stream?
Horse racing is the daily bread and butter for the bookmakers so it is no surprise to see great coverage of live horse racing streaming on the leading bookmakers' websites.
It should be remembered that even though you are apparently watching the race 'live' there are likely to be some delays, even behind the television image, which can amount to 10-20 seconds. It's not generally advised that live streaming pictures are used for in running betting.
Bet365 have again come out top of this section thanks to the lower minimum bet to qualify to watch the live stream
Ranked #1 for Horse Racing Live Streaming
Thanks to a low minimum bet to qualify to watch as well as full US Racing coverage and international meetings too, bet365 are the go-to racing live streamers
Full UK and Ireland Coverage
US Racing
South African Racing
Bet365 Live Streaming
Geo-restrictions apply.
To use the Live Streaming service you will need to be logged in and have a funded account or to have placed a bet in the last 24 hours.
For UK/Ire horse racing simply place a bet of at least £0.50 win or £0.25 each-way on your selection to watch that race.
William Hill have their own Racing TV channels online
You will still need to make a bet on the race you want to watch though
William Hill Live Streaming
William Hill's 'WHTV' service allows live streaming of racing from UK and Ireland as well as South Africa.
The total stake placed on the race must be £1 (50p each way) or greater and bets on multiples are eligible as long as the total bet stake divided by the number of races in the bet exceeds £1.


Coral Live Stream
You can live stream racing from the UK and Ireland, as well as selected races from Dubai and USA, through Coral.co.uk as long as you have placed a bet of £1 or more on the race on the question.
Multiple bets including that race require a slightly higher stake.
If the race is included in a double the stake must be no less than £2, a treble requires a stake of at least £3, 4-folds are £4 and so on.
Paddy Power Live Stream
Paddy Power offer live streaming of races from the UK and Ireland only providing you have placed a bet of £1 (or 50p each way) on the race you wish to watch.
If your race is included in a multiple bet the total stake of the multiple bet divided by the number of races in the bet must exceed £1.
Bet Victor Racing Replays
A really handy feature on Bet Victor is the ability to watch racing replays. Great for form enthusiasts.
BetVictor
You are able to watch live streams of racing from the UK and Ireland as well as South Africa and the UAE on the BetVictor website.
To be eligible you'll need to place a bet of £1 or more on the race you would like to watch or place a multiple bet when the total stake divided by the number of races in the multiple exceeds £1.
BetVictor also offer the opportunity to watch racing replays as well.
Ladbrokes
Ladbrokes offer live streaming of just selected races from the UK and Ireland.
If the race you wish to watch is covered by Ladbrokes' live streaming service you'll need to place a bet of £1 or more on that race.
Where Can I Place In Running Bets On Horse Racing?
Some of the fixed odds bookies have occasionally tried offering in running odds on certain horse races but by far the most reliable option for in running horse racing betting is the Betfair Exchange.
Ranked #1 for in-running betting
The most popular and most active in running exchange destination for betting in running on horse racing
Most Players
Biggest Markets
0% Commission on losing bets
On the Betfair Exchange all races will go 'in play' once they begin and a whole new betting market is instantly formed.
You have the option to both back and lay (backing to not win) any selection in the race and you'll be betting against other punters rather than the bookies.
Betting in play on horse racing is not easy and the odds can move very quickly, especially on the shorter distance races.
New to In Running Betting on Horses?
Choose longer distance races, so you have more time to make decisions
If you are new to betting in play on horses then you'd be advised to start on longer distance races as you get used to it.
Betting in running on horses gives punters an extra option when it comes to trading.
Bets can placed on horses that are expected to trade shorter in running and profits can be made without the horses necessarily needing to win.
Which Bookies Offer Tote Betting?
Tote betting is available with most bookmakers currently but even if a bookmaker offers some Tote markets it is not guaranteed that they cover all of the Tote markets.
Check below which bookies offer which Tote markets:
Bet365 - All Tote markets are available.
Betfair Exchange - All Tote markets are available.
BetVictor - All Tote markets are available.
Ladbrokes - All Tote markets are available.
Coral - All Tote markets available.
Paddy Power - All Tote markets except for Tote Swinger.
Please Share this guide!
We hope you have found this guide helpful in find the right bookmaker for you for whatever aspect of betting on horse racing interests you
Thank You!
Please share this guide on social media
We would really appreciate it if you think it is helpful if you could share this guide on facebook or twitter if you think your friends, family or contacts will find it equally helpful or interesting.
It will help us continue to create and provide betting guides, insight and advice, free of charge
Check out our other betting guides
We have a huge range of guides for every sport you can bet on.
Guides on betting bonuses, free bets and more
If you are looking for Horse Racing Tips, then our Free Racing Tips section is for you
Horse Racing Betting Sites Further Reading
Horse Racing Betting Related Questions
Horse Racing [UK]
How do you bet on horse racing online?

Betting on horse racing online is as easy as going into a higher street betting shop. in fact, it can be deemed an even easier, as you don't have to make the trip. You do need to register for an online account after choosing the betting site you want to use. Horse racing is very popular, so it is easy to find on the ap, select the race and the horse you want to bet on and choose your stake. you will have a betslip and can confirm if the details are correct.

What is the best way to bet on horses?

Many an expert and professional gambler will tell you the best way to bet on horse racing is by making single bets either on the win or place markets. Once you begin to combine selections into bet, the probability of winning becomes lower, the strike rate lower and odds larger. Whilst this can lead to bigger wins, it is also harder to make a slow and steady profit than by betting on singles alone.

Can you bet on a horse to lose?

It is possible to bet on horses to lose. This was once the reserve of the bookmaker, but the betting exchanges offer the opportunity to bet like a bookmaker and many online betting sites now offer the option to bet on a horse not to win. When betting on a horse to lose, you offer the odds on the exchanges to people wanting to bet that the horse will win. This is different from bookmaker sites where the option is will the horse win the race, Yes or no.

What types of bets can you make on horses?

From betting on a horse to win a race there are a huge number of other options on the types of bets you make on horses. From two selections creating doubles, or trying to predict the first and second place finishers known as a forecast or exacta, there are dozens of types of bets you can make on horse racing.

How often does the favourite horse win?

The favourite horse in a race will win around about 30% of the time in all races. This is of course a fluid figure and will fluctuate between other factors such as the course, month of the year or on different types of ground. It is worth investigating more specific favourite winning statistics on racing stats websites where you may be able to find where favourites win more or less often than the general 30% figure to find a betting angle.