National Hunt Racing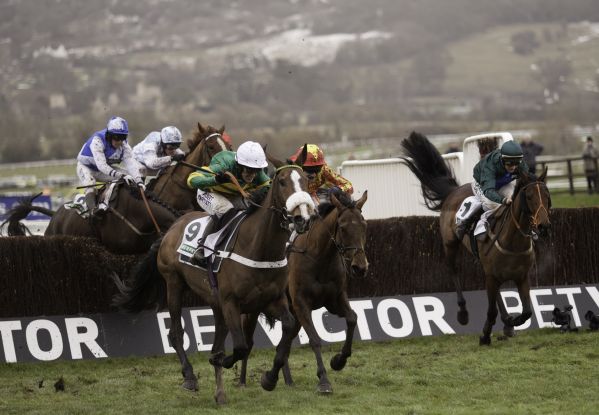 What is National Hunt Racing?
In National Hunt racing horses are required to jump either fences of hurdles.
How long are National Hunt Races?
Races are run over a distance between 2 miles and 4 miles.
What is the difference between a hurdle and a fence?
Hurdles are smaller obstacles than fences, with fences taking more jumping.
When does National Hunt Racing take Place?
National Hunt Racing now takes place all year, although the NH season is traditionally run between October and April.
Do I need separate knowledge for betting on National Hunt Racing To Flat Racing?
The principals are the same but studying and knowing how to read the form of National Hunt horses is of course helpful.
National Hunt Chases
Chases are the larger obstacles and races over these obstacles are run from the minimum distance of 2 miles to anything up to the maximum of 4 1/2 miles
Fences cannot be anything smaller than 4 1/2 foot high although some courses have fences much bigger than that.
Some chase courses have a water jump, which is the same size as a hurdle but has a ditch filled with water on the other side, most horses clear these without any problems.
During a Chase race you might hear the term, the next fence is an open ditch, this fence is normally the same size as all of the rest on that course but has a ditch on the landing size making the fence slightly larger on the landing side.
No Chase can start with the field jumping an Open Ditch and finish with an open ditch, although on some occasions due to the unsafe ground or poor vision courses will make horses bypass certain fences in the race.
Grand National
The most famous and biggest betting race in the UK.
The biggest Chase race in the UK is the Grand National, which is run at Aintree and has 30 fences to jump and is run over the longest distance in Britain of 4 miles 4 furlongs.
The biggest race prestige wise for Chasers is the Cheltenham Gold Cup, which is run over slightly further than 3 miles 2 furlongs at Cheltenham Racecourse in March during the 4 day Cheltenham Festival.
Not all horses are suited to run over all distances, just like the flat, you will have the speed horses who will normally run over distances ranging from 2 miles to around 2 miles 4 furlongs,
You will get middle-distance horses who love running over distances ranging from 2 miles 4 furlongs to about 3 miles 2 furlongs and you will get stayers who will mostly run over any distance from 3 miles upwards.
Cheltenham Gold Cup
The most prestigious chase in the UK.
Occasionally you do get horses that are as effective over a range of distances
Cross Country Chases are becoming more popular, these types of races are usually run partly over the racecourse and on the inside of the racecourse, with many different obstacles to be jumped.
These obstacles can often be hurdles, regular fences, and even things like wooden gates and brick walls, you often see banks that the horse has to jump up and down from
Grade 1 Chases and Hurdles
| Race Title | Course | Month |
| --- | --- | --- |
| Clarence House Chase | Ascot | January |
| Tolworth Hurdle | Sandown | January |
| Ascot Chase | Ascot | February |
| Scilly Isles Novice Chase | Sandown | February |
| Arkle | Cheltenham | March |
| Champion Hurdle | Cheltenham | March |
| Mares Hurdle | Cheltenham | March |
| Neptune Novice Hurdle | Cheltenham | March |
| Supreme Novice Hurdle | Cheltenham | March |
| World Hurdle | Cheltenham | March |
| Triumph Hurdle | Cheltenham | March |
| Albert Bartlett Novice Hurdle | Cheltenham | March |
| Royal & Sun Alliance Chase | Cheltenham | March |
| Queen Mother Champion Chase | Cheltenham | March |
| Golden Millar Chase | Cheltenham | March |
| Ryanair Chase | Cheltenham | March |
| Gold Cup | Cheltenham | March |
| Champion Bumper | Cheltenham | March |
| Doom Bar Novice Chase | Aintree | April |
| Anniversary Juvenile Hurdle | Aintree | April |
| Aintree Hurdle | Aintree | April |
| Mersey Novice Hurdle | Aintree | April |
| Long Distance Hurdle | Aintree | April |
| Sefton Novice Hurdle | Aintree | April |
| Top Novices Hurdle | Aintree | April |
| Melling Chase | Aintree | April |
| Bowl Chase | Aintree | April |
| Mildmay Novice Chase | Aintree | April |
| Manifesto Novice Chase | Aintree | April |
| Celebration Chase | Aintree | April |
| Betfair Chase | Haydock | November |
| Fighting Fifth | Newcastle | November |
| Finale Hurdle | Chepstow | December |
| Long Walk Hurdle | Ascot | December |
| Christmas Hurdle | Kempton | December |
| Feltham Novice Chase | Kempton | December |
| Henry V111 Novice Chase | Sandown | December |
| King George V1 Chase | Kempton | December |
| Challow Novice Hurdle | Newbury | December |
| Tingle Creek | Sandown | December |
National Hunt Hurdles
Hurdles are normally no bigger than 3 1/2 foot and it's unlikely that you will see less than 8 hurdles jumped in a hurdle race.
Distances IN hurdle races vary from the minimum trip of 2 miles to the maximum of 3 1/2 miles.
Horses jump hurdles at a faster speed and the races are usually run in quicker times than chases.
Again, just like in chases, horses are normally run over similar distances with the faster horses usually running the faster run races over between 2m and 2m 4f and the stayers usually run in races over 2m 4f, there are 2 main championship races for hurdlers, the first being the champion hurdle at the Cheltenham Festival which is run over 2 miles, the other is called the World Hurdle which is for the stayers and is run at the same meeting over 3 miles.
National Hunt Type Of Races
Type Of Races
Just like on the flat, there are many types of race to be run on the National Hunt circuits and they are as follows.
Juvenile
Juvenile races are only ever run over hurdles and Junior races are run as NHF races.
Both of these races are entirely for 3yo's but as all horses age by 1 year on January 1st, they then become 4yo races from that point
There are 2 big races for horses that start their jumping campaign as a 3yo, the Triumph Hurdle is classed as a novice race where all horses carry the same weight, with exceptions of penalties and there is also a Juvenile Handicap hurdle race at the festival where all horses carry different set weights.
Maiden
A maiden is for a horse that has never won a race under that code before.
A maiden hurdle is for horses that have never won a hurdle before, they could have won a bumper or a chase but must never have won a hurdle race.
The same rule applies for chases, any chase winner cannot enter a maiden chase.
Novice
A novice is a horse that could have won a previous race but not before the start of the new season,
A horse that did not win a hurdle race last season can run in novice hurdles even if they have already won a novice race this season
Again, the same rule applies for chasing, a current season novice winner can enter a novices race this season.
Handicap
Once a horse has won under that code or ran 3 times, he will be entitled to have a handicap mark.
This mark is given to the horse by the official handicapper.
The weight the horse carries is determined by that rating, as is the quality of the race they can enter.
A hurdler/chaser rated 140 cannot enter a race that is only open to horses rated 130 or less, hurdlers/chasers running in novice handicaps will still need to be given a handicap rating, even if they have yet to run under that code of racing, so the handicapper can decide what weight they should carry
All handicaps will have highest-rated horse carrying the most weight,
Most handicaps will have the top weight carrying between 11-10 & 12-00, on occasions the horse carrying the most weight might not be the highest rated, this happens when a recent winner (usually within the last 7 days) runs again and they get to carry a penalty, this could be 3lb, 5lb or 7lb, and occasionally 10lb.
Carrying a penalty could make that horse carry more than the official top weight of the race
Horses at the bottom of the handicap will always carry 10-00 should the lowest-rated horse be rated low enough
The difference between each horses weight is all about their rating, 1 point difference in their ratings means 1lb less on their backs, example being -
A horse rated 120 carries 11-10 in the race and the next horse in the race is rated 115, he would carry 11-05, 5 points less, which equates to 5lb, then follow again for the next horse,
If the next horse is rated 113, he carries 11-03, as he is 2lb lower than the 115 horse, therefore 2lb less on his back.
Bumpers
National Hunt Flat races or "Bumpers" as they are widely known are often run over shorter distances than hurdles & chases, you can often see the earlier bumpers running over 1m 4f but they can be run over 2m 4f.
NHF races are for horses that have never raced before, whether that be flat or NH, they are running on a track for the first time in their lives.
All trainers with bumper horses are hoping they have an animal good enough to tackle the top NHF race of the season, again at the Cheltenham Festival, with the Champion Bumper being run over 2 miles.
Jockeys
All jockeys carry the official weight on their horse
If the jockey weighs 10-00 and the horse is set to carry 10-06, the jockey will carry 6lb of lead in his saddle to make sure the weight is correct.
If a jockey is slightly heavier than the weight he is set to carry, then this is classed as overweight and must be declared, so if a jockey weighs 10-08 and rides a horse set to carry 10-06 then he must declare 10-08 as his riding weight.
On occasions trainers will use conditional jockeys to take extra weight off their backs, all conditional jockeys have their own yards they are connected to, this breaks down as follows -
A conditional jockey who has ridden less than 20 winners can claim 7lb off the horses back,
a jockey with less than 40 wins can claim 5lb and a
jockey with less than 75 wins can claim 3lb.
If a conditional jockey has never ridden 5 winners he is allowed to claim another 3lb off horses back if he rides a horse from the same stable that he is attached too,
The maximum amount of weight claimed in a race can be 10lb, which can make a huge difference to a horses chance.
Class Of Race
There are 6 types of class in National Hunt Racing, from Class 1 to Class 6.
Class 6 is the lowest type of class and most NHF races are run at class 6 level, as are some hurdles and chases races.
As each class of race increases, so does the quality of horse allowed to enter, although there are certain races with exceptions.
The best class of race is class 1, these are usually graded races, with graded races coming in 3 levels, grades 1, 2 & 3.
Some of the Handicap races are classed as Grade 2 or Grade 3 races and attract the very best handicappers around, whilst Grade 1 races usually attract all of the best animals in the sphere of racing.
All of the championship races are Grade 1 races, going into the 2014/2015 National Hunt season there are currently 135 graded races, 38 of those are Grade 1, 62 of those are Grade 2 and the remaining 35 are Grade 3.
Weights and Penalties
All handicap races are set by the rating of each horse
All horses in novice races are set to carry the same weight, although there are age & sex allowances, horses aged very young usually receive a few pounds from the older horses, as do Mares with their sex allowance
Often when looking at the fields for Novice races you might notice that some horses carry more weight than other horses, these are classed as penalties.
Horses winning novice races have to carry a penalty for winning these said races as they already have the experience and it gets trainers to enter unraced horses knowing that they get an allowance from a previous winner.
For further information please visit the OLBG betting school article - Horse Racing Form Reading Made Easy & What to Look For.