Goodwood Racecourse Guide
Located on the Sussex Downs close to Chichester, Goodwood offers good racing through the summer with excellent viewing.
Type of Racing: Flat Only
Highlights: Glorious Goodwood at the end of July is the main meeting of the year with high-class racing on each of the five days (Tuesday to Saturday).
One of the main betting races of the year, the Stewards' Cup over six furlongs is held on a Saturday.
There are other important meetings in May and late August. The highlight of the latter is the Celebration Mile.
When there is no racing at Goodwood why not have a look at the racing tips page for selections at other courses today?
* All statistics below are based on the previous five seasons at Goodwood
Goodwood Outright Favourite Statistics
Flat Handicaps: 101-325 (31%) +15.87
Flat Non-Handicaps: 44-111 (40%) -10.42
Goodwood Racecourse Map
Flat Only: Right-handed, although for races over 16f and 20f the runners start in the home straight and race the 'wrong way' so to speak and encounter a left-hand bend before meeting the right-handed section. Undulating in nature with tight bends, races up to 6 furlongs are run on the straight course.
Goodwood Racecourse Address: Selhurstpark Rd, Chichester PO18 0PS
Goodwood Racecourse Telephone: 01243 755022
To buy tickets for a race day at Goodwood, head over to their official ticket booking webpage.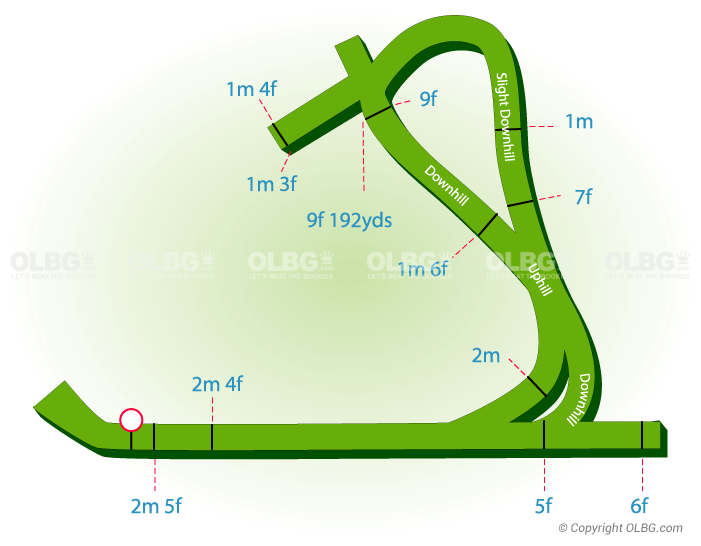 Goodwood Tips
Guide to the course: The course is a switchback although that only really applies to races over further than 16 furlongs. Races of up to 6 furlongs are held on the straight course. The Goodwood 5 furlongs is one of the fastest around.
The course can be described as sharp due to the gradients and tight turns. In big fields over seven furlongs and a mile, horses can easily get trapped on the inside without a clear passage, races from 7 to 10 furlongs use the lower bend into the straight whilst those over 11 furlongs and upwards use the much tighter top bend.
The highest point is about 9 furlongs from home, so races from 14 furlongs upwards meet a rise in the early stages before the course becomes predominantly downhill. There is a slight rise towards the finish.
Glorious Goodwood Festival
Glorious Goodwood is one of the top festivals in UK racing. When the festival is on, the bookmakers will often offer some great offers. Our free bets page will list these offers so please take a look through and if you are thinking of opening a new bookmaker account around this time you can also look through our betting site's ratings here.
In terms of trainers who still hold a full training license, it is Richard Hannon Jnr who tops the list of winners over the past ten festivals with a total of 24 winners from his 278 runners although backing all of his runners would have resulted in a loss of -101.29!
Ryan Moore leads the way for the number of winners with 31 at the Glorious Goodwood meeting since 2014, followed by William Buick (30) from the current crop of jockeys. Out of those two, only William Buick would be showing you a profit (+24.43) if you backed every ride.
Be sure to head over to the blog section to find blogs available for all the major races at Glorious Goodwood, these are packed with previews, past winners, trainer and jockey statistics and trends for the races, you can head to the blog directly using the links below.
Day One (Tuesday)
Day Two (Wednesday)
Day Three (Thursday)
Day Four (Friday)
Day Five (Saturday)
Goodwood Draw Bias
Backing stall 5 at Goodwood over a trip of 1m is the most profitable stall and trip combination at Goodwood returning an LSP of +49.24 over the last five years. When breaking Goodwood down into trips you can look at which stall and trip combination has produced the worst LSP, that would be stall 7 over a trip of 6f which has, over the last five years produced an LSP of -59.55.
Here we have the draw bias for Goodwood taken into consideration races with ten or more runners, we will break down the figures by race distance, draws can be much more important over the shorter trips in which runners do not have time to find their position during the race meaning the draw is probably more important than the races over longer distances.
Sprints (5f to 7½f)
Mile (1m to 1m1½f)
Middle Distance (1m2f to 1m5½f)
The following table shows a breakdown over a group of trips and shows how each position of the draw does, for example in a twelve-runner race would be Low (Stalls 1-4), Mid (Stalls 5-8) and High (Stalls 9-12), the positions will always be lowest stall number to highest.
Goodwood Jockey and Trainer Statistics
Who are the best flat jockeys and trainers to bet on at Goodwood?
Whilst A M Balding is the most successful trainer at Goodwood with a total of forty-two winners, if you backed all of their runners you would be showing a loss. Charles Hills is the most successful trainer at Goodwood for those who show a profit if backing all their runners thanks to a total of sixteen winners and an LSP of +2.75. D O'Meara is the trainer to follow at Goodwood if you are backing eachway as they show the best LSP of all the trainers in the eachway markets, that is +40.55 which is courtesy of their thirty-two placings (thirteen winners). The trainer with the worst record at Goodwood based on LSP is M R Channon who has only a 3% strike rate with three winners from one hundred eight runners who have returned an LSP of -89.65.
Following Tom Marquand would have returned a profit here at Goodwood with an LSP of +21.14 and their thirty-six winners have them at the head of the profitable jockeys' list. Oisin Murphy does lead the jockeys' list overall with forty-four winners but shows an overall loss. With an eachway LSP of +31.77 at Goodwood, Jamie Spencer leads the jockeys in profit for backing eachway which has been helped by their seventeen placings which include a total of nine winners. Jim Crowley does not have a great record at Goodwood, their LSP of -83.04 has them stone dead bottom of the jockeys' list, which has come from twenty-five winners from one hundred seventy-two rides which is a 15% strike rate.
Goodwood Picks & Hints
Here are some factors at Goodwood for certain trainers or jockeys which have been profitable:
5-12 (42%) +37.75 - Backing Tom Marquand rides when over a trip of 1m6f
5-5 (100%) +22.20 - Backing A King runners when horses are aged 5yo
5-8 (63%) +22.50 - Backing Thomas Greatrex rides when over a trip of 6f
5-11 (45%) +19.50 - Backing David Menuisier runners when over a trip of 6f
5-11 (45%) +16.71 - Backing Roger Varian runners when over a trip of 1m4f
Goodwood Top Jockey and Trainer Combinations
Here are the best trainer and jockey combinations here at Goodwood based on the number of winners:
20 Wins: W J Haggas & Tom Marquand
17 Wins: A M Balding & Oisin Murphy
13 Wins: Charlie Appleby & William Buick
9 Wins: Richard Hannon (Jnr) & Pat Dobbs
8 Wins: M Johnston & Joe Fanning
Goodwood Top Trainers By Most Winners and a Level Stakes Profit
| Trainer | R-W-P | Win | EW |
| --- | --- | --- | --- |
| Charles Hills | 131-16-39 | +2.75 | -10.25 |
| David Menuisier | 77-15-21 | +25.13 | +0.43 |
| G L Moore | 131-14-37 | +5.01 | -18.90 |
| D O'Meara | 85-13-32 | +52.13 | +40.55 |
| P F I Cole | 65-13-32 | +4.85 | +10.94 |
| Simon Crisford | 52-11-24 | +4.59 | +3.99 |
| J J Quinn | 33-9-16 | +33.70 | +19.81 |
| A W Carroll | 62-7-18 | +17.50 | +12.03 |
| B J Meehan | 34-7-10 | +34.25 | +16.47 |
| R A Teal | 34-6-9 | +16.50 | +5.22 |
Goodwood Top Jockeys By Most Winners and a Level Stakes Profit
| Jockey | R-W-P | Win | EW |
| --- | --- | --- | --- |
| Tom Marquand | 225-36-76 | +21.14 | -5.59 |
| James Doyle | 123-20-45 | +0.04 | -6.10 |
| Harry Bentley | 82-17-32 | +41.14 | +28.40 |
| Andrea Atzeni | 96-13-27 | +1.88 | -11.93 |
| David Egan | 138-12-46 | +7.83 | +6.89 |
| Jason Watson | 87-11-26 | +37.50 | +19.18 |
| Jamie Spencer | 59-9-17 | +63.75 | +31.77 |
| Daniel Tudhope | 60-7-18 | +30.00 | +16.71 |
| Jason Hart | 44-7-16 | +15.57 | +17.95 |
| B D L Sayette | 32-7-13 | +11.96 | +3.50 |