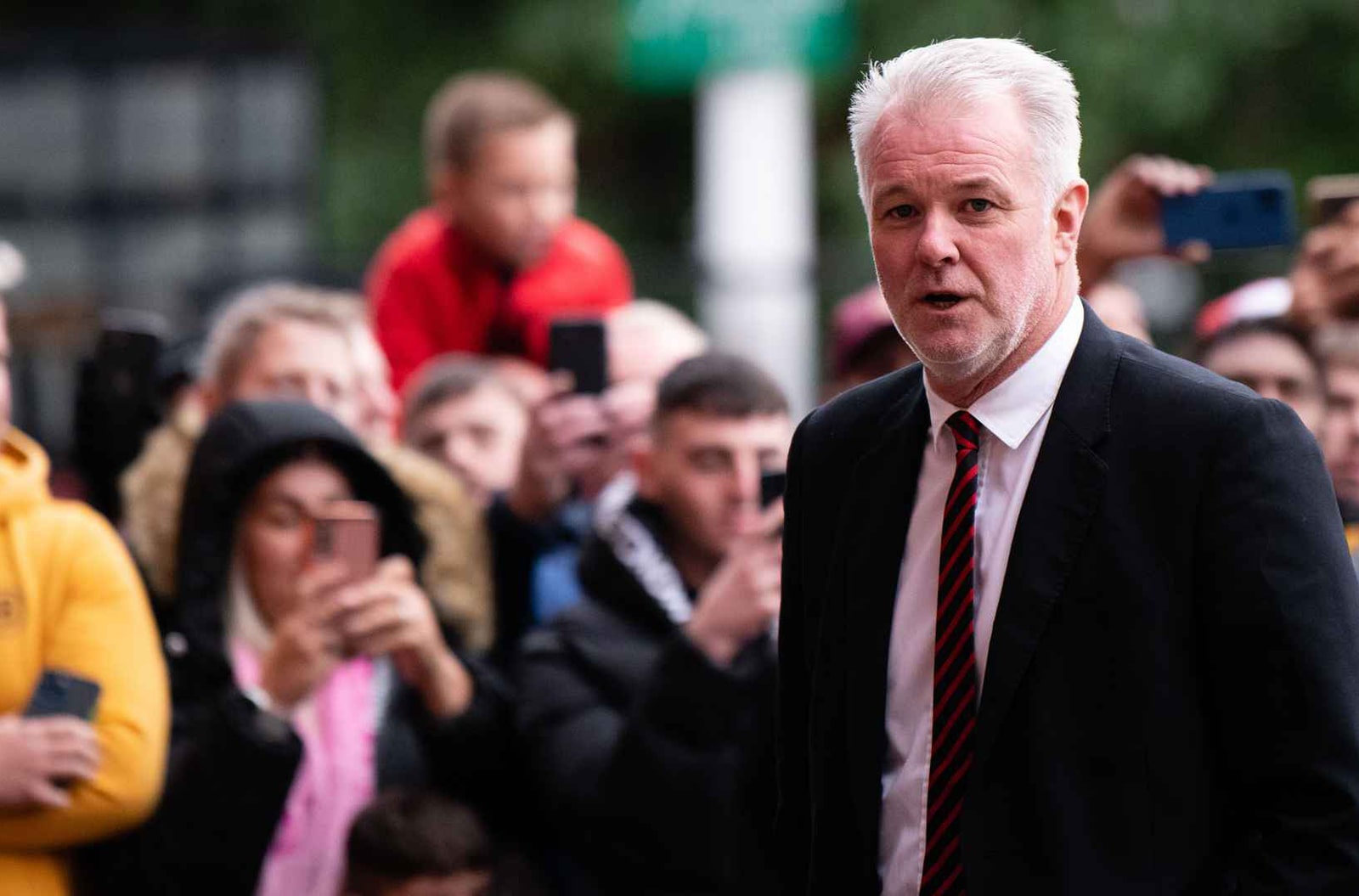 Image: ManUtd.com

Gary Pallister amassed 535 club appearances between 1984 and 2001, most during a 9 year spell at Man Utd.
During that period he helped United to win four Premier League titles, three FA Cup's, the League Cup, the European Cup Winners Cup, the European Super Cup and five Charity Shields.
This was sandwiched by spells with Middlesbrough that yielded over 200 appearances combined. He was capped 22 times by England between 1988 and 1996.
Following his retirement, Pallister has worked in the media and has appeared as a television pundit for both BBC Sport and ITV Sport.
Here he talks to OLBG, sharing his views on what is happening in the game today.
Paul Ince said United are playing like the dog and duck this week, what did you make of his comments and what do you think are the biggest problems at United at the moment and how do you solve them?
I heard what Incey said, I read the article and that's Paul's opinion. I think Manchester United have been taking a lot of stick over the recent months and recent seasons.
It quietened down a little bit last season when they finished second, but they've had their problems this season which we can't get away from. We've lost Solskjaer, brought Rangnick in and if you look at his record so far, they've only lost one league game which isn't too bad.
But it's the manner of the performances, too many draws and being unable to see games out.
I still think we're looking for the side to be more of a team this year, there's individuals who have qualities, come in for big money and have the ability to hurt other teams. It's just finding that togetherness, that gel and that understanding of being a team, that's what's standing out.
I was at the Brighton game, and I could sense the frustration around the ground with them being booed off at half time. You're watching a Brighton side who were dominating the game and David De Gea, not for the first time this season, kept us in it.
There are problems to be solved, I think we can go overboard with Manchester United at times with the expectations are being such higher than many other clubs. We've fallen below that, it's not quite a crisis but it needs to be addressed and it needs to be a better Manchester United than it is at the moment.
The club is in a bit of a limbo because Ralf is in there as an interim manager, there's questions whether he'll be there at the end of the season and what is going to happen if someone comes in and he goes upstairs.
That's looking likely and if that is to happen then Manchester United have to get it right, get the right manager in and see where we go from there.
Harry Maguire is having a rough time of it. What do you put that down to?
He went off to the Euros injured and missed the last part of the season for Manchester United before going off with England. It was one or two games before he started in that tournament and I actually thought he had an exceptional Euros for England, he was outstanding, as was Luke Shaw.
I think he started the season fine, but he picked up another knock and I'm not sure whether he came back from that too early from the injury.
There might be a hangover from the Euros, he's had no time to rest. He'll be the first one to admit that he's made mistakes and I think without question, Harry Maguire is a terrific centre half.
I think he is the only natural leader amongst those Manchester United players as captain. He's had a tough time and it's making him look a little nervous, I've been there myself when you've been a record signing as a centre halve with the spotlight on you.
Sometimes you can feel as if you're fighting a lone battle, especially when he's getting the flack he has been getting. I would back Harry Maguire to come through this spell, probably one of the most challenging of his career.
I think he'll keep hold of that captain's armband and be a big part of Manchester United moving forward. He's one of the only real talkers in that side and one of the only leaders in terms of shouting, screaming and getting people playing around him.
It's been a difficult time for him, but in that dressing room I'm sure he has the backing of the players and the manager.
Should Harry Maguire be dropped from the Man Utd starting XI and would he perhaps benefit from a rest from the starting XI?
I didn't want to be brought out, I remember when I had a bad time at Manchester United and the gaffer told me he was thinking about leaving me out. I told him no, I was getting a bit of stick at the time, but you've got to play your way through it.
It's tough and it can be a lovely place when you're getting it from all sides, Harry has been under the spotlight, but I'm sure he'll want to play.
He'll want to be a part of bringing Manchester United coming back to form and becoming a better team. He's got the captaincy and the responsibility, so he'll feel it's down to him to lead and he can do that by being on the pitch.
I don't think he's the type of character to look for a cop out like that, so he'll want to play through it. It doesn't do anyone any favours and it could be seen as a sign of weakness if you're not hurt about being left out.
I'm 100% positive that he'll want to fight his way through it.
From a defender's point of view, do you think the criticism levelled at Harry Maguire this season has been fair?
Absolutely, I think anything to do with Manchester United can be well over the top. That's part and parcel of being a player there and understanding that it is different from a lot of other clubs because the bar is raised so high.
The expectation is so high and as a player you have to deal with that.
My advice would be for him to just battle through it, I was very fortunate that the dressing room I was in were a great help. I had Bryan Robson, Steve Bruce & Mark Hughes, who had been through a difficult time at Barcelona.
These guys you could go to and get advice from and come through the other side. But it's just part and parcel of being at the club and dealing with a massive price tag as well.
It's the same thing I dealt with, £2.3 million sounds like pennies now when you're talking about £80 million, they paid for Harry. But back then £2.3 million for a centre halve had never been heard of and that brought it's own pressure.
I joined with four other players that season, but I was firmly in the spotlight and the one that received most of the stick because of the price tag.
Harry can't help that; he can only be what he can be. Generally, his Manchester United career has been fine, I don't think anyone's had any real problems with him until this season.
A lot of the stuff has been highlighted, but he's strong enough to admit he isn't at his very best. You have blips throughout your career and the excuse is always the price tags, so it seems like you're not allowed to make mistakes because you're brought in for a certain amount of money.
He only has to look back at how he performed at the Euros to not worry about what people are saying away from Manchester United and I have no doubt that he believes in his own talent.
How important is it for the stability at Man Utd that they have a first-choice centre-half pairing - and do you believe that pair should be Harry Maguire and Raphael Varane?
I do think it gives you a bedrock, everyone talks about myself and Brucey, but we had two great fullbacks alongside us.
Paul Parker stuck to people, wouldn't let them get away, he maybe wasn't eye catching on the ball but what a job he did. On the other side there was Dennis Irwin who was one of the best fullbacks to ever play in the Premier League.
He was such a technically gifted player with both his left and right foot. Behind us we had one of the best goalkeepers in the world for a number of years in Peter Schmeichel.
It's about the unit, partnerships are important, and it probably helped with me and Steve that we were from the same part of the world. We'd already met through a testimonial game before I went to Manchester United, so I already knew him a bit before I got into the dressing room.
It helps you settle in, then after me and Steve there was Nemanja (Vidic) and Rio (Ferdinand) who also had great fullbacks either side in Gary Neville and Patrice Evra.
Edwin Van der Sar as well, so it all becomes a great unit and I think the club have been searching for that since Nemanja and Rio left. Varane game by game is looking stronger, and I certainly think it is the partnership that will hopefully evolve and help Manchester United become stronger.
The more they can play together and stay away from injuries the better, Varane's had a couple of injuries already which can be a concern.
Steve and I rarely got injured in the first few years, so when you play week in week out, you know each other's games down to a tee. Hopefully Maguire and Varane will get the chance to evolve that partnership.
Would a Declan Rice or Kalvin Phillips make a difference to the form and stability of Maguire and Varane? Who would you like to see signed?
I think both of those players would tick the boxes. When you look at the midfield, Fred has had some dips and peaks through his Manchester United career, and you worry that he doesn't contribute enough goals in there.
I love McTominay's aggression and work rate; he looks like he's desperate to do anything he can to be in a Manchester United shirt. You want more quality in those areas, we don't know what's going to happen with Paul Pogba and there's all kinds of speculation around that.
A fully fit and fighting Paul Pogba is going to be wanted by any team because he's a wonderful talent, but maybe he hasn't hit the heights he would have hoped to in his Manchester United career. It's something that needs to be looked at and sorted, as does another centre forward.
Haaland is well up on the list for Manchester United and a number of other top European clubs. In days gone by, you feel as if you have every chance of getting those players to your club, but because we are where we are at the moment players will look at that before coming.
If Manchester United aren't in the top tier of European football, then players might not be interested in coming and look elsewhere.
It's vitally important Manchester United get that last Champions League spot to be able to attract the players they want to attract to this club.
Can you pick a cheaper midfield alternative for Manchester United instead of Declan Rice, with West Ham seemingly looking for £100m+? Perhaps Bissouma from Brighton?
I'm sure there are cheaper alternatives, but when you're Manchester United you want to try and make a statement. We've done that with Pogba and Maguire, we've brought Ronaldo back to the club.
You want to make statements and being at the top table in terms of the best sides in the Premier League. You want to be bringing in the very best because Manchester United, along with Real Madrid, are the two biggest clubs in the world.
Right now, I think players are having second thoughts about coming because of the perceived problems. You want to be aiming high, Declan Rice has proven over the past two or three seasons for both West Ham and England that he can be game changing.
Not just that holding midfield role but he can score goals and has that hard-working appetite along with real qualities in his game. If he's on the list of targets, then I'd be pulling all the stops out to get him into the club.
Given the current situation at the club, will signing a new striker become a priority again in the summer?
I think so, Edison Cavani has done a wonderful job since he's been here, and it's been a strange one for him since they got him to stay then went and signed Ronaldo. His game time has been limited because of that and due to the injuries, he's had which you can expect from someone who is 35 years old.
We've been looking for that big signing upfront which Ronaldo was that in the summer, but he's 37 and I think being a centre forward is genuinely a young man's game. You need a lot of legs and I remember Sir Alex saying he used to look closer at forwards when they got to 30 because it's a tough position to play.
Especially when you play that lone role which United generally do play.
They were in for Haaland when Ole was in charge and I don't think that would have changed. It would be great if Manchester United could get that over the line and get him into the club, but they'll face a lot of challenges from other clubs to get him there.
He's a proven goal scorer in the league and in the Champions League, so he'll cost top dollar.
Can you see any clear improvements from Ralf Rangnick's work since he took over from Ole Gunnar Solskjaer?
At this moment, we're still a team of individuals and we haven't got it right. We don't look as compact as other teams, there isn't a set way to play, and we rely very much on individual moments from a Bruno, Sancho, Ronaldo or Pogba, players like that.
It's very much off the cuff, everyone talks about this press, the closing down and whether we do that as a team and you'd have to say in response to that, probably not. It's there for everybody to see, Manchester United are still trying to become that close knit unit with a playing style like the other top teams.
I think Ralf has obviously been trying to put in a plan for this side, but we haven't quite seen the fruits of that labour as of yet.
What I will say is that we've only lost one league game under Rangnick, but you can't hide away from the fact that some of the performances haven't been good enough.
We haven't been able to hold leads, we're still relying on David De Gea to keep us in games.
There's still issues there and we're still trying to be better, we just have to wait and see what happens whether Ralf goes upstairs, and a new manager comes in. At this moment in time, you wouldn't actually say we're setting the world alight and we're not up there currently with the likes of Liverpool, Manchester City and even Chelsea.
That's where the bar has to be for Manchester United and there can be no excuses, everyone has to take responsibility for the performances and where we are in the league.
It's frustrating but there's a new man in that club in Richard Arnold as well, he needs time to get his ideas across. I've got every confidence that he can turn things around as we enter this new era and hopefully it's a better one for the club.
How do you think the Solskjaer era should be remembered? What were the big positives?
The positives were the positivity he brought back into the club. I think there was a lot of backstabbing and moaning behind the scenes before he came in.
You talk to people who work at the good and the opinion was that he brought back the feel good factor to Manchester United and Old Trafford. Whether you want to knock Ole or not, he tried his best to bring back the entertainment to Old Trafford and put smiles back on faces of the fans.
He wanted to make them an exciting side and ultimately it didn't work out for him. The games against Liverpool and Manchester City were harsh realities and the actions spoke louder than words on those occasions.
Although they finished second, there was a sense that Manchester United were still a long way off from competing with these sides, which cost him his job. For a while he brought some smiles back after watching some real turgid football under previous managers.
I think he can take that away from him and he'll always have the love of the fans, but when the axe did fall I think it was fair to say that everyone knew it was the right thing to do.
Who would be your ideal manager to take over at Man Utd in the summer? Pochettino and Ten Haag seem to be the favourites at the minute.
I was an advocate of Pochettino after Jose was sacked and I think he ticks a lot of the boxes. If I'm honest I don't know an awful lot about Ten Haag, but I've seen Pochettino manage here.
He had an instant impact with Southampton and an instant impact with Tottenham. He created the best Tottenham side I've seen since the days of Glenn Hoddle, Steve Perryman, Pat Jennings and the likes of that.
A lot has been said about Tottenham having a weak underbelly and I believe he changed that. He plays with a bit of style, he wants to entertain, plays attacking, and aggressive football and I think he handles the press really well.
I think you look at him as one of the top five managers in world football. I believe Ten Haag has a good CV and the work he's done at Ajax is incredible.
It'll come down to what they think is best behind the scenes at Manchester United and whether you can get these managers in. I think Pochettino would be my ideal choice because he knows the Premier League and he'll know what is expected from the Manchester United crowd.
I think he could actually deliver that.
What do you expect from Jesse Lingard while he is still at the club, can he still have a key role to play in the top four race?
It's a difficult one for Jesse, I think he expected to leave during the January transfer window. But Jesse's been at this club for a long time, and I don't think you'll get anything less than 100% playing in a Manchester United shirt.
He's got a lot of friends in the dressing room and probably in the stands, so I don't think you have to worry about his attitude. He'll probably be disappointed that his career is seemingly coming to an end there, but while he's here and on the pitch, I have no doubts that Jesse will be trying to help the club to try and get into that fourth spot.
When you've come through the ranks like he has I think it's in your blood, so until the last game he plays in that shirt, he'll give 100%.
There's only the Champions League left for Manchester United to win a trophy, how do you rate their chances?
It would probably be a minor miracle! I'd love to say United are getting better and in with a chance, but we've hit a brick wall at the moment.
When you look at the likes of City and what they've just done to Sporting Lisbon, can Manchester United play at that level? No I don't think they can.
But it can happen, I remember watching that Chelsea side win when Drogba scored that header in the final, they weren't the best side that year.
They managed to find a way to the final and then ended up winning it, so it isn't an impossible task but you'd have to say we're not playing well enough as a side to really be classed as a favourite to win the Champions League. We're rank outsiders so you can never say never and things can get better because we have players who are top quality who can change games.
We need to be a better team rather than individuals before we can be in with a shout, but who knows, the final is a few months away so there's time.
It's a difficult task to get through Atletico because they're a hard side to beat, but it's one tie at a time, if they can get through it then it might give the players belief.
You take that confidence into the next game, but if I was a betting man, I would probably keep my pound in my pocket.
Roy Keane pulled out of the running for the Sunderland job, do you think it'd be possible for him to go back into management with his personality and how modern football is?
I think anything is possible with Roy. I think he would be sorely missed in the punditry box if he went back into management, but I think that's where he would like to be.
I chatted to him a few months ago and I think he'd love to be back involved in a coaching role because that's where he feels more comfortable.
He's older and wiser now as well, but I thought there was a chance he'd get that Sunderland job. He made an instant impact when he was there the previous time, and he shook things up at the time.
You don't know what went on, they've got Alex Neil who is a decent manager. But I think eventually, Roy would rather be out on a football pitch coaching or managing rather than sitting there talking about it.
He's back in the frame I guess, other clubs will be looking at that, so I'm sure he'll be back in management in the future.
What were your first impressions of Roy Keane when he walked through the doors at United?
It happens to a lot of players which I've seen, the first year they come in they're taken a back because there's so many big characters in the dressing room. When Roy walked in, we had just won the title for the first time in 26 years and then he joined, so he had to come in with a bunch of lads who had just won the title.
He was quite shy at first, he wasn't the demonstrative figure he then became later down the line as he settled in. He developed into someone who had great games, scored a lot of goals, was all action and got the fans to love him.
The more confident he got from his performances, the more confident he got in the dressing room and that moulded him into the leader he was.
That's something that isn't present in the current Manchester United side, I was lucky enough to play in teams that had four or five captains.
There were plenty of players who would give you an ear full if you weren't doing your job. There's a lack of abrasive characters currently and Roy was certainly that type of character.
You didn't always have to take it, you could have a go back and I had a lot of fights or arguments on the pitch with Roy as I did with other players. It gets your mind concentrated, a bit more fight and a willingness to go the extra yard when people were in your ear.
But initially in that first season, he wasn't the Roy Keane we came to know, he was finding his feet in amongst a dressing room that had known each other for three or four years.
It wasn't like Eric when he walked in, he was already the king of the place Mr Cantona when he arrived. But he was at that age where he could do that, he'd been through a lot already in France and seen it all.
He's probably the only player I've seen do that when they first arrive into a dressing room, but as for every other mere mortal it wasn't the case.
You've been a big advocate in speaking about issues surrounding dementia following footballers careers, the FA haven't backed the idea for funding for aftercare for players – what do you make of this?
It's disappointing, it's been a topic in football we've been going on about for a number of years now. It brought it home to me that as defenders you're more likely to suffer from dementia because of the number of times you head the ball.
Our own professional football association have taken a lot of flak over this. If the FA aren't seen to be responding to this or taking actions as our own union is and the players are then they're going to leave themselves with some big problems.
I think you've got a duty of care to look after people in the game and if this is the FA's stance then I think they're making a mistake.
About OLBG
OLBG is a sports betting community whose users help each other to find the best bets and the best betting sites to place them at. If you are interested in opening a new online betting account then you may want to check out the latest free bets. For those who like to try their luck at the casino, OLBG also has lists for the best UK Online Casinos and latest casino offers.
You May Also Be Interested In