Bookmakers Release Odds For Snow On Christmas Day 2021
Snow In London on Christmas Day 2021 is just 6/1 with leading bookmakers.
Edinburgh and Newcastle are the bookmakers 4/1 joint-favorites to see A White Christmas
Snow On Christmas Day Betting Odds range between 4/1 and 8/1.
White Christmas Betting Odds 2021
| Snow On Christmas Day | Betting Odds | Percentage Chance |
| --- | --- | --- |
| Edinburgh (Airport) | 4/1 | 20.00% |
| Newcastle (Airport) | 4/1 | 20.00% |
| Leeds (Leeds - Bradford Airport) | 6/1 | 14.29% |
| Birmingham (Airport) | 6/1 | 14.29% |
| London (City Airport) | 6/1 | 14.29% |
| Dublin (Airport) | 6/1 | 14.29% |
| Manchester (Airport) | 13/2 | 13.33% |
| Bristol (Airport) | 8/1 | 11.11% |
| Liverpool (Airport) | 8/1 | 11.11% |
| Cardiff (Airport) | 8/1 | 11.11% |
If we get poor weather in the lead up to Christmas Day the bookmakers instantly cut the odds for a White Christmas in the UK.
Nigel Skinner - OLBG.com Betting Expert
What is a White Christmas?
A 'White Christmas' in the context of betting is defined by at least a single snowflake falling during the 24 hours of Christmas Day at a specified location.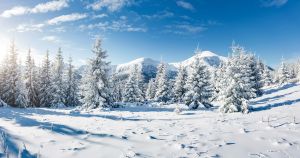 In the past, the met office building in London was used for betting on a white Christmas but today locations are used across the UK.
The Met Office reports that a snowflake has fallen somewhere in the UK on Christmas Day 38 times out of the last 54 years.
The weather stations around the country report whether snow falls and if we can truly say it is a White Christmas.
2017 saw 11% of met office weather stations report snow on Christmas Day in the UK.
2016 saw 6%
2015 saw 10%
You can see below the odds for a range of UK cities on whether it will snow on Christmas Day.
The locations we can bet on a 2021 White Christmas happening are defined by each bookmaker.
These are commonly airports.
What are the Odds on a London White Christmas?
At the time of writing (September 2021), bookmakers have London (City Airport) priced up at around 6/1 to see snow on Christmas Day.
When did London last see snow on Christmas day?
The last time that London saw significant snow was when the UK was hit by the 'Beast from the East' which was back in March of 2018. But what about snow on Christmas Day?
Since 1900, London has seen a total of just 10 white Christmases.
White Christmas in 2010 was recorded as the coldest ever Christmas day in the UK with around 25cm falling on some parts of the capital.
The 5-day forecast on the 20th of December will naturally be the most accurate, but by then the bookmakers will have cut their prices, so value bets should be placed before the 20th of December.
London has a 14% chance of seeing snow in the capital on the 25th of December according to the best bookies.
Nigel Skinner - OLBG.com Betting Expert
What are the odds on Snow on Christmas Day in the UK?
Different bookmakers have a range of prices on White Christmas betting.
If you want to enhance your chances of a White Christmas then Scotland is the place to be.
The probability as we get closer to Christmas day is normally between 25% and 33% in Glasgow, Aberdeen, Edinburgh, and Dundee.
Each bookmaker allocates a price (odds) that equates to a percentage chance, at the current best odds from online bookmakers you can see the percentage chance of a White Christmas above.
When we get closer to a possible White Christmas these percentage chances will alter dramatically.
All the odds currently available are for snow at an Airport.
You may live in one of these cities and see snow, but it needs to snow at the Airport for your bet to win.
England
Scotland
Wales
White Christmas Percentage Chance
December Weather Forecast By The Met Office
Each Monday the met office releases a weather forecast for the Christmas period.
We will follow these long-range Met Office weather forecasts and see what changes in December are reported. We'll update these each week as we approach Christmas.
Below is how they forecast 2020 Weather, we shall update for December 2021 as we get closer.
Forecast On The 1st December For 15th - 29th December:
Outbreaks of rain and showers at times, particularly in the east and the south.
Snow remains most likely over hills.
Temperatures will be near or slightly below average.
Forecast On The 7th December For 11th - 20th December
Steadily increasing the chance of more widespread unsettled weather, bringing cloud, rain, and possibly some hill snow at first, arriving from the Atlantic.
Towards the end of the period, it is likely that things will start becoming more settled again, though outbreaks of rain or showers are still expected at times.
Showers could become wintry on high ground, and perhaps at lower levels.
A chance of turning colder again later in the period.
Forecast On The 14th December For 18th - 25th December
Unsettled conditions into Friday with heavy spells of rain clearing to a mixture of blustery showers and brighter spells.
Windy but mild across the UK.
Wintriness most likely confined to higher ground, but there remains a chance of snow temporarily to low levels.
Temperatures mild at first, probably slowly trending downwards through the period.
Forecast On The 21 st December For 21st Dec -25th December
The headlines for these few days show rain in the South, showers in North.
From Wednesday to Friday (Christmas Day)
Heavy rain across the south on Wednesday, colder across the north with a few wintry showers.
Drier and colder for most over Christmas with overnight frost.
White Christmas in Ireland Odds
There is actually a large number of white Christmases that have been recorded on the island of Ireland.
Since 1961, a total of 17 Christmas days have seen snowfall although the last one was back in 2010.
Between 1990 & 2010 there was a total of 10 recorded White Christmas, which was on average a white Christmas every two years!
Early bookie odds in 2021 has Dublin (Airport) priced up at 6/1 to see snow on Christmas day, there are 12 recorded Christmas days when this has happened and occurs on average around about every six years.
*All odds correct at time of posting (September 2021 10.00 AM).