Before you open your Spreadex Account
Full guide to everything you need to know before you click the link and sign up.
Latest Spreadex Free Bet Offer - Full Details
Signing up to Spreadex will only take a couple of minutes. The process is simple in adding personal info and setting up your security passwords etc.
The Spreadex Welcome offer can change from to time. Thankfully, we automatically check the latest offer available through our links and update them to ensure you get sign up bonus as advertised.
We would prefer you to read this entire Spreadex review before clicking the link and signing up, so that you understand just what Spreadex can offer you.
Did you know they have fixed odds betting as well as spread betting?
Anyway, if you just can't wait, hit the link and read and understand the full terms and conditions which are in addition to this review.
Cash out
Asian Handicap
Live Streaming
Live Chat
Free Bet Club
Casino Betting
Bingo
Poker
Best Odds Guaranteed
Full Spreadex Bookmaker Review
Why Spreadex?
Spreadex was formed in 1999 and has its headquarters in state-of-the-art trading rooms in St Albans, Hertfordshire.
Spreadex were the first to offer spread betting and fixed odds from the same platform.
Once you have joined them you can choose which of these betting features to take advantage of, or you can switch between spread betting and fixed odds.
Spreadex are hot on the heels of main rival Sporting Index, and because of this rivalry they try and outdo each other by offering the best prices, allowing the customer (us) to benefit.
It's like Asda and Tesco trying to offer the best prices on Milk or Bread, competition creates better prices.
Opening accounts on both through OLBG gives us the option to play one off against each other, take the best spread price on offer, and compare their trader's opinion on an event.
Spreadex FAQ
There is a dedicated article for those new to spread betting where you can check the most frequently asked questions about betting this way.
Because Spreadex knows many of their customers are experts on specific sports and pride themselves on their expertise their Spread traders need to be and are the best.
Many of their spreads are unerringly accurate and the skill for us as bettors is finding errors in their predictions.
Spreadex offer so many markets and are prompt with the creation of ante-post sporting events, so there is nearly always a market for us to take advantage of.
As mentioned as a company Spreadex also offer fixed odds, this allows you on one site to choose between the spread price and the fixed-odds price.
The Spreads and fixed odds are all available from one account, you do not need separate accounts, which is very helpful for speed of placement.
Spreadex Spread Betting Example
Below is a true-life example from a Champions League match in 2018 showing the difference.
Fixed Odds:
Liverpool 3.0.
Draw 3.6.
Manchester City 2.4.
Spread Odds:
Winner gets 100 Points, Loser gets 0.
Liverpool: 30.7 - 33.4.
Draw: 25- 27.8.
Man City: 38.4 - 41.7.
So, if you buy Manchester City at £1.00 a point at 41.7 and they win you get 58.3 x your stake, (the difference between 41.7 and 100) = £58.30.
If City do not win you lose =£41.70. (the difference between 41.7 and 0).
Having a spread betting account gives you the option to choose.
Spreadex Fixed Odds
Spreadex was the first to offer fixed odds betting alongside their spreads. You can use the same Spreadex account for both forms of betting, which is incredibly convenient, just toggle between different pages.
There is also accumulator or multiple bet options, + each-way betting on Spreadex horse racing markets.
Your Choice
Fixed odds or spread betting available from one account!
Spreadex Financial Markets
For those who are interested in financial markets, Spreadex offer a range of money markets.
If you want to spread bet Currencies, Shares, Commodities or a myriad of financial markets then you should join Spreadex.
Spreadex On The Go
When you are at work or on the move, Spreadex have a brilliant dedicated iPhone app, enabling you to place spreads, or open or close in play positions.
It's reassuring that you can always be in touch via the app.
You can place a spread bet prior to work and close it whilst you are at your workplace
Spreadex is very active on social media channels, Facebook, twitter, google, youtube.
On these channels they post team news, goal update on big matches, run regular competitions and post special offers,
They also inform followers of horse racing market movers, and add helpful spread betting guides.
Spreadex Minimum Bet
In volatile markets you can bet from as low as 25pence per point.
In general minimum stakes start at £1 to £5 per point depending on the event.
This low starting amount allows you to get use to spreadex.
Spreadex Customer Review
A recent review by an olbg member summed up the betting experience on Spreadex:
"Some really fun markets in here, like betting on the sum of shirt numbers of goalscorers in a football match.
Would advise small stakes to begin with if you're new to spread betting as it's all about how right or wrong you are, not just if you're right or wrong.
Definitely worth a try!"
Overall you can see how hard Spreadex are working to offer a brilliant innovative site.
By clicking any of the Spreadex banners, you can be up and running instantly and take advantage of the spreads.
Spreadex Review Summary
Spreadex offers the option to bet on spreads or fixed odds betting all within the same site which is just so convenient for the punter who likes both betting aspects. A slick and modern option to traditional bookmakers who look limited in what they offer in comparison.
Spreadex Mobile Review
Spreadex Mobile Offering
Rated: 4.80 / 5
Rated: 4.00 / 5
Rating not available
Spreadex App and Mobile Review
Want to know if you can place spread bets and fixed odds bets on the same screen?
The Spreadex App was the first app in the world that allowed you to place spread bets and fixed odds bets from your mobile.
Don't Miss Out!
Once you open up the Spreadex app you are greeted by "In Play Now/In Play Soon!
This does what it says on the tin, so you don't have to miss out on a live event.
The sports are then laid out below in chronological order.
All the sports you know and love on the Spreadex desktop are available on the Spreadex App.
Casino, games, and financial betting are also available on the Spreadex mobile site.
Spreadex App on IOS and Android
You can see below how the app looks on IOS and Android.
I liked the typeface and the simplicity of the Spreadex app, it is very easy to use.
You can toggle on individual race or match pages between spread betting and fixed odds which is very helpful.
Features to Save You Time
You may like the spread price more than the fixed-odds price, if you do then just place your bet from the same screen, it's a real plus for punters short of time
For horse racing tips fans there are TIMEFORM previews for every UK race, which includes a 1-2-3 prediction and star rating.
One of the Best I've Seen
The Spreadex account summary page is one of the best I have seen.
It is crystal clear on the app how much you have available to spend.
Your trade history and full details of your deposits and withdrawals are available too.
With more people using apps to place our bets, the Spreadex app is one of the best
For those of you who have downloaded the app or are going to, please do add a review of the Spreadex app.
Your reviews help everyone get a better understanding of the plus and minus points behind the Spreadex app.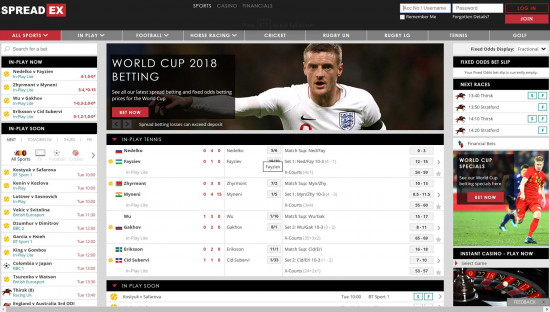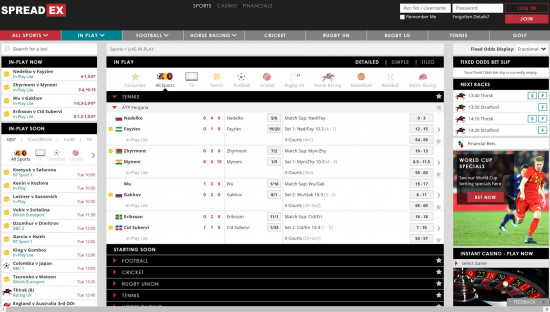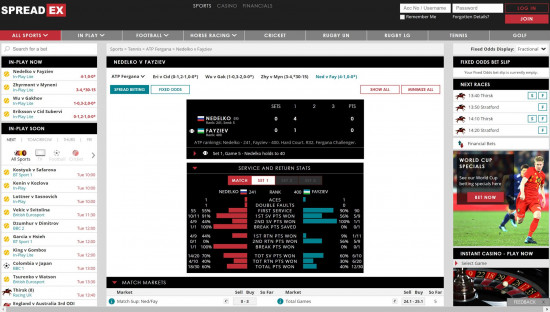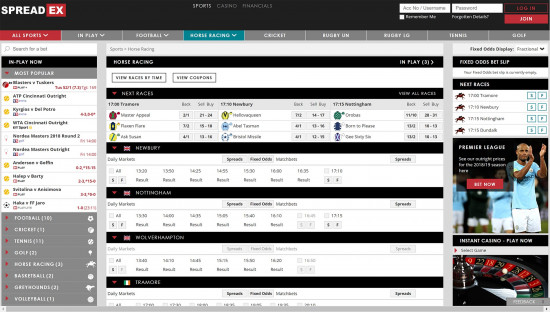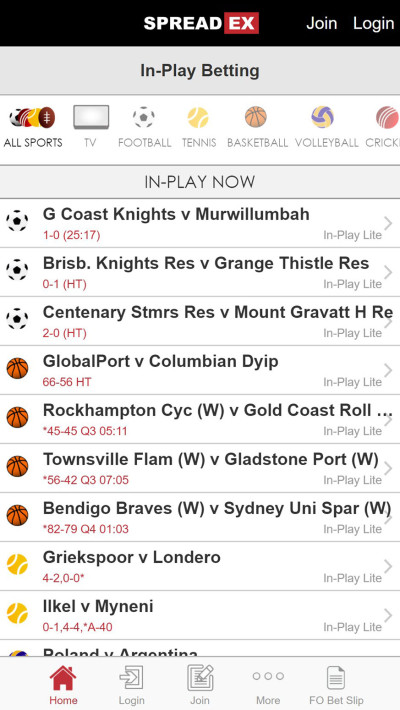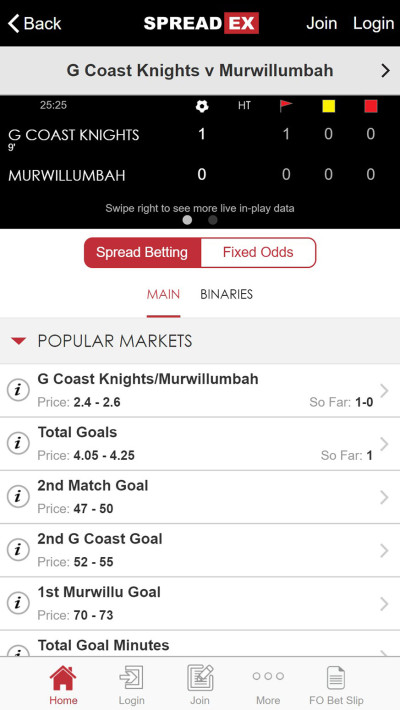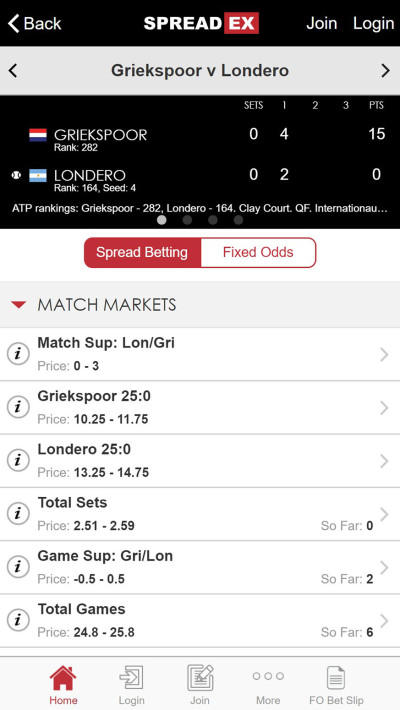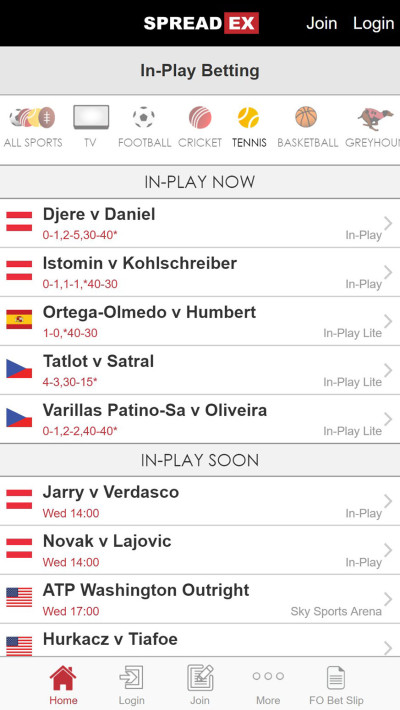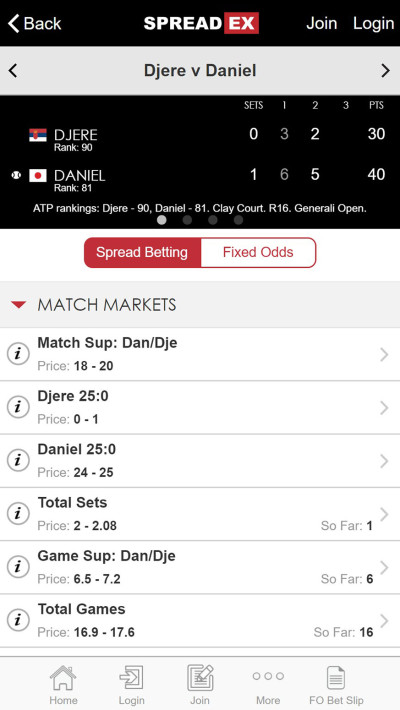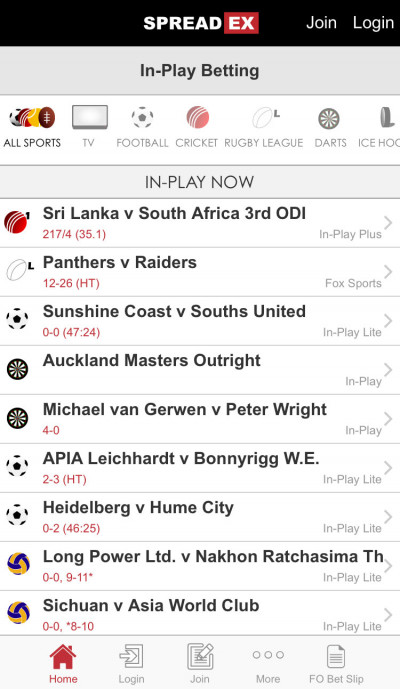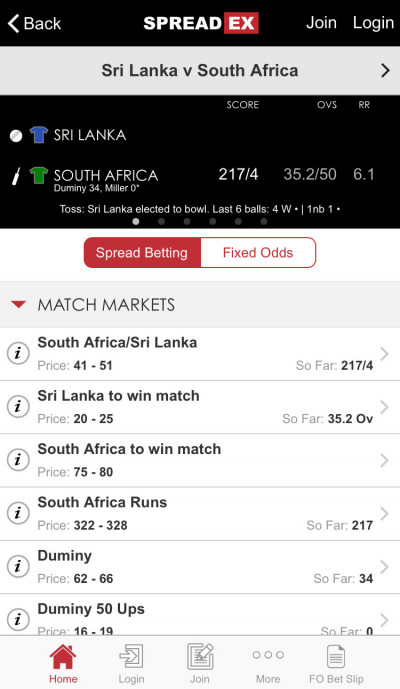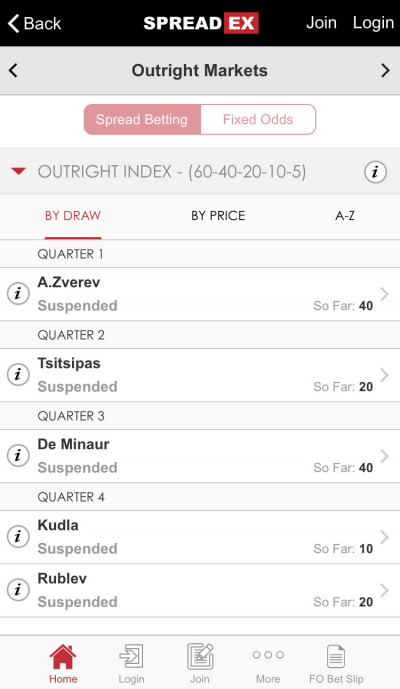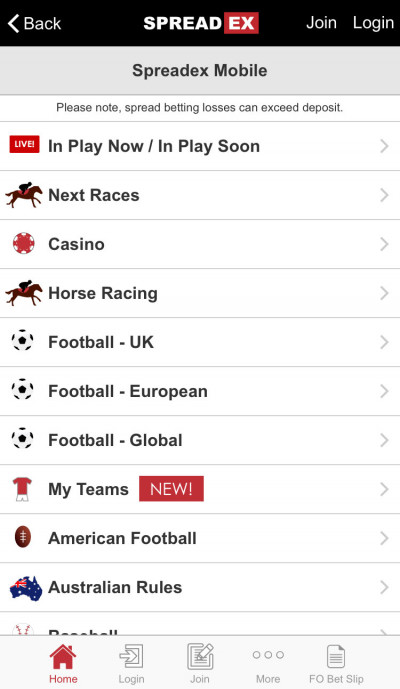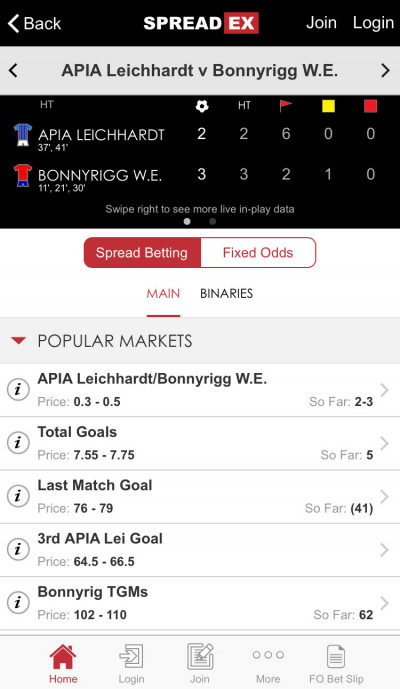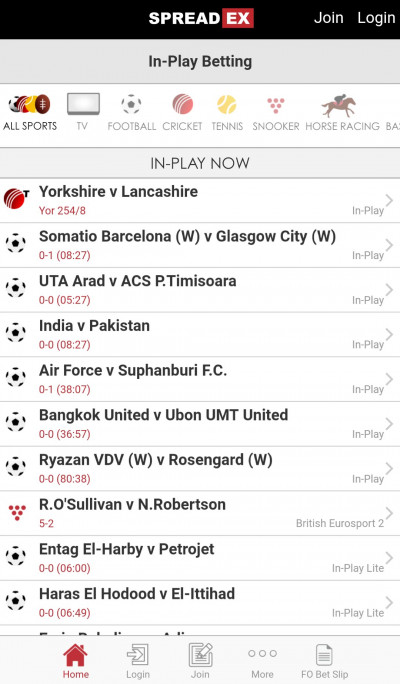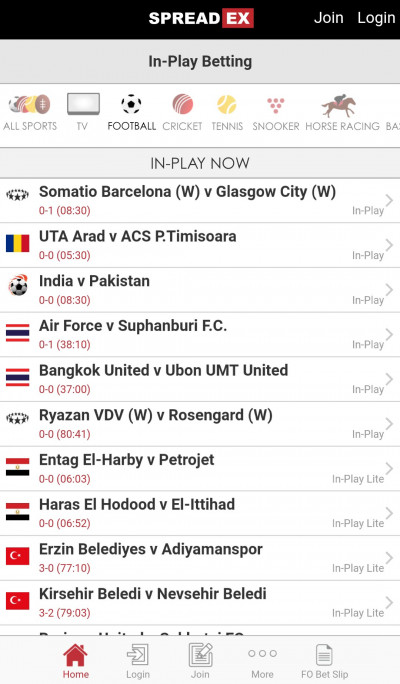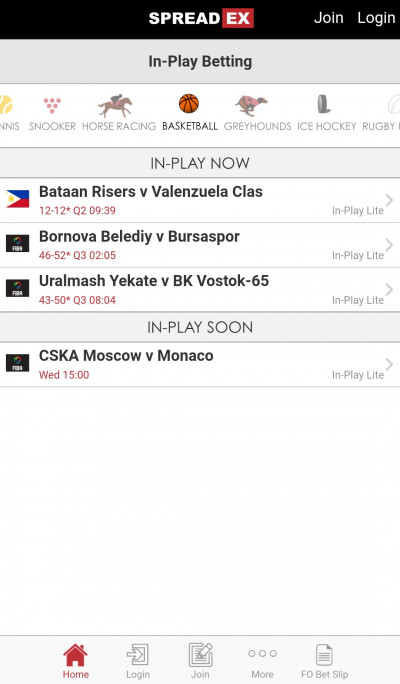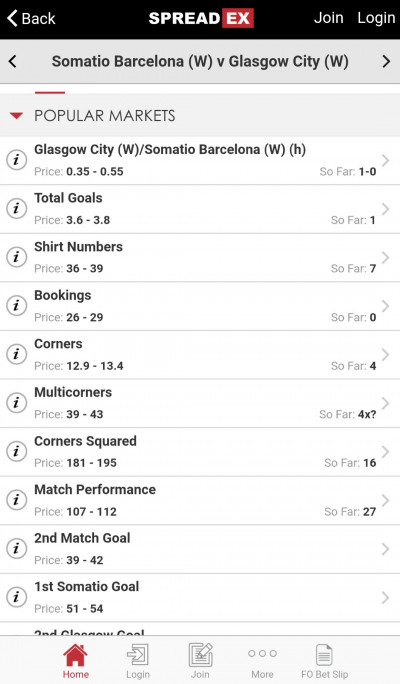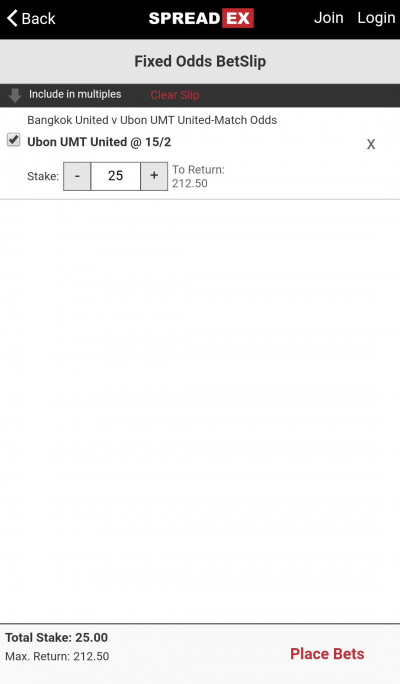 Spreadex Info & Bookmakers Reviews
Check What Others Say About Spreadex and Write Your Own Review
5
"A must to get the best prices"
---
Have both main spread bet companies accounts and wouldn't be without either. Its my preferred form of betting because like taking their traders on, and making them squirm. Especially like the in play options, when a team goes behind and they over react and make the underdogs a real value price. It happens on loads of games, as soon as they equalise you can profit, you may not always win but the upside is great. Need to be on the ball and follow the match, but if astute can profit. Hoping the World Cup is a goldmine for my spread betting.
5
"Spreadex Sport: Where Betting Meets Versatility"
---
Spreadex Sport stands out as a versatile platform for sports betting. With an easy-to-use interface and a wide range of sports and markets, it caters to bettors of all kinds. What sets it apart is its unique spread betting options, adding an exciting twist to traditional sports wagering. Whether you're an experienced bettor or just starting out, Spreadex Sport offers a dynamic and engaging betting experience worth exploring.
5
"Fixed odds and spread betting all in one place"
---
Spredex has the unique selling point of being able to offer both fixed odds betting and spread betting in the one place. They also offer the chance for customers to watch a wide variety of sports whether a bet has been placed on that event or not. Extremely quick payout of winning bets, often in seconds, gives Spredex an advantage over many of its rivals.
4
"One of My Better Betting Experiences."
---
I'm a relatively new customer of SpreadEx but my experience with them so far has been mainly positive. There are better new customer welcome offers available with other sites and I would maybe have given SpreadEx a higher rating if they offered a better deal for new customers but other than that I have no real complaints. The desktop site took a little bit of getting used to but that isn't a major issue. The most important aspect as a betting customer is withdrawing your winnings. Unlike with some other bookies, I had absolutely no issue withdrawing my winnings from SpraedEx. The transaction could possibly be processed a little bit quicker, as some bookies do it almost instantly, but the funds were back in my bank account within a couple of days so that's not a problem either. I've had one occasion of dealing with their customer service and they were brilliant too. I've rated them 4 stars. They didn't get the fifth, not because they've done anything wrong but simply because other bookies do a few things slightly better. I'm a satisfied SpreadEx customer.
4
"Great alternative, worth a try"
---
Some really fun markets in here, like betting on the sum of shirt numbers of goalscorers in a football match. You can even buy scrabble points where the score is made up by the letters in the goalscorers names. Along with these, you can buy all the normal things like goals, cards, corners and so on. Would advise small stakes to begin with if you're new to spread betting as it's all about how right or wrong you are, not just if you're right or wrong. Definitely worth a try!
---
Theres not a lot of choice when it comes to Spread betting but Spreadex is the one I use. The site and app wouldn't be as slick as some of the best regular bookies but its well designed and functional and there are a wide range of exotic markets each with clear detailed explanations of how they are settled which is probably one of the most important factors if you are spread betting !
3
"Solid but unspectacular sportsbook"
---
Have only used their sports betting service (spread betting isn't my thing). Odds only around average, but easy account verification and quick withdrawals.
2
"Issue With A Free Bet Offer"
---
I opened an account with Spreadex after I got an email from OLBG offering £25 free bet with no deposit required. I followed the link and registered but there was no free bet in my account. I looked into placing a single and an accumulator but it still didn't appear. I called them and they were aware f the issue and offered me the chance to place it over the phone but I'd only be able to place a single bet which was different from the email I received. I queried this and they confined in an email that I'd be able to place a multiple bet over the phone. I called the number they provided and I was told they were closed! All in all not a very positive experience. They were quick in coming back to me but it doesn't matter how quick you are if the incorrect information is given. I was going to use it for the fixed betting and I appreciate it's a site where you can use spread betting. I was a bit put off at the start when of setting it up when I was being asked abog my salary etc.
2
"Not too bad, but there are other spread betting companies out there"
---
I would state that SpreadEX is ok, but in my opinion there are better spread betting companies and websites to use out there
---
I'm not a customer on SpreadEx, as I'm not into spread betting, I understand that on the site, one can be a bookmaker as well as a punter, therefore big monies can be lost if one makes a mistake. Not for me.
Spreadex User Guide
Click a banner on this page.
Fill in the very simple Spreadex new account application form, which takes around a minute!
Await email confirmation of approval from Spreadex.
Start placing spread bets and fixed odds bets instantly!
Spreadex Sign Up Process
When you consider a Spreadex new account click the open an account tab, this is at the top of the Spreadex page, after you have clicked the banner.
A simple Spreadex sign up application form appears, just complete that application form.
Please make sure your details are correct as Spreadex need to establish you are who you say you are and do carry out fraud and security checks.
Depending on the information provided, you could be granted an account straight away, or in some circumstances Spreadex will require further information from you.
Spreadex are required by law to make sure their service is appropriate for clients, so please always read the terms and conditions.
Spreadex New Account - Credit
Depending on your personal circumstances you may qualify for a credit limit.
You can select to apply for credit when you are filling in your application, which allows you to start betting straight away without the need to put funds in your account.
Spreadex New Account – Debit.
Alternatively, you can operate your account on a pay-as-you-go basis, funding it by credit/debit card, direct debit, direct bank transfer, or cheque before you start betting.
Spreadex Sign Up – Contact Details
With spread betting you may have more questions than you would with a traditional bookmaker.
Their FAQ section is extensive, you should get most answers from those pages.
Do SpreadEx have Fixed Odds Betting

Yes! In addition to spread betting Spreadex also offers the opportunity to use fixed odds on your favourite sports too, meaning you can have just the one account for all your sports betting activity.

Sports and Financials with the same account?

One Spreadex new account means you can trade on football, horse racing and all the major sports, the same Spreadex account gives you access to Shares, Forex and Indices.
How does Spreadex Work?

Spreadex is a spread betting platform where you spread betting opportunities are provided for a wide range of sporting events. In addition Spreadex offer fixed odds betting on sport, and have an on site casino for those that like a dabble on the tables or slots too.

What is Spread betting on sport?

Spread betting is betting on spread markets made available by companies like Spreadex and SportingIndex. They offer a spread on an event and you can predict if the spread is wrong buy betting on one side or another of the spread. The more you are right, the more you win, however the more you are wrong, the more you can lose. You should learn everything you can about spread betting before trying it out.
Spreadex Newsletter
Spreadex send their members a weekly sports betting e-newsletter where you get info on products, new promotions, and video reviews.
Its better and more interesting than many other bookie communications, and worth subscribing to.
Latest Welcome Offer