The 2023 NBA draft may not be happening until June 22, but there's already plenty of hype over it, and for good reason. While many teams will be vying for playoff seeding, those that had lackluster seasons will be fighting over something else: the #1 draft pick. OLBG knows all about top basketball picks and here we look at the best picks from each country that has sent a player to the NBA.
French player Victor Wembanyama is projected to go first in the 2023 draft. The 7-foot-4, 229-pound 18-year-old is being eyed for his ability to create a shot off the dribble, finish above the rim, run the fast break (which is not easy for someone that size), hit step-back 3s, and an 8-foot wingspan suited for blocking shots. This impressive skill set led LeBron James to declare Wembanyama "a generational talent."
If he does go #1, Wembanyama will be the first Frenchman to be selected first in the NBA draft. International players abide by slightly different rules than their American counterparts, with the main difference being they have to turn 19 during that calendar year to be draft-eligible. If they go undrafted by age 23, they can only join the NBA through free agency. Wembanyama turned 19 on Jan. 4, 2023.
Though a number of international players have been selected high in previous NBA drafts, U.S.-born athletes have gone #1 in 63 of the 76 drafts. The remaining 13 top picks have been split between eight different countries. In total, 76 countries outside of the U.S. have had a player selected in the NBA draft who went on to play at least one game.
OLBG compiled a list of the top draft picks for every country that has sent a player to the NBA using data from Basketball-Reference. Only international players who played at least one NBA game were included. Players who were drafted but didn't play in the NBA were omitted. Player nationality is based on country of birth, as per the structure of the Basketball-Reference data. Countries are sorted alphabetically.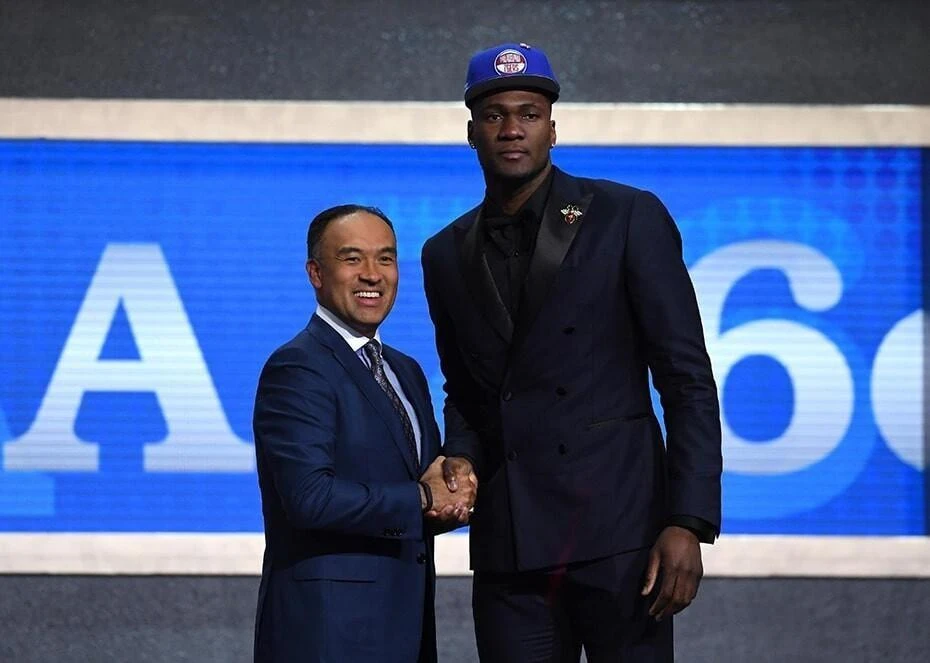 Sarah Stier // Getty Images
Angola
- Highest drafted player: Bruno Fernando
- Year drafted: 2019
- Team: Philadelphia 76ers
- College: University of Maryland
- Round drafted: 2
- Overall pick: 34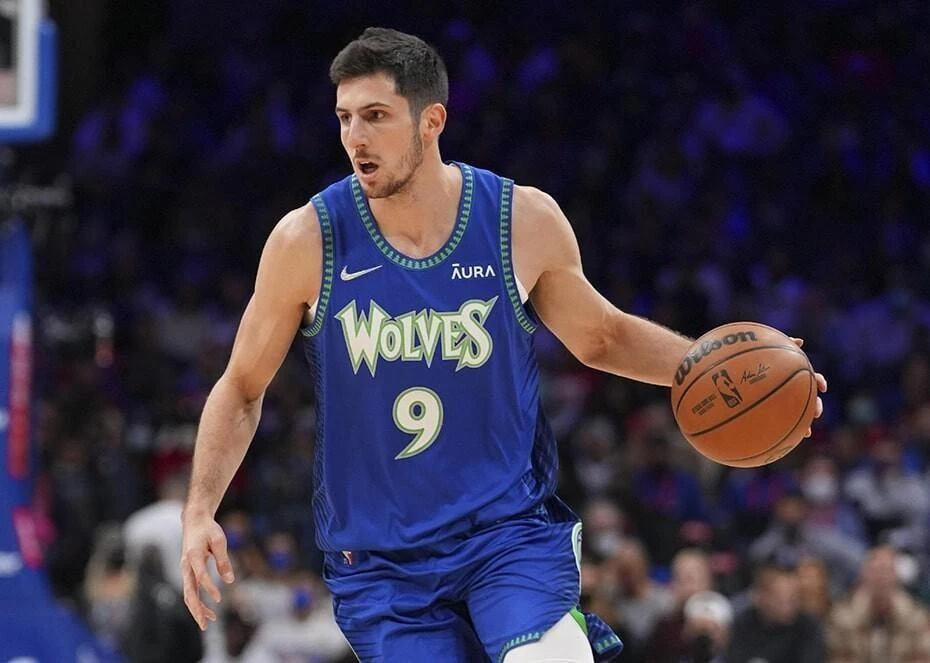 Mitchell Leff // Getty Images
Argentina
- Highest drafted player: Leandro Bolmaro
- Year drafted: 2020
- Team: New York Knicks
- College: None
- Round drafted: 1
- Overall pick: 23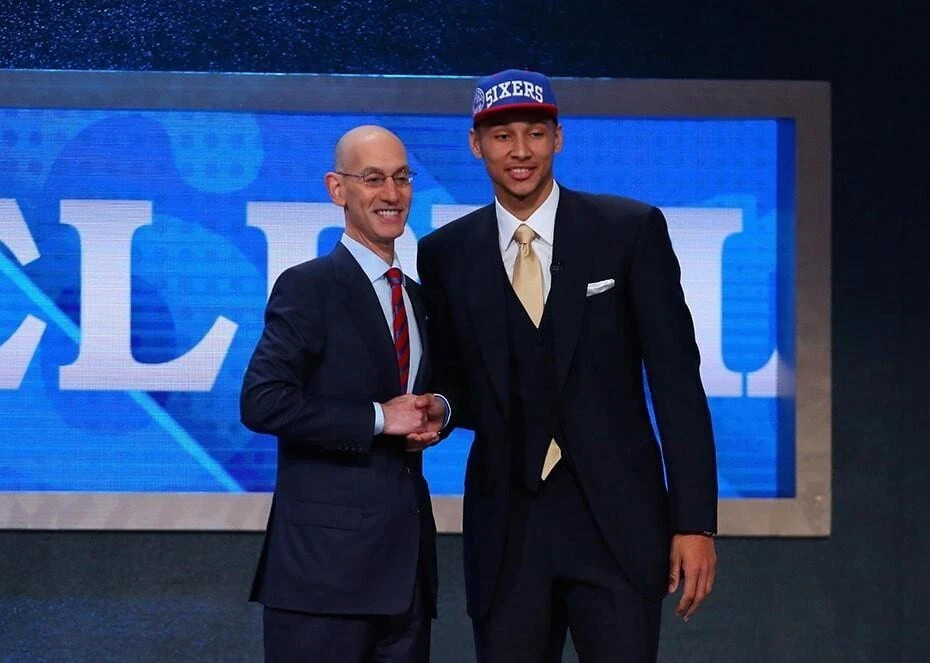 Mike Stobe // Getty Images
Australia
- Highest drafted players: Andrew Bogut, Kyrie Irving, Ben Simmons
- Years drafted: 2005 (Bogut), 2011 (Irving), 2016 (Simmons)
- Teams: Milwaukee Bucks (Bogut), Cleveland Cavaliers (Irving), Philadelphia 76ers (Simmons)
- Colleges: University of Utah (Bogut), Duke University (Irving), Louisiana State University (Simmons)
- Round drafted: 1
- Overall pick: 1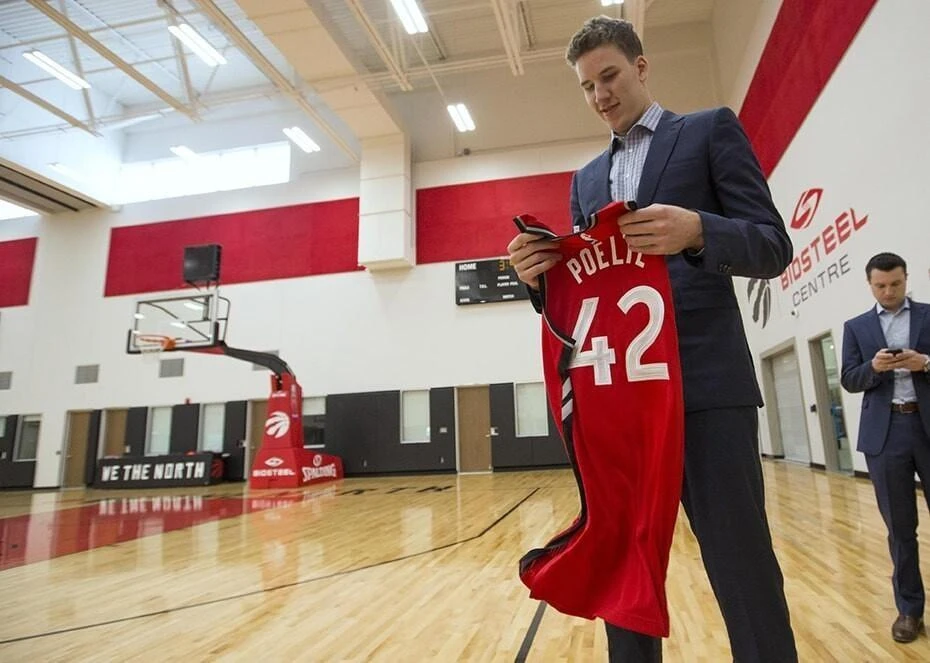 Rick Madonik // Getty Images
Austria
- Highest drafted player: Jakob Pöltl
- Year drafted: 2016
- Team: Toronto Raptors
- College: University of Utah
- Round drafted: 1
- Overall pick: 9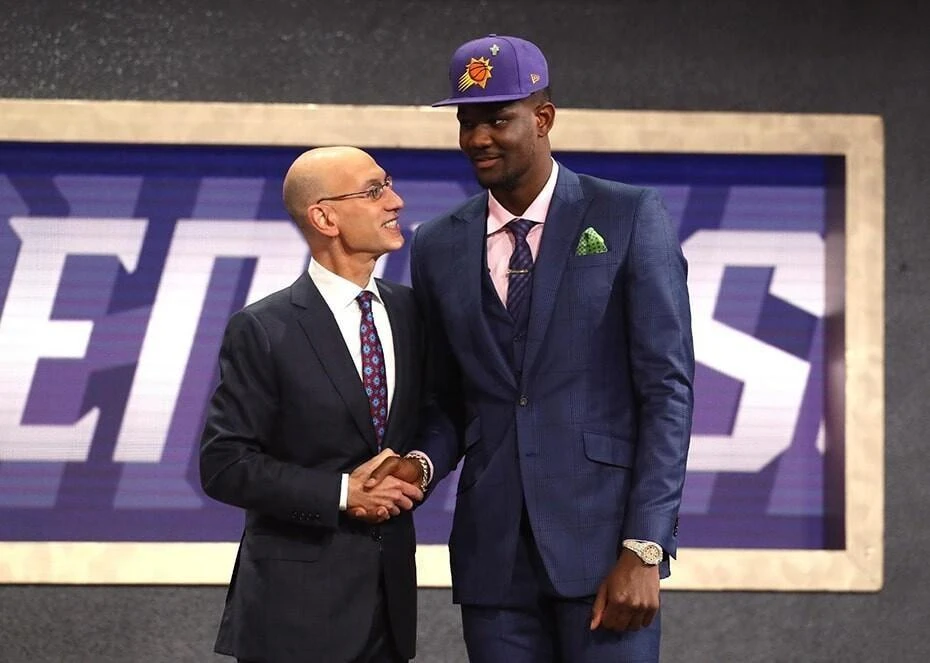 Mike Stobe // Getty Images
Bahamas
- Highest drafted players: Mychal Thompson, Deandre Ayton
- Years drafted: 1978 (Thompson), 2018 (Ayton)
- Teams: Portland Trail Blazers (Thompson), Phoenix Suns (Ayton)
- Colleges: University of Minnesota (Thompson), University of Arizona (Ayton)
- Round drafted: 1
- Overall pick: 1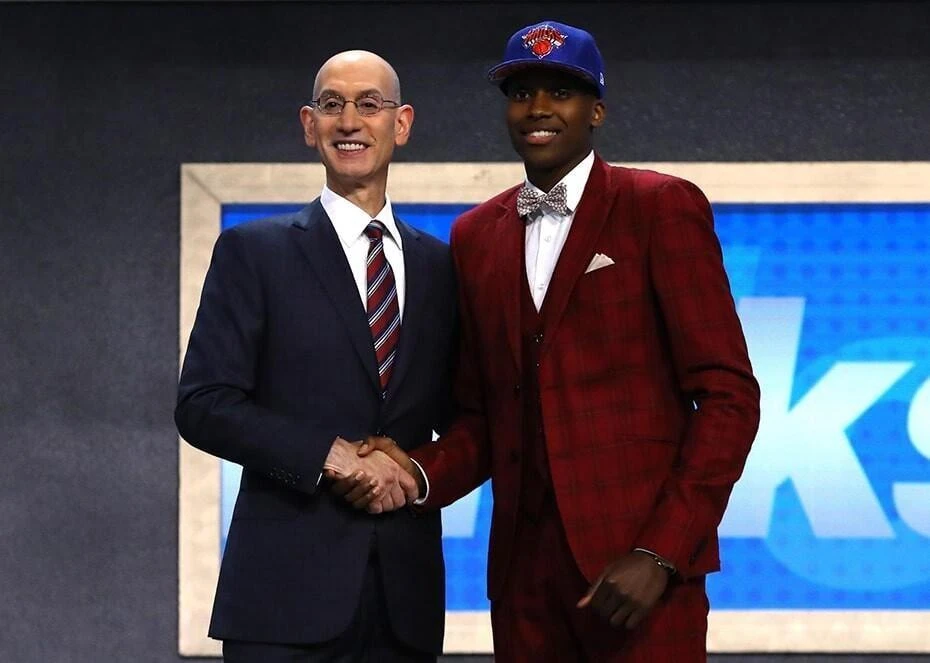 Mike Stobe // Getty Images
Belgium
- Highest drafted player: Frank Ntilikina
- Year drafted: 2017
- Team: New York Knicks
- College: None
- Round drafted: 1
- Overall pick: 8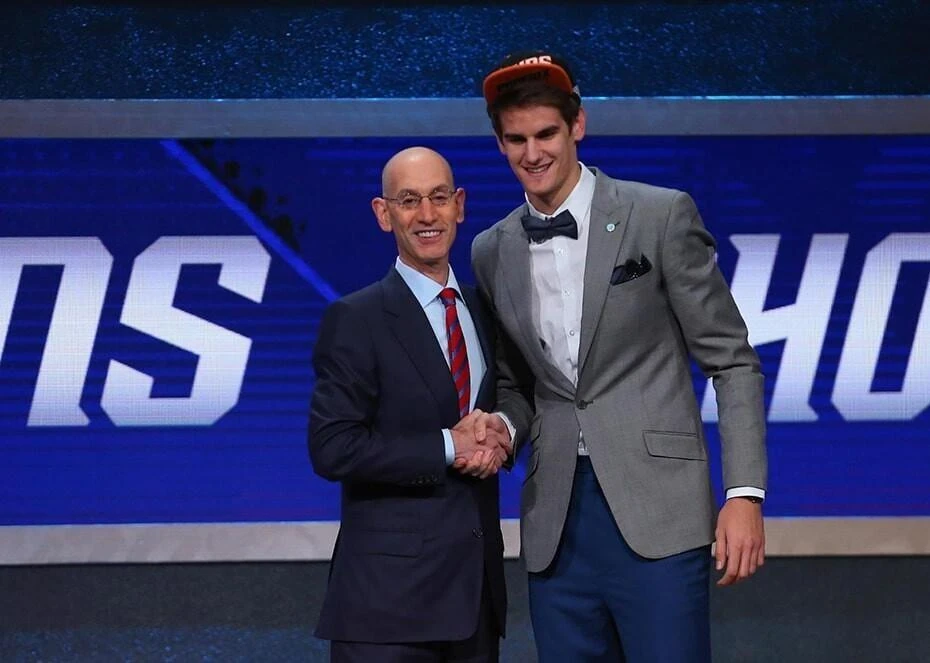 Mike Stobe // Getty Images
Bosnia and Herzegovina
- Highest drafted player: Dragan Bender
- Year drafted: 2016
- Team: Phoenix Suns
- College: None
- Round drafted: 1
- Overall pick: 4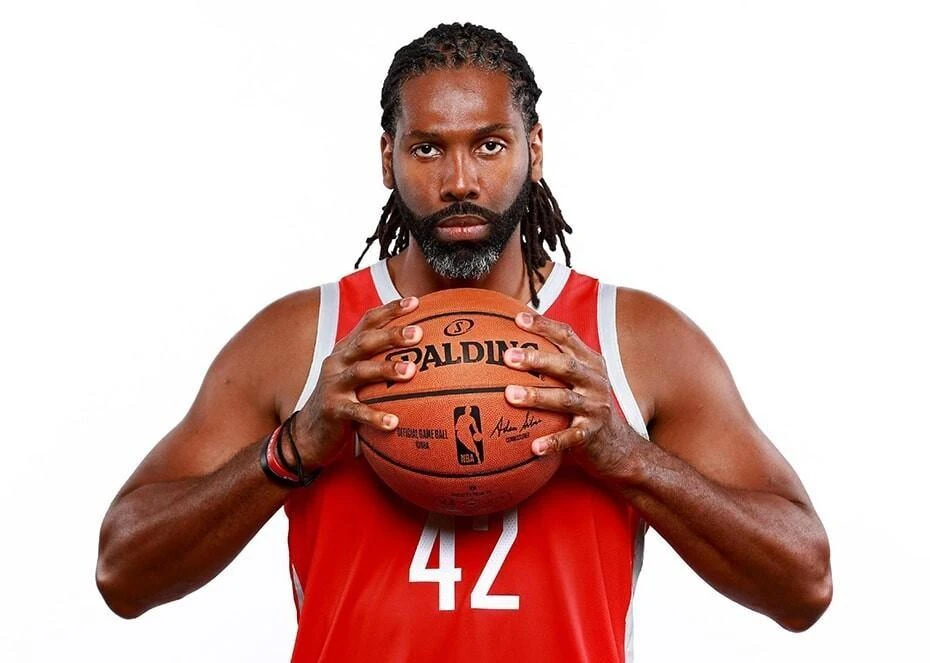 Tom Pennington // Getty Images
Brazil
- Highest drafted player: Nenê Hilário
- Year drafted: 2002
- Team: New York Knicks
- College: None
- Round drafted: 1
- Overall pick: 7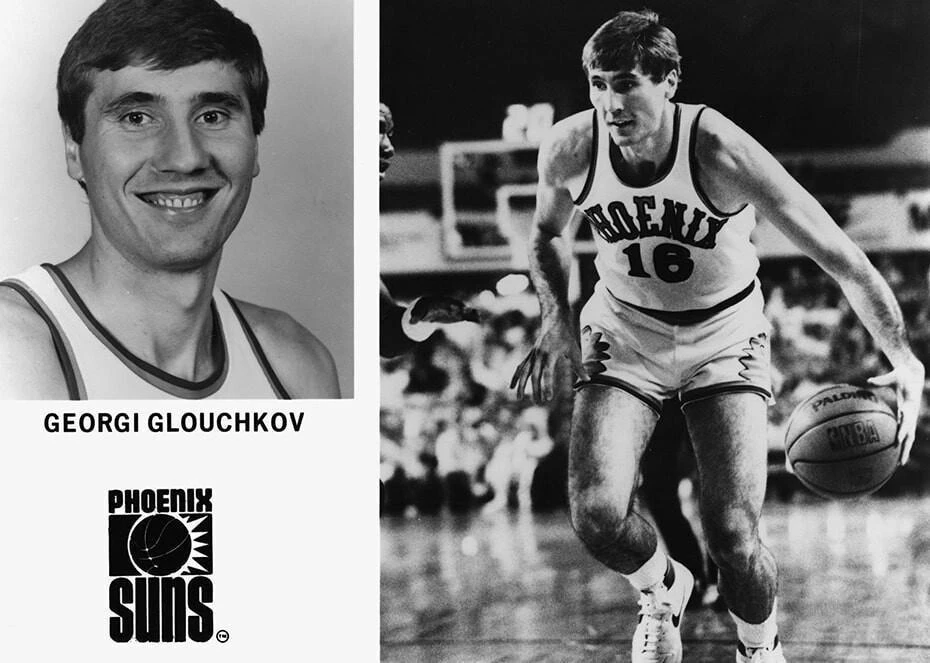 Sporting News Archive // Getty Images
Bulgaria
- Highest drafted player: Georgi Glouchkov
- Year drafted: 1985
- Team: Phoenix Suns
- College: None
- Round drafted: 7
- Overall pick: 148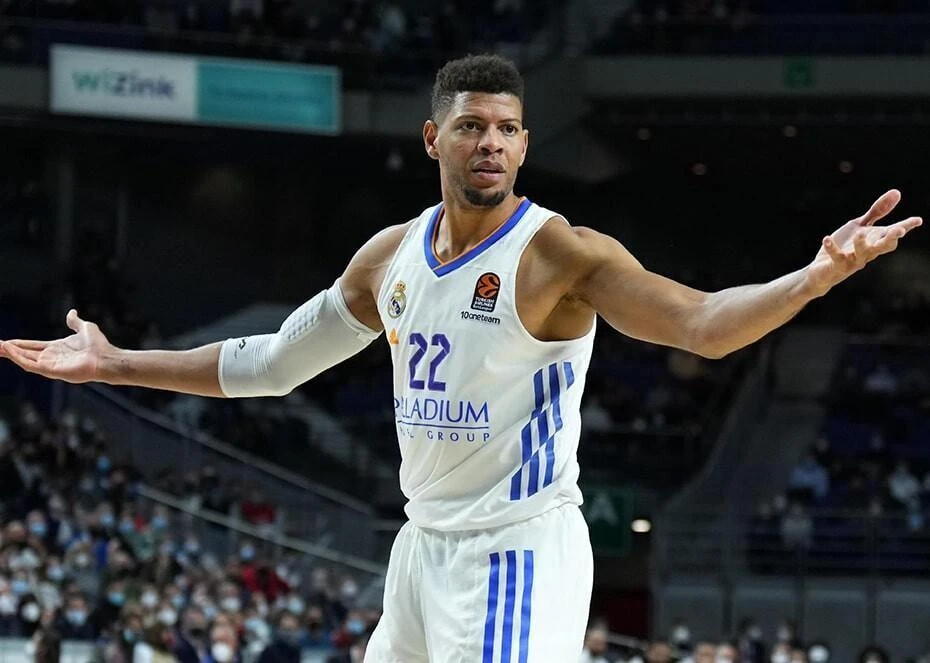 Angel Martinez// Getty Images
Cabo Verde
- Highest drafted player: Edy Tavares
- Year drafted: 2014
- Team: Atlanta Hawks
- College: None
- Round drafted: 2
- Overall pick: 43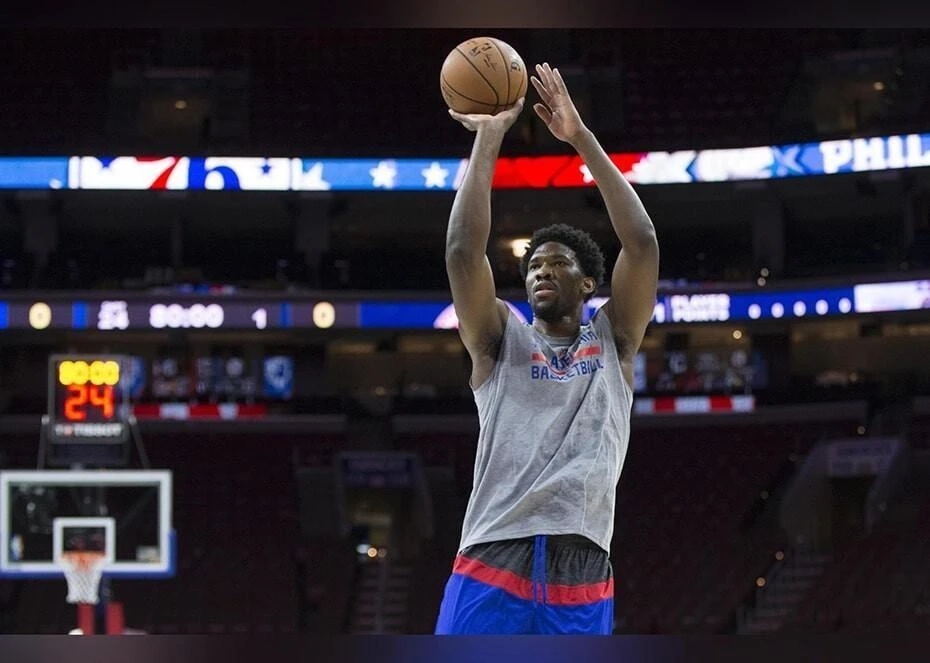 Mitchell Leff // Getty Images
Cameroon
- Highest drafted player: Joel Embiid
- Year drafted: 2014
- Team: Philadelphia 76ers
- College: University of Kansas
- Round drafted: 1
- Overall pick: 3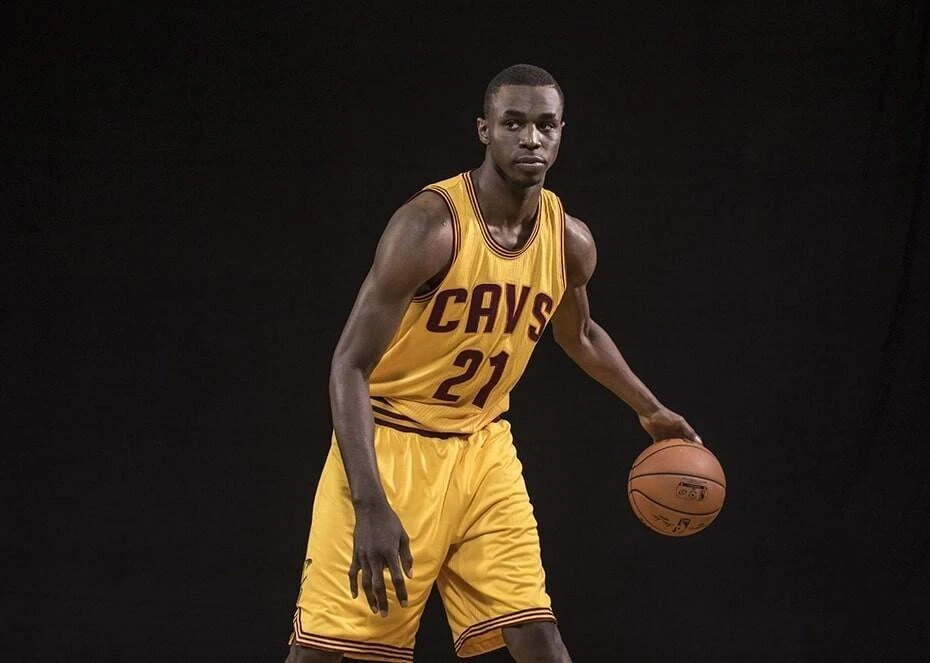 Nick Laham // Getty Images
Canada
- Highest drafted players: Andrew Wiggins, Anthony Bennett
- Years drafted: 2014 (Wiggins), 2013 (Bennett)
- Teams: Cleveland Cavaliers (Wiggins), Cleveland Cavaliers (Bennett)
- Colleges: University of Kansas (Wiggins), UNLV (Bennett)
- Round drafted: 1
- Overall pick: 1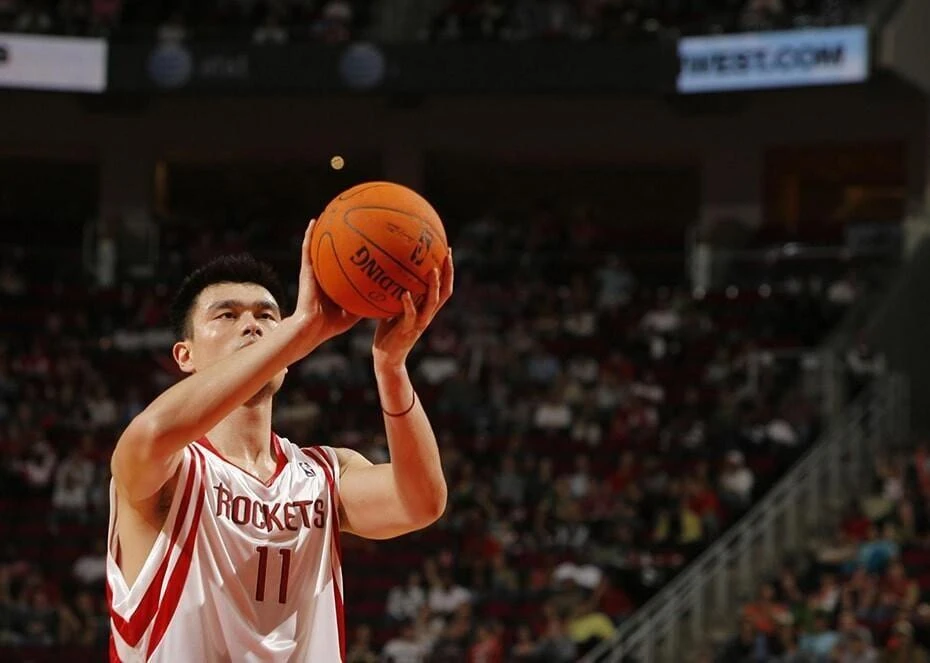 Sporting News Archive // Getty Images
China
- Highest drafted player: Yao Ming
- Year drafted: 2002
- Team: Houston Rockets
- College: None
- Round drafted: 1
- Overall pick: 1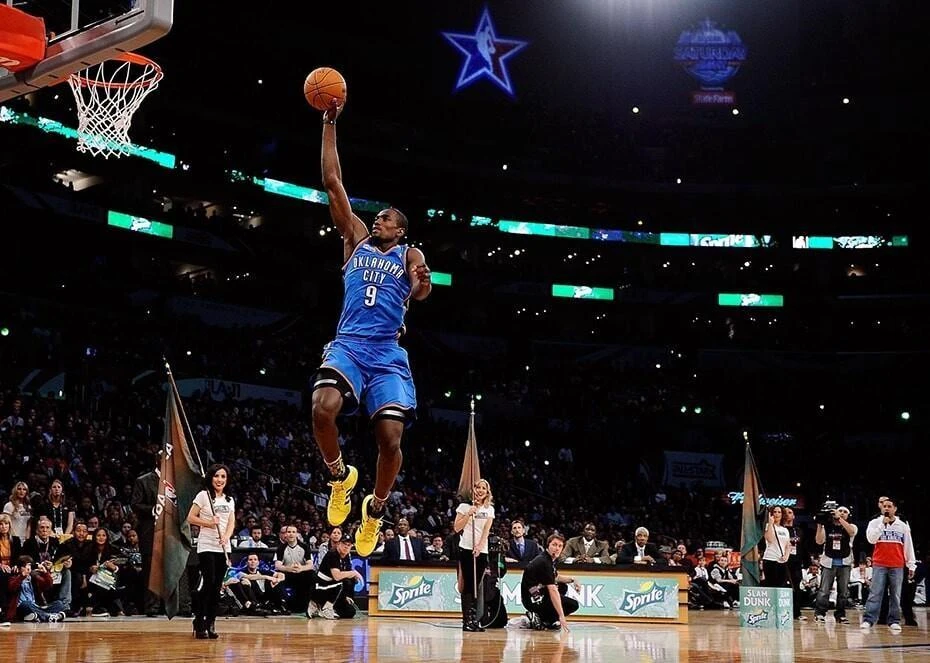 Kevork Djansezian // Getty Images
Congo
- Highest drafted player: Serge Ibaka
- Year drafted: 2008
- Team: Seattle SuperSonics
- College: None
- Round drafted: 1
- Overall pick: 24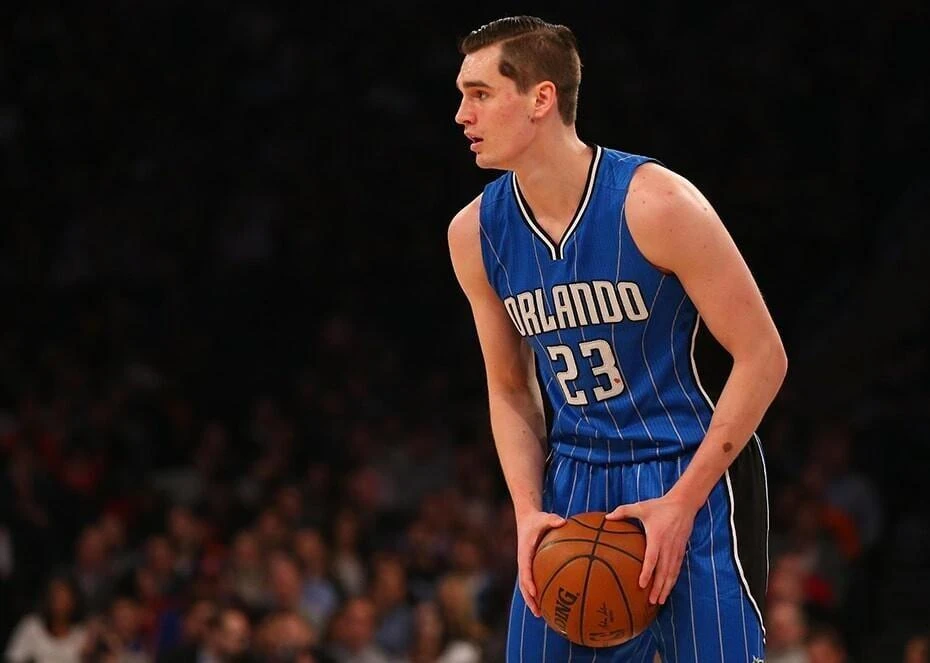 Mike Stobe // Getty Images
Croatia
- Highest drafted player: Mario Hezonja
- Year drafted: 2015
- Team: Orlando Magic
- College: None
- Round drafted: 1
- Overall pick: 5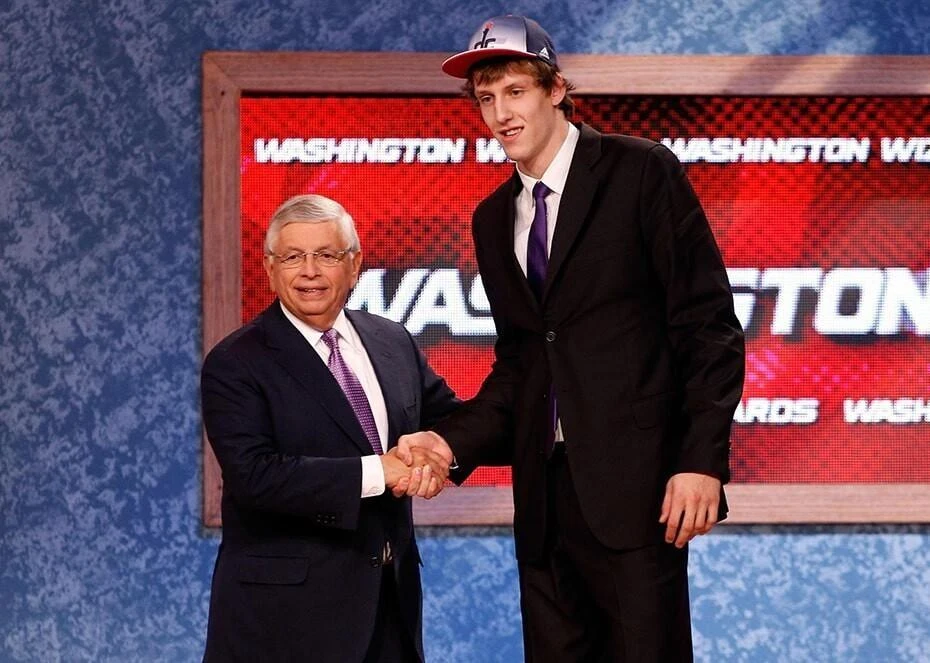 Mike Stobe // Getty Images
Czechia
- Highest drafted player: Jan Veselý
- Year drafted: 2011
- Team: Washington Wizards
- College: None
- Round drafted: 1
- Overall pick: 6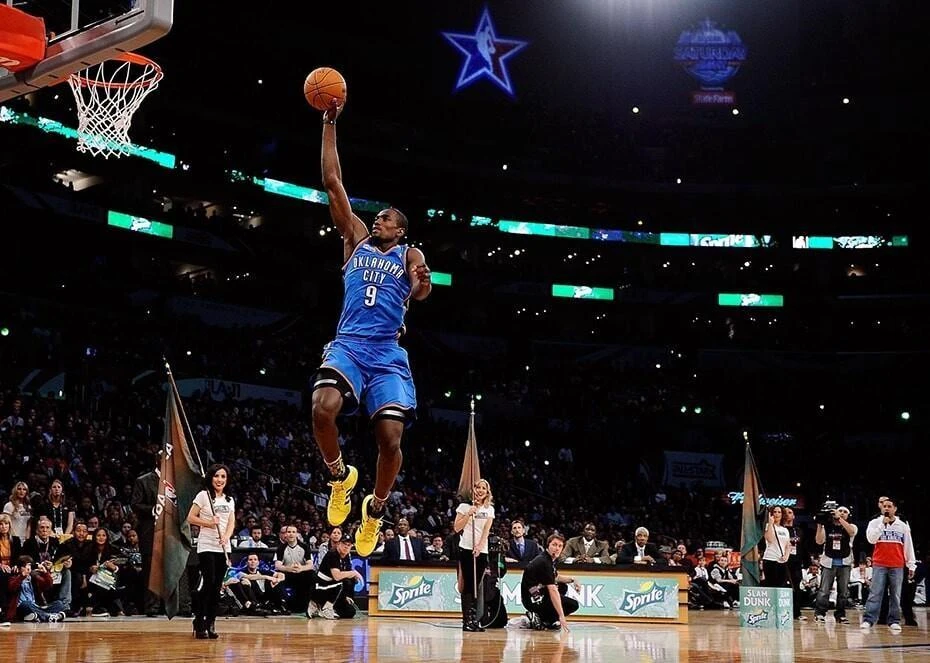 Kevork Djansezian // Getty Images
Democratic Republic of the Congo
- Highest drafted player: Dikembe Mutombo
- Year drafted: 1991
- Team: Denver Nuggets
- College: Georgetown University
- Round drafted: 1
- Overall pick: 4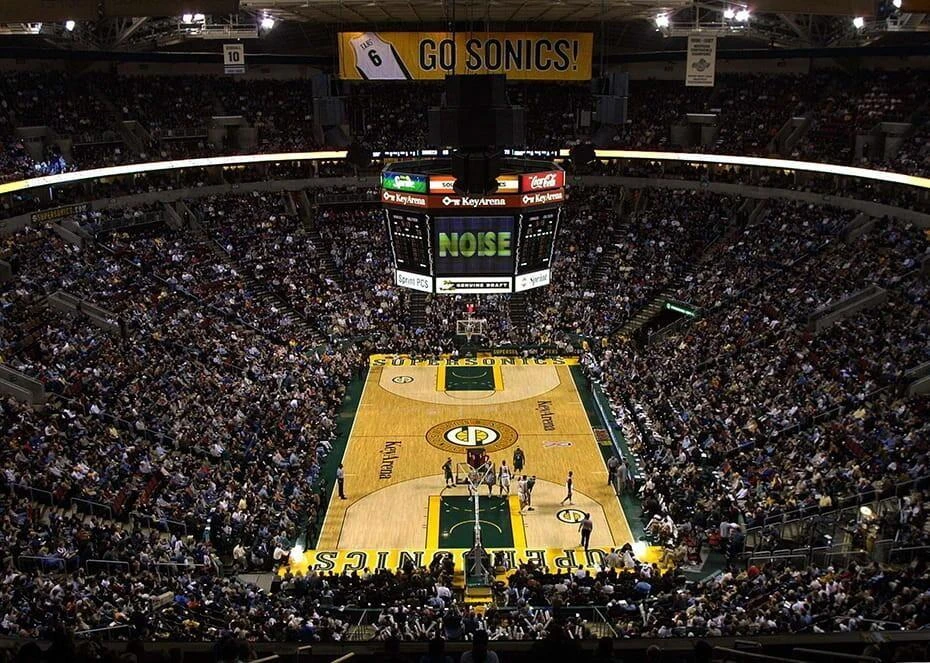 DAN LEVINE // Getty Images
Denmark
- Highest drafted player: Lars Hansen
- Year drafted: 1976
- Team: Chicago Bulls
- College: University of Washington
- Round drafted: 3
- Overall pick: 37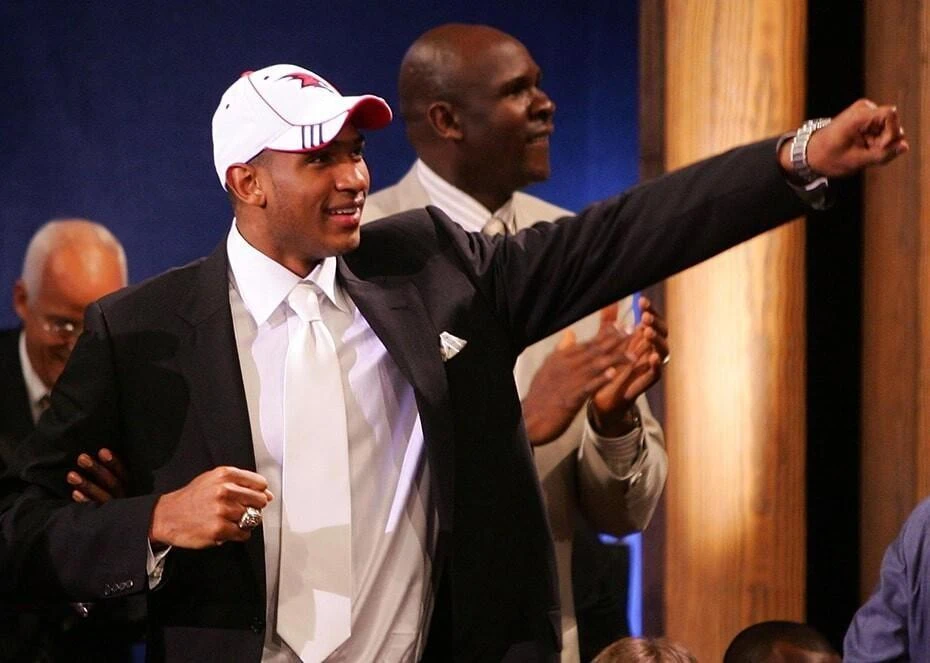 Chris McGrath // Getty Images
Dominican Republic
- Highest drafted player: Al Horford
- Year drafted: 2007
- Team: Atlanta Hawks
- College: University of Florida
- Round drafted: 1
- Overall pick: 3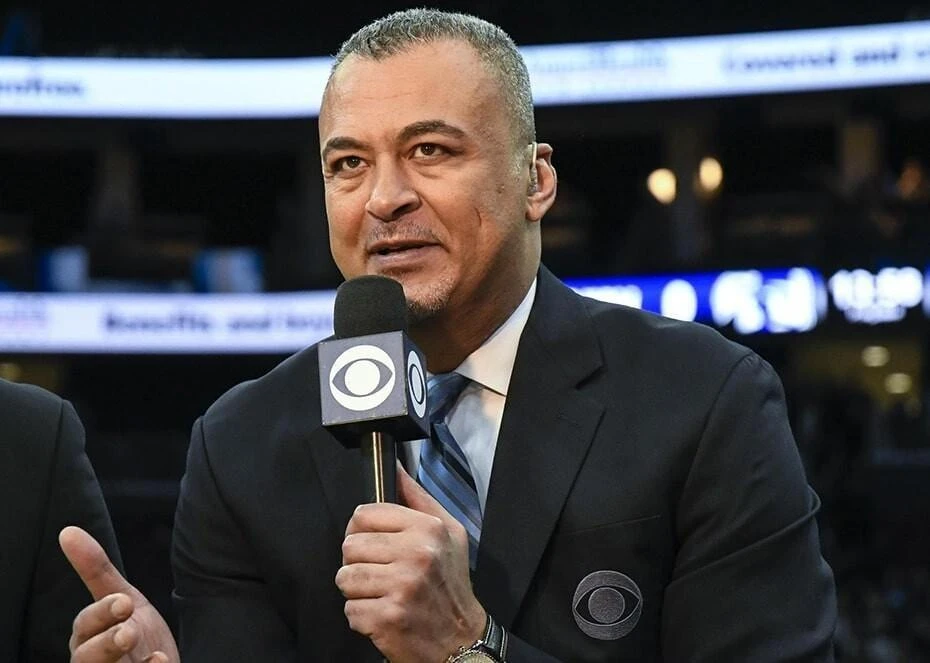 Porter Binks // Getty Images
Egypt
- Highest drafted player: Alaa Abdelnaby
- Year drafted: 1990
- Team: Portland Trail Blazers
- College: Duke University
- Round drafted: 1
- Overall pick: 25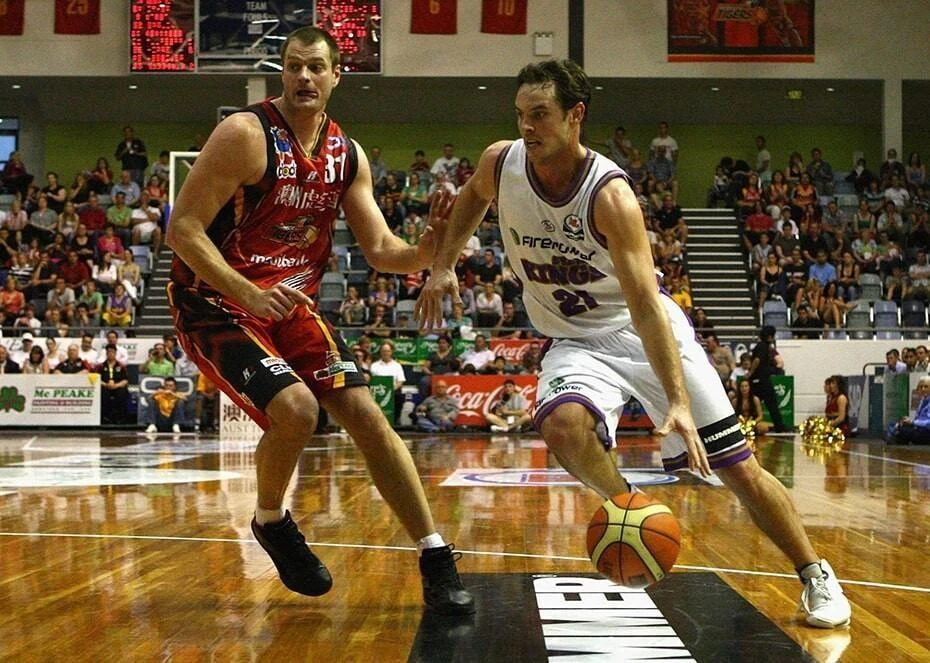 Mark Dadswell // Getty Images
Estonia
- Highest drafted player: Martin Müürsepp
- Year drafted: 1996
- Team: Utah Jazz
- College: None
- Round drafted: 1
- Overall pick: 25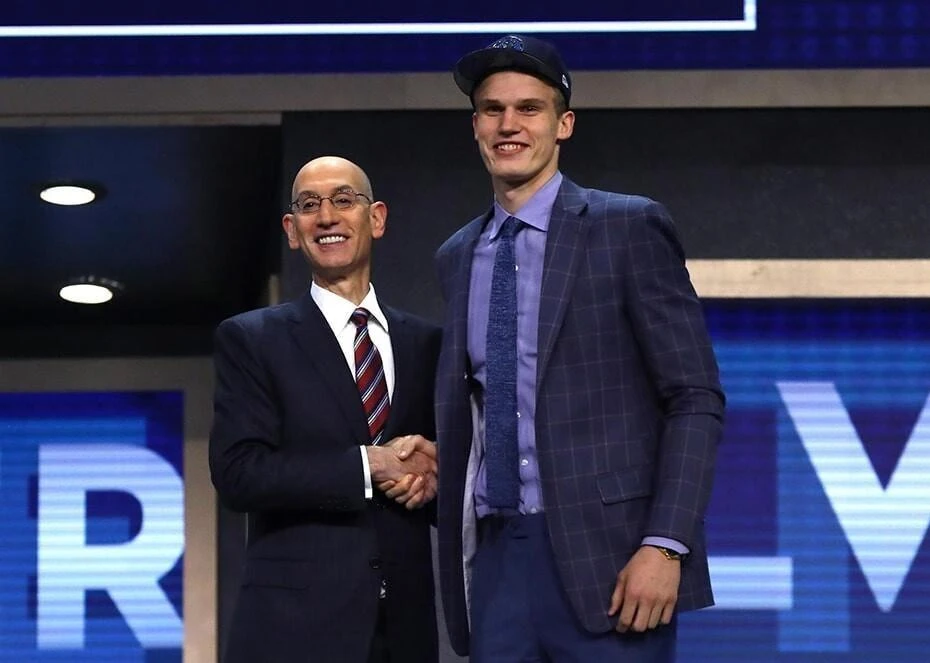 Mike Stobe // Getty Images
Finland
- Highest drafted player: Lauri Markkanen
- Year drafted: 2017
- Team: Minnesota Timberwolves
- College: University of Arizona
- Round drafted: 1
- Overall pick: 7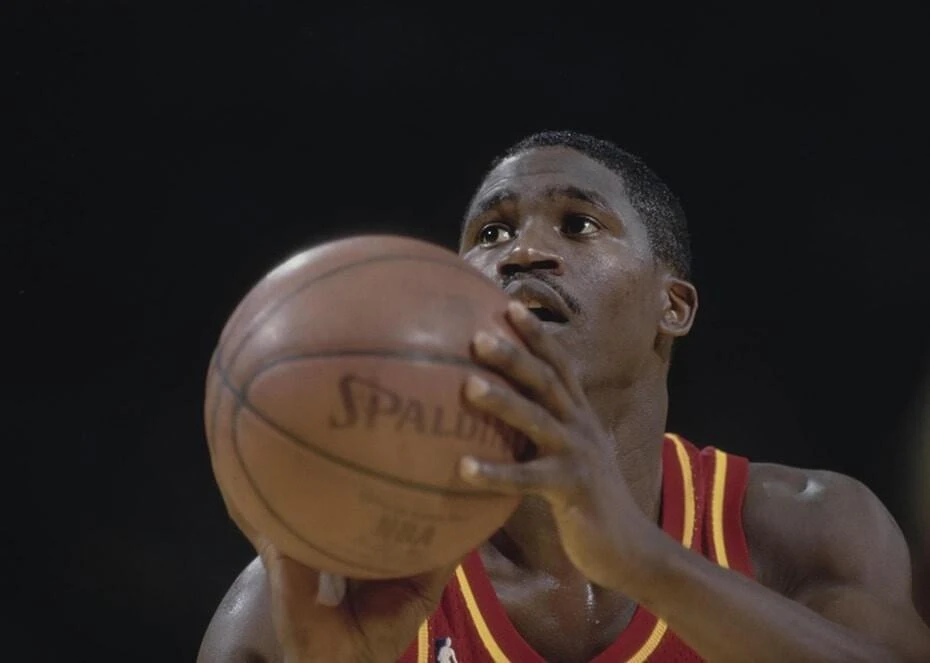 Rick Stewart // Getty Images
France
- Highest drafted player: Dominique Wilkins
- Year drafted: 1982
- Team: Utah Jazz
- College: University of Georgia
- Round drafted: 1
- Overall pick: 3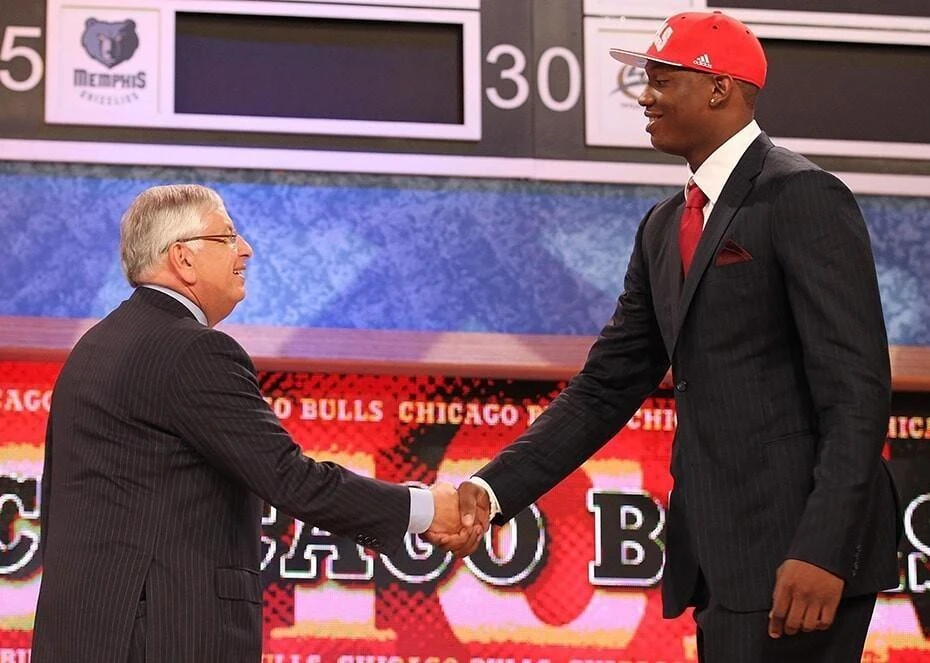 Al Bello // Getty Images
French Guiana
- Highest drafted player: Kevin Séraphin
- Year drafted: 2010
- Team: Chicago Bulls
- College: None
- Round drafted: 1
- Overall pick: 17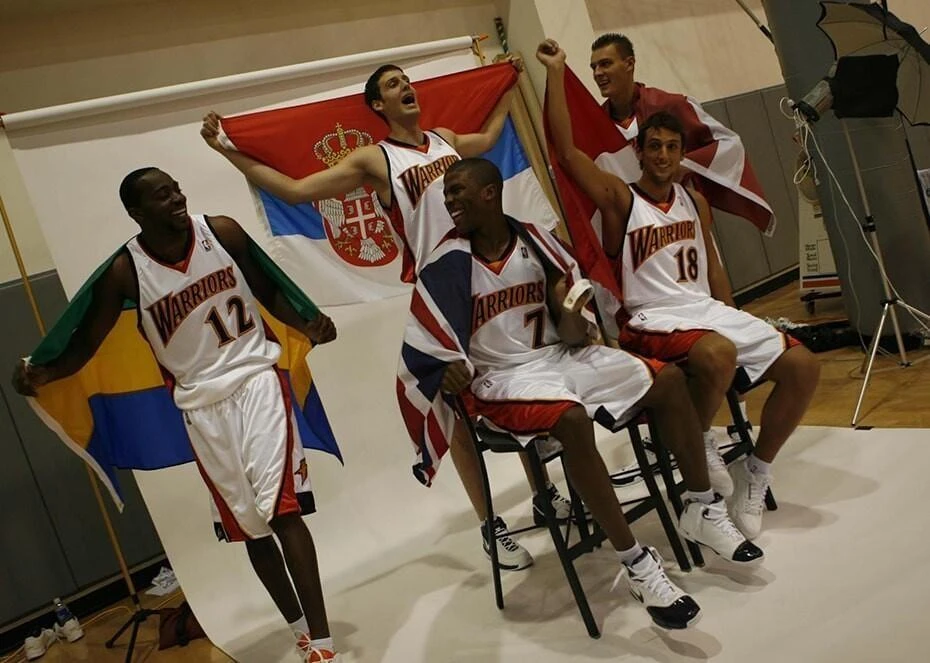 Lea Suzuki/The San Francisco Chronicle // Getty Images
Gabon
- Highest drafted player: Stéphane Lasme
- Year drafted: 2007
- Team: Golden State Warriors
- College: University of Massachusetts
- Round drafted: 2
- Overall pick: 46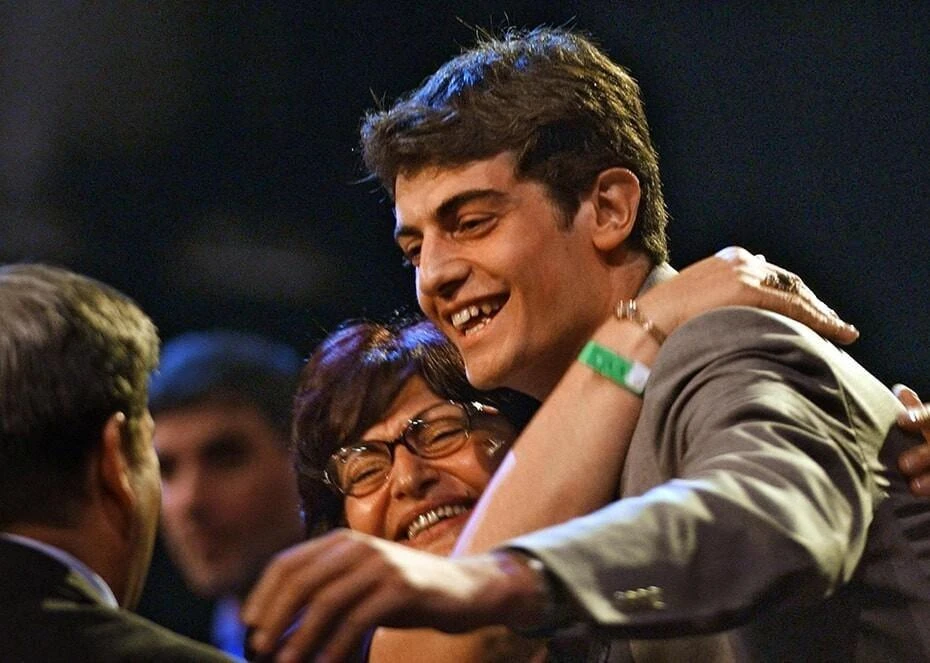 STAN HONDA // Getty Images
Georgia
- Highest drafted player: Nikoloz Tskitishvili
- Year drafted: 2002
- Team: Denver Nuggets
- College: None
- Round drafted: 1
- Overall pick: 5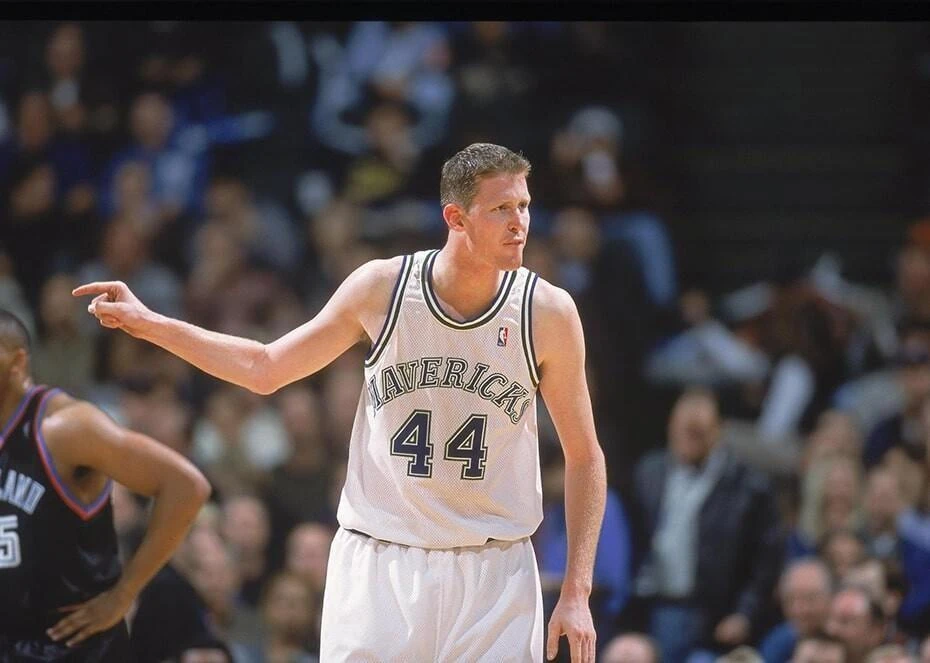 Ronald Martinez // Getty Images
Germany
- Highest drafted player: Shawn Bradley
- Year drafted: 1993
- Team: Philadelphia 76ers
- College: Brigham Young University
- Round drafted: 1
- Overall pick: 2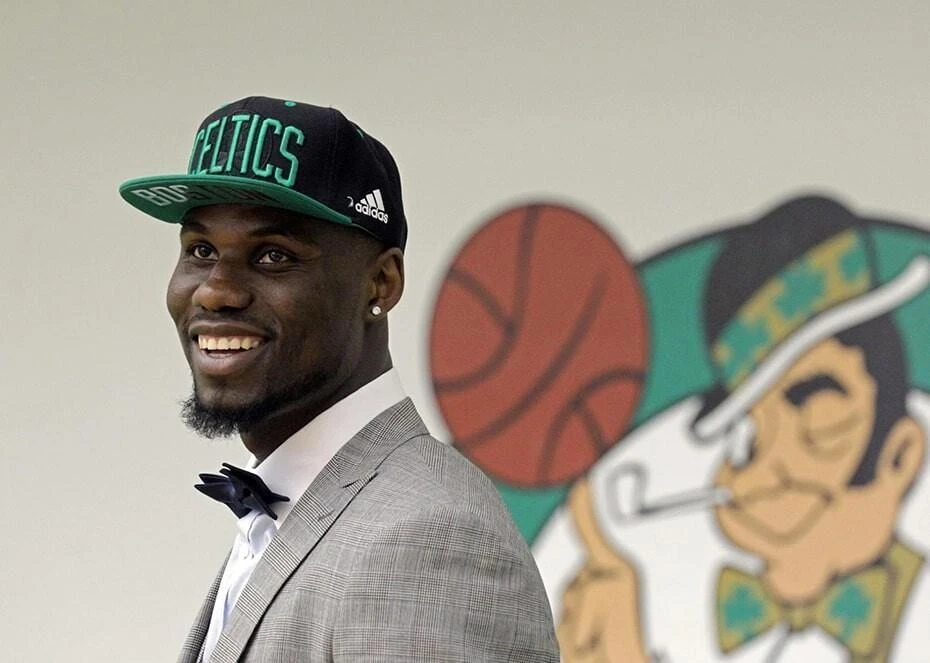 John Wilcox/MediaNews Group/Boston Herald // Getty Images
Ghana
- Highest drafted player: Ben Bentil
- Year drafted: 2016
- Team: Boston Celtics
- College: Providence College
- Round drafted: 2
- Overall pick: 51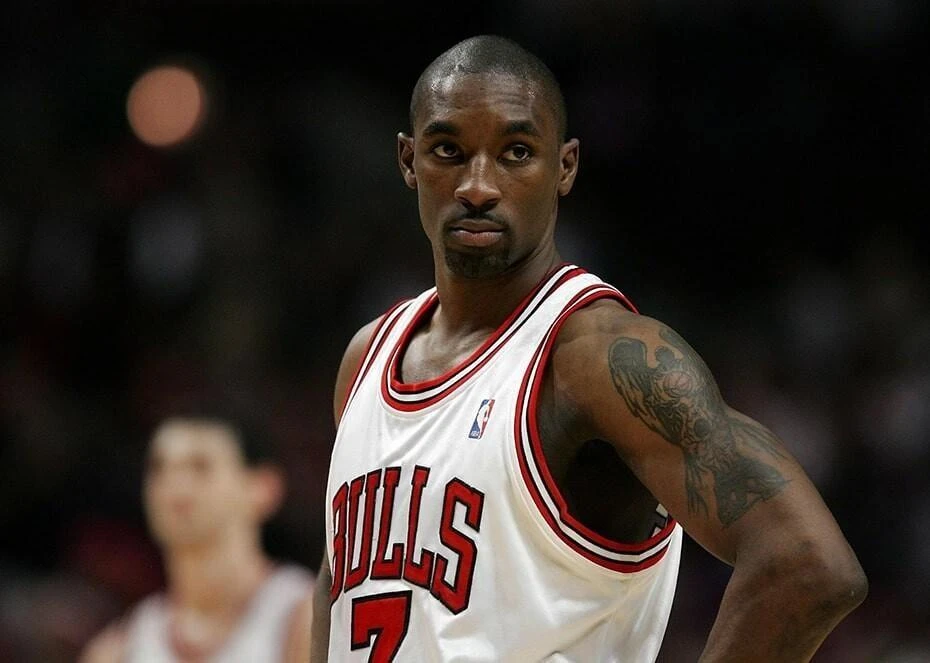 Jonathan Daniel // Getty Images
Great Britain
- Highest drafted player: Ben Gordon
- Year drafted: 2004
- Team: Chicago Bulls
- College: UConn
- Round drafted: 1
- Overall pick: 3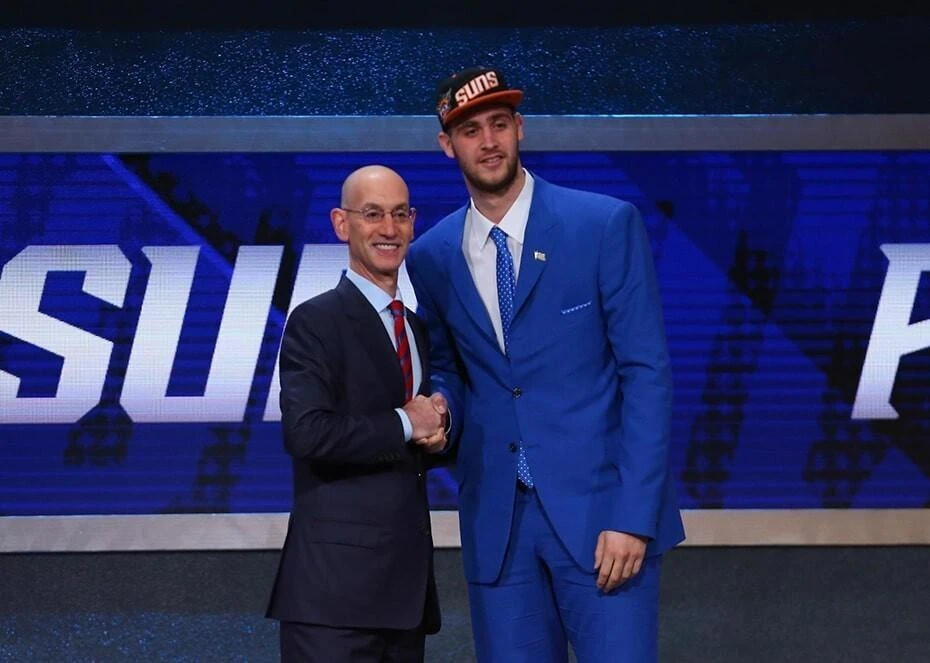 Mike Stobe // Getty Images
Greece
- Highest drafted player: Georgios Papagiannis
- Year drafted: 2016
- Team: Phoenix Suns
- College: None
- Round drafted: 1
- Overall pick: 13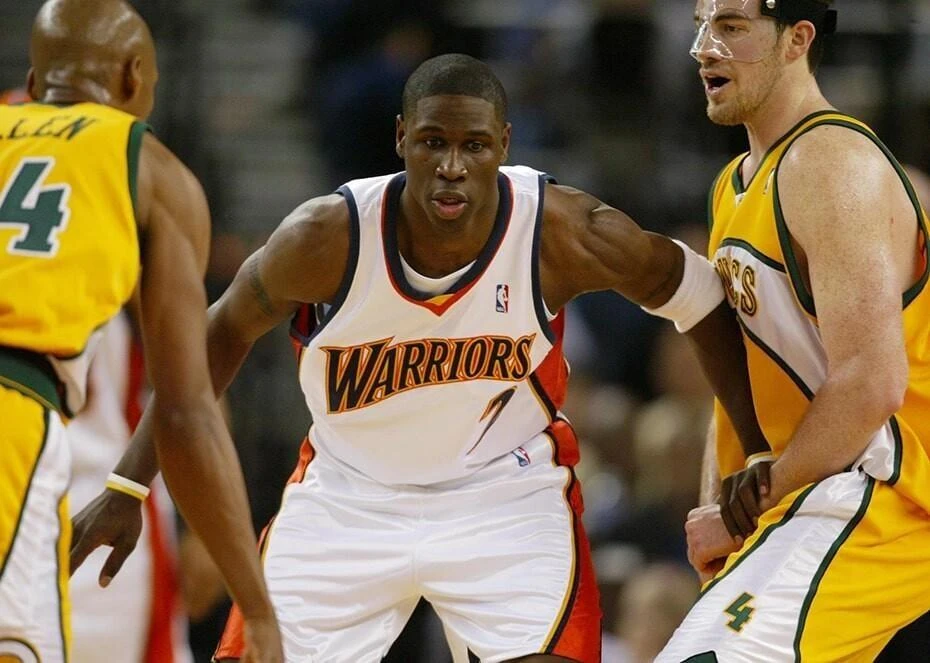 Icon Sports Wire // Getty Images
Guadeloupe
- Highest drafted player: Mickaël Piétrus
- Year drafted: 2003
- Team: Golden State Warriors
- College: None
- Round drafted: 1
- Overall pick: 11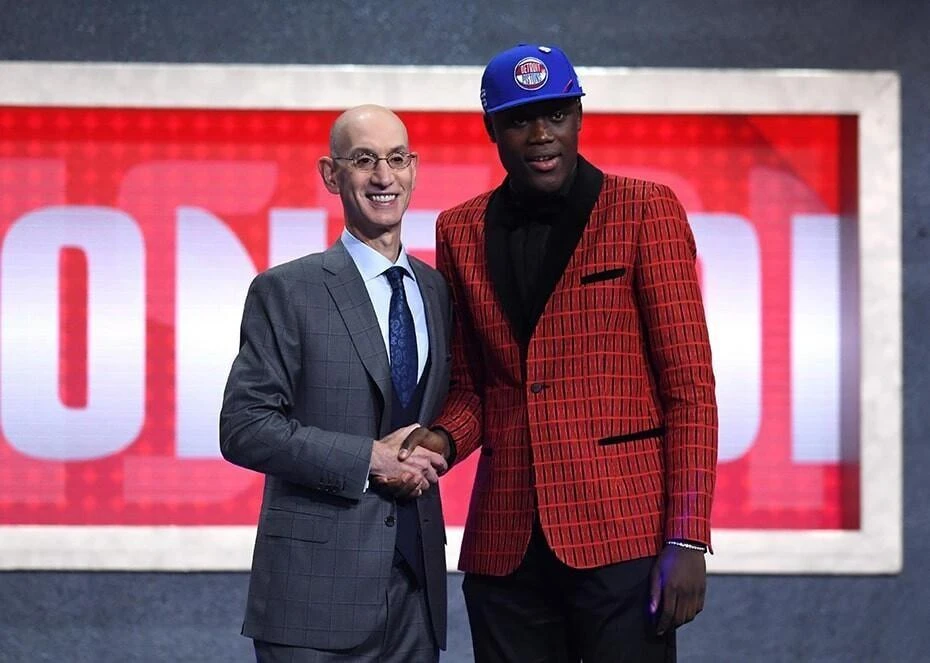 Sarah Stier // Getty Images
Guinea
- Highest drafted player: Sekou Doumbouya
- Year drafted: 2019
- Team: Detroit Pistons
- College: None
- Round drafted: 1
- Overall pick: 15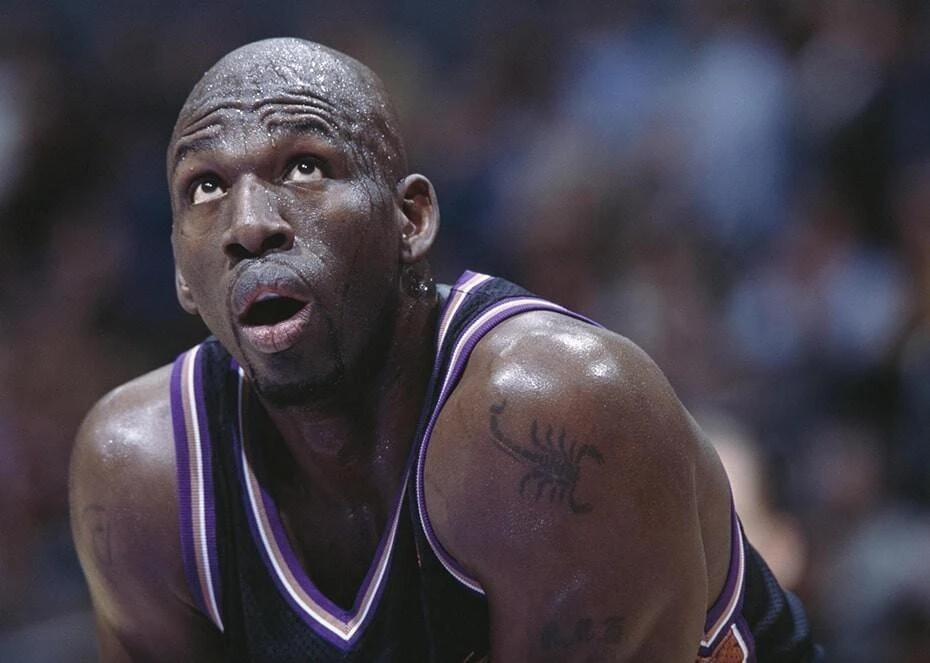 Robert Laberge // Getty Images
Haiti
- Highest drafted player: Olden Polynice
- Year drafted: 1987
- Team: Chicago Bulls
- College: University of Virginia
- Round drafted: 1
- Overall pick: 8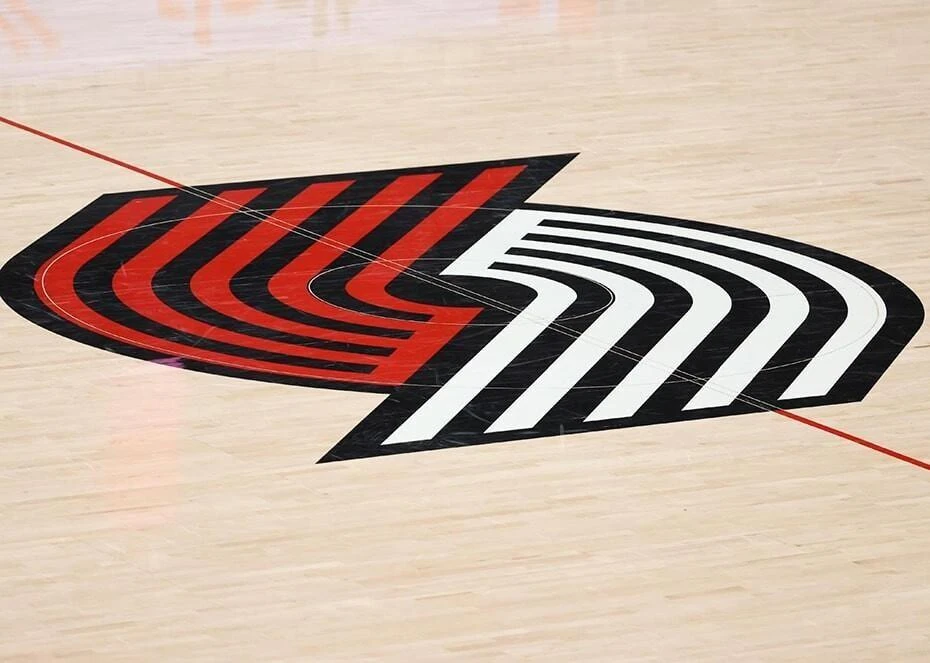 Abbie Parr // Getty Images
Iceland
- Highest drafted player: Pétur Guðmundsson
- Year drafted: 1981
- Team: Portland Trail Blazers
- College: University of Washington
- Round drafted: 3
- Overall pick: 61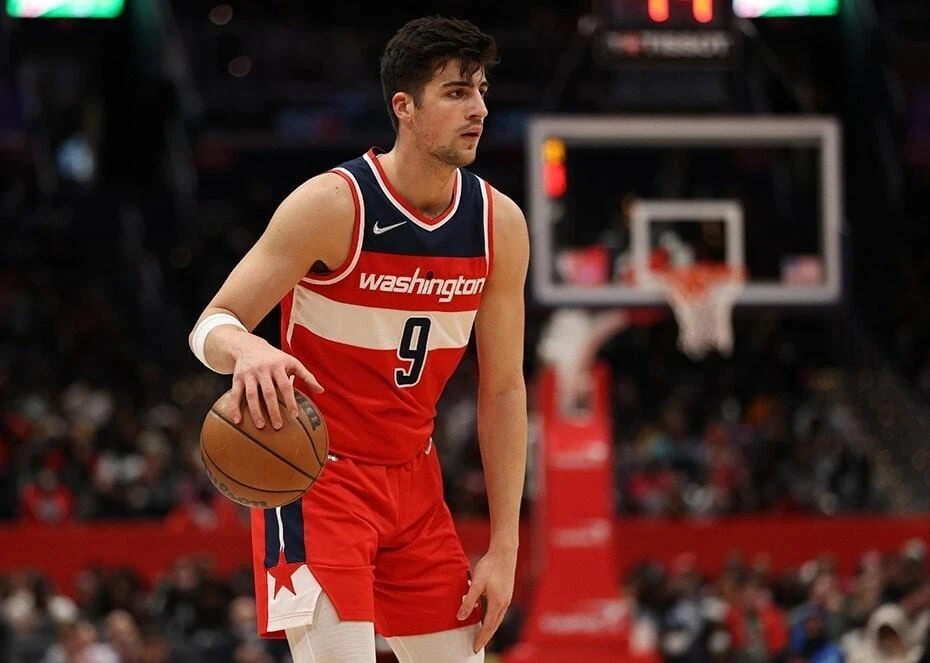 Patrick Smith // Getty Images
Israel
- Highest drafted player: Deni Avdija
- Year drafted: 2020
- Team: Washington Wizards
- College: None
- Round drafted: 1
- Overall pick: 9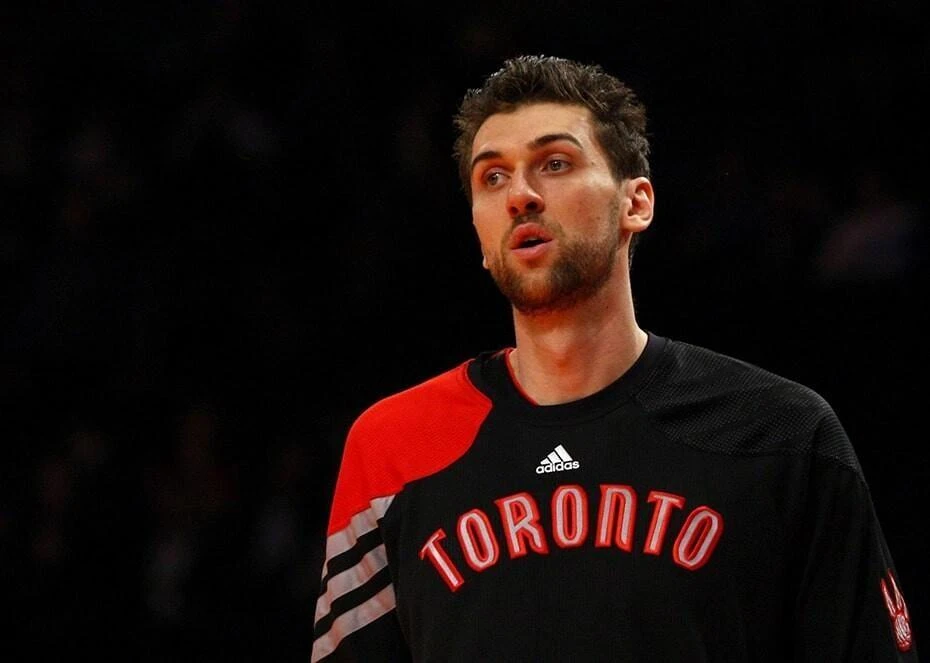 Chris Chambers // Getty Images
Italy
- Highest drafted player: Andrea Bargnani
- Year drafted: 2006
- Team: Toronto Raptors
- College: None
- Round drafted: 1
- Overall pick: 1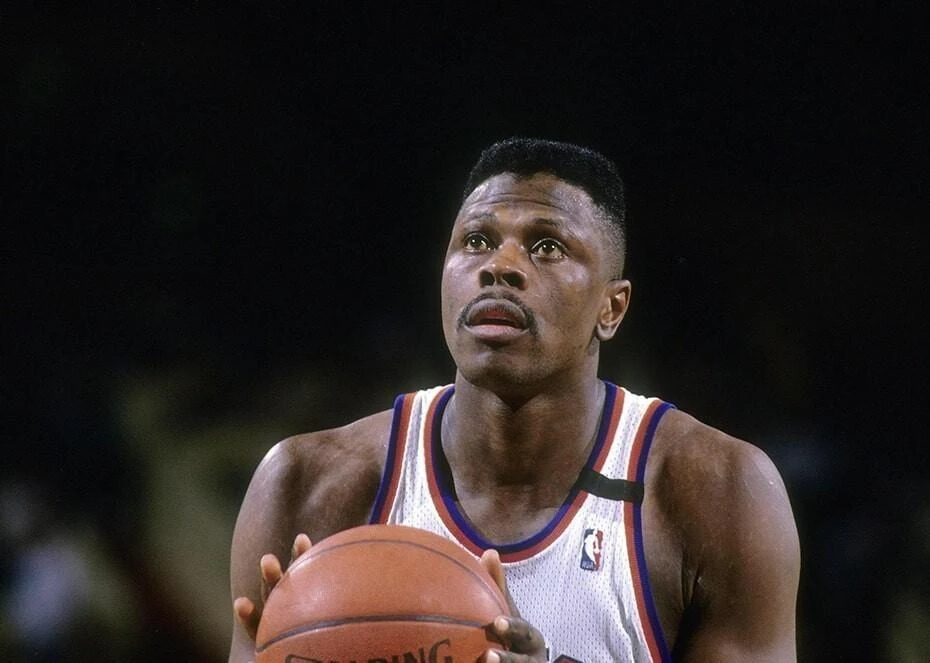 Focus On Sport // Getty Images
Jamaica
- Highest drafted player: Patrick Ewing
- Year drafted: 1985
- Team: New York Knicks
- College: Georgetown University
- Round drafted: 1
- Overall pick: 1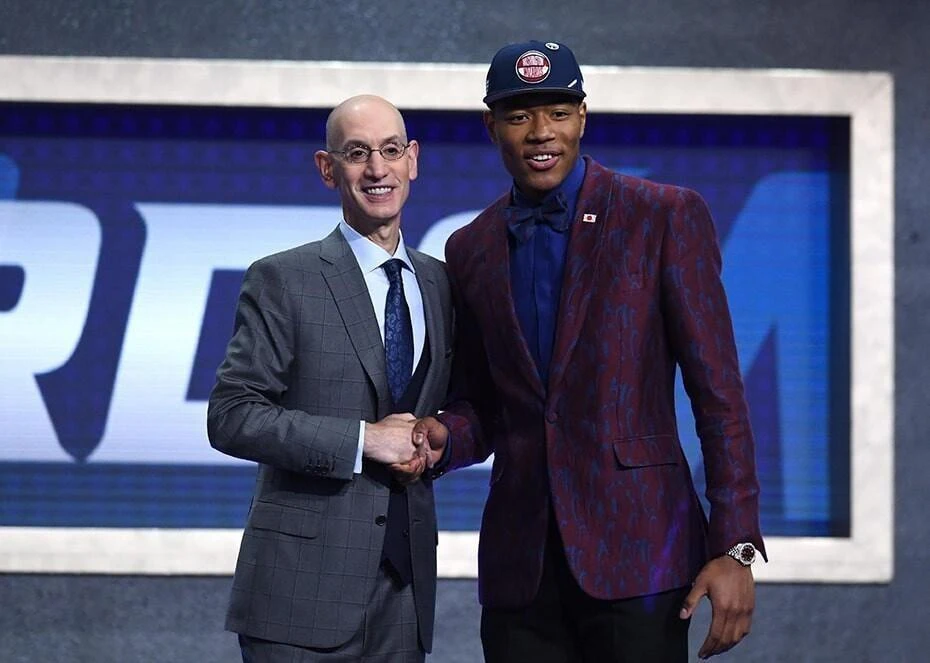 Sarah Stier // Getty Images
Japan
- Highest drafted player: Rui Hachimura
- Year drafted: 2019
- Team: University of Washington
- College: Gonzaga University
- Round drafted: 1
- Overall pick: 9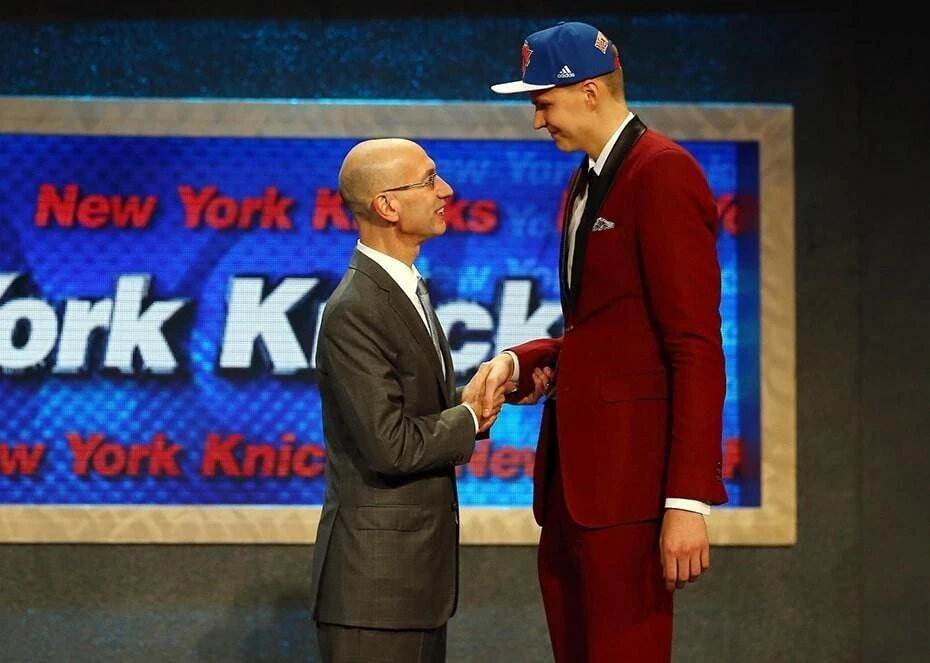 Elsa // Getty Images
Latvia
- Highest drafted player: Kristaps Porziņģis
- Year drafted: 2015
- Team: New York Knicks
- College: None
- Round drafted: 1
- Overall pick: 4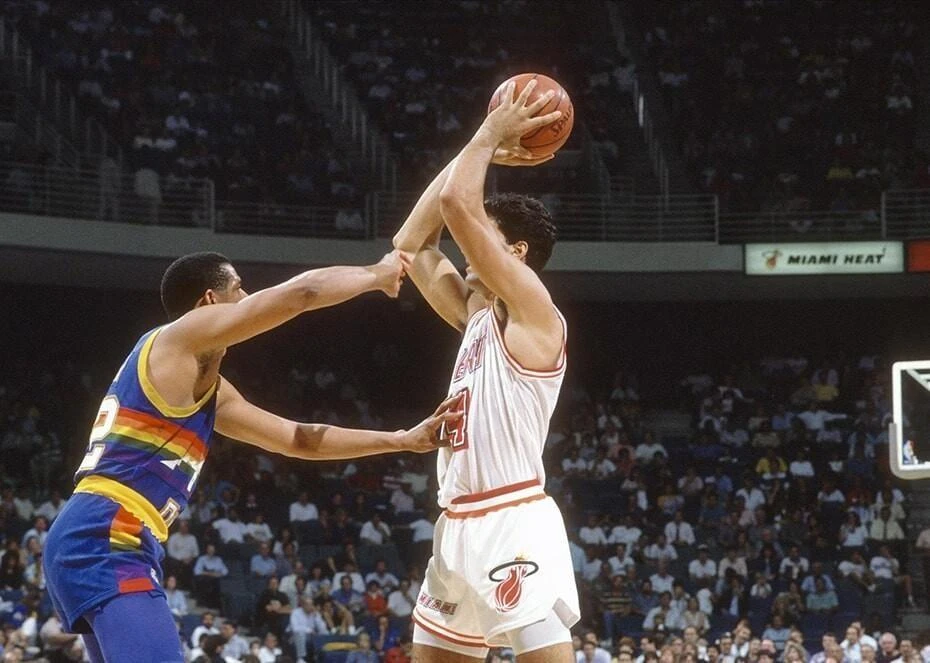 Focus On Sport // Getty Images
Lebanon
- Highest drafted player: Rony Seikaly
- Year drafted: 1988
- Team: Miami Heat
- College: Syracuse University
- Round drafted: 1
- Overall pick: 9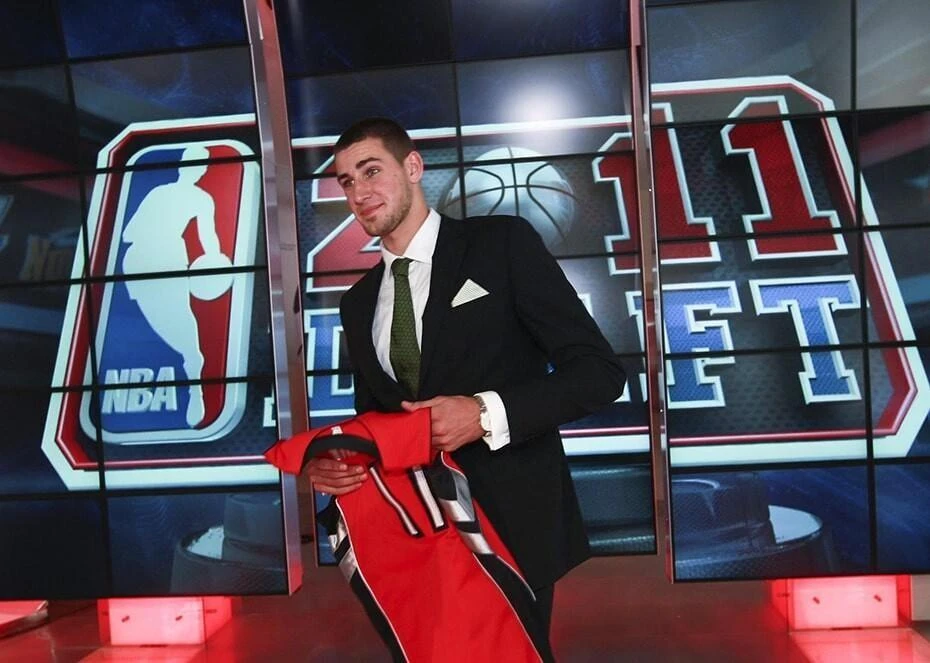 Rene Johnston // Getty Images
Lithuania
- Highest drafted player: Jonas Valančiūnas
- Year drafted: 2011
- Team: Toronto Raptors
- College: None
- Round drafted: 1
- Overall pick: 5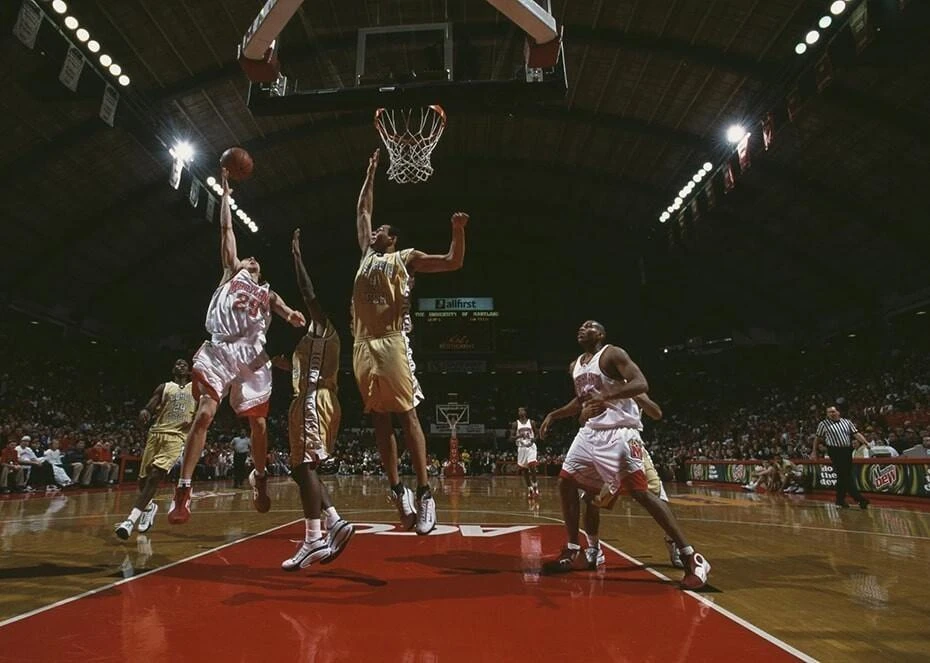 Doug Pensinger // Getty Images
Luxembourg
- Highest drafted player: Alvin Jones
- Year drafted: 2001
- Team: Philadelphia 76ers
- College: Georgia Tech
- Round drafted: 2
- Overall pick: 57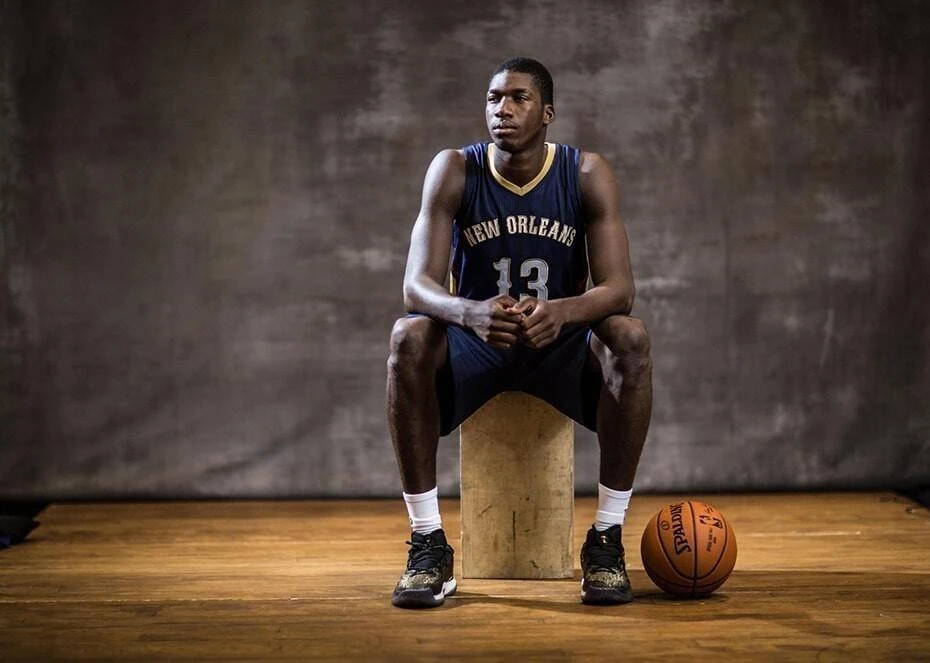 Nick Laham // Getty Images
Mali
- Highest drafted player: Cheick Diallo
- Year drafted: 2016
- Team: Los Angeles Clippers
- College: University of Kansas
- Round drafted: 2
- Overall pick: 33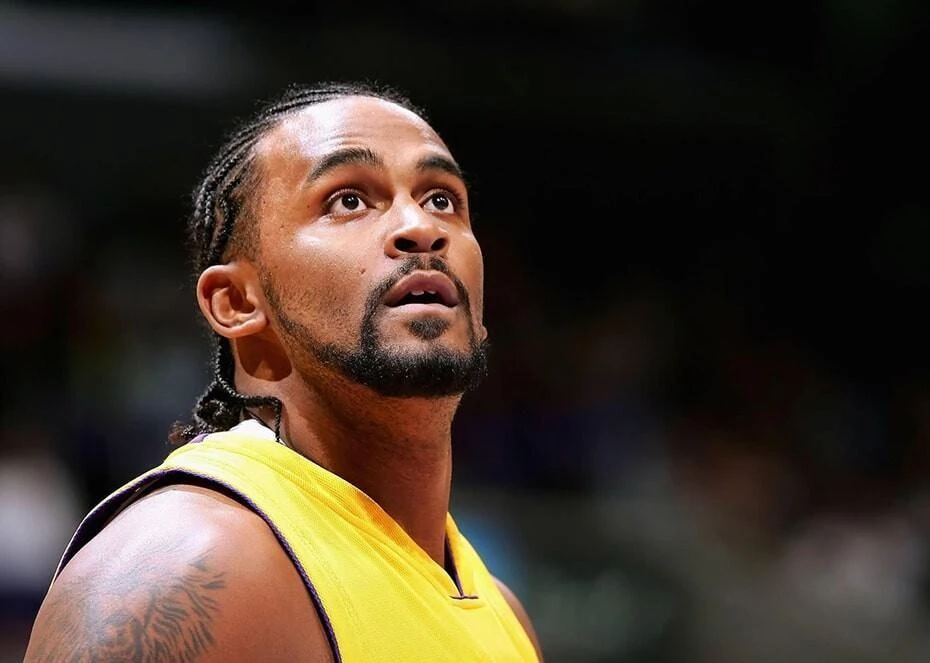 Lisa Blumenfeld // Getty Images
Martinique
- Highest drafted player: Ronny Turiaf
- Year drafted: 2005
- Team: Los Angeles Lakers
- College: Gonzaga University
- Round drafted: 2
- Overall pick: 37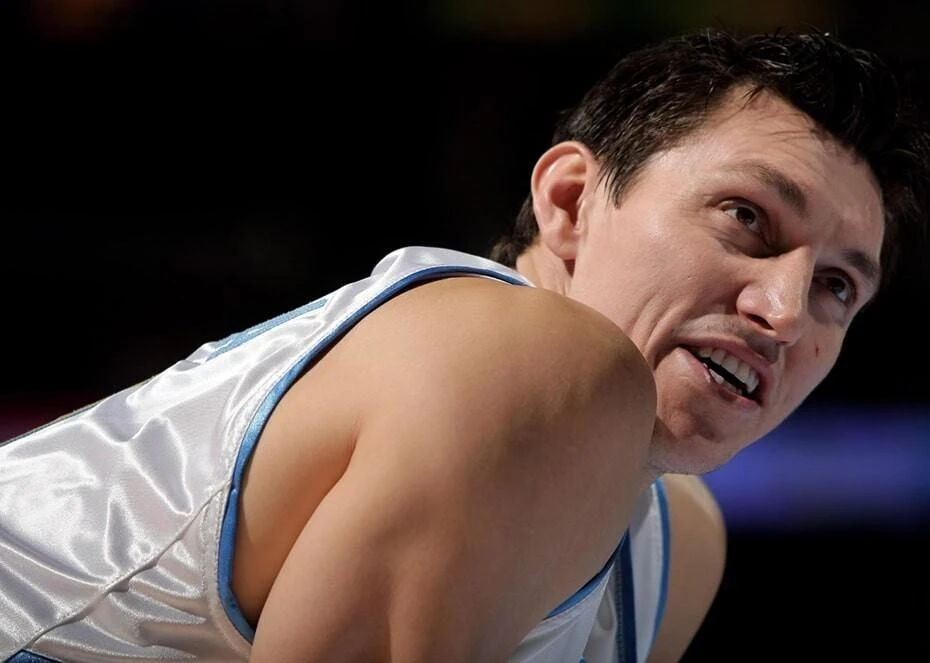 Doug Pensinger // Getty Images
Mexico
- Highest drafted player: Eduardo Nájera
- Year drafted: 2000
- Team: Houston Rockets
- College: University of Oklahoma
- Round drafted: 2
- Overall pick: 38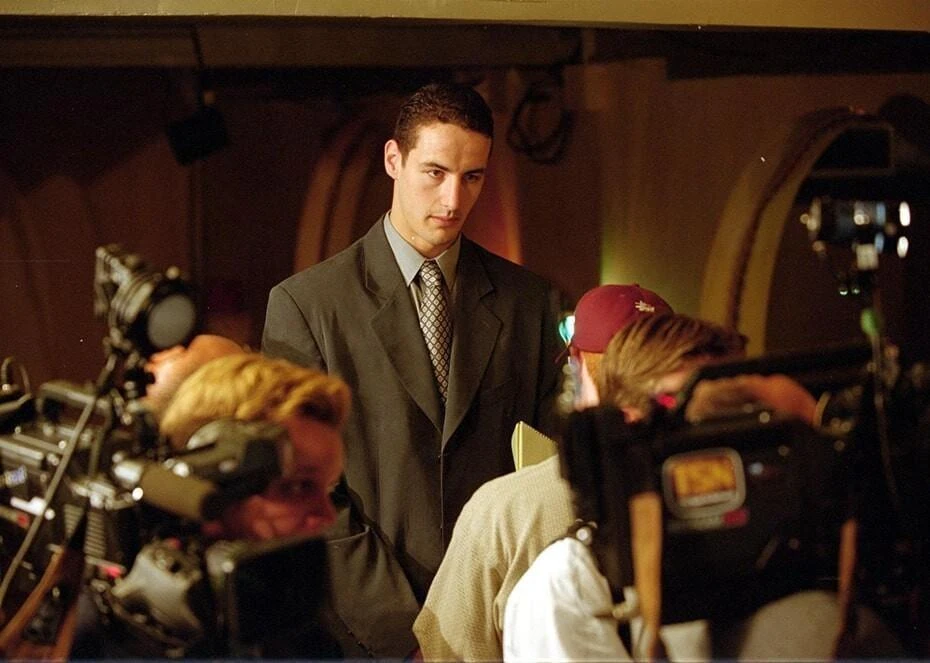 Ken Faught // Getty Images
Montenegro
- Highest drafted player: Aleksandar Radojević
- Year drafted: 1999
- Team: Toronto Raptors
- College: Barton County Community College
- Round drafted: 1
- Overall pick: 12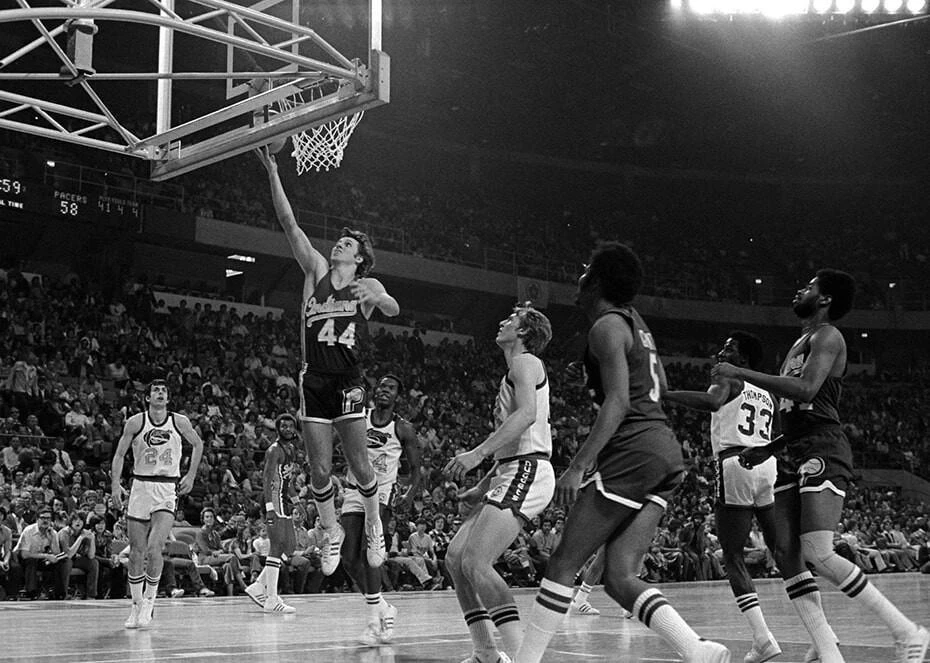 Mark Junge // Getty Images
Morocco
- Highest drafted player: Mike Flynn
- Year drafted: 1975
- Team: Philadelphia 76ers
- College: University of Kentucky
- Round drafted: 7
- Overall pick: 113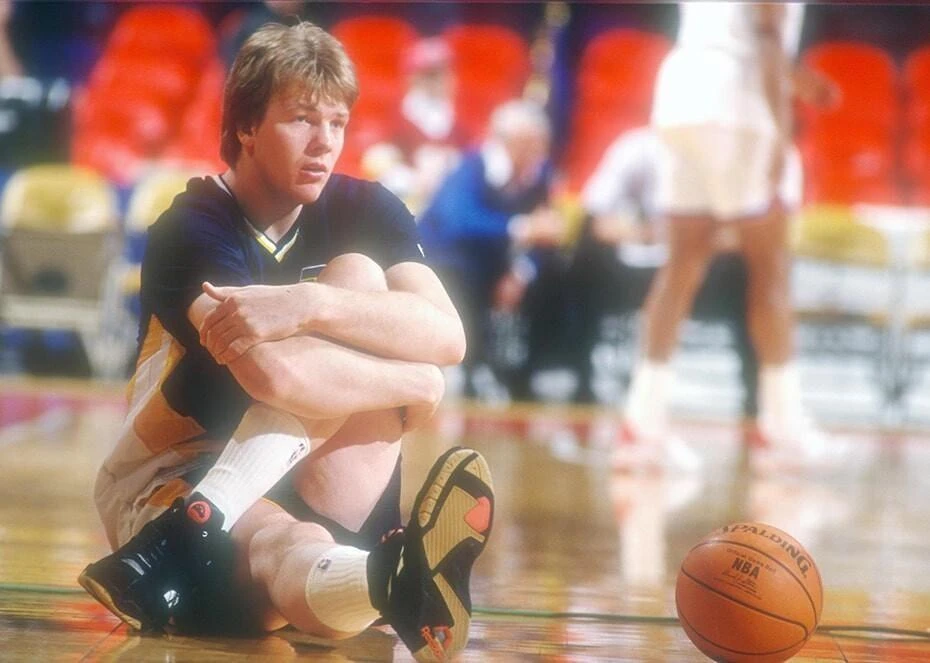 Mitchell Layton // Getty Images
Netherlands
- Highest drafted player: Rik Smits
- Year drafted: 1988
- Team: Indiana Pacers
- College: Marist College
- Round drafted: 1
- Overall pick: 2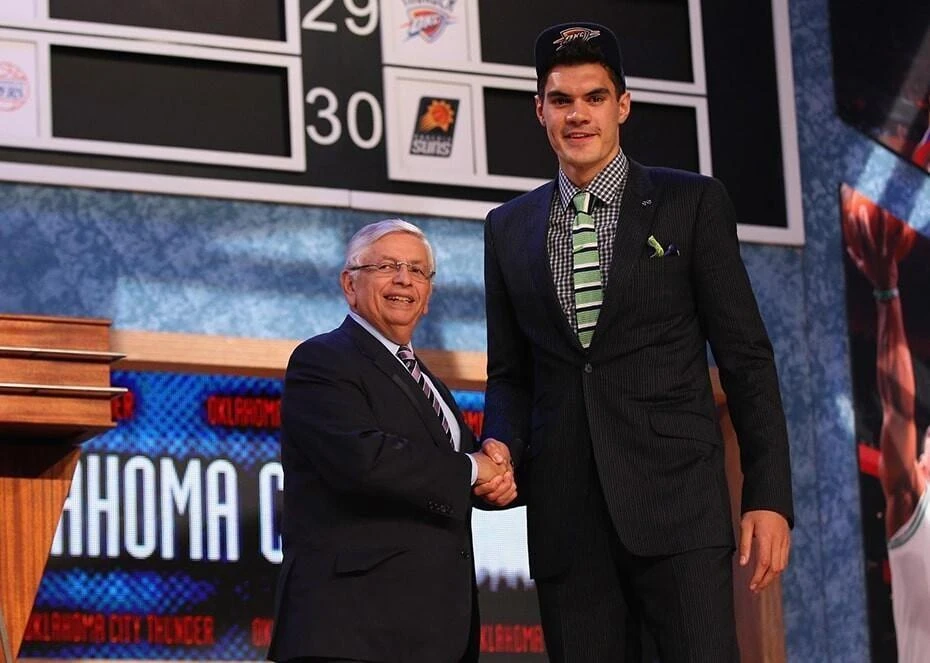 Mike Stobe // Getty Images
New Zealand
- Highest drafted player: Steven Adams
- Year drafted: 2013
- Team: Oklahoma City Thunder
- College: University of Pittsburgh
- Round drafted: 1
- Overall pick: 12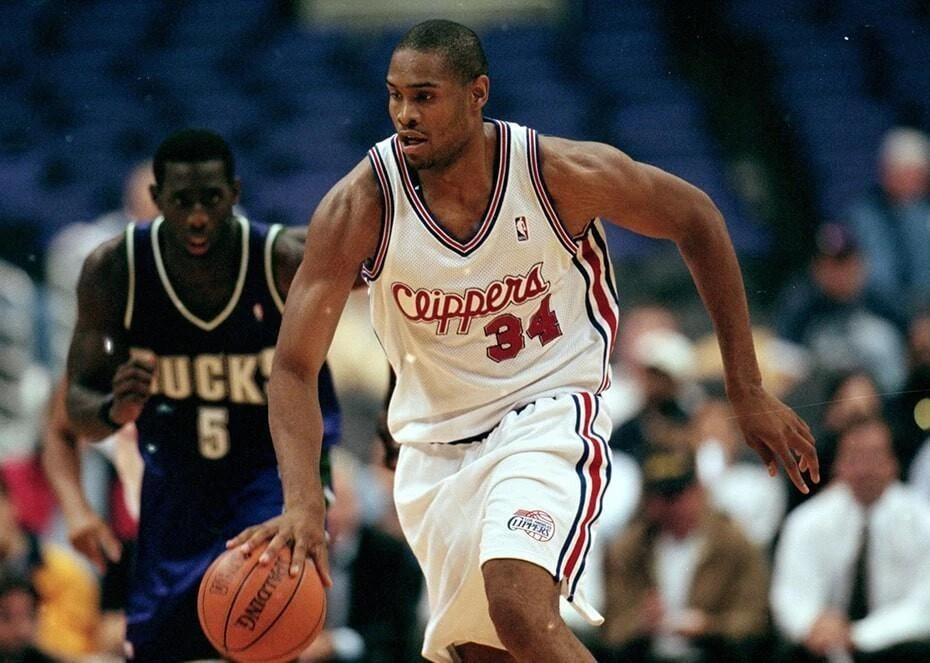 Tom Hauck // Getty Images
Nigeria
- Highest drafted players: Hakeem Olajuwon, Michael Olowokandi
- Years drafted: 1984 (Olajuwon), 1998 (Olowokandi)
- Teams: Houston Rockets (Olajuwon), Los Angeles Clippers (Olowokandi)
- Colleges: University of Houston (Olajuwon), University of the Pacific (Olowokandi)
- Round drafted: 1
- Overall pick: 1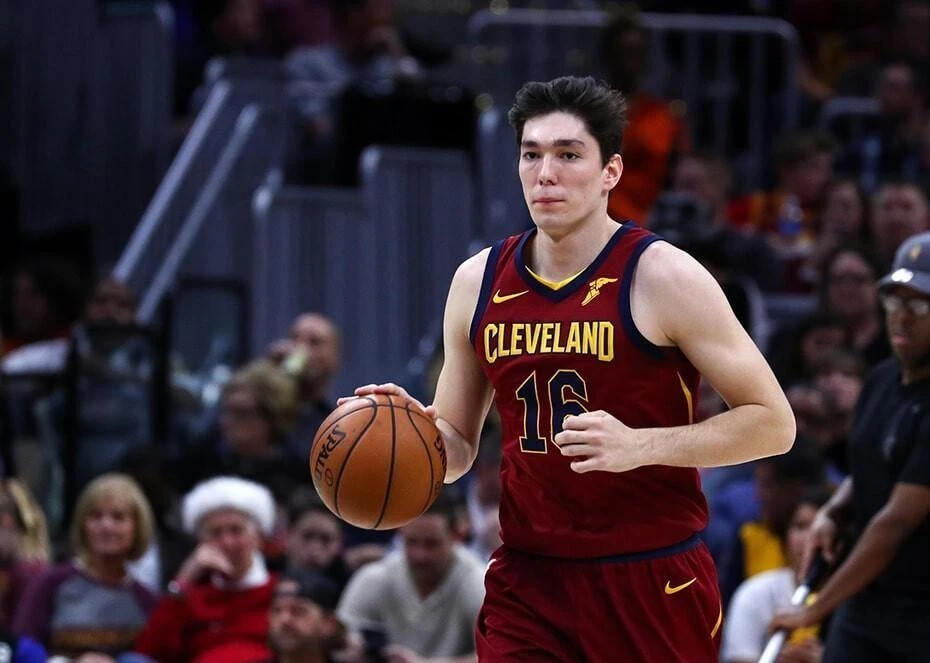 Anadolu Agency // Getty Images
North Macedonia
- Highest drafted player: Cedi Osman
- Year drafted: 2015
- Team: Minnesota Timberwolves
- College: None
- Round drafted: 2
- Overall pick: 31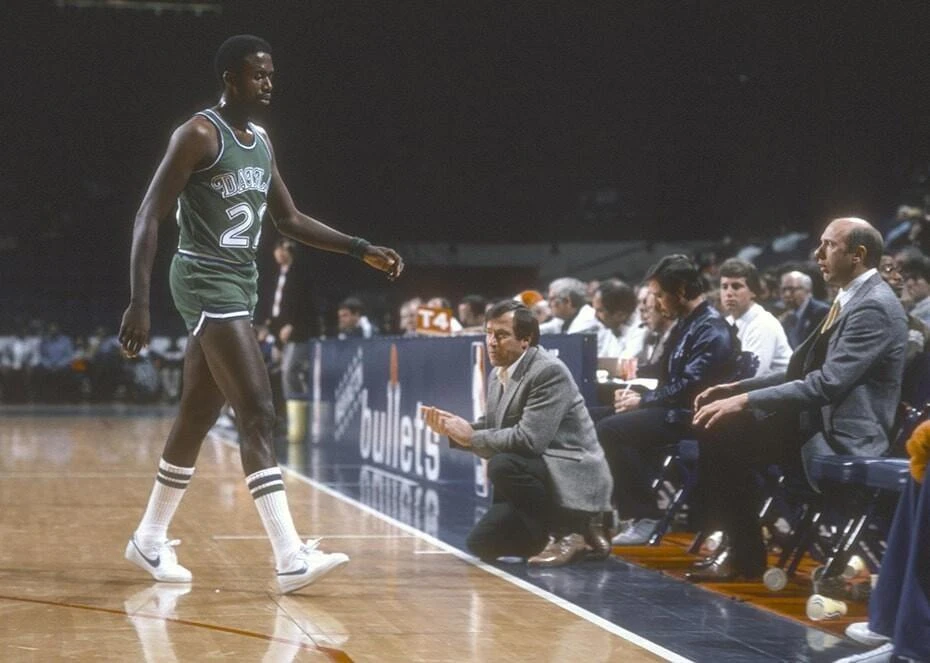 Focus On Sport // Getty Images
Panama
- Highest drafted player: Rolando Blackman
- Year drafted: 1981
- Team: Dallas Mavericks
- College: Kansas State University
- Round drafted: 1
- Overall pick: 9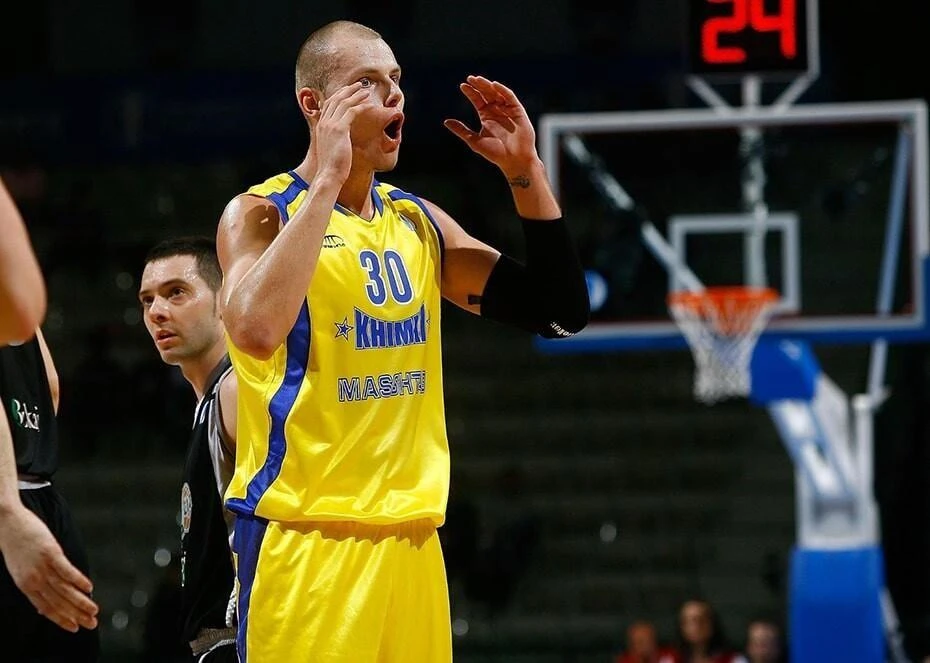 Rodolfo Molina // Getty Images
Poland
- Highest drafted player: Maciej Lampe
- Year drafted: 2003
- Team: New York Knicks
- College: None
- Round drafted: 2
- Overall pick: 30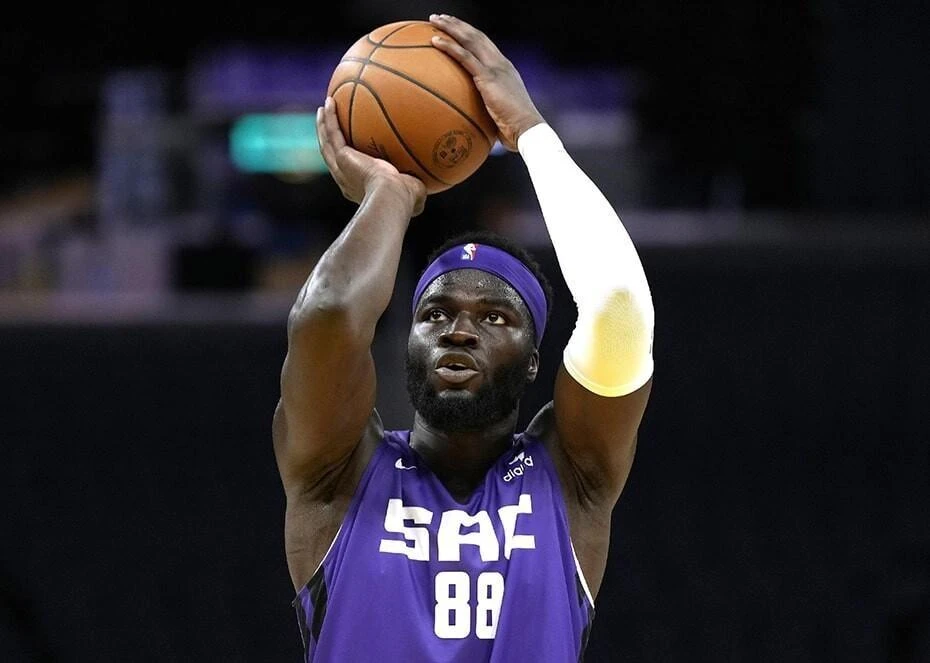 Thearon W. Henderson // Getty Images
Portugal
- Highest drafted player: Neemias Queta
- Year drafted: 2021
- Team: Sacramento Kings
- College: Utah State University
- Round drafted: 2
- Overall pick: 39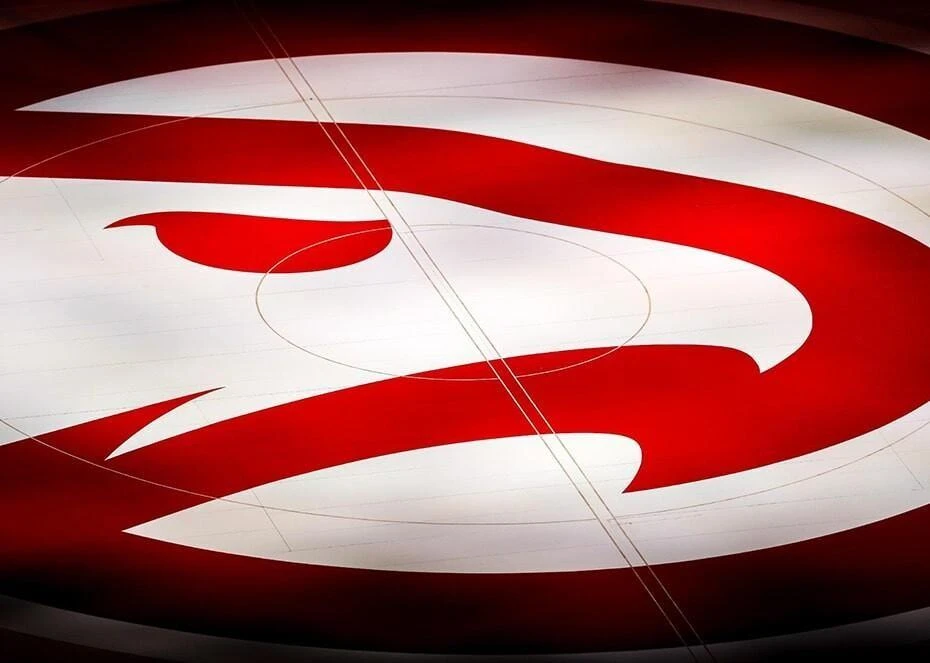 Casey Sykes // Getty Images
Puerto Rico
- Highest drafted player: Butch Lee
- Year drafted: 1978
- Team: Atlanta Hawks
- College: Marquette University
- Round drafted: 1
- Overall pick: 10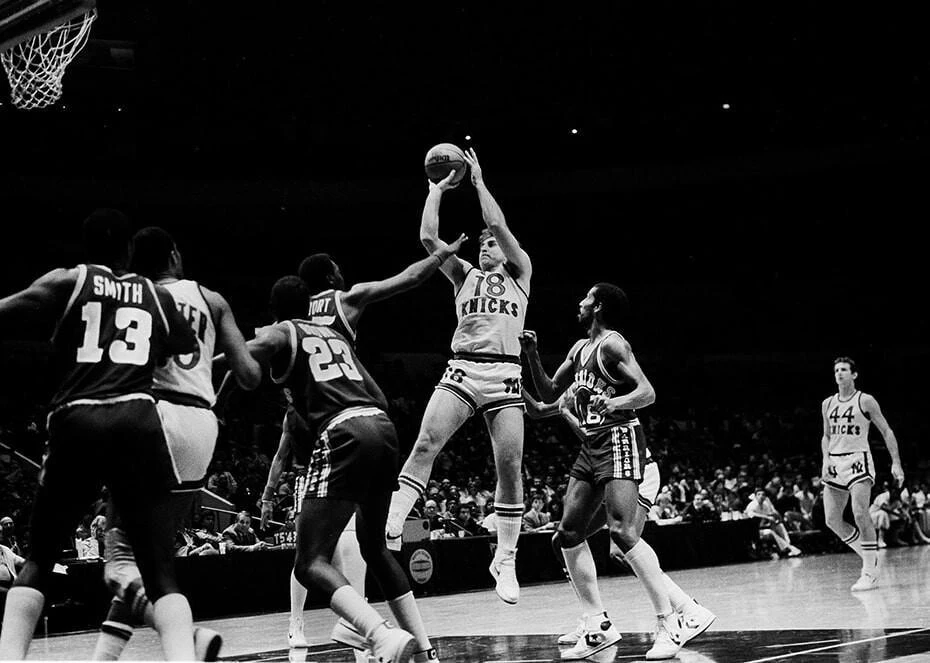 Paul Natkin // Getty Images
Romania
- Highest drafted player: Ernie Grunfeld
- Year drafted: 1977
- Team: Milwaukee Bucks
- College: University of Tennessee
- Round drafted: 1
- Overall pick: 11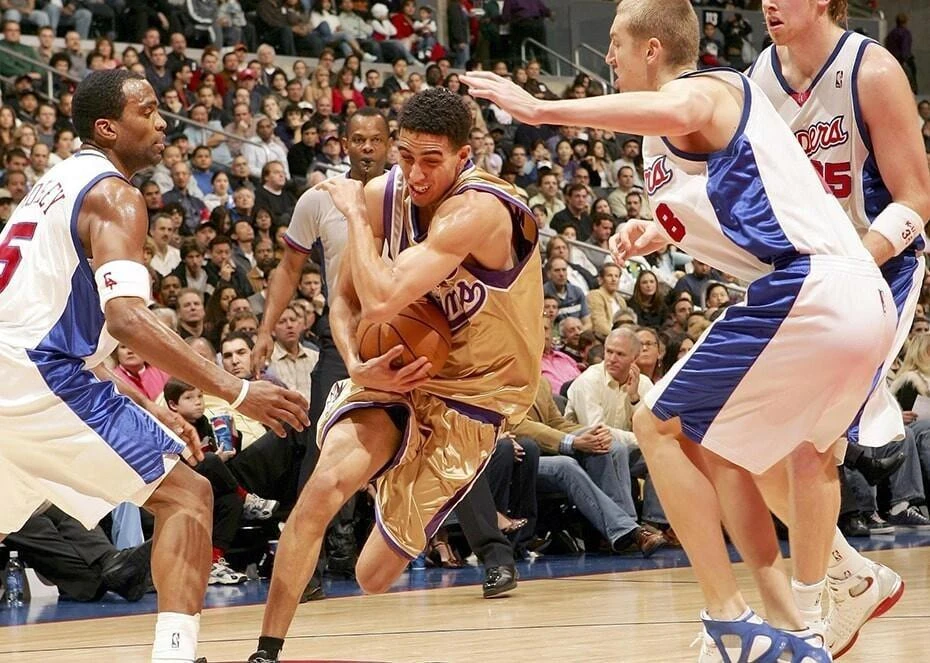 Lisa Blumenfeld // Getty Images
Russia
- Highest drafted player: Yaroslav Korolev
- Year drafted: 2005
- Team: Los Angeles Clippers
- College: None
- Round drafted: 1
- Overall pick: 12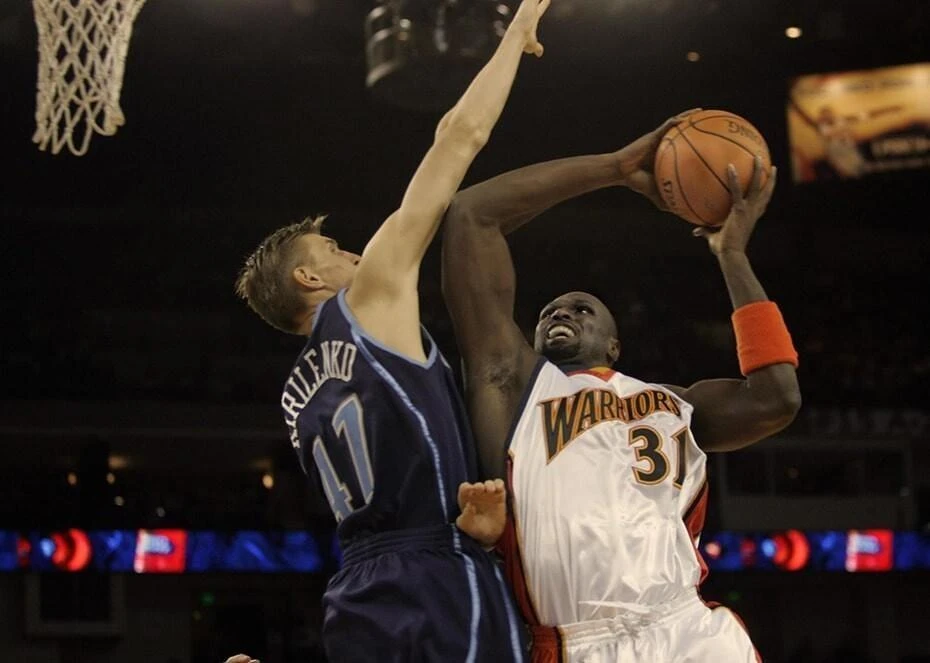 Liz Hafalia/The San Francisco Chronicle // Getty Images
Saint Vincent and the Grenadines
- Highest drafted player: Adonal Foyle
- Year drafted: 1997
- Team: Golden State Warriors
- College: Colgate University
- Round drafted: 1
- Overall pick: 8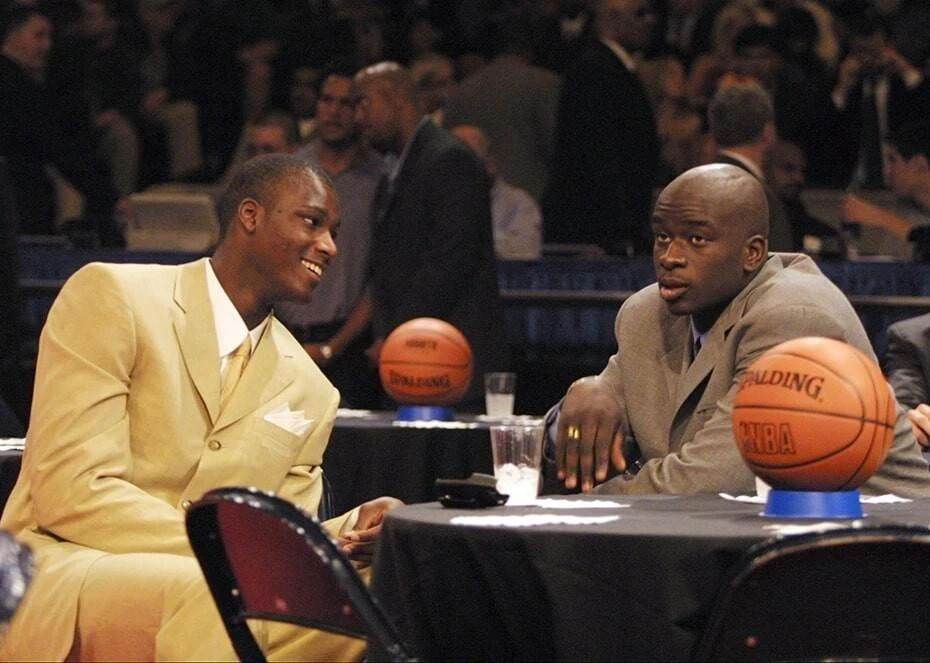 Al Bello // Getty Images
Senegal
- Highest drafted player: DeSagana Diop
- Year drafted: 2001
- Team: Cleveland Cavaliers
- College: None
- Round drafted: 1
- Overall pick: 8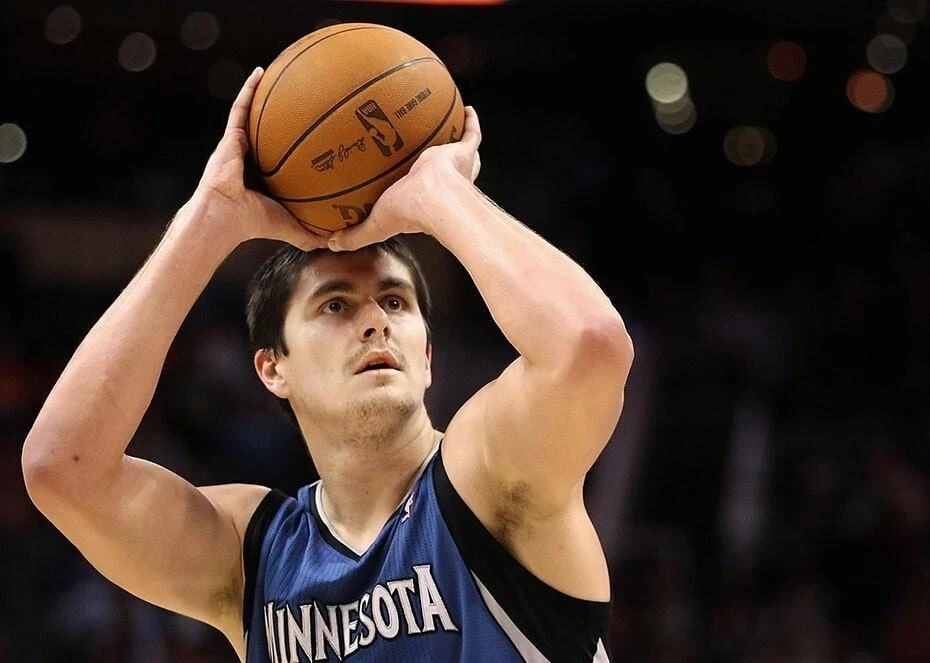 Christian Petersen // Getty Images
Serbia
- Highest drafted player: Darko Miličić
- Year drafted: 2003
- Team: Detroit Pistons
- College: None
- Round drafted: 1
- Overall pick: 2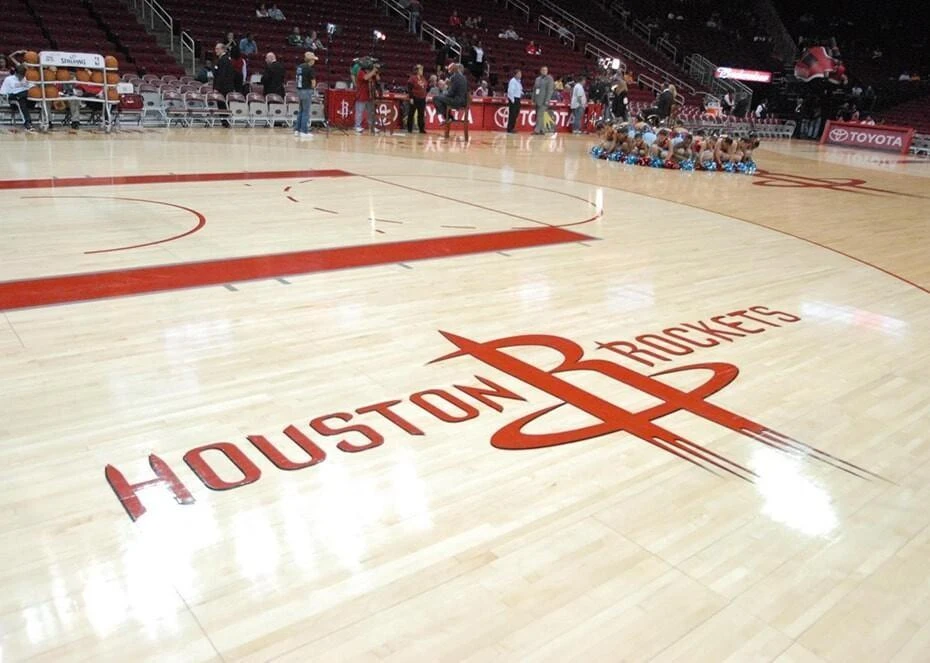 Icon Sports Wire // Getty Images
Slovakia
- Highest drafted player: Richard Petruška
- Year drafted: 1993
- Team: Houston Rockets
- College: UCLA
- Round drafted: 2
- Overall pick: 46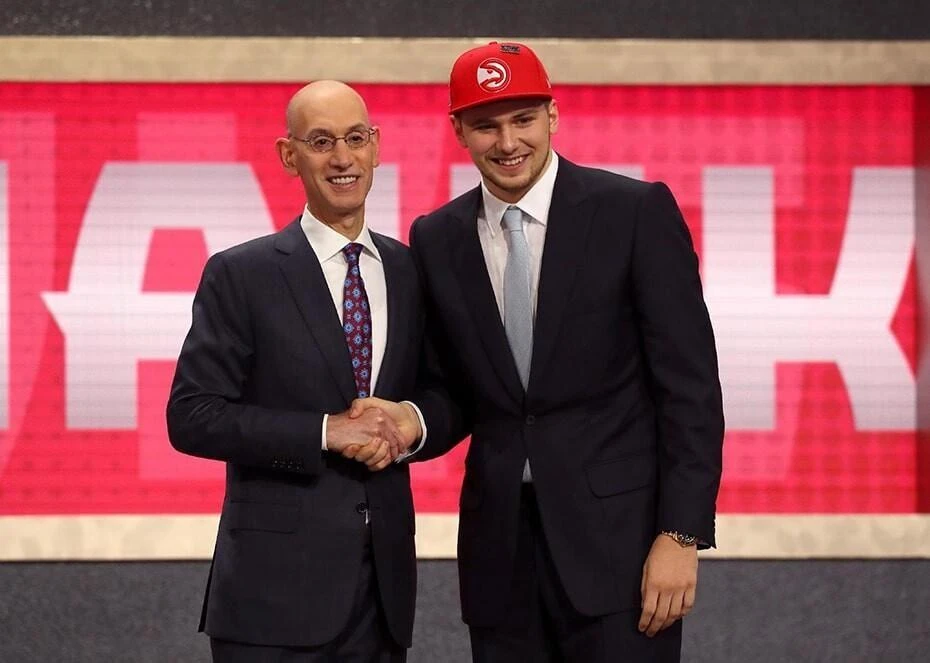 Mike Stobe // Getty Images
Slovenia
- Highest drafted player: Luka Dončić
- Year drafted: 2018
- Team: Atlanta Hawks
- College: None
- Round drafted: 1
- Overall pick: 3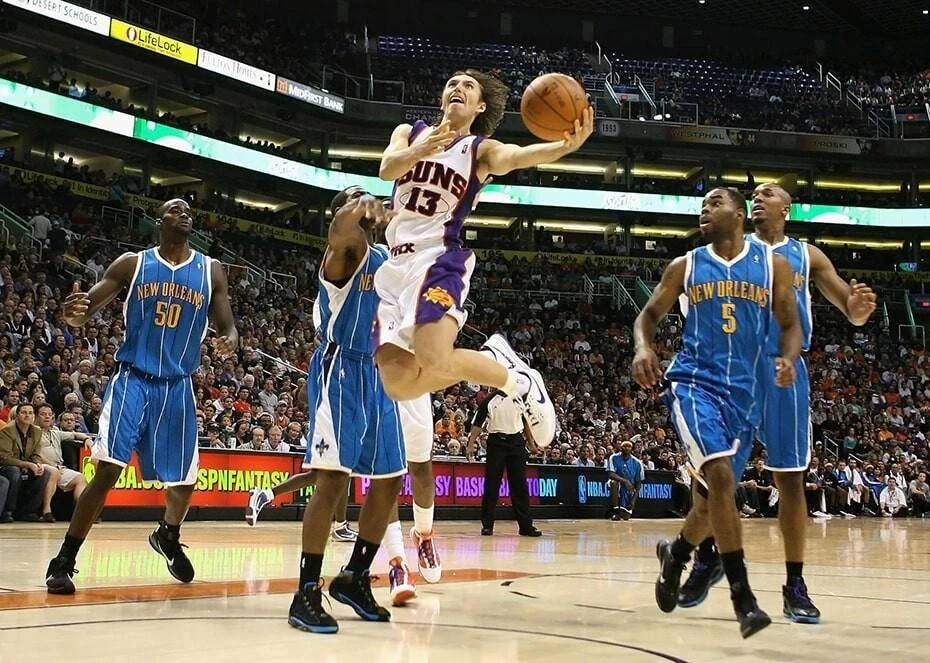 Christian Petersen // Getty Images
South Africa
- Highest drafted player: Steve Nash
- Year drafted: 1996
- Team: Phoenix Suns
- College: Santa Clara University
- Round drafted: 1
- Overall pick: 15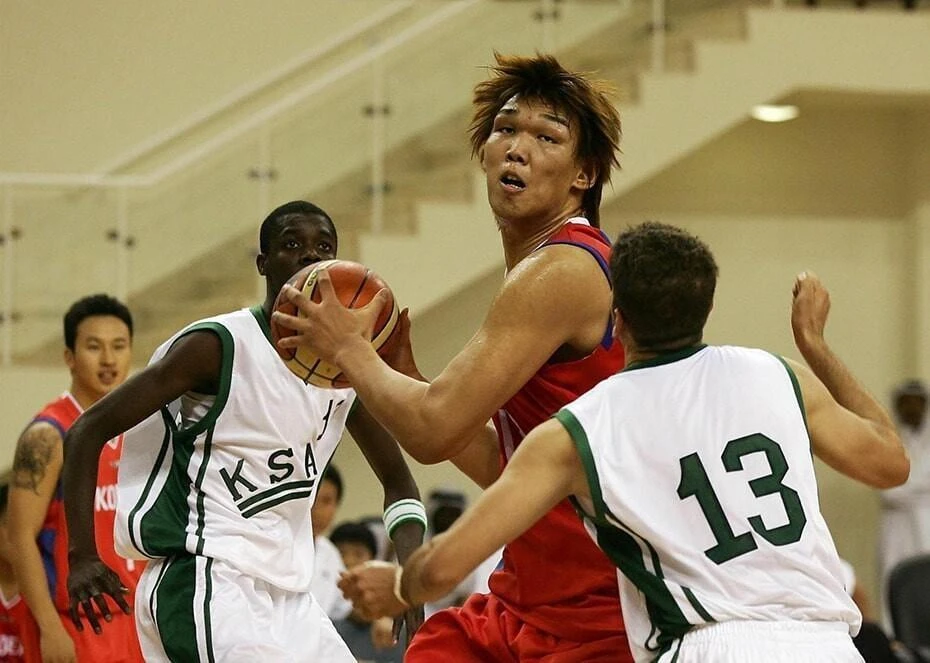 KARIM JAAFAR // Getty Images
South Korea
- Highest drafted player: Ha Seung-Jin
- Year drafted: 2004
- Team: Portland Trail Blazers
- College: None
- Round drafted: 2
- Overall pick: 46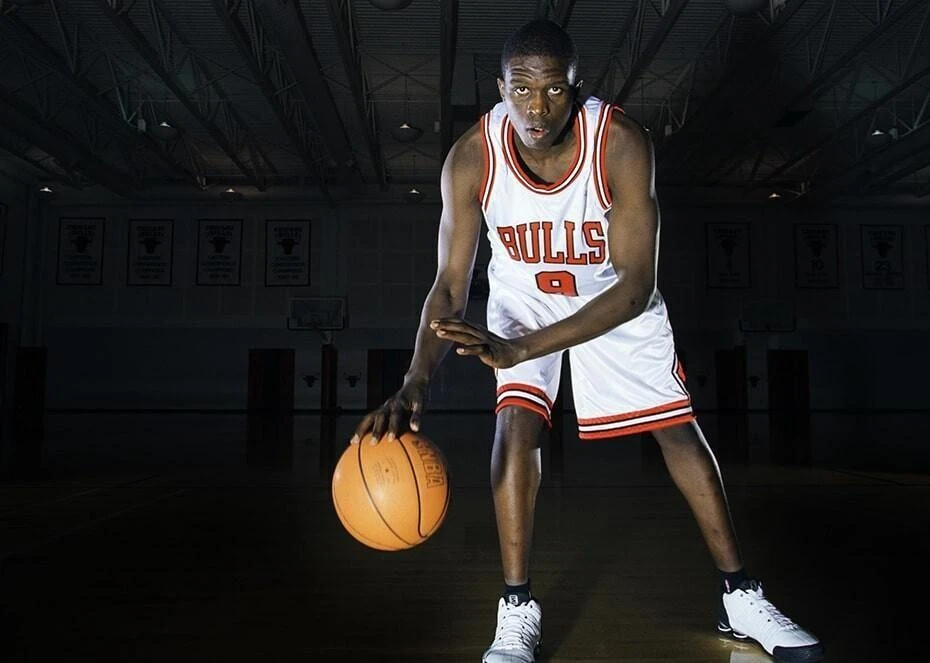 EVAN HURD PHOTOGRAPHY // Getty Images
South Sudan
- Highest drafted player: Luol Deng
- Year drafted: 2004
- Team: Phoenix Suns
- College: Duke University
- Round drafted: 1
- Overall pick: 7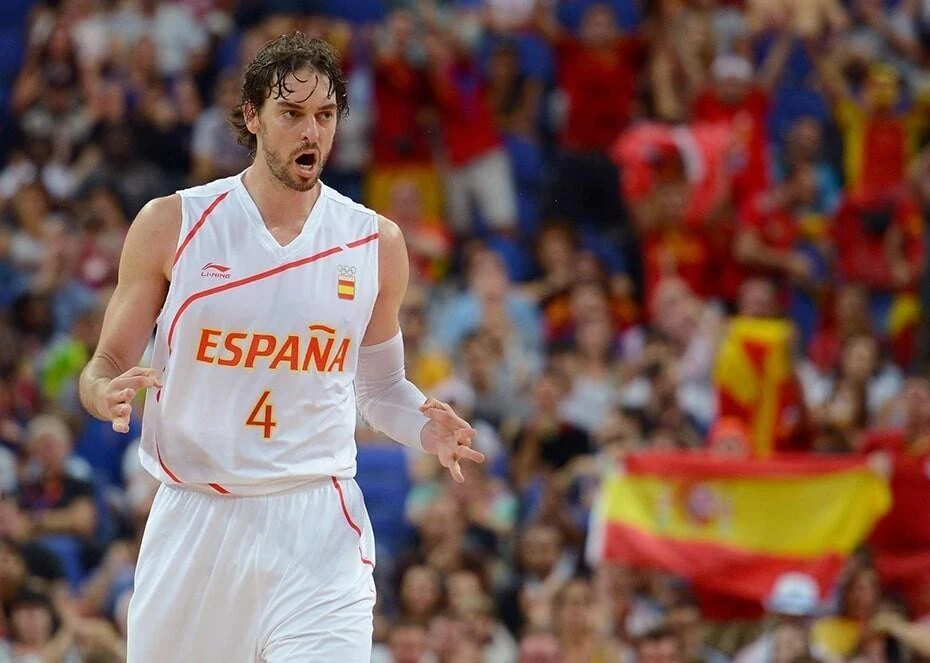 Lars Baron // Getty Images
Spain
- Highest drafted player: Pau Gasol
- Year drafted: 2001
- Team: Atlanta Hawks
- College: None
- Round drafted: 1
- Overall pick: 3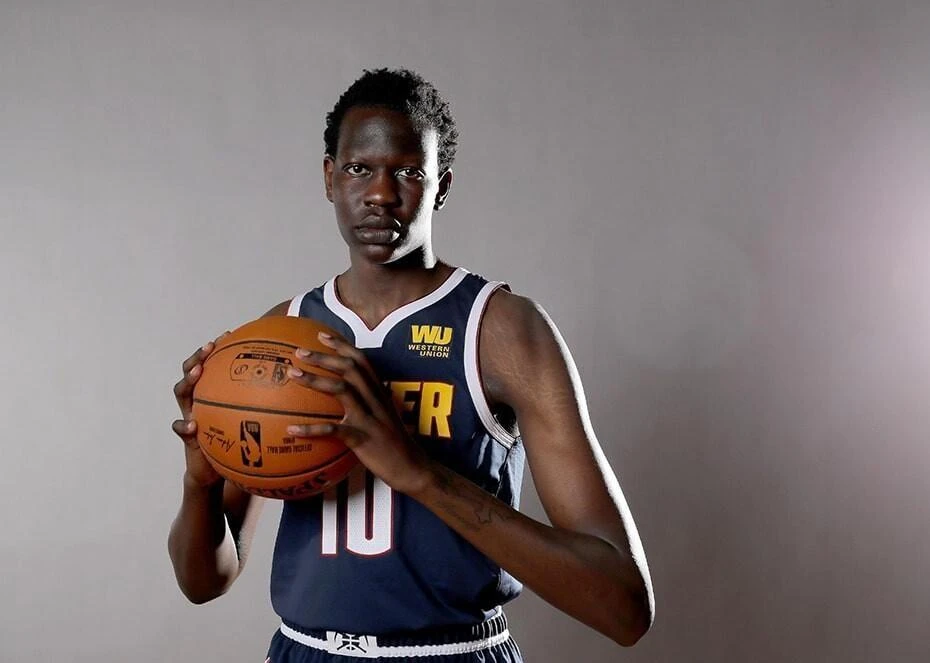 Elsa // Getty Images
Sudan
- Highest drafted player: Bol Bol
- Year drafted: 2019
- Team: Miami Heat
- College: University of Oregon
- Round drafted: 2
- Overall pick: 44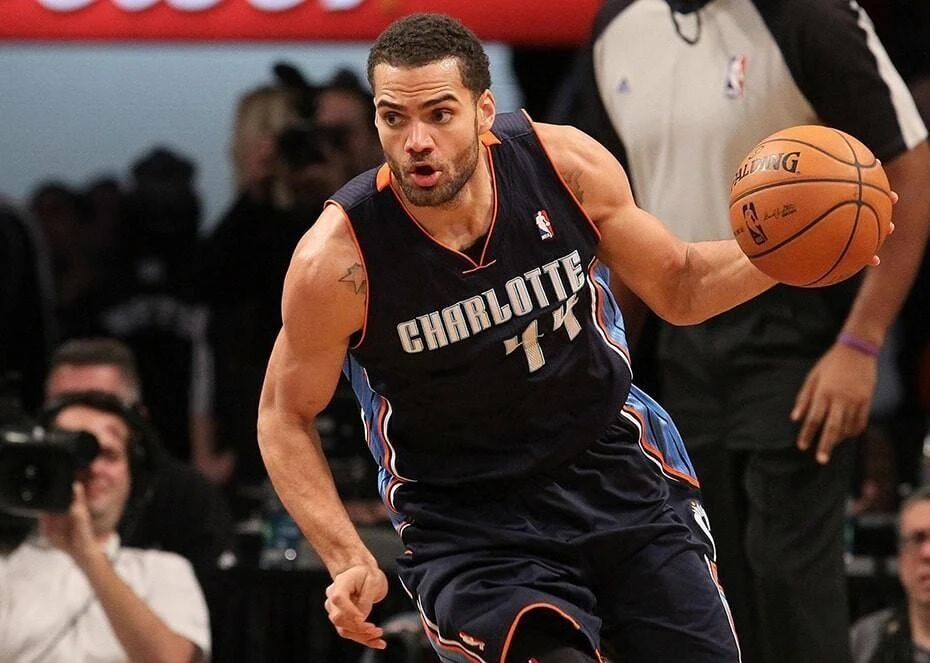 Jim McIsaac // Getty Images
Sweden
- Highest drafted player: Jeffery Taylor
- Year drafted: 2012
- Team: Charlotte Hornets
- College: Vanderbilt University
- Round drafted: 2
- Overall pick: 31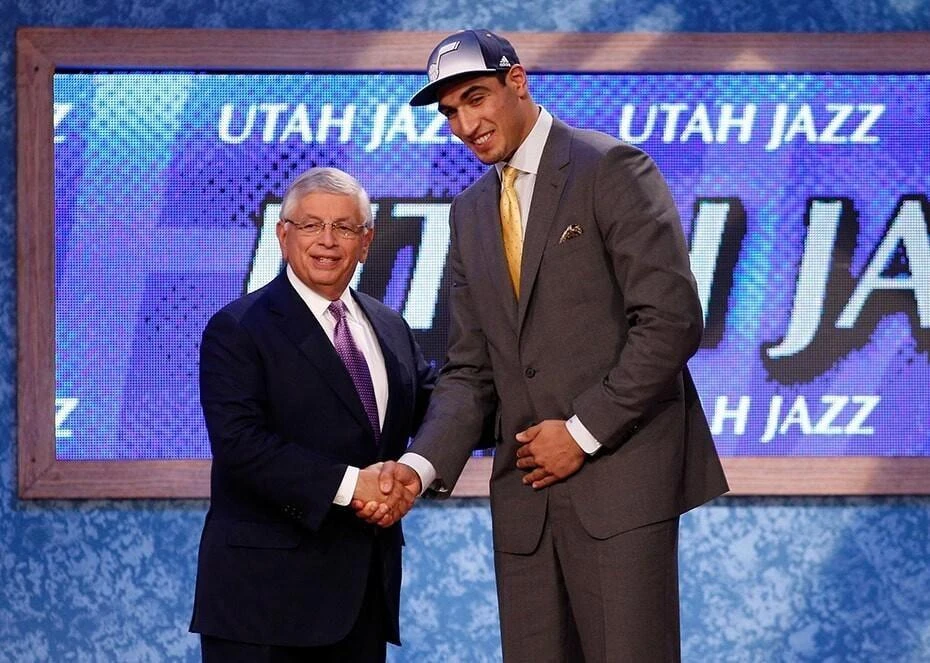 Mike Stobe // Getty Images
Switzerland
- Highest drafted player: Enes Kanter
- Year drafted: 2011
- Team: Utah Jazz
- College: None
- Round drafted: 1
- Overall pick: 3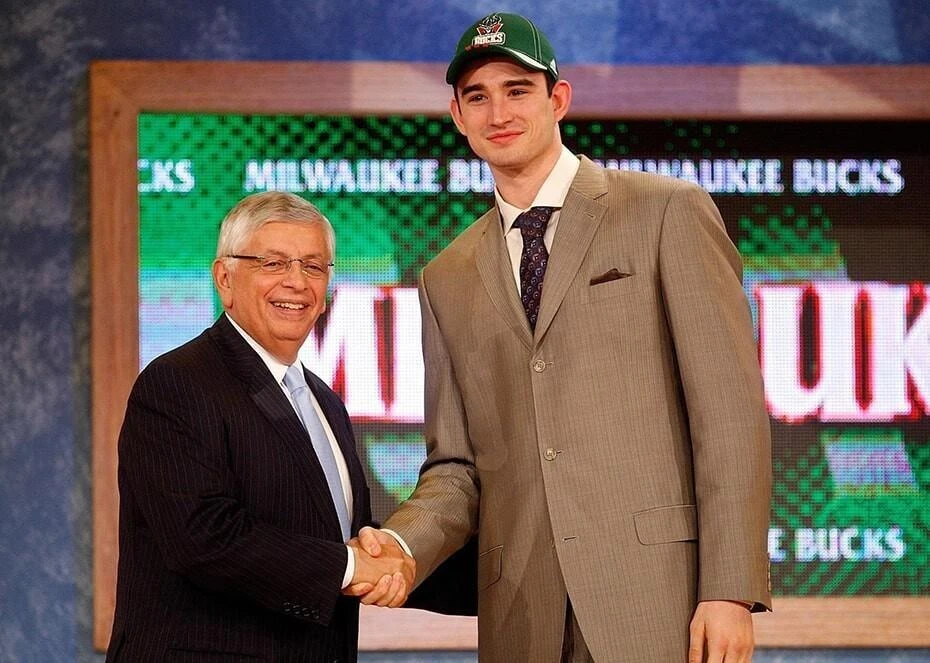 Nick Laham // Getty Images
Taiwan
- Highest drafted player: Joe Alexander
- Year drafted: 2008
- Team: Milwaukee Bucks
- College: West Virginia University
- Round drafted: 1
- Overall pick: 8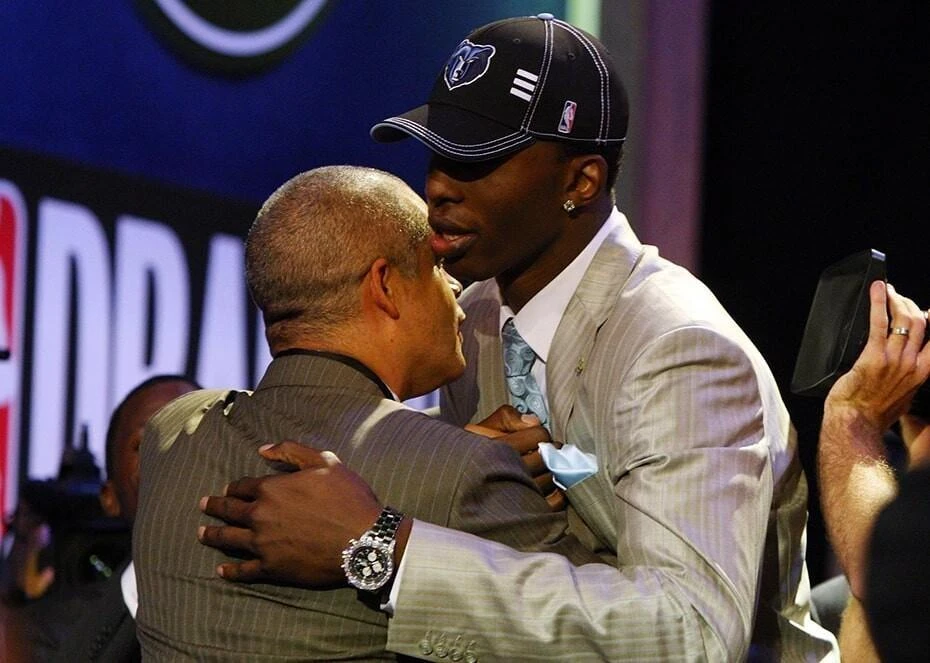 Jim McIsaac // Getty Images
Tanzania
- Highest drafted player: Hasheem Thabeet
- Year drafted: 2009
- Team: Memphis Grizzlies
- College: UConn
- Round drafted: 1
- Overall pick: 2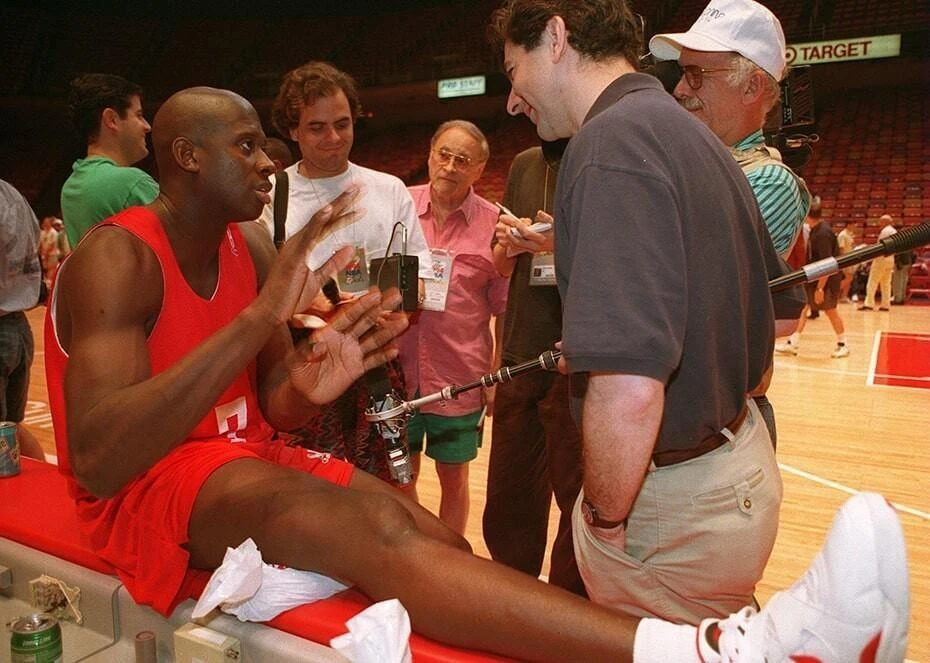 Getty Images North America
Trinidad and Tobago
- Highest drafted player: Carl Herrera
- Year drafted: 1990
- Team: Miami Heat
- College: University of Houston
- Round drafted: 2
- Overall pick: 30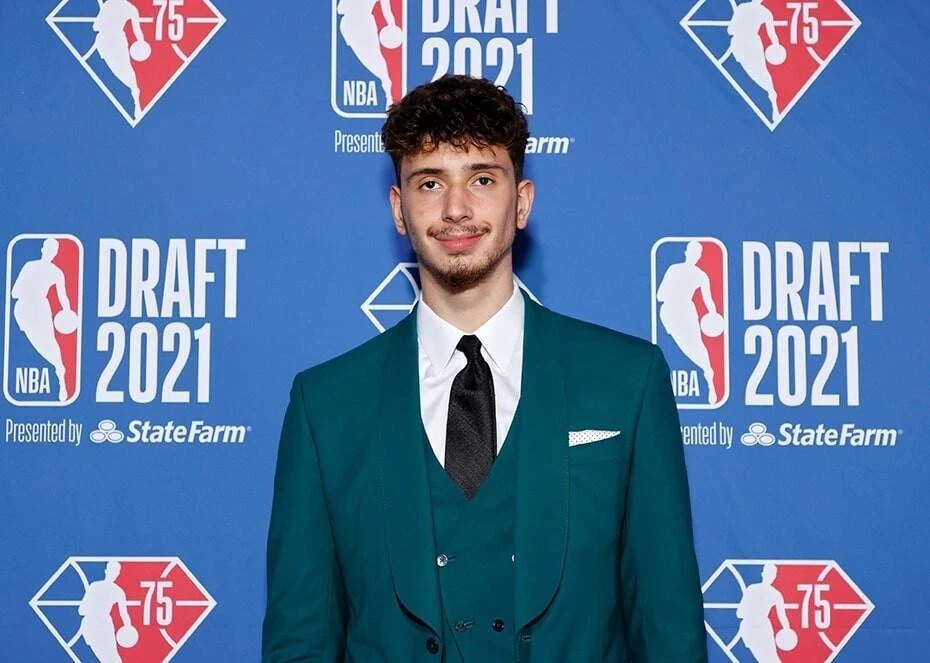 Arturo Holmes // Getty Images
Turkey
- Highest drafted players: Hedo Türkoğlu, Alperen Şengün
- Years drafted: 2000 (Türkoğlu), 2021 (Şengün)
- Teams: Sacramento Kings (Türkoğlu), Oklahoma City Thunder (Şengün)
- Colleges: None
- Round drafted: 1
- Overall pick: 16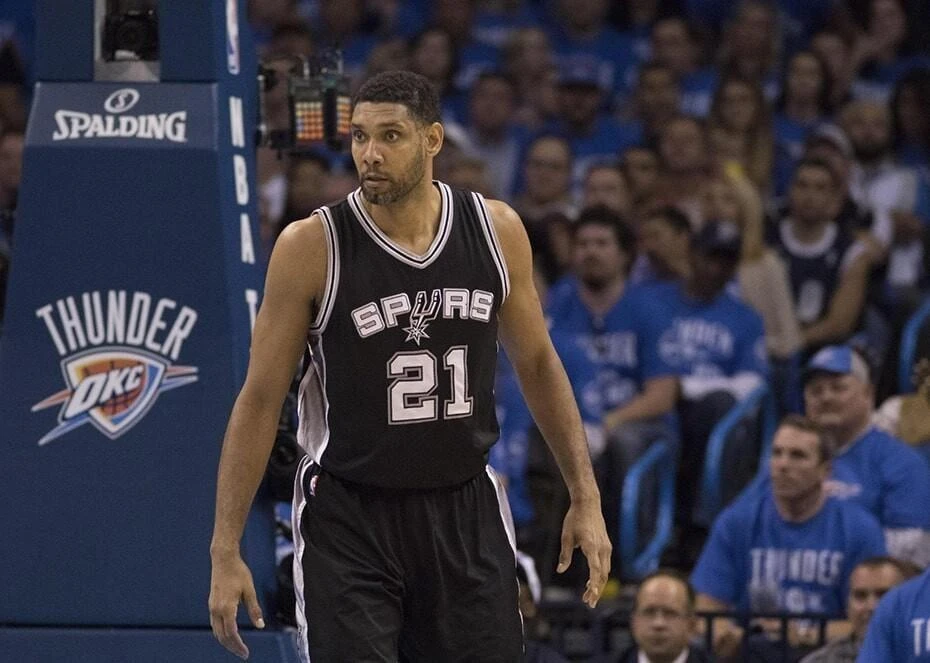 J Pat Carter // Getty Images
U.S. Virgin Islands
- Highest drafted player: Tim Duncan
- Year drafted: 1997
- Team: San Antonio Spurs
- College: Wake Forest University
- Round drafted: 1
- Overall pick: 1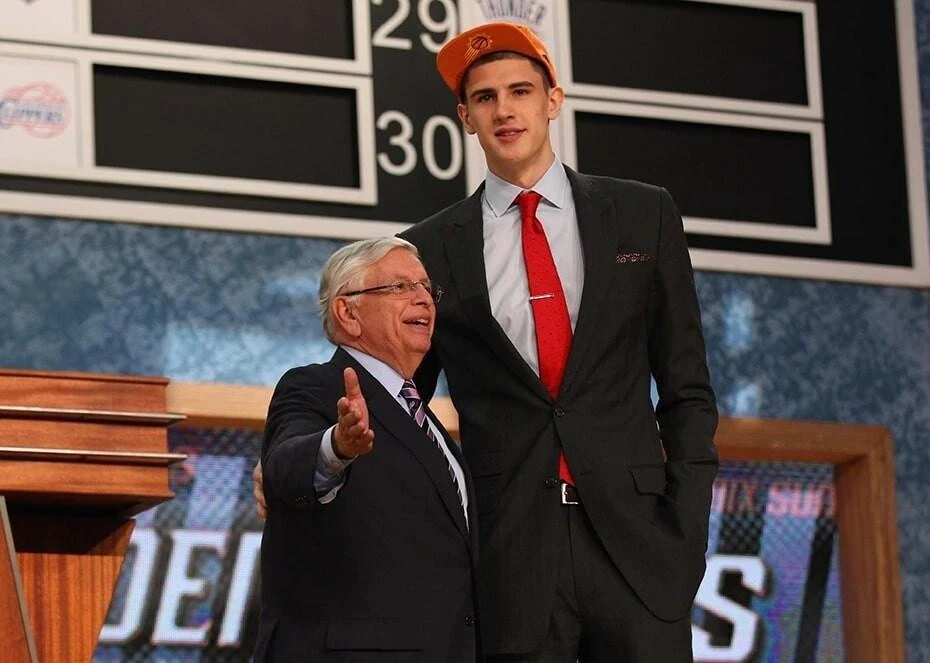 Mike Stobe // Getty Images
Ukraine
- Highest drafted player: Alex Len
- Year drafted: 2013
- Team: Phoenix Suns
- College: University of Maryland
- Round drafted: 1
- Overall pick: 5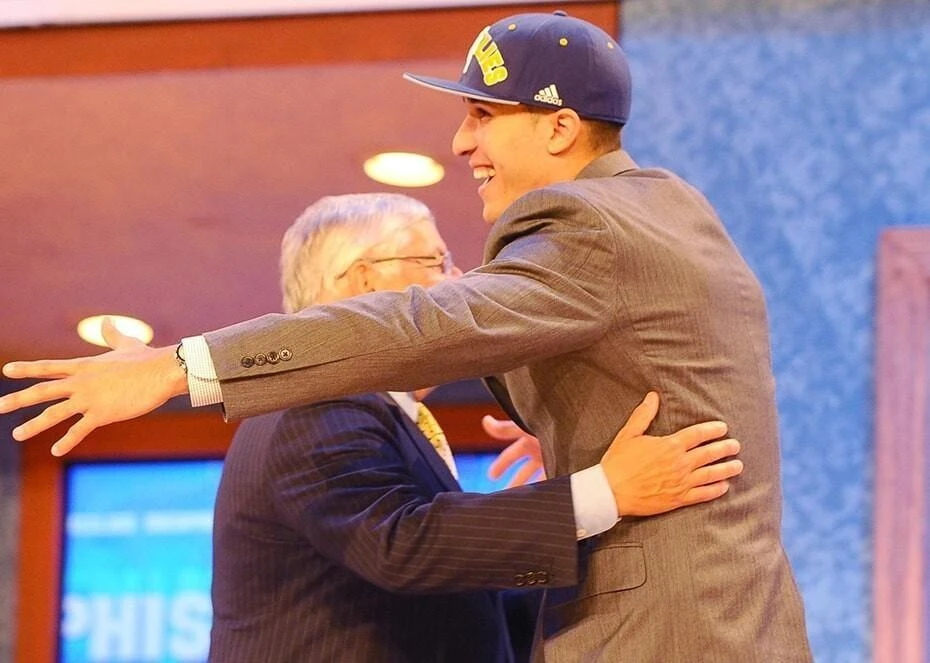 Jonathan Newton/The Washington Post // Getty Images
Venezuela
- Highest drafted player: Greivis Vásquez
- Year drafted: 2010
- Team: Memphis Grizzlies
- College: University of Maryland
- Round drafted: 1
- Overall pick: 28