We'll start on a positive note. Some players just keep on delivering, making their transfer fees look all the more worth it. Based on the number of goals, assists and man of the match awards they've picked up, we can reveal who's delivering the most for their money.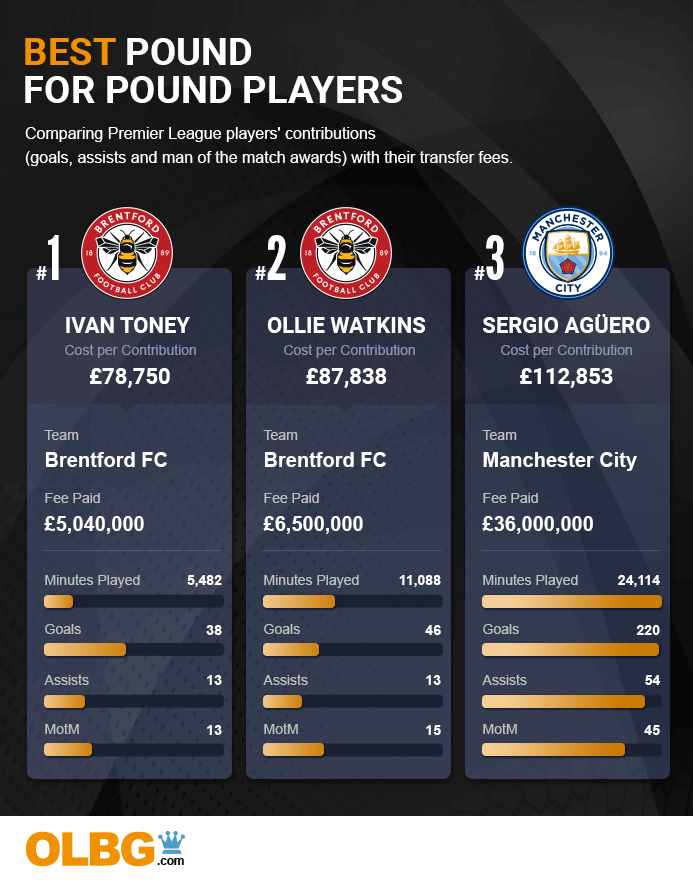 Ivan Toney delivers the best value for money
When Brentford signed Ivan Toney for £5 million, nobody was expecting another mercurial striker to help them fight for promotion like Ollie Watkins did. How wrong we were. Notching up 38 goals, 13 assists and 12 man of the match awards, Toney took the reins from Watkins with aplomb to earn his team promotion to the Premier League.
Ollie Watkins comes in a close second
Fact - Aston Villa's Ollie Watkins was better at Brentford. Ok, when we say fact, what we mean is a fact based on a very specific set of rules, but we still stand by it. Speak to our lawyers, Steven Gerrard!
While at Brentford, Watkins scored 46 goals, picked up 13 assists and walked away with 15 man of the match awards, all for the bargain price of £6.5m, including signing bonuses and sell-on fees. That equates to a very affordable price of £87,838 per contribution, helping Brentford fight for promotion to the Premier League and Watkins earn his first England call up.
He went on to move to Aston Villa for a total of £30.6 million, proving himself to be a very savvy piece of Brentford business.
Sergio Agüero proves his class
Quite possibly the best striker the Premier League has ever seen, Kun Agüero certainly didn't arrive at Manchester City for a pittance, costing the club £36 million for his services. By the time he'd left, however, he'd racked up 220 goals, 54 assists and 45 man of the match awards, a value of £112,853 per contribution. You could say he paid back his transfer fee and thensome.
Agüero is also a Premier League record transfer with the most staying power, having played 24,114 minutes of football for City. That's approximately 4000 more minutes than Roberto Firmino and Raheem Sterling!
Let's be honest, if he had only scored that one goal his contributions would have still been worth every penny.
Say it with me… AGUEEEEEEEERRROOOOO!
The best value players for their transfer fees
| Name | Team | Fee | Mins | Goals | Assists | MotM | Cost per Contribution |
| --- | --- | --- | --- | --- | --- | --- | --- |
| Ivan Toney | Brentford FC | £5,040,000 | 5,482 | 38 | 13 | 13 | £78,750 |
| Ollie Watkins | Brentford FC | £6,500,000 | 11,088 | 46 | 13 | 15 | £87,838 |
| Sergio Agüero | Manchester City | £36,000,000 | 24,114 | 220 | 54 | 45 | £112,853 |
| Bryan Mbeumo | Brentford FC | £5,850,000 | 7,773 | 28 | 18 | 5 | £114,706 |
| Son Heung-Min | Tottenham Hotspur | £27,000,000 | 17,472 | 97 | 48 | 19 | £164,634 |
| Mohamed Salah | Liverpool FC | £37,800,000 | 17,725 | 142 | 51 | 34 | £166,520 |
| Roberto Firmino | Liverpool FC | £36,900,000 | 20,559 | 88 | 57 | 26 | £215,789 |
| Sadio Mané | Liverpool FC | £37,080,000 | 18,422 | 102 | 32 | 32 | £223,373 |
| Jack Harrison | Leeds United | £11,520,000 | 10,645 | 20 | 21 | 10 | £225,882 |
| Andre Gray | Burnley FC | £11,160,000 | 5,678 | 32 | 11 | 6 | £227,755 |