Highlights
Nearly 1 in 4 NFL fans admitted to using a fake social media account to trash talk players.

Deshaun Watson was the NFL player with the highest percentage of negative tweets directed at him. However, fans believed that Tom Brady was the player receiving the most hate online.

Aaron Jones and Aaron Rodgers, both of the Green Bay Packers, received the most love online.
Down, Set, Troll!
The internet is home to many things: cute cat videos, your favorite recipes, conspiracy podcasts … and trash talk aimed at NFL athletes. Voicing opinion usually has few repercussions, many people enjoy expressing their views with little to no filter.
However this can go too far and become online abuse. OLBG joined English soccer's social media boycott over the weekend of 30th April - 3rd May 2021 to help raise awareness of this in a bid to combat online abuse and discrimination.
Here we look into the data around NFL fans to understand more about how they troll or support players online, what they think about doing so and add to the discussion about what is and isn't acceptable.
Combining Twitter sentiment data with our own survey of 759 NFL fans who're active online, we gathered information regarding the digital trolling of professional football players.
People were asked about the frequency of their online NFL discourse and what platforms they tend to use. Also, if they were to come face to face with a player they were roasting online, would they still talk the same smack? We took a look at who the most loved and hated players on Twitter are and what kind of emojis are being used in people's posts regarding them. Read on to learn more about all these football-related findings.
Safe Behind the Screen?
People love to talk about sports online, and it looks like they're most likely to take to Facebook to express their opinions and views on the NFL.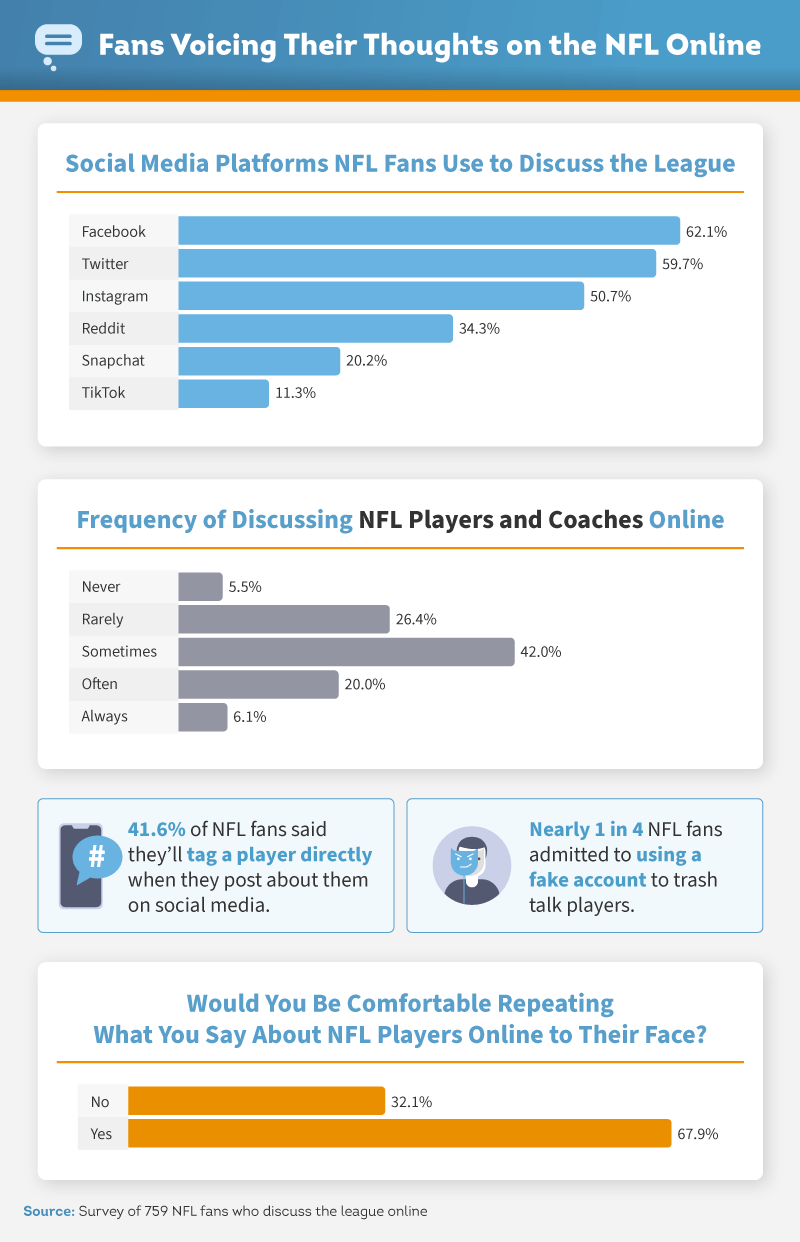 Twitter was also a very popular choice, and over half of fans said they use Instagram to share league-related commentary. For comments specifically related to players and coaches, just over a quarter said they discussed them rarely, and a fifth said they'd mention them often.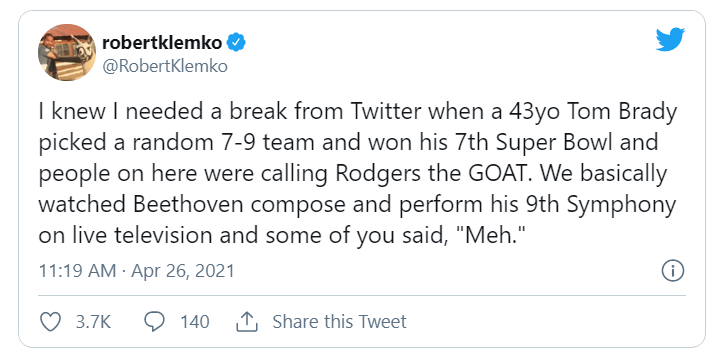 It's too easy to bad mouth others behind a screen, but would people really be comfortable repeating what they've said online to a person's face, particularly an elite athlete? Nearly 68% of people said they'd have no problem looking an NFL player in the eyes and speaking their mind. In fact, over 40% said they'll tag a player directly on social media if they're posting about them online. Just over 32% were not too keen on sharing their critiques in person, and 1 in 4 NFL fans admitted to using a fake account to trash talk players. Naturally, the slander can frustrate athletes, prompting them to make their own accounts and secretly fight against internet trolls. Notable wide receiver Antonio Brown was suspected of tweeting from a burner account back when he was dealing with all sorts of controversies.
Getting the Boos
As mentioned, it's easy to share your opinions on the internet, no matter how critical. Athletes receive hate on online forums all the time, but no one has come close to getting more flak recently than the Houston Texans' quarterback, Deshaun Watson.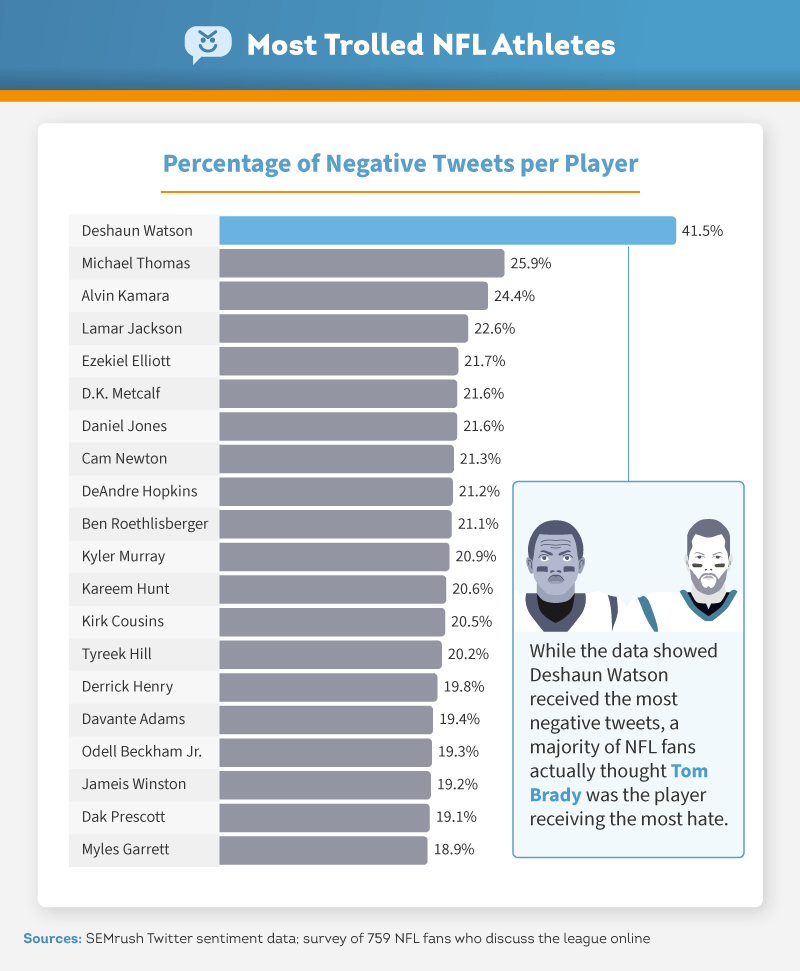 The negativity surrounding him is no coincidence either: Several civil lawsuits have been filed against him in recent weeks alleging sexual harassment and assault. We will learn more as the story continues to develop, but, unsurprisingly, he's been the target of a large number of negative tweets as of late.

What's interesting to note here is the discrepancy between fan sentiment and the reality of the tweets. The majority of NFL fans we surveyed figured that Tom Brady would be the most hated player online. While it's true that the quarterback has been linked to a couple different football-related scandals throughout his career, there's no denying his incredible success story in the league. Everyone hates a winner, right?
Receiving the Cheers
While it's easy to talk smack, many people still have plenty of good things to say about their favorite NFL players.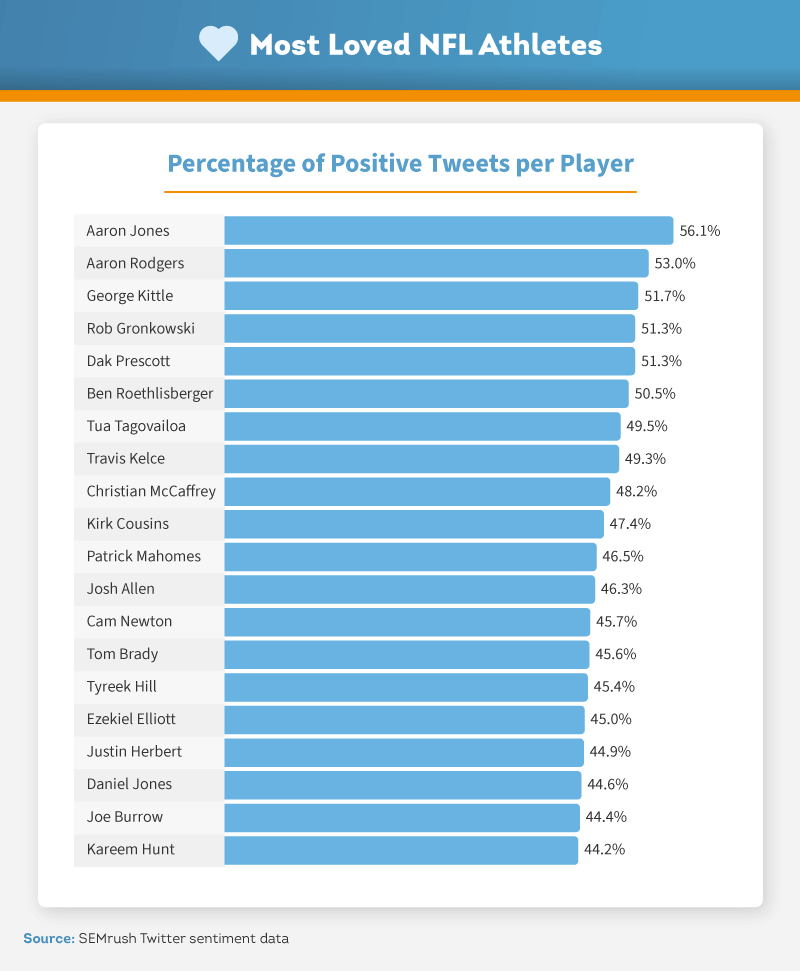 In fact, the two players who received the most positive tweets both play for the Green Bay Packers: quarterback Aaron Rodgers and starting running back Aaron Jones. The Packers have been consistently considered to have one of the best fan bases in the league. Last year, FOX sports media personality Colin Cowherd broke down his personal top ten, and he had the Wisconsin-based team in the No. 1 spot. The waiting list for Packers season tickets was an outstanding 137,000 names long, and 99% of current holders renew every year. Their fans love football and are quick to support their players online as well.
Fans also adored two of the league's best tight ends in Rob Gronkowski and George Kittle. Both are known for their goofiness and light-hearted antics on and off the field, making them easy to root for.
Emojis Tell the Story
There is no shortage of pictures on the internet, but we're wondering if it's really emojis that are worth a thousand words. We looked at the most common emojis used in tweets about each player.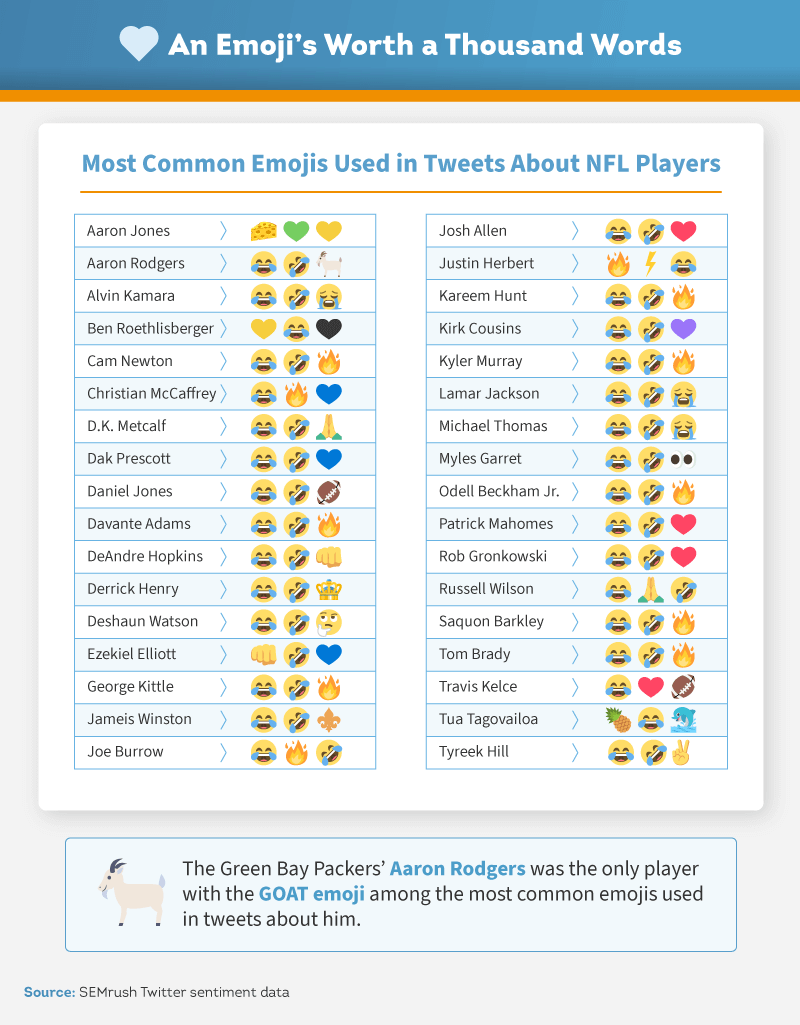 Only Aaron Rodgers had the goat appear in the top three most used emojis when tweeting about him. And no, people aren't associating him with a four-legged animal. The term G.O.A.T. stands for "Greatest of All Time," which is why people use the animal emoji to express that particular sentiment, particularly with athletes. While the debate rages on for who really is the best quarterback to ever play football, Rodgers clearly has a lot of supporters.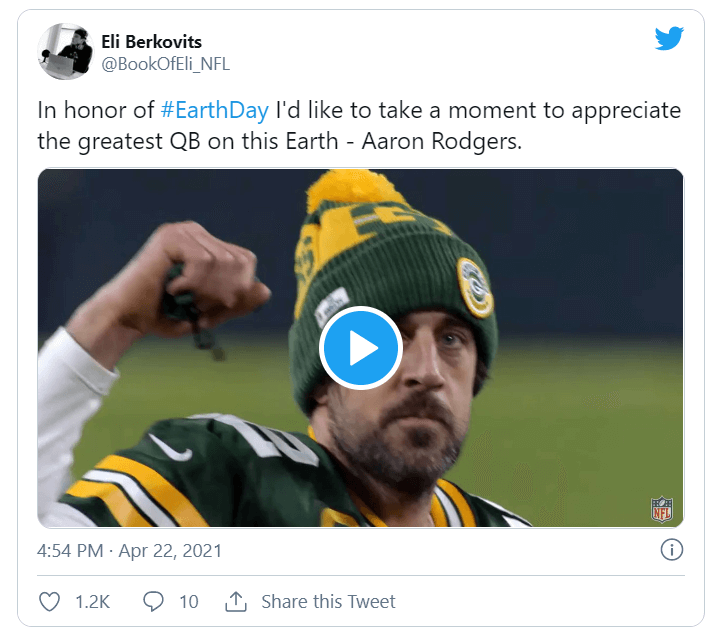 The laughing with tears emoji was common among almost all the listed players above. It's hard to tell how to analyze the sentiment behind this particular one because people could be including them in their tweets to laugh with players … or at them. It's nice to see that just under a third of the players we analyzed had a heart emoji among their top three. So maybe the laughing faces are good-natured after all.The Power of the Internet
The Power of the Internet
Players caught in scandals, like Deshaun Watson, have little to no chance of keeping those matters private and tend to receive plenty of backlash for whatever they're involved in. That being said, others get their fair share of love, too.
If one thing is certain, it's that fans aren't shy when it comes to sharing their opinions and commentary on the latest NFL happenings. The passion and emotions found in stadiums and living rooms during games continue in the internet universe long after the play clock runs out. This is why it is so important to discuss this and for everyone to think about what they are writing on social media and the impact it could have on others.
At OLBG we are strongly opposed to any online abuse. It can have a devastating impact on peoples lives. What some people may think is fun, can be hugely offensive. This article is not meant to in any way condone behaviour, but to add to the discussion about what we do online, on social platforms in particular, what is and is not acceptable.
As fans flock online to give their personal critiques on NFL athletes, many said they'd bring that same energy if confronted by the actual player. Others say things they wouldn't repeat to peoples faces in the offline World. We would urge fans to think hard before they post online. Is what you are doing a bit of fun, or could it cause offence. Does it cross the line, is it abuse. If in doubt don't do it.
About OLBG
OLBG is a sports betting community whose users help each other to find the best bets and the sportsbooks to place them at. If you are interested in opening a new online betting account then you may want to check out the latest free bets. For those who like to try their luck at the casino, OLBG also has lists for the best UK casino sites with designated sections for NJ online casinos, PA casino sites and Michigan online casinos.
Other Content You May Be Interested In
Rise of Sports Betting in The USA