The Rise of Sports Betting in The USA
As sports betting continues to rise in popularity, the culture surrounding it has developed as well. There are countless websites to place bets on a wide variety of sports, and tons of resources are available that give advice on how to win big. We've surveyed just over 1,000 sports fans to find out more about the sports betting world.

We'll take a look at the general feelings toward sports betting and consider the pros and cons of it. Further analysis was conducted on a state-by-state basis – Where is sports betting illegal? Do people that live in these states ignore the rules and bet anyway? Then, we dove into some sports betting terminology, more on the bettor experience, and the general investment perceptions of respondents. Keep reading to see what we uncovered.
Key Takeaways
Less than 1 in 3 people understand what a money line bet is.

76% of Americans believe they understand how sports betting works, yet just 30% passed a basic quiz on the subject.

The NFL is the most preferred sports league to bet on by sports bettors (62.1%).
Sports Betting Sentiment and State Analysis
Many people get a kick out of sports betting – 67.6% of respondents said they felt positive about it. Those aged 30 to 39 felt best about the activity, while 20- to 29-year-olds were the most neutral toward it, and those aged 50 or over had the highest percentage of having some sort of negative sentiment toward the practice.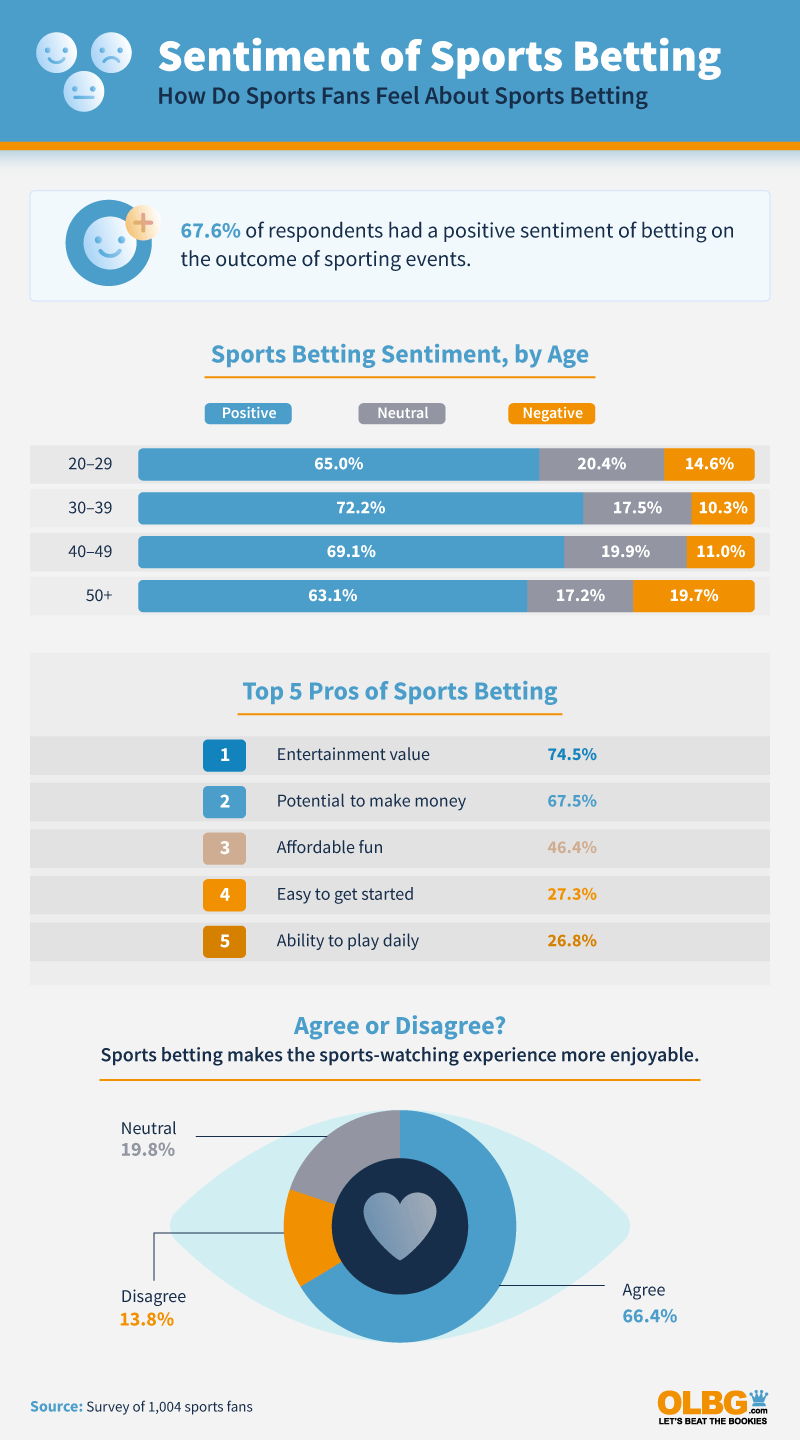 By a significant margin, the two most agreed-upon pros of sports betting were its entertainment value and, of course, the potential to make money. Regardless, the majority of respondents thought it made watching sports more exciting. By 2025, experts believe the fast-growing sports gambling industry in the U.S. could pull in around $8 billion – for reference, the revenue in 2019 was $883 million.
Across the U.S., sports betting is legal and operational in 20 states, plus Washington, D.C. with legal online sportsbooks live in 14 states. Those aside, many states are in the process of legalizing it and/or actively filing legislation for it. Some states still have sports betting outlawed with no sign of changing. Over a third of respondents living in nonlegal sports betting states thought it was legal, and just over 12% living in legal sports betting states thought it was not. Almost 73% of those living in nonlegal sports betting states were on board with legalizing it.
Understanding Terminologies
Just under 76% of respondents were sure that they knew the ins and outs of sports betting. Those aged 40 to 49 were slightly more confident in their knowledge than their younger or older counterparts, and men were significantly more sure than women. However, only 26.9% of our entire respondent pool passed a quiz testing various betting types. People aged 50 and above had the highest success rate at 37.6%, and men performed significantly better than women.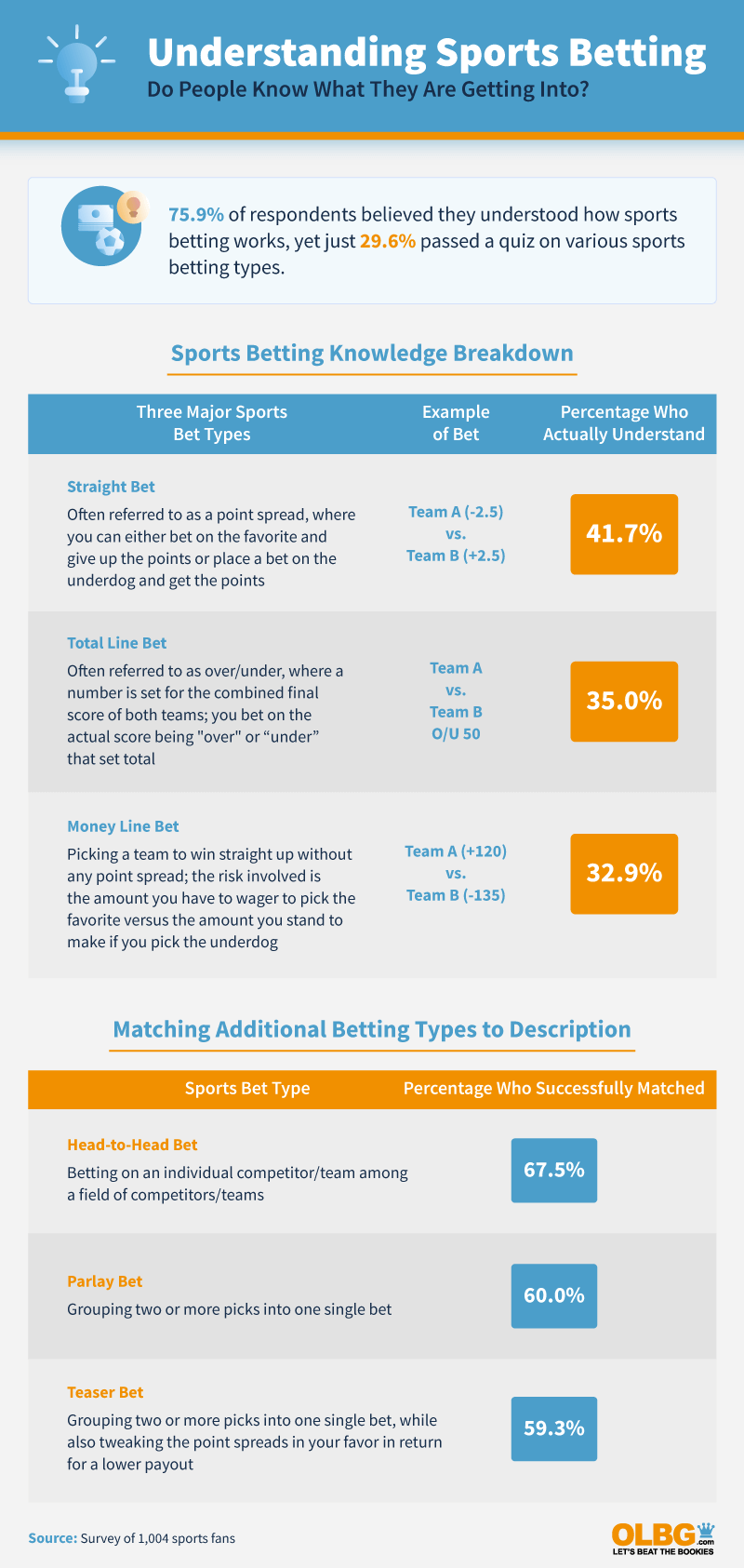 There are three major bet types in the world of sports gambling. The first is the straight bet, also called the point spread. In the example above, if you bet Team A to win, they would need to win by a margin of at least 2.5 points to cash out. If you were betting on Team B, they would need to win or lose within 2.5 points to win the bet. This was also the betting type respondents understood the most. Winning a total line bet entails correctly guessing if the score of a particular game would be over or under the point projection. The last is the money line bet, where you pick a team to straight up win or lose, and the payout is calculated based on the website's valuation of the winning odds of the favorite and the underdog.
Additional betting types include head-to-heads, parlays, and teasers. Generally, respondents had more success matching these betting types to their definitions than their ability to understand the aforementioned ones. Before jumping into the sports betting world, it's important to keep a few things in mind. Making sure you learn the basics, not getting overconfident when winning, not getting disheartened when losing, and always trusting your judgment are some keys to successful sports betting.
Bettor Preferences
A little less than half of respondents said they'd been actively betting on sports, and 43.3% were doing so in states where it's illegal. The majority of bettors (62.8%) opted for straight betting over other types. Also, over three-quarters felt positively about prop bets, but only 8.9% regarded them as one of their favorite betting types. The outcome of a game usually has no effect on a prop bet and instead revolves around whether something happens or not during the match. For example, a popular prop bet across sports is 'Who will score first?' – if you bet on the correct team, you will win the bet regardless if that team wins or loses the game. Those aged 40 to 49 had the most positive sentiment toward prop betting.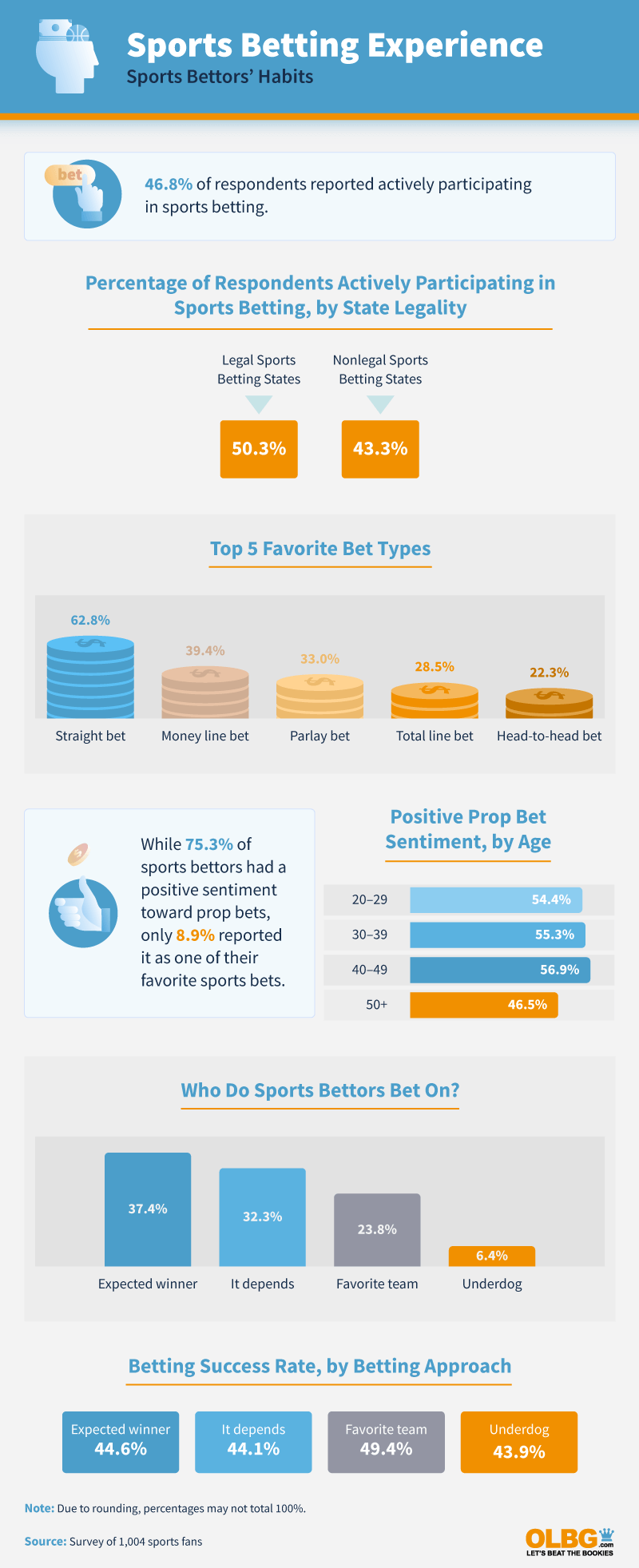 Many sports bettors prefer to stay safe with their money – 37.4% said they bet on expected winners as opposed to only 6.4% who were a bit more adventurous and bet on the underdog. In terms of betting success rates, those who bet for their favorite team had the highest rate, winning close to half of their bets. Regardless of betting approach, though, no one had been winning more than they were losing.
Various Strategies
Before diving into the world of sports betting, over 95% of active bettors used online resources to learn about it. Many liked to stay up to date on important information – 43.4% would leverage resources weekly to continue to get insight into the sports betting world. Naturally, though, bettors who would conduct daily research ended up with the highest success rate of 55%, which is a pretty healthy margin compared to those who researched less frequently.
Out of all the sports betting resources available, over 40% of enthusiasts either tuned in to related podcasts or conversed with friends and family. Otherwise, respondents turned to YouTube for advice, analyzed a variety of point spreads, made some Google searches, listened to gambling podcasts, or followed sports betting influencers for picks.
By about a 15 percentage point margin, the NFL was the most preferred sport to bet on, followed by the NBA. This comes as no surprise, as American football is the clear-cut No. 1 favorite sport in America – according to a poll conducted in 2018, 37% of Americans said it is their favorite sport to watch, blowing any other major league sport out of the water.
Keep That Money Growing
When comparing general investment interests of sports bettors to bettors of other mediums, the majority of both had the stock market as their primary investment tool. Unsurprisingly, sports bettors spent more of their money at the casino, as well as putting more of their cash into various cryptocurrencies and non-fungible tokens (NFTs). Bettors of things other than sports were 20 percentage points more likely to hold onto their money instead of investing it.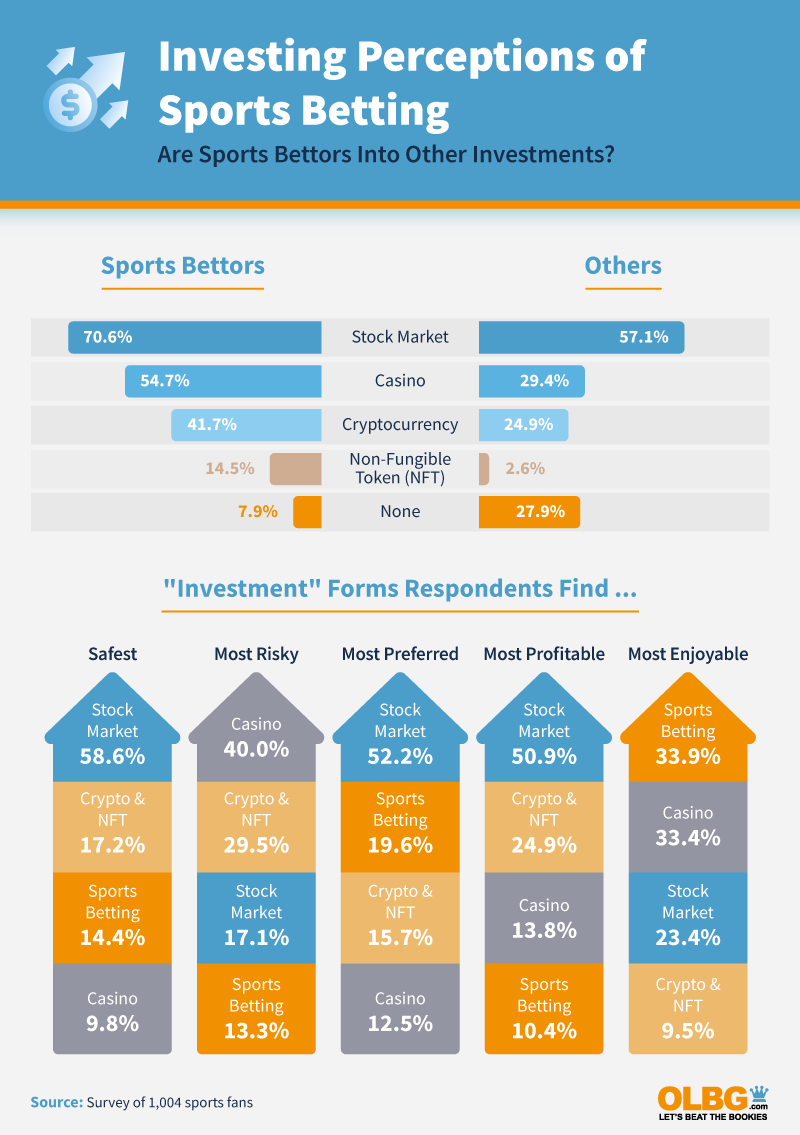 According to respondents, investing in the stock market was the safest, most preferred, and most profitable strategy. The riskiest was casino gambling, and it was slightly edged out by sports betting to claim the title as the most enjoyable method. Seeing as the online gambling market is projected to hit $92.9 billion by 2023, which is over $26 billion more than the 2020 projection, the sports betting world is clearly gaining popularity at a rapid pace.
That First Bet
Clearly, there is a lot more to the sports betting world than meets the eye. With countless resources at bettors' disposal, many have taken to the internet to learn how to win big. As we've seen, it's unlikely that a given person wins more than half of their bets, but if done responsibly, sports gambling can be an exhilarating and rewarding experience.
Seeing as many states are working on legislation that would allow sports betting to function legally, the influx of eager bettors will surely be upon us soon. If you've ever considered learning more about sports betting or are even looking into making that first bet, there's no better place to start your journey than at olbg.com. To learn about the best bookies, tips, and betting strategies the internet has to offer, explore the site now to become a sports betting aficionado.
Methodology and Limitations
We collected responses from 1,004 sports fans using Amazon MTurk and Prolific. Of the 1,004 respondents surveyed, 34.3% were female, 65.4% were male, and 0.3% identified as nonbinary. Additionally, the average age of respondents was 37 with a standard deviation of 11.5 years.
The main limitation of this study is the reliance on self-report, which is faced with several issues such as, but not limited to, attribution, exaggeration, recency bias, and telescoping. This survey ran in March 2021.
Fair Use Statement
The world of sports gambling is truly vast. If you know someone who might enjoy reading all about it, feel free to share this article with them. We just ask that you do so for noncommercial use only and to provide a link back to the original page so contributors can earn the credit for their work.