The Performance of Top Premier League Referees Against Each Side
Referee Rankings analyses every Premier League match from the past five years (until the end of 2020) from each of the teams currently in the league, breaking down the performance of the top 13 referees in the English game and how they perform against each side.
Whether they like it or not, referees are often the centre of attention during any game of football at whatever level.
The criticism and focus on Premier League officials has been so intense at times that law-makers have been left with no choice but to introduce VAR - a system that has been generally unpopular so far.
But it is so often the referees who are forced to bear the brunt of the criticism from packed out stadia, managers, the press and social media, with fans arguing of agendas against their teams or pundits questioning their common sense.
It is a thankless task for many, but what do the stats say?
Does Mike Dean Favour Spurs Over Arsenal?
Referee Rankings studied the records of the current Premier League teams under the top 13 referees over the past five years to find out how each ref performs against each team.
Mike Dean is often the centre of a lot of criticism for his style of officiating, particularly among Arsenal fans who have been convinced in the past that he even celebrated a Tottenham goal in a North London derby, and once even created a petition to have Dean banned from overseeing any more Gunners games - which got over 100,000 signatures.
However his record suggests that his perceived bias against the club is far from the truth, and over the five years no referee has officiated more Arsenal wins than Dean.
The Gunners won 10 out of 15 matches (up until the end of 2020) with a win rate of 67% - the highest win rate of any team with Dean in charge, with only Liverpool (also 67%) matching that record despite only playing six matches due to Dean's roots.
At the other end of the scale, high-flying Leicester have a miserable record and win just 22.22% of matches with Dean in charge and are worsened only by Southampton of teams that have played more than 10 games under him.
Who is The Strictest Premier League Referee?
Overall, Dean is the strictest referee, giving out 1.93 yellow cards per game, ahead of Stuart Atwell (1.89) while Graham Scott (1.13) is the most lenient.
Interestingly he is stricter against the top sides, with Manchester United, Manchester City, Tottenham and Arsenal shown more cards than his overall average, and Brighton, Crystal Palace and West Ham among those shown the least.
Aston Villa are the side he has punished most, with an average of three yellow cards given out per game and 12.67 fouls given against them per game.
That makes Villa the most harshly dealt with side in the league over the past five seasons under one single referee, but it is Wolves under Lee Mason who are the most penalised side, giving away 15.50 fouls per game and only receiving 1.25 yellows per game.
Stuart Attwell is the biggest disciplinarian overall when the figures are broken down however, showing a yellow card for every 5.51 fouls across all teams, only just less than Mike Dean at 5.59 while Paul Tierney gives the most fouls per game at 11.39 and Andre Marriner tends to let the game flow more with just 9.29 fouls per game.
Which teams have a good record with Michael Oliver or Anthony Taylor as Referee?
Michael Oliver is recognised as one of the top officials in the Premier League and often covers the big matches, but Manchester United and Arsenal have win rates of just 35% with him in charge.
He has however covered 113 matches between the 'Big Six' teams, which is the most in the league ahead of Anthony Taylor with 105.
Anthony Taylor is often kept away from refereeing Manchester United matches due to being born in Altrincham, but he has covered more wins for the Red Devils in the past five years than anyone else (14) with a 74% win rate.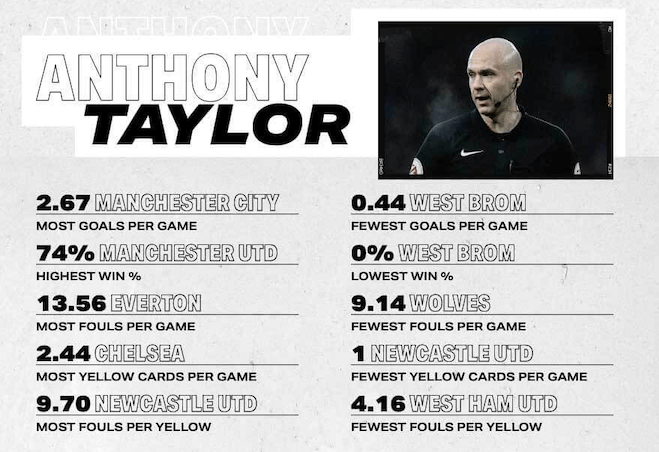 Jon Moss has done the most games for Man Utd with 23, but Ole Gunnar Solskjaer's side enjoy playing most under Stuart Attwell and Graham Scott who they both had 100% winning records under at the end of 2020.
Best Referees for Man City?
Elsewhere among teams at the top, Manchester City do not enjoy playing under Martin Atkinson, and win just 53% of their games with him in charge which is their lowest. They have won 100% of their games under Lee Mason and Graham Scott - who boasts perfect records for both Manchester sides.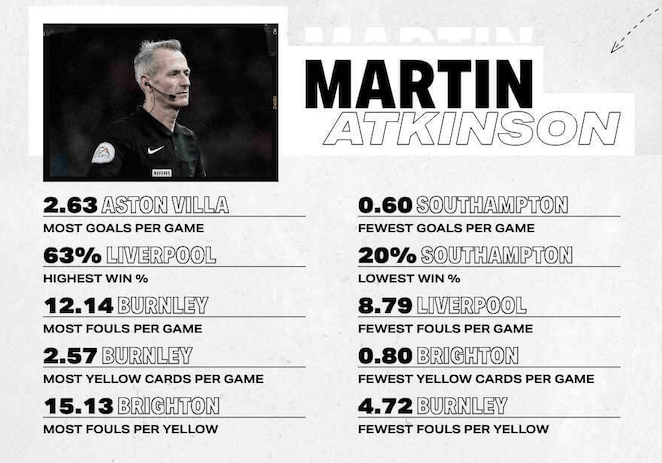 Lee Mason sees an average of 1.63 goals scored per game, suggesting his matches are the most enjoyable whereas Chris Kavanagh tends to get lower-scoring matches, with just 1.36 goals scored in each match he officiates.

OLBG.com is a sports betting community where members can take part in free to enter tipster competitions and win cash prizes. OLBG has built up an army of knowledgeable tipsters across many sports with it's football tips being the most popular.