Account Closed by Your Bookie?
Try these alternative online betting sites where we believe you'll have fewer issues using the steps below to keep your account open.
Great New Bookie to OLBG gaining Many Positive Reviews
Get ready to experience the next generation of sports betting! With BetBull you can follow hundreds of accumulators crafted by tipsters around the world
Specialists in Accumulators
The Spin Wheel
Market Beating Betting Odds
The Most Popular Alternative to Betfair Exchange Betting
The best exchange app available with low commission rates. Smarkets gives Exchange betting and trading a modern feel and is a great alternative to Betfair
Live Odds Data, Charts, and Graphs
Better Odds With Low Commission Rates
Superb Smarkets Betting App
Try a Different Way of Betting with Fixed Odds Options
Spreadex offers a huge array of markets on Sports and Financial spread betting. But also compliment with a Fixed odds Sportsbook too. All in one sports betting site
Fixed Odds or Spread Betting It's Your Choice!
Financial or Sports Betting.
New Spread Betting Build Your Bet Feature
Steps to Prevent your Betting Account Being Restricted or Closed
Things to consider to stop your betting account being closed or restricted.
Avoid being tagged as a bonus abuser
Use round numbers on your stakes
Use e-Wallets for depositing and withdrawing
Withdraw no more than once a month
Don't always bet best odds
Lose - Yes, Lose but cover yourself on an Exchange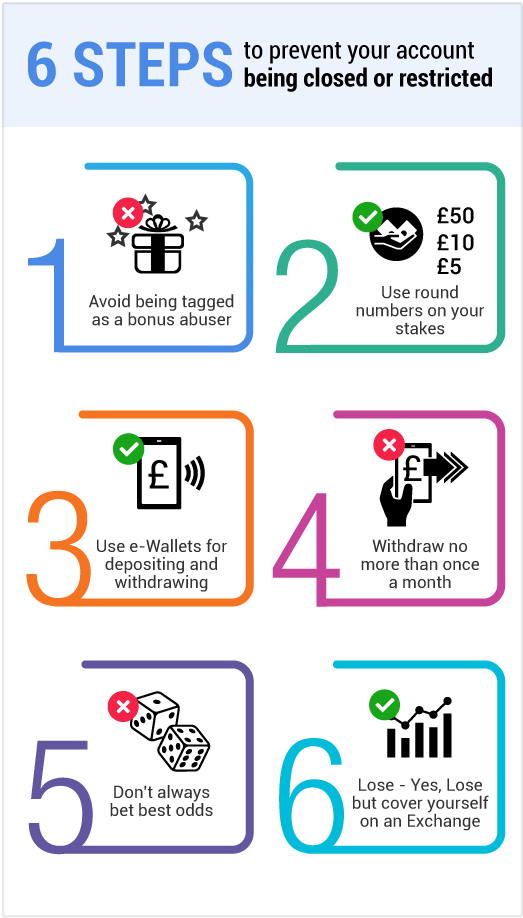 Move Away from Fixed Odds Betting
There is nothing more frustrating than getting on a good run and getting stake limitations or worse still an email stating that your account has been closed due to a trading decision
Betfair - No Limits, No Closures
You'll have no trouble getting your bets on at the stakes you want. Win and you wont be limited or closed down
Huge Liquidity - Stake as high as you want.
Generally Bigger Odds on Offer Anyway
Exchanges such as Betfair do not need to close winning accounts of course as the exchanges do not lose from the punter. With betting exchanges the punters win and lose between themselves, with the exchange taking a fee, normally from the winning bets.
Many helpful members on the OLBG forum simply suggest to those affected by closure or limitation of their betting accounts to bet with the exchanges instead.
However, exchanges dont offer the same bets that bookmakers do. Some of us like to place each way bets. The exchanges do not offer the same advantages such as best odds guaranteed, first past the post and other horse racing promotions which bookmakers provide.
Spread Betting Companies such as Sporting Index work in a very different way to fixed odds bookmakers but are known to take larger bets and not restrict or limit bets so much as fixed odds bookies.
Have you Had a Betting Account Closed or Restricted?
If you are a successful sports bettor like many of the members at OLBG then the chances are you have had one or more of your online betting accounts limited or closed down. We know that we need to gain value from our betting, so every account we lose costs us in our fight to gain an edge. Are there any bookmakers who do not close or limit winning betting accounts?
In a poll on the OLBG Betting forum asking How many betting accounts have you had closed or limited? over two-thirds of members answered that one or more of their betting accounts had been closed or limited. There are many threads on the forum about this, making it probably the biggest concern that faces UK sports bettors today.
Why do bookmakers close betting accounts?
If you open a new betting account specifically to place a bet because the bookmaker is stand out best price then you risk being flagged as a shrewd punter straight away.
In an article in the Guardian entitled All bets are off:why bookmakers aren't playing fair, the anonymous writer stated
"G Force's win last autumn came after I opened a new account with Sportingbet solely in order to back the horse at 25-1, when other bookies were offering just 16-1.
When that punt was duly landed, my new account was effectively closed overnight after just two £50 bets – one a winner at 25s, the other an unplaced loser. When I rang up Sportingbet to ask why I had been offered £7 to win online instead of the £50 I was requesting on a horse as my third ever bet with the firm, I was told that I was on the "restricted list" after placing just two bets."
But whilst we hear stories like this all the time on the OLBG forum, what percentage of sports bettors are effected by account closures and limitations on their bets? In the same article as mentioned above there is a quote from the then head of trading at Betfred Bookmakers.
"The guys who are factored really well down [heavily restricted] are 2% of our whole database. They are shrewd. We will try to offer them some sort of bet, but they will get restricted."
This sort of statement from a bookmaker would likely be met with criticism from betting customers.
Why do bookmakers offer odds if they don't want to lay them?
Going back to the example above in the Guardian article, £50 at 25/1 is clearly a fairly large liability of £1250. Not an average punters stake. If a punter is to bet at these odds at such large stakes then common sense would suggest that maybe one of these things is happening
They know what they are doing
They are laying off at a lower price to guarantee a profit
Is it really such a surprise then that a bookmaker doesn't want to protect themselves from this happening again?
Maybe it wasn't just the amount but the fact that, as stated by the writer, other bookies were offering 16/1. A full 9 points shorter. There is no mention to what the exchanges were offering but maybe bookies track that too and maybe the exchanges odds were also lower than 25/1.
Laying you bets ONLY at best odds makes it kind of hard for bookmakers to win. A wise thing to do as a punter but we must recognise that we have no right to expect the bookmaker to be thrilled. So rather than simply moan about the bookies, we need to do what we cant to keep our accounts open. One less bookie to choose from and you may struggle to get the best value odds available. So how can you avoid having your other betting accounts closed?
9 Steps stop your betting account being closed or restricted
We have seen lots of different suggestions to avoid having your betting account limited. Some of these include.
1. Rest winning accounts in favour of losing accounts
One wise OLBG member suggested
"Keep records of each accounts profit and loss, try to rotate bets, try to balance bets - i.e. if you have had a big priced winner to a small stake in a small market, maybe your next bet on that account shouldn't be a big priced winner to a small stake in a small turnover market again"
2. Don't always bet at best odds, and not from the very start of your account usage
Try to find situations where it may not make sense to simply take the best odds. Maybe best odds guaranteed or another special is available that allows you to take lower odds and still place a value bet. Maybe the each-way terms are generous. Whilst consistently taking advantage of any bookmaker offers could flag your accounting, varying your bets so they aren't all at the best available odds on the selection may help keep your account alive.
3. Being extra careful on bets with low turnover markets
Grab 20/1 about a horse running at Plumpton on a Monday afternoon when the selection is shorter with all other bookies and the exchanges, then you will be noticed. Doing the same on a busy Saturday afternoon might not get the same attention. Simply be careful not to stand out like a sore thumb.
4. Placing bets on higher turnover markets
Some OLBG members have advised trying to replicate a mug punter. Have small bets around different sports, markets, even some have suggested playing on the casino games. If you regularly make money from betting, maybe spending some of it to help keep your accounts open could be a tactic. Not one we find easy to endorse though.
5. Use E Wallets to reduce fees for Bookies
Some punters have suggested that using credit/debit cards could be costly for bookmakers as the transaction fees can be high. Whether this is something that bookmakers look at when making a trading decision on your account we aren't sure about. But there are other benefits to using different deposit methods when betting.
6. Losing funds to bookmakers, whilst laying to betfair
We didn't like the sound of this one at all. How can you deliberately lose money? But maybe it does make some sense if you want to go to such lengths.
7. Round Up Your Stakes
Some have suggested that accounts could be flagged when strange amounts are staked. Perhaps indicating a system, strategy, automated programme of some sort?
8. Large Stakes, spread your bets
This makes a lot of sense. If you do fancy a selection at larger odds and want to have a reasonable size bet, rather than have it all with one bookmaker, consider spreading your stake around. For a few minutes extra work you may prolong the life of your betting accounts.
9. Avoid being tagged as a bonus abuser
Bonus abuse is on the rise in the UK. This is where people don't genuinely want a betting account with a particular bookmaker but open one purely to take the bonus. Typically a single bet to trigger the bonus would be placed and then no more than is required to withdraw any winnings. Avoid being tagged as a bonus abuser by depositing more than is required for the initial free bet or just using the account in a normal nature.
But if you don't want to go to these lengths, which bookies are the least likely to close your accounts down?
What about fixed odds bookmakers who are winning punter friendly?
If you read through the bookmaker reviews at OLBG you will get a good feeling for what punters think about the different bookmakers. We have received reports from members being limited with just about every bookmaker.
The bookmaker which consistently comes out well in reviews though is bet365 who at the time of writing have a rating of 4.7 out of 5 at OLBG from 109 reviews. In recent years we have received very few complaints about bet365 closing or limiting winning betting accounts.
That is just ahead of Betfair on 4.6 with many of the others rated much lower. Head over to the reviews section now to see how regular sports bettors rate their bookmakers and share your opinions on yours.
Avoiding Restrictions Tips from OLBG Members
Remember that bookmaking is a business so we can see why they want to restrict big winners and their terms and conditions allow them to do so at any time.
It would be much fairer if bookies treated their big losing customers like their big winning punters but there isn't much chance of that happening without government legislation.
We are in a time when monitoring customers is very easy for bookies so restrictions simply have to be considered one of the hazards of betting.


How To Avoid Restrictions
We have a depth of experienced online betting experts at OLBG within our membership base, and here are some tips that have been shared by a couple of our members with account restriction and closure issue experience.
Solutions According To Man O Bong
OLBG member Man O Bong wrote a blog about bookie restrictions
Use Rounded Stakes
The more random your staking the more you are going to look like an arber. Arbers bet precise amounts to ensure a profit and betting £40 rather than £39.98 will make you look much more like a genuine punter, whether you are or not.
Limit Withdrawals
Man O Bong suggests you don't withdraw too often or make it look like you have a set betting bank as the more strategy you show the bookies, the more likely your account is to be restricted. If you are winning, let your account balance rise.
Lose!
This isn't as crazy as it sounds. If you are having a good run in an account Man O Bong suggests backing selections you think will lose and laying them off on the exchanges. You'll need to ensure your liabilities don't exceed your potential returns though.
Solutions According To Davidadan
OLBG member Davidadan wrote a blog about bookie restrictions and here is some of his advice. Click here to read his full blog.
Split Your Stakes
Big staking punters (if successful) can be quickly restricted. Davidadan's advice is that you should split your stakes between as many bookies as possible, even if it means losing out a little on price. This means your personal big wins will be split between bookies and won't set off any alarm bells.
Use Technology
Bookmakers record IP addresses on betting accounts. Try using your mobile internet instead for betting, or even text betting where it is offered. This should mean protect you for a period of time from the bookies.
Explore Other Markets
If you are restricted and struggling to get your full required stake on a bet take a look at other markets. For example, if you are betting on under 2.5 goals you could also cover the correct scores that make up under 2.5 goals. Or in a horse race you could look at win only betting or betting without certain runners.
More Information
There have been several threads in recent years about this subject. Read more about it, learn from others and share your own experiences on the most relevant of these threads.
Bookmaker Restrictions
A lively discussion between OLBG members on account restriction in the forum where 33% of those responding claim to have had bets restricted with a high street bookie.
Read Now
Bookies Don't Take Bets
This guy actually began a petition to stop bookmakers from turning away your business when you were winning. See how it turned out here.
Read Now
How Bad Can Things Get
The Executioner has been a member on OLBG since 2008, and he asked this question with a mixed bag of responses
Read Now