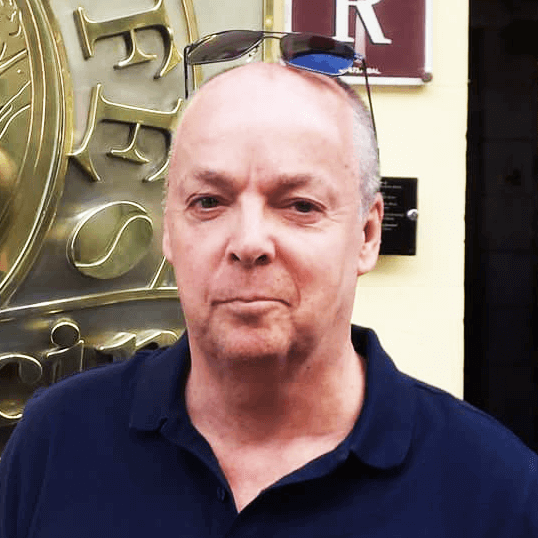 Nigel Skinner
OLBG Blog Content Manager
Football Manager Expert and Political Betting Specialist across Exchange and Spread Betting Sites
---
Welcome to football sack race betting, where the drama of the sport extends beyond the pitch. In this article, we delve into the realm of betting on the next manager to be sacked in the UK football leagues. From the Premier League to the EFL Championship, League One, and League Two. We wonder whether the record-breaking 74 managerial changes of season 22/23 will be achieved again.
🏆 Who will be the next football manger sacked?
Bet on the next manager to be sacked in English football leagues 📊 Get stats and updates on this season's managerial casualties.
We bring you insights into previous manager sackings and keep you updated on this season's casualties. Get ready to discover the latest sack race news and discover the best bookmakers for this unique betting experience.
Sack Race Odds - Next Premier League Manager to be Sacked
Last season [22/23] saw an unprecedented 15 managers exiting their posts in the Premier League. As the dust settled and the new season approached, three more changes were made, only to be followed by the bombshell departure of Julen Lopetegui just days before the 2023/24 season kick-off. Let's take a closer look at the updated Premier League Sack Race Odds. Curious to know who the bookmakers believe could be the next boss in trouble? Let's find out!
ALSO READ
Premier League's Shocking Manager History: 13 Managers Sacked in 2022/23 - Who's Next to Go?
Football Manager Departed this Season by League
A list of every managerial change in the English football league for 2023/24
Premier League Manager Casualties 2023/24
Championship Manager Casualties 2023/24
These are the current managerial casualties this season in the EFL Championship
| Count | Date | Club | Vacating Manager | Incoming Manager | Appointment Date |
| --- | --- | --- | --- | --- | --- |
| 1 | 20/09/2023 | Huddersfield Town | Neil Warnock | Darren Moore | 21/09/2023 |
| 2 | 04/10/2023 | Sheffield Wednesday | Xisco Munoz | Danny Rohl | 13/10/2023 |
| 3 | 09/10/2023 | Birmingham City | John Eustace | Wayne Rooney | 11/10/2023 |
| 4 | 18/10/2023 | Millwall | Gary Rowett | Joe Edwards | 06/11/2023 |
| 5 | 28/10/2023 | QPR | Gareth Ainsworth | Marti Cifuentes | 30/10/2023 |
| 6 | 29/10/2023 | Bristol City | Nigel Pearson | Liam Manning | 08/11/2023 |
| 7 | 12/11/2023 | Rotherham Utd | Matt Taylor | | |
| 8 | 4/12/2023 | Sunderland | Tony Mowbray | | |
| 9 | 4/12/2023 | Swansea City | Michael Duff | | |
League One Manager Casualties 2023/24
These are the current managerial casualties this season in League One
League Two Manager Casualties 2023/24
These are the current managerial casualties this season in League Two
The Sack Race by Season
Here is some data on the frequency of managers being sacked by English Leagues with 2022/23 being the most volatile in recent seasons with 68 managers losing or leaving their positions. In more detail we notice that both the Premier League and Championship had record seasons in that regard with the Championship averaging more than 1 departure per club.
Manager Departures by Season
This data does not include interim or caretaker managers and also includes pre-season and post-season changes.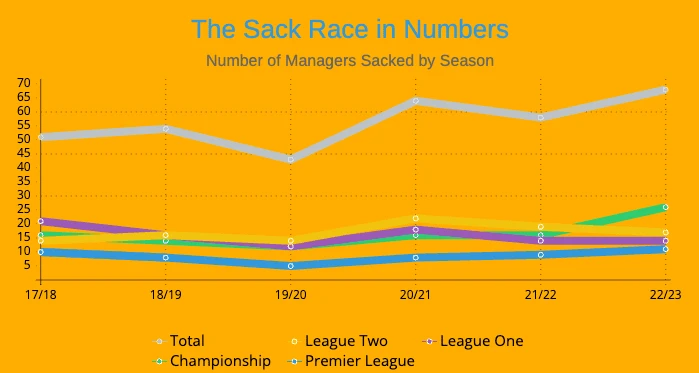 ALSO READ
Understanding The New Manager Bounce: A Premier League Trend
Best Bookmakers for Next Manager Betting
Finding the next football club manager betting markets can be tough, although, the next to be sacked is widely available. Over the years we have found Betvictor, Parimatch, Unibet, BoyleSports and now BetUK and BetMGM to be the most reliable sources of markets for the next manager to be sacked, and offering odds on the next manager of specific clubs, even down the leagues.
Bet £10, Get £30 in Free Bets
Min Deposit £5
Min Odds 2
Offer amount £30
#ad. 18+, BeGambleAware.org, T&Cs Apply
Bet £10, Get £40 in Free Bets
Min Deposit £10
Min Odds 2
Offer amount £40
#ad. 18+, BeGambleAware.org, T&Cs Apply
Money Back as Bonus up to £40 if Your First Bet Loses!
Min Deposit £10
Min Odds 1.4
Offer amount £40
#ad. 18+, BeGambleAware.org, T&Cs Apply
Bet £10, Get £30 in Football Free Bets
Min Deposit £5
Min Odds 2
Offer amount £30
#ad. 18+, BeGambleAware.org, T&Cs Apply
Next Manager to be Sacked Betting Sites
1. BetVictor
BetVictor excels in next-manager betting by offering quick odds on a wide range of new manager markets. They react swiftly to managerial changes and provide comprehensive coverage in popular leagues as well as lower leagues, allowing bettors to secure better odds and opportunities.
2. BetMGM
BetMGM is a new player in the UK market since October 2023 after acquiring LeoVegas in the US. Despite being a recent entrant, they're already offering next manager markets and are positioned to become a big player in the UK football betting landscape.
3. BetUK
Another powerful contender in the UK market is BetUK. As a subsidiary of LeoVegas, BetUK has made a remarkable entry with its superb betting site. Alongside their extensive offerings, BetUK provides next manager betting markets.
4. Unibet
Unibet, a renowned and well-established player in the sports betting industry, is known for offering competitive options on next manager betting in the UK. With their extensive experience, Unibet provides a reliable and exciting platform for bettors.
5. BoyleSports
BoyleSports, founded by John Boyle in 1989, is Ireland's largest independent bookmaker. It's reputed for offering a diverse range of betting markets across multiple sports, including a unique next manager to leave their post betting market.
6. Parimatch
Parimatch, another relatively recent betting brand addition to the UK online market, stands out with its comprehensive offerings on next manager betting. Parimatch ensures a top-notch platform for bettors to explore the candidates for vacant football club manager positions.
Premier League Managers
Being a Premier League manager is indeed an attractive and lucrative position. With the intense media attention and global fan base that follows Premier League football, it's a pretty good job if you can bag it. The position is a dream job for many, the summit of a career's ambitions.
The Glitter and Gold of Premier League Management 🌟💰⚽
⚽ Top-tier salaries, unparalleled attention 🌍 and even if you get the boot, there's a golden handshake waiting! 🤝 Ask Antonio Conte! 😉
Financially, the role of a Premier League manager is incredibly rewarding too. The position carries a hefty salary package, anywhere up to £20m a year + Bonuses if you manage Manchester City, reportedly. It's no secret that Premier League managers are amongst the most well-paid professionals in the world of soccer, with some earning as much and more as the star players of their teams.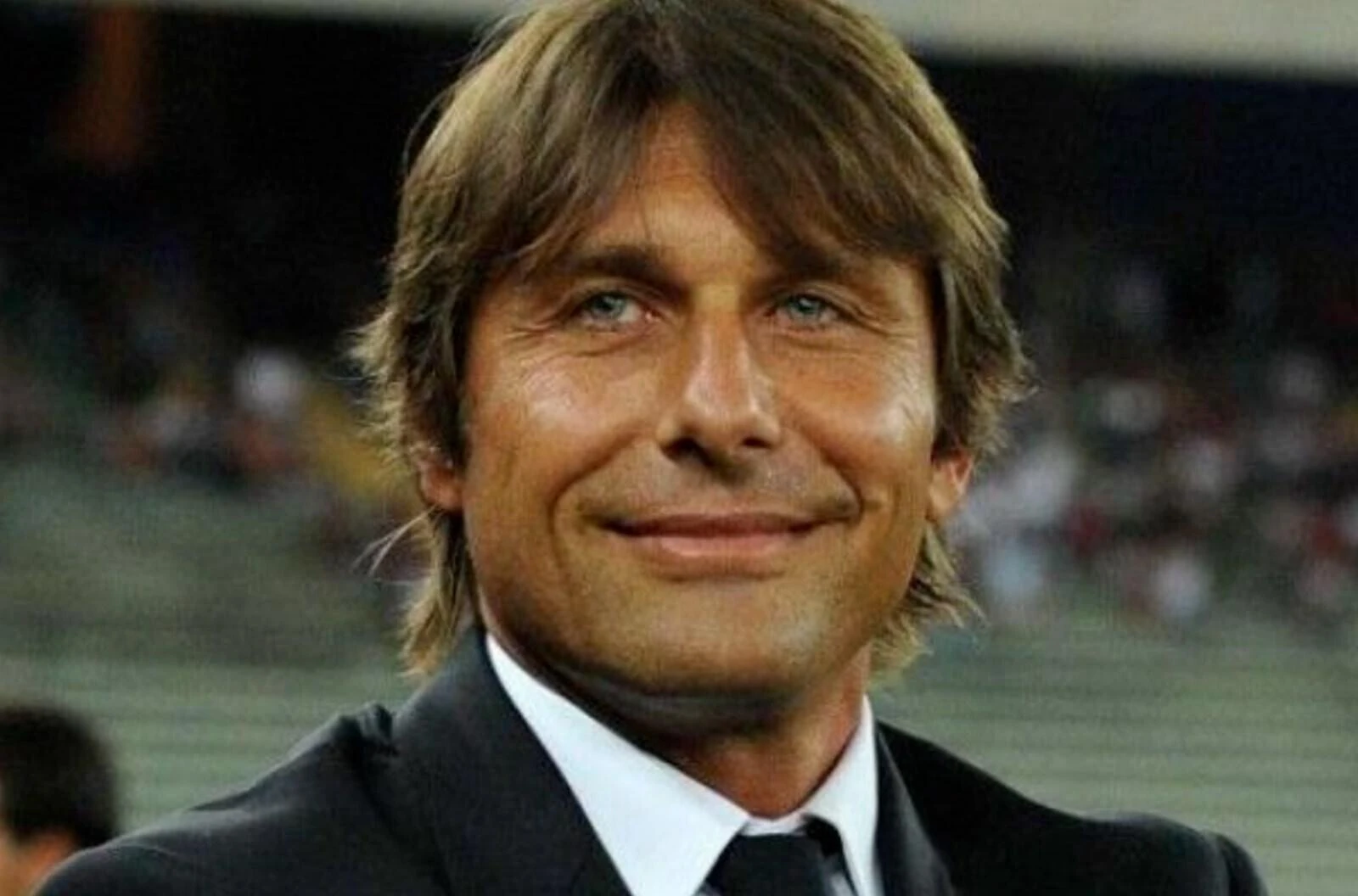 No wonder Antonio Conte is grinning with a £26million pound pay off for being sacked
Adding to the financial attraction is the unique security offered by severance clauses often embedded in the managers' contracts. Though the job is famously unstable and even the biggest names in the game can find themselves falling out of favour in the sack race, there's always the sweet cushion of a hefty pay-off. As Antonio Conte can attest to after a Premier League title, an FA Cup, and then the boot with a £26m golden handshake - It's a funny old game!
Current Premier League Managers List
Liverpool's Jurgen Klopp is the current longest-serving manager in the Premier League having joined the Merseyside giants back on 08/10/2015, some 276 days prior to Pep Guardiola taking the reigns up the road at Manchester City
Premier League Manager Departures By Season
A season will never go by without the spectre of the sack race hanging over the heads of every manager in the Premier League testified by over half the managers losing their jobs in 3 of the last 5 seasons. A total of 44 managers have departed EPL clubs in the last 5 years, with the highest coming in 2018/19 and a bit of a layoff with just 3 in that funny year everything was weird.
21/22 - 10 Departures (50%)
20/21 - 7 (35%)
19/20 - 3 (15%)
18/19 - 13 (65%)
17/18 - 11 (55%)
Playing Musical Chairs - EPL Managers Style 🔄💺⚽
Every Premier League season is a game of survival for the Managers! The past 5 years witnessed 44 departures, hitting the peak with 13 in 2018/19 📈🔄. A job laced with high-pressure but hey, that's EPL for you!
Premier League Managers Club by Club
A quick Run down of all current runners in the Premier League Sack race:
Arsenal
Mikel Arteta, a former assistant at Manchester City, is currently the manager at Arsenal. He took over from Unai Emery and has introduced a youthful approach, focusing on the development of young talents and a possession-based style of football.
ALSO READ
Next Arsenal Manager Betting Odds (Who Will Manage 'The Gunners' Next?)
Aston Villa
Unai Emery, a three-time Europa League winner with Sevilla, has taken over at Aston Villa from Steven Gerrard. Known for his meticulous attention to detail and tactical acumen, Emery is aiming to improve Villa's position in the Premier League.
ALSO READ
Next Aston Villa Manager Betting Odds And History
Bournemouth
At Bournemouth, Andoni Iraola has replaced Gary O'Neil. A former Athletic Bilbao player with a reputation for promoting attacking football, Iraola's challenge is to solidify Bournemouth's status in the Championship and push for Premier League promotion.
ALSO READ
Next Bournemouth Manager Betting Odds And History
Brentford
After Dean Smith moved to Aston Villa, Thomas Frank became Brentford's manager. The Danish coach, who emphasizes an attacking and high-pressing style of play, aims to maintain Brentford's Premier League status.
ALSO READ
Next Brentford Manager Betting Odds And History
Brighton
Roberto De Zerbi, known for his possession-based philosophy at Sassuolo, has been appointed the Brighton manager following Graham Potter's departure. His goal is to build a team that can challenge for a mid-table finish.
ALSO READ
Next Brighton Manager Betting Odds
Burnley
Vincent Kompany, a legendary Manchester City player, is now managing Burnley after Sean Dyche's departure. His goal is to fuse his experience as a player with his coaching philosophy to ensure Burnley's Premier League survival.
ALSO READ
Next Burnley Manager Betting Odds And History
Chelsea
At Chelsea, Mauricio Pochettino succeeds Graham Potter. Pochettino, who led Tottenham to a Champions League final, is tasked with maintaining Chelsea's domestic and European competitiveness.
ALSO READ
Next Chelsea Manager Betting Odds
Crystal Palace
Following Patrick Viera's exit, Crystal Palace appointed the highly experienced Roy Hodgson as manager. Hodgson, renowned for his structured defensive approach, is aiming to keep Palace comfortably in the Premier League.
ALSO READ
Next Crystal Palace Manager Betting Odds
Everton
Sean Dyche, who managed Burnley for nearly a decade, has taken the reins at Everton after Frank Lampard's departure. He is expected to bring stability and pragmatic football back to the Merseyside club.
ALSO READ
Next Everton Manger Betting Odds
Fulham
Former Everton manager Marco Silva took over Fulham from Scott Parker. Known for his attractive attacking football, Silva aims to guide Fulham back to the Premier League.
ALSO READ
Next Fulham Manager Betting Odds And History
Liverpool
Jurgen Klopp, Liverpool's current manager, took over from Brendan Rodgers. The German, famous for his 'gegenpressing' style, has since led the club to Premier League and Champions League glory.
ALSO READ
Next Liverpool Manager Betting Odds
Luton
At Luton, Rob Edwards replaced Nathan Jones. Edwards, known for nurturing young talents at Wolves' academy, aims to solidify Luton's position in the Championship and build a foundation for future success.
ALSO READ
Next Luton Town Manager Betting Odds and History
Manchester City
Josep Guardiola, a winner of multiple trophies with Barcelona and Bayern Munich, succeeded Manuel Pellegrini at Manchester City. He has since created an era of dominance at the Etihad, winning multiple Premier League titles.
ALSO READ
Next Manchester City Manager Betting Odds
Manchester Utd
Erik ten Hag, renowned for his attacking philosophy at Ajax, took over Manchester United after Ralf Rangnick. He is tasked with rebuilding the squad and returning the club to its glory days.
ALSO READ
Next Manchester United Manager Betting Odds And History
Newcastle United
After Graeme Jones's departure, Newcastle appointed Eddie Howe as manager. The former Bournemouth boss aims to bring attacking football to the Magpies and guide them away from the relegation zone.
ALSO READ
Next Newcastle United Manager Betting Odds
Nottingham Forest
After the exit of Steven Reid from Nottingham, Steve Cooper, who has a strong reputation for player development, was appointed. His goals include achieving success in the Championship and developing the next generation of talents.
ALSO READ
Next Nottingham Forest Manager Betting Odds
Sheffield United
Paul Heckingbottom was promoted to Sheffield United's managerial role following Slavisa Jokanovic's departure. His remit is to overturn their fortunes and guide them back to the Premier League.
ALSO READ
Next Sheffield United Manager Betting Odds
Tottenham Hotspur
Mauricio Pochettino's former assistant at Spurs, Ange Postecoglou, took over Tottenham from Antonio Conte. The former Australia national team boss aims to reignite Spurs' challenge for European football.
ALSO READ
Next Tottenham Manager Betting Odds
West Ham United
David Moyes, formerly of Manchester United, succeeded Manuel Pellegrini at West Ham. His pragmatic style of play has seen the Hammers discovered an impressive form, pushing them into contention for European football.
ALSO READ
Next West Ham United Manager Betting Odds
Wolves
At Wolves, Julien Lopetegui replaced Bruno Lage as manager. The former Sevilla boss, known for his tactical flexibility, aims to challenge the Premier League's top clubs.
ALSO READ
Next Wolves Manager Betting Odds
Football Manager Merry Go Round | The Sack Race Stats
Which football club has had the most managers?
Which of the top leagues are managers likely to last in?
How has the length of a football manager's job changed over the decades?
Which football clubs are the most perilous for managers?
Who gives their managers the least time on the job?
Does sacking your manager always lead to an upturn in form, or maybe even a trophy?
Answers to all these questions and more can be found in this section
While Watford has gained recent notoriety for constantly sacking their manager, they're relatively midtable in the sack race compared to the big hitters on this list.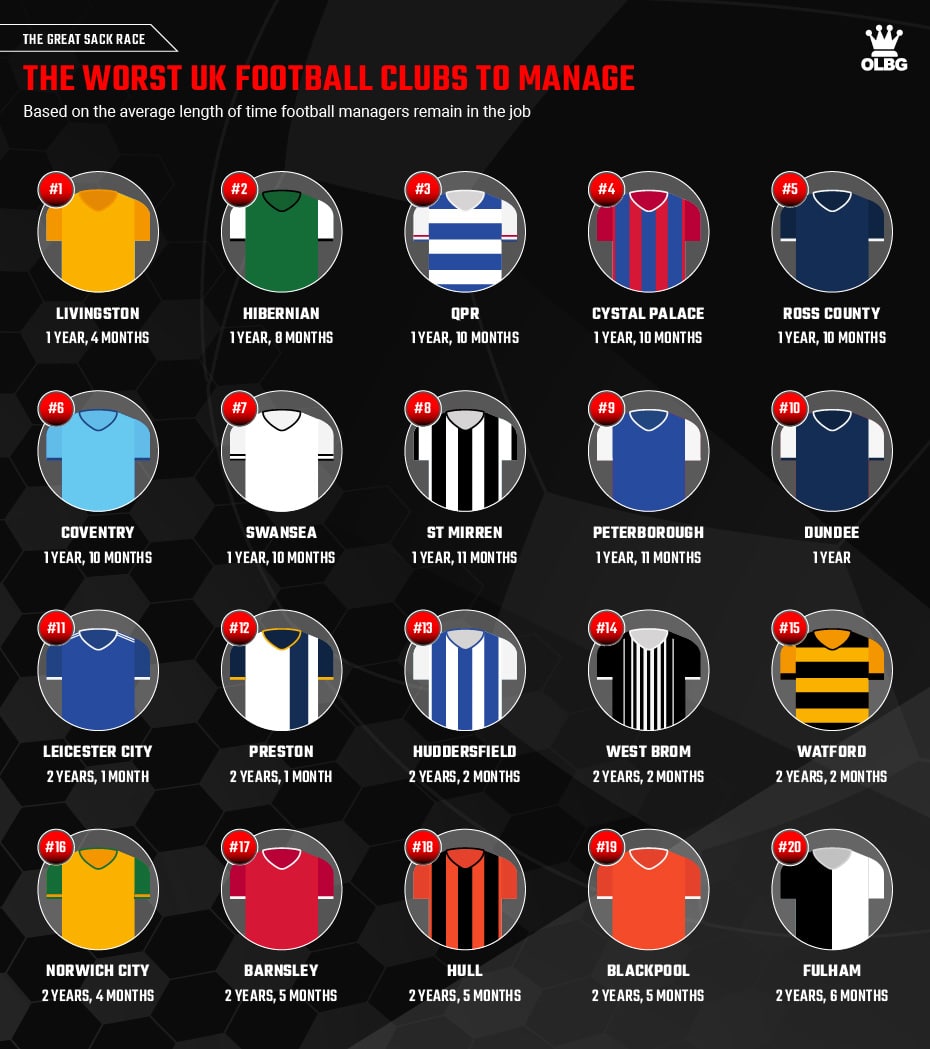 Which football clubs have employed the most managers?
Crystal Palace and QPR have had more managers than any other English league club in the top two divisions, while Livingston comes out on top for Scotland.
Why do you fire a manager? It's nearly always because you think the next person you get in will do a better job.
But for Palace and QPR, who are now both on manager number 64, all that chopping and changing hasn't won them many trophies!
QPR have enjoyed a little more success, spending a number of seasons in The Premiership and once even reaching the quarter finals of the UEFA Cup (RIP). In recent years they've been the plaything of the super rich, which led to rumours that the best players in the world would grace Loftus Road. However, their club record signing remains at £12.5 million for Chris Samba, and no offence to him, but he doesn't quite fit the bill.
Crystal Palace are another of London's big boys. After a recent period of stability under Roy Hodgson, they finally parted ways and employed manager number 64, former New York City FC icon Patrick Viera. One of the founding members of the Premier League, Palace have spent most of their history in the top flight of football, although only survived relegation to League 1 with a final day draw against Sheffield Wednesday in 2010.
Livingston is another club that is all too eager to give their manager the chop before their time. This is another example of how sacking your manager doesn't always bear fruit (unless you're Chelsea) as they only have the Scottish Challenge Cup to boast about in recent years.
Which UK football clubs give their managers time?
While it might be tempting to sack your manager after, say, losing 5-0 to Liverpool, some clubs are more patient than others.
Alex Ferguson and Arsene Wenger are both good examples of managers who've been given time and achieved success, but it's not just their teams willing to give the people in charge a second chance.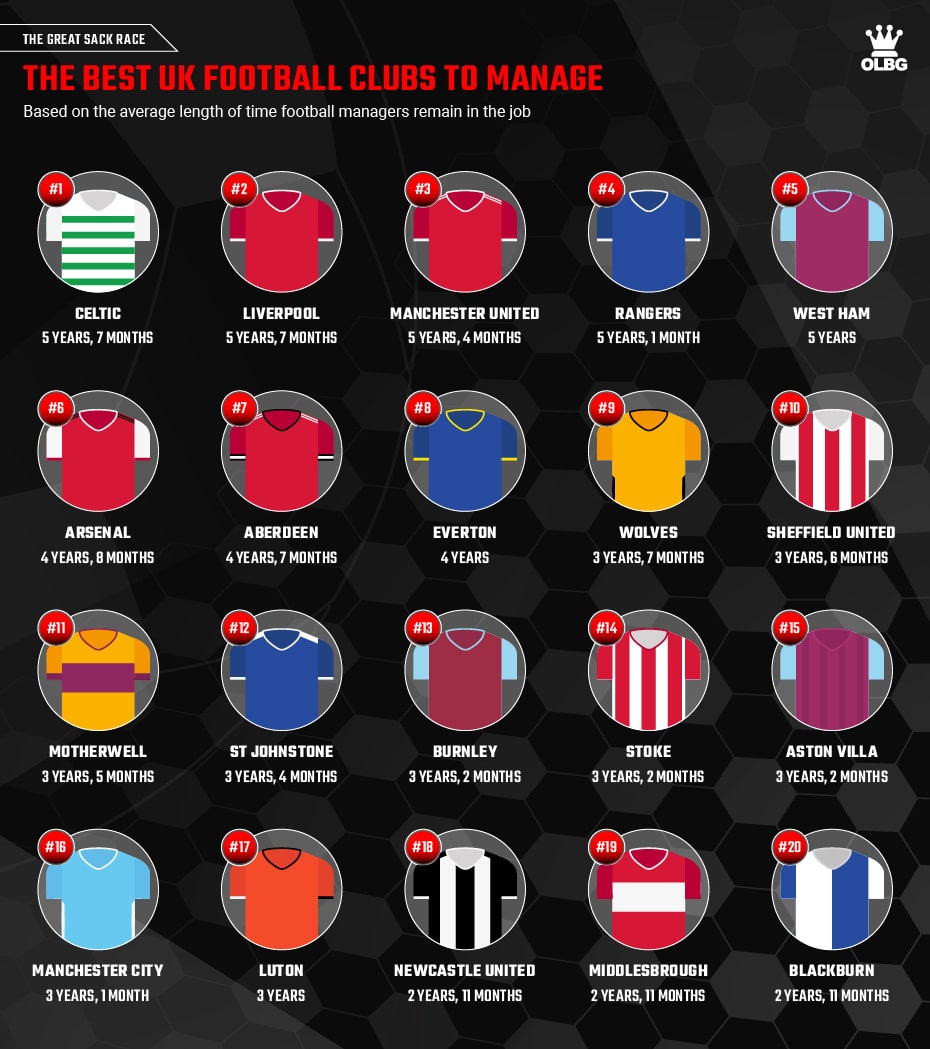 Which football clubs have had the least managers?
Celtic, Liverpool and Manchester United have all had 22 managers - but Celtic bosses have had the most days in the job!
Three of the biggest clubs in the UK have all had the same amount of managers. Celtic, one of Scotland's most successful sides, join Liverpool and Man Utd in having 22 managers throughout their history, just pipping Rangers and West Ham at the post with 24, and Arsenal and Aberdeen with 26.
Celtic's managers last longer than anyone else's. They spend an average of 2,050 days in the job, leading The Bhoys to an incredible 51 Scottish league titles and counting. (Only four less than Rangers, sorry.)
Liverpool's man in charge stays in the dugout for an average of 2,039 days, a figure no doubt helped by Jurgen Klopp's recent successes and the likes of Gerard Houllier and Rafa Benitez, who both enjoy long stints in the role.
Manchester United's average - 1,932 days - owed a lot to Alex Fergusson. The Scot was manager for 26 incredibly successful years, longer than any of the managers since have even come close to.
The length of time managers have stayed in their jobs by decade.
Management wasn't always such a risky game. In decades gone by, you could be in a club for enough years to take out a mortgage and settle down.
But when was the safest time to be in a job, and when did things get a little more uncertain?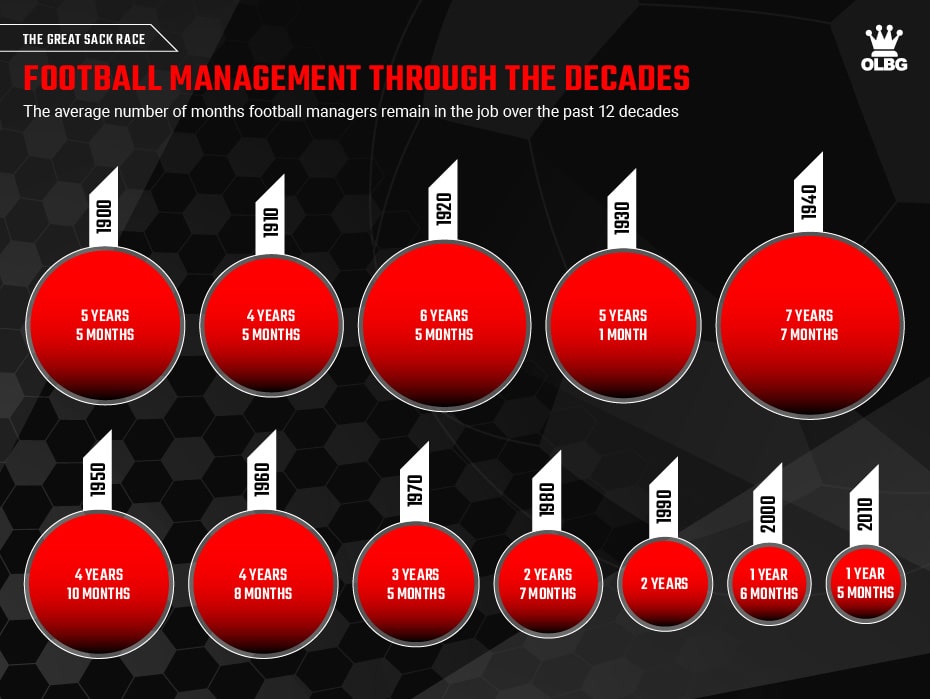 The 1940s were the best time to manage in England
Football management has never been the most secure of career choices, but things have definitely got worse in recent decades. If you were in charge back in the 40s, you could expect to stay in your job for an average of 7 years and 7 months, a very respectable section on your CV.
Things have gotten less certain ever since.
Just a decade later and 50s managers were in their jobs for an average of 4 years and 10 months - almost half of what they were 10 years previous. By the turn of the 70s it was down to 3 years and 5 months, with greats like Alex Fergusson, Brian Clough and Don Revie constantly looking over their shoulders.
When the 80s came along, the number was even lower. Average jobs only lasted 2 years and 7 months, and then something major happened - the Premier League was born.
In 1992 a new era of football was created, attracting more money, bigger crowds and better players to our national game. All of that came with added pressure on the people in charge, taking the average time spent in a job down to 2 years, then 1 and a half years in the 2000s, and a mere 1 year and 5 months in the 2010s.
The average length of time for a football manager by country
If you want job security, pack your tracksuit and head to France. Managers there last for an average of 1 year and 10 months, which while no means a long-term job, at least gives you chance to pick up some of the local lingo and befriend a talented young striker to sign later on in your career. Jose Mourinho first saw Didier Drogba while he was playing for Le Mans, so you never know what sort of gems you could uncover.
The Premier League offers you a month's less protection, but with 1 year and 8 months in the job, you can guarantee some good Match of the Day screen time and lots of Alan Shearer doubting your tactical nous.
Germany will give you 1 year and 7 months to prove your worth. Be sure to sign all the best young English talent and give them the chance to shine they'd never get at home.
The Championship on the other hand, probably best to give this a miss. With just 1 year and 2 months to ply your trade and earn that sweet promotion to the Premier League, only the strong will survive. That's good news for Neil Warnock, then.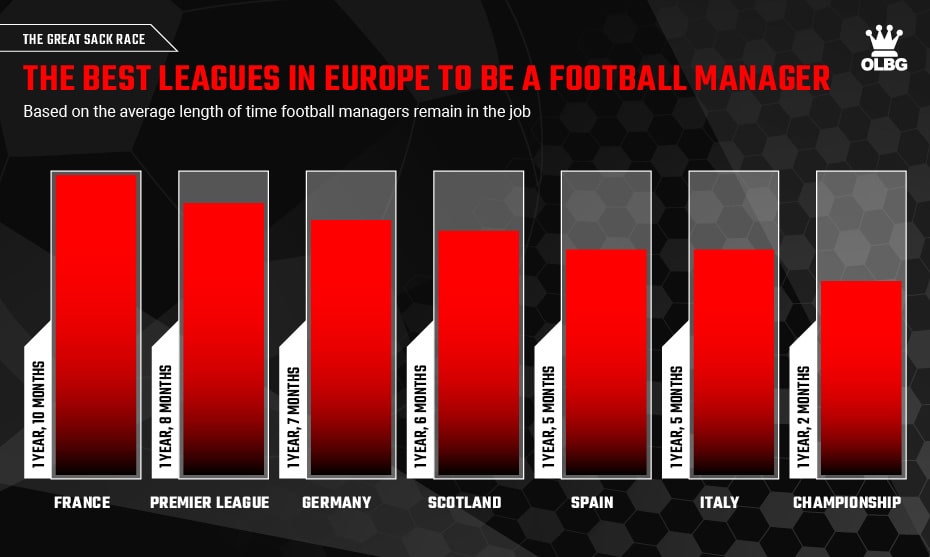 Since the 2000's, managers across Europe average less than 2 years for their entire tenure
Three years isn't a bad run in a job. It's long enough to not look suspicious on your CV, but not so long that you become Arsene Wenger and forget how to do your coat up.
If you're a Premier League manager, three years is about as long as you can expect to last, making it - unbelievably - the most steady out of all English leagues.
On the other hand, there's Italy. Italian football fans are known for being a passionate bunch, which might explain why managers in the Serie A have an average career span of only one year and five months. Barely worth unpacking.
Which football managers have had the longest careers?
Some managers just refuse to hang up their clipboard. Whether they stick with one club throughout their careers, or move their way through the football pyramid to keep the pay coming in, for these stalwarts management isn't a job - it's a way of life.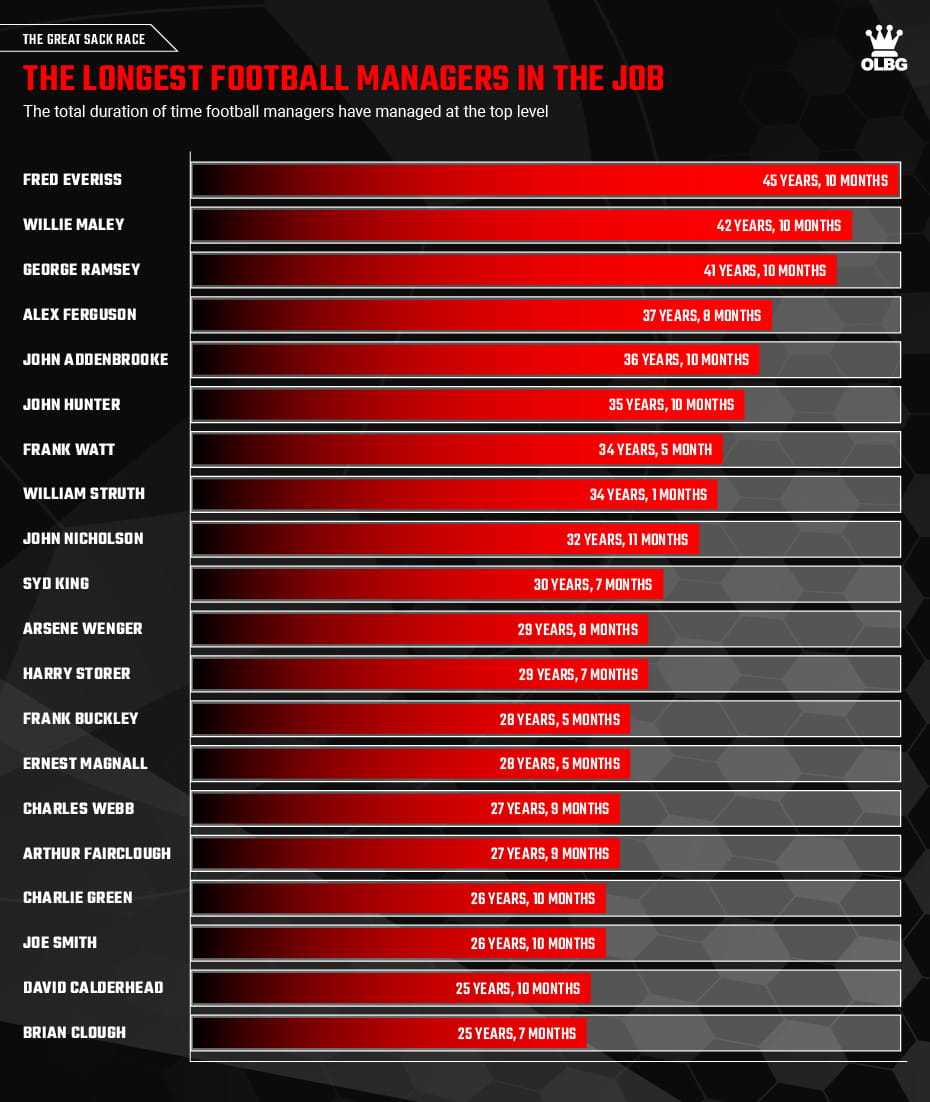 While Fred Everiss, Willie Maley & George Ramsey are all 1-club men, Alex Ferguson's record speaks for itself
We all know Fred Everiss, right? West Brom's manager from 1902 to 1948? Winner of the - checks Wikipedia - 1931 FA Cup? Well, he's had the longest career of any football manager, sticking with the Baggies for 16,740 days before going on to serve as a director.
If Fred's name doesn't ring any bells, how about Willie Maley? No? He's one of Celtic's most successful ever managers, and their first after the club was formed. During his 15,644 days in charge, he led The Bhoys to 16 league titles and 14 cup championships.
George Ramsay, of Aston Villa fame, has the third longest record in football. Legend has it he was the first manager to ever be paid, and he kept that money coming in for 15,277 days. He just beats the only manager to make the top five from the modern era - Alex Fergusson. He managed three clubs during his career (if you don't count the part time job at East Stirlingshire), taking charge of St Mirren and Aberdeen before his most famous spell at Manchester United. He managed for a total of 13,743 days, chewing more and more gum the older he got.
Which football managers have managed the most teams?
Oh, you've hired that guy, have you? The man who never seems to be out of a job, and just about does well enough to keep his name in the running. The man who lives and breathes football, and is linked to every job ever going. Yes, we're talking about your Neil Warnocks, your Rafas and your Coppells. Proper football managers who will keep you in the league and look furious while doing it.
Claudio Ranieri has managed more clubs than anyone else. His current spell at Watford is the 12th time he's been revealed at a press conference, with chairmen across the world hoping he can come in and do a Leicester on any budget.
Speaking of Leicester, former fox Nigel Pearson is next on our list. He's managed 10 clubs throughout his career, although has lasted an average of under a year at each one. Well done to any director for being brave enough to fire him face to face.
Steve Coppell is the third most prolific manager in the game. He enjoyed his most successful spell in charge of Reading, where he set a new league record of 106 points in a season as he won promotion to The Premier League.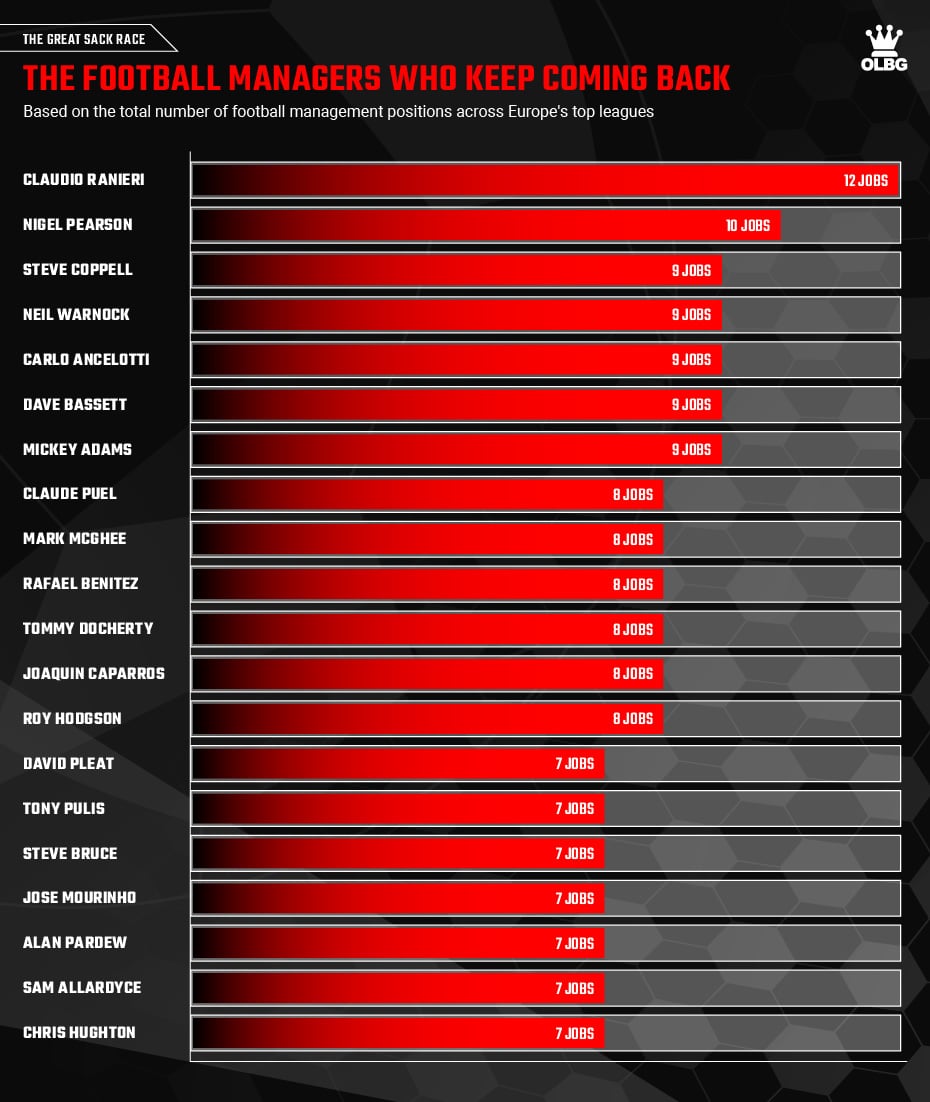 How long will football managers stay in their jobs in the future? Judging by our research, half a year gets cut off a manager's time in charge every decade, meaning by 2050 they should have about one week in the job to work their magic.
Methodology
Using the Soccerbase manager database, we looked at football managers' date started, and date ended for clubs from the following divisions:
English Premier League
English Championship
Scottish Premiership
French Ligue 1
Italian Serie A
German Bundesliga
Spanish La Liga