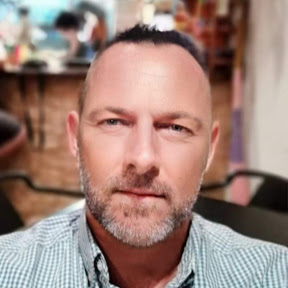 Steve Madgwick
OLBG Editor-In-Chief
Editor-In-Chief with 20 years experience covering the betting angles to breaking news stories. Portsmouth fan and Amateur League Snooker Players
---
Delve into the captivating world of motorsports with our spotlight on Mark Blundell, a celebrated figure in Formula 1 racing. Known for his dynamic presence on the track and a career filled with impressive achievements, Blundell has etched his name in the annals of motorsport history. In this article, we offer a glimpse into his life, from his early beginnings to his successful career and legacy, followed by insights derived from interviews with the speed maestro himself.
Early Life and Background
Mark Blundell was born on April 8, 1966, in Barnet, London. Growing up with a passion for racing, he first made his mark in the world of motorsport through motorcycle racing before transitioning to four wheels and beginning his ascent in motor racing's junior categories.
Racing Career
Blundell's Formula 1 career commenced in 1991 with the Brabham team, and he later competed for teams such as Ligier, Tyrrell, and McLaren. Best known for his three podium finishes and his remarkable adaptability to different racing disciplines, he also found success in CART racing in the United States and at the prestigious 24 Hours of Le Mans.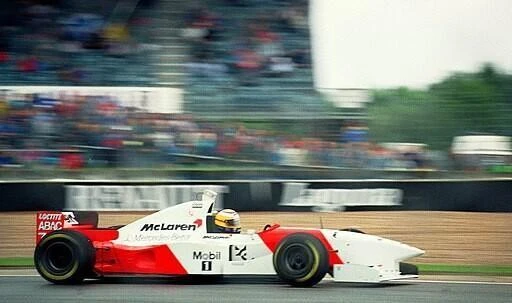 Martin Lee from London, UK, CC BY-SA 2.0 , via Wikimedia Commons
Legacy
Mark Blundell retired from full-time racing in 2003 but remained a vital figure in motorsport, transitioning into television commentary and driver management. His commitment to the sport and his expert analysis have kept him connected to the racing community and fans alike.
Mark Blundell Interview November 2023
Mark Blundell Exclusive: Ayrton Senna my number one ahead of Michael Schumacher, Oscar Piastri could be perfect to challenge Max Vertsappen at Red Bull, Lewis Hamilton, Toto Wolff needs to be careful heading into Manchester United
In our exclusive interview, Mark Blundell shares insights into his racing philosophy, memorable moments from his career, and his thoughts on the evolution of Formula 1. His reflections provide a deeper understanding of the challenges and triumphs that come with being at the pinnacle of one of the most demanding sports in the world.
Mark Blundell is a former McLaren driver, who raced in Formula 1 for four seasons, before transitioning to commentary and the world of business, where he is now CEO of MB Partners. Speaking to OLBG, the 57-year-old explained why Ayrton Senna takes his pick as the greatest ever ahead of Michael Schumacher, expressed his concerns for the sport as long as Max Verstappen keeps winning and ranked a current Verstappen against a prime Lewis Hamilton.
Q. What are you predicting for the Vegas and Abu Dhabi GPs?
MB - ''It's easy to make predictions in this day and age! There's only one to make - this guy from Holland called Max! I don't think anything will change at the moment or any dynamics that will have an influence on the outcome of the results of both of the GPs. I think Max and Red Bull will be the main contenders once again.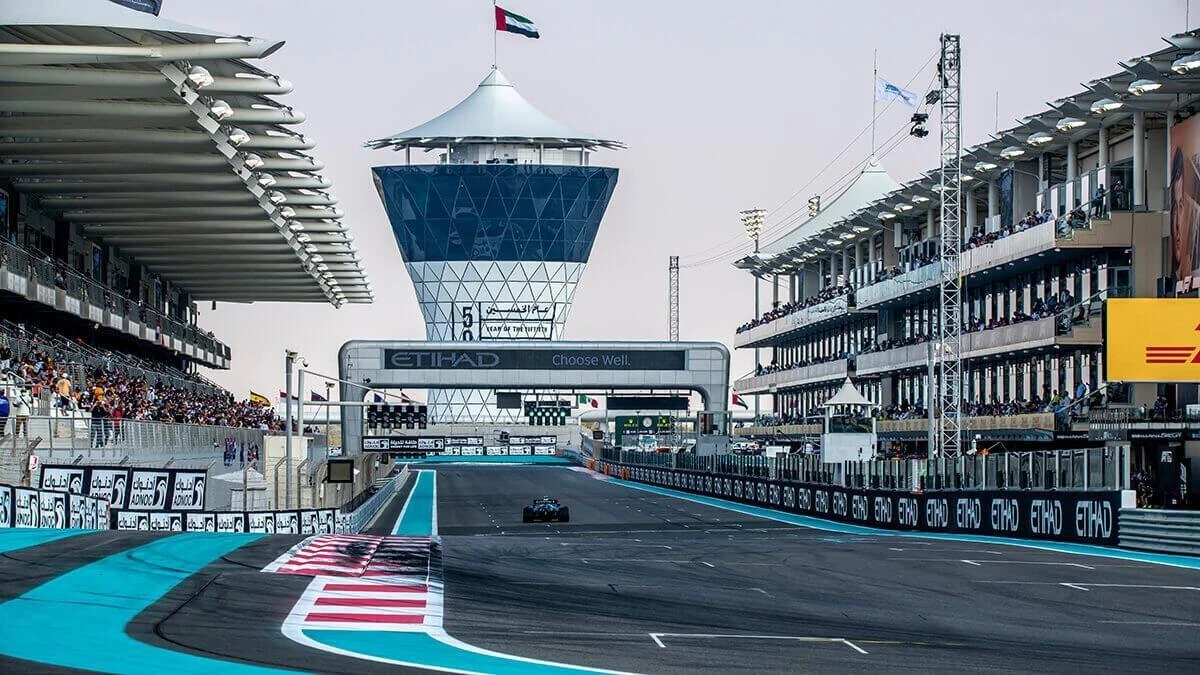 motorsports Photographer//shutterstock
McLaren are coming back into the fore, which is great, and Mercedes look like they have something, but other times they look like they've got nothing! Red Bull will still got depth and strength across their cars and their drivers - I don't think anybody will beat those guys.''
Q. Do you think that Verstappen's dominance is good for the sport? We've seen it in other sports. Certain individuals and teams can dominate sports, but then the empire crumbles. How is that fairing in F1, where you know the result way in advance of the event?
MB - ''I don't think sports should ever be predictable. That's the beauty of it. It's a bit frustrating to a degree, even for a purist like me who's been in the seat. I'd love to have been in Max's position winning every week, but it'd be nice to see some competition as a fan. Things come in cycles, and you see dominance across all sports. We see that in the Premier League! It looks as if there are some chinks in Manchester City's armour, and perhaps that'll happen with Red Bull.
Things normally occur in three or four-season cycles in Formula One, and it takes a while for people to catch up and take over with the right technology and people. Red Bull may have another season or two before they're knocked off their perch.''
Q. You mentioned Manchester City there. There's a chance Man City could get beat now, which makes it more entertaining. Do you think others in F1 need to catch up with Max for the sport to be entertaining?
MB - ''At the end of the day, it's up to everybody else to make progress and develop some in-roads. We're also talking about one driver and one car and we shouldn't forget that there are also teammates in the same car present! The difference is there for everybody to see. I think the other teams need to do a lot to catch up.
"If we were speaking two or three years ago, we'd be discussing Hamilton and Mercedes and having the same conversation, and look what happened - Red Bull surpassed them and they're now taking leadership. I'm not a big believer in people needing to slow down, Formula One is the pinnacle of technology and it's about getting the right guys in place and getting everyone focused on winning. All of the teams are capable.''
Q. Hamilton was the previous force in the sport and was for many years. He holds all the records at the moment. How do you compare a peak Hamilton to a peak Verstappen? Is Max even at his peak at the moment?
MB - ''People always try to compare Verstappen to a peak Hamilton, but it's tough to compare generational changes. Max is the new kid on the block, whereas Lewis is one of the old guard. There wasn't anybody better than Lewis in his prime, but then we'd try to relate that back to my generation with Schumacher, Senna, and everybody else. It's tough to put drivers into different times. I still think there's more to come from Max, and I say that because he's yet to have a teammate to worry him.
"Two strong individuals side-by-side in a garage sparks warring psychology even before you get onto the circuit and you leave it to your driving skills to see who's the best. Max needs someone to worry him, and that's not happening at the moment, and that's why I think there's more in his locker.''
Q. Is there a driver Red Bull can bring in to inspire Max and take him to the next level?
MB - ''There are two ways of looking at it - you can bring in an older, experienced driver who knows what to do and has the depth of knowledge both in and outside of the car. That'll help pull the team together and drive them forward. It is, however, important to ask whether or not those drivers still have that elusive millisecond in them and if they're prepared to put everything on the line going into Term One.
"If you look at it that way, you could be tempted to bring in a younger driver who has the potential to be the next Max Verstappen - someone like Oscar Piastri. I think he has huge potential, and maybe he can be someone who can challenge Max. There is, however, only one Verstappen, and I can't see anyone coming along who can shake the tree and knock him off the perch. ''
Q. The Aussies have a competitive streak! Do you think Lewis Hamilton will ever win that elusive eighth title? Particularly now he's signed for Mercedes?
MB - ''You're only as good as the car you drive. It's no different to horse racing - you'll lose riding an old nag even if you're the best jockey in the world. We're seeing that now - Lewis can't make the difference despite how good he is. I think it will be difficult for Hamilton to get that next title, and I think it may well elude him. Perhaps I'm wrong and Mercedes turns it around and they become the leaders of the pack! I'd put a good wager on that happening.''
Q. Lewis had a really good race in Austin but really struggled in Mexico
MB - ''You've seen that with a couple of races with season. Mercedes has been up there and it's looked stronger, thinking they've turned a corner, but the car looks a bit track-sensitive. That's the beginning of the issue - they had a paupers problem initially, and they haven't completely solved it.''
Q. Is Hamilton the greatest British racer of all time? If not, who? How highly do you rate him?
MB - ''Lewis has to be up there as one of the best. I've seen him develop from a youngster, and there's a huge amount of talent there. You'd have to put him as one of the greats, and not just in Britain.
When you look at people over the years, you'll only find a handful of guys who have had that success. You can pull him out of his generation and consider him an all-time great. There are a lot of great drivers out there, such as the Alonso's, Schumacher's, Senna's, and so on. There are only a couple of guys who have several world championships, and that's a very tough thing to achieve. One title is fantastic, but seven is mind-blowing!''
Q. Earlier this year, you said Fred Vasseur's 'non-Italian' leadership would help lift Ferrari, how are they still having issues?
MB - ''Vasseur has come in halfway though and he'll have to stamp his authority. I'm not necessarily saying that's going to him who'll make the difference as it could be someone else. It is, in my opinion, good to have somebody there who isn't Italian. When you look historically, Ferrari have had their best results when they're taking in different influences.
"I'm not sure if it's a mindset or a cultural situation, but I think Fred has applied quite a lot and you can see some differences. There is, however, still a lot to be done. I'm sure every Italian will be sitting there reading their morning paper wishing Ferrari were on the back page celebrating a win! They're still the number-one brand without a doubt, and I'd love to see Ferrari get back to what they do best - taking the chequered flag!''
Q. There's a new movie coming out about Ferrari in the new year, with Adam Driver as the lead. It goes to show how important the brand is.
MB - ''You'll see a Ferrari flag anywhere in the world. It underlines where they're at, and I'd hate to see F1 without them. It just wouldn't be right.''
Q. It's like football without Real Madrid! What movement would you like to see before next season among drivers joining different teams
MB - ''It would be great to see somebody sitting alongside Max to take it to him, but it probably won't happen. I think some of the combinations are quite good at the moment and a good blend of experience versus youth and youth versus youth. We've seen Lando Norris lift his game at McLaren, and Piastri has learned on the journey. I think he'll be stronger ahead of next season, and maybe he'll shake Lando's tree a bit. I think there are a number of guys out there who are starting to mature.
"Perhaps there are a few guys out there at the end of their careers and the new generation will want to come through. Bottas and Hulkenberg are getting towards the end and maybe the new cycle of drivers will want to take those seats. Formula One is really tough and it's difficult to judge youngsters as there's no testing anymore. A lot of it is done by simulation, which is great, but it doesn't put you in the same environment. It's a big business, and changing drivers is quite high-risk. The opportunity for youngsters is difficult.''
Q. You mentioned the combinations there. I'd imagine it can be quite detrimental to have youngsters coming in, as you can be quite withdrawn. The dynamics can be quite difficult.
MB - ''It's always good if you've got somebody with experience who can lead the team and the youngsters coming in to learn the ropes and push the older guy. Sometimes, needs must.
"There's also the element of sponsorship and commerciality, like if the nationality of the driver fits in with the team. Those things do apply in F1 and you've got to have bandwidth to accept that.
Q. What does the future hold for Sergio Perez?
MB - ''I feel for Sergio because I think he's an outstanding talent. He's a Grand Prix winner and he knows what to do. He is, sadly, up against a 1% guy who's one of the all-time greats of this generation. He'll have to be superhuman to surpass Max! He's done it occasionally, but doing it consistently will make the real difference in being a World Champion or not.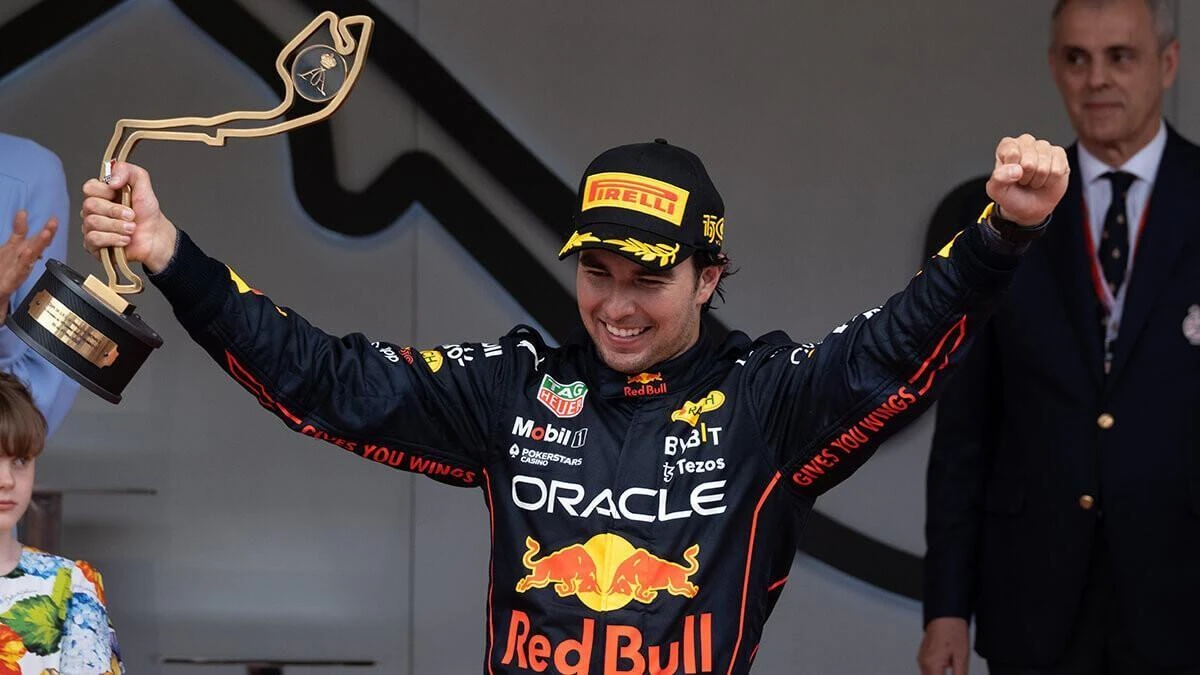 Jay Hirano Photography//shutterstock
I don't think Sergio has that capability, but him not being around would be a great loss to F1. He's a huge name in Mexico and he's a superstar there. Let's wait and see. I think it's tough for him. I don't think many drivers in the pit lane would envy his position!''
Q. How about George Russell?
MB - ''George is interesting as I haven't quite seen the next step in progress. He puts a lap together and he can do an incredibly quick one, but he's still not quite taken it to Lewis. We've seen Lewis come back and be the stronger part of the equation, and that's down to his experience and depth. I don't know.
I think the next step is there for George, but I'm not sure he has the confidence to take it on, and I'm concerned it'll never be seen next season. I think he needs to step up and he has to take it to Lewis and make sure he's second in line all the time! That's the only way George's stock can go up.''
Q. If all drivers were driving the same Red Bull car, who would finish first, second, and third?
MB - ''You could put 10 guys in the grid in a Red Bull and they would all win! That's how good the car is.
I think we'd love to see Hamilton and Alonso in a Red Bull beside Max. They'd all be on the podium, but not all on the top step. I think the combination of Max and Red Bull would beat Hamilton or Alonso in the same car. I think Max still has the edge.''
Q. Should more be done to attract more viewers? Should new things be done?
MB - ''I think there's a balance. There will be 24 Grand Prix at the end of the season, and I'm concerned it gets to the point of oversaturation. Formula One is a league and a special thing that normally happens every few weeks. However, I keep seeing it on the TV all the time! It'll lose a bit of its appeal, and that's the concern for me.
They're going into new territories such as North America, which has three Grand Prix events, along with Montreal and South America. I think it needs to be pulled back a little bit. Drive to Survive brought in a new audience who wouldn't have watched previously - which is great from a commercial standpoint. Sponsorships have dramatically gone up, too.
F1 still has a little bit to do. I'm still not seeing what I used to see when I lived in America, where I'd see NASCAR guys on the front of cereal boxes! That's how ingrained it was. It was like seeing a Premier League player advertising a shampoo. F1 isn't quite there yet, and maybe it doesn't want to due to it wanting an elite status. If that's where it wants to stay, it needs to figure out how to do that, but too many races will dilute the following.''
Q. From your personal experience, the emotional toll a race takes is severe. Would you have wanted to compound that with the travel? It seems like an incredible toll to take.
MB - ''Let's not feel too sorry for a modern-day Grand Prix driver! They travel in style, and I don't think it's too difficult. They're also fit people.
It's still a hard season, though it doesn't have the testing it used to, so drivers aren't off-site as much as they used to be. The promotional side must be tiring. It's still a lot of travelling, and that still gets you down no matter how you choose to do it. It's still a grind. They've got to be careful they don't dilute the sport, and I worry that may be the case.
It's a different ball game now. It's not privately owned anymore, and it's a big business, and they have to make sure they return to the investors.''
Q. If you had to rank Verstappen, Hamilton, and Schumacher all in their prime, what does it look like?
MB - ''It's tough to rank Verstappen, Hamilton, and Schumacher all in their prime, but I would put Schumacher down as the best brain of his era inside a Grand Prix car. He was the one who made Ferrari what it was. He orchestrated all of the people and put the whole team together, which made it possible for him to get the job done.
If you looked at Lewis like a piece of software, it'd be like Microsoft 2.5! He's so developed, and one of the most complete drivers we've ever seen. He had it all from qualifying, to races, to engineering a car. He's incredible.
Max is a modern-day Grand Prix elite, but with old-school values and rawness. He's raw talent and aggression behind the wheel, which has been quite refreshing. They've all got their differences and they've all got more world titles than Max. I think Max can change that going forward, though.''
Q. You are now CEO of MB Partners. Can you tell us how you got into that, and what it is you do?
MB - ''MB Partners is a talent agency representing drivers. We have ten drivers on our books, like Mike Conway, a two-time World Champion, Tom Blomqvist, Jake Hughes, and lots of others.
"The company is a lot bigger than that, though. We're doing events, digital marketing, business partner programs, and networking. We're very lucky. We have a great business and we're chaired by Theo Paphitis, who you'll know from TV. We're around motorsport per se, but we have a lot of other things going on. We're ten years down the line now! I'm definitely getting old and feeling the pinch!
Q. How does it compare to driving?
MB - ''It's a different set of parallels. You get to understand the world of commerciality when you've been driving around in circles for 25 years! I'm in a different seat now. My office used to be in a cockpit, but now it's in the office. You never stop learning. I run the business in the same way I was a driver - everything is done to timelines and attention to detail is important. That's one of our biggest things - we take our motorsports heritage and apply it to the business as much as we can.''
Q. A calculated approach.
MB - ''It's calculated to a degree, but you have to take risks in business and see what happens. Every day is different, and that's great.''
Q. Mike Elliot has left Mercedes and is rumoured to be joining Alpine taking Schumacher with him, do you see this happening? Will it be a good move for the pair of them?
MB - ''I think the Alpine situation is interesting. I don't quite understand what the end-goal is with the investors as there seems to be quite a lot of them, and I'm wondering what the upside is. I don't know if they're just getting tickets, great seats, or a fiscal return. Maybe it'll play out over time. It's great for the sport and the team, but I think F1 is very commercial, and I'm sure I'm missing the picture somewhere.
Personnel changes have gone on for years and that's something that'll continue, whether someone has left on their own accord or been poached. Plugging even one individual into a new environment will take time as F1 is all about the collective. It takes time to get everyone gelled together.
It might have a different influence on design or engineering philosophy and DNA, but even that will take time. These changes in personnel don't happen overnight with an overnight result. Even next year might not bear the results you'd think would happen on paper.''
Q. Most people saw Ryan Reynolds backing it and thought it would be the next Wrexham! Do you see Mick getting another chance in F1?
MB - ''Never say never, as things happen in F1. It's incredibly difficult for Mick as he has to follow in his father's footsteps. He's achieved that by getting to F1, but he hasn't had the environment around him to deliver results. If he gets the right car, then he'll have to deliver, and that'll be the end goal of that one.
It's a different situation as this is his second season out of F1. It can be a cruel world where people are forgotten quite quickly. Having said that, there could always be commercial factors coming into play and things could happen. We'll see. If Mick gets back into an F1 car, hopefully, it's one that'll give him a platform to demonstrate what he can do.''
Q. How important is a Grand Prix in Las Vegas for the sport? Everyone knows what Vegas is like!
MB - ''I think the Vegas GP puts both the sport and the city on the map, though Vegas is already world-famous.
The Vegas GP underlines what the city is all about, and it'll be incredible to see F1 on its streets. It'll be interesting to see what they have in store on Sunday!
I'm a bit more of a purist when it comes to Grand Prix circuits, and I appreciated the Monza and Silverstone tracks. Street racing is a different offering. Let's wait and see if the glitz and glamour delivers in terms of the end product. We've seen plenty of glamour on the grid before, but we still want two hours of entertainment, and Vegas is the capital of that! If they can't deliver there, then we'll be in trouble!''
Q. What can we expect from Martin Brundle's grid walk?
MB - ''I'm not sure if Martin Brundle will head to the track dressed as a casino chip or whatever else! Knowing Martin as I do, I'm sure he'll have a few tricks up his sleeve for his grid walk. I'm hoping the superstars will understand that he's also one when it comes to gridwalking and commentary!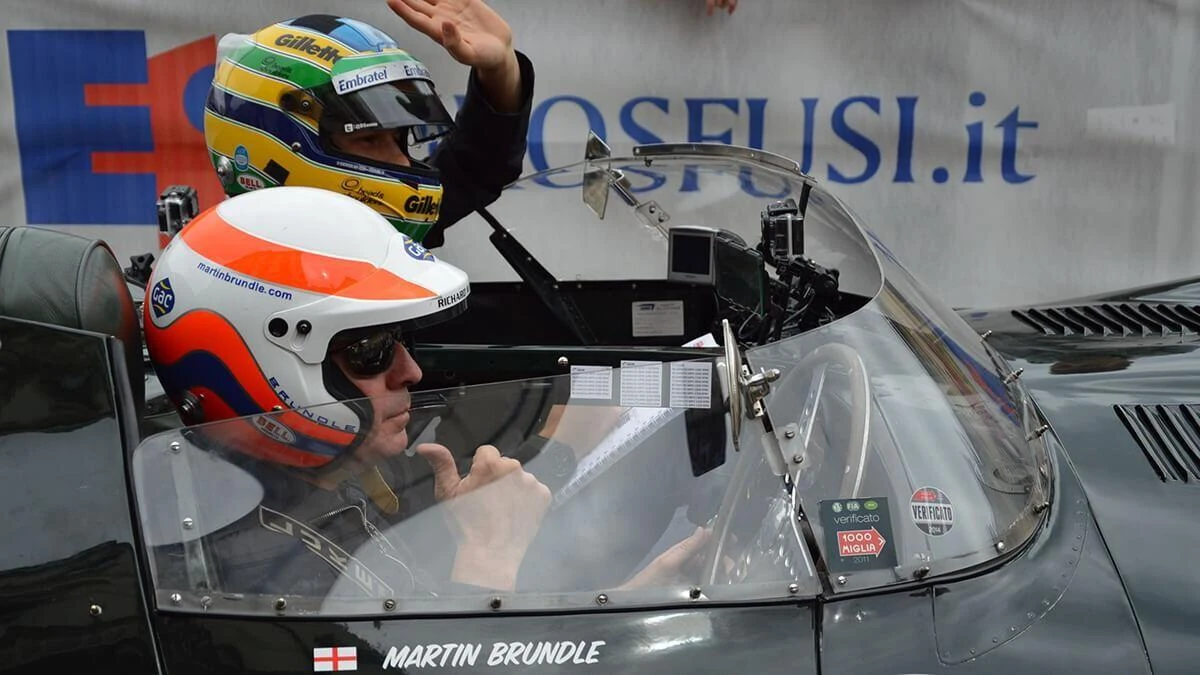 Brundell, pre-grid walk days - AJ165//shutterstock
Things move on, and I've seen some of the Grand Prix grid walks done by people who I had no clue of! I feel for Martin at time, as I'm sure he doesn't know who they are either!''
Q. It makes for a pure, wholesome interaction sometimes! What do you think of the ticket prices? I did a few calculations, and I worked out that the average ticket price will cost $30 a lap, not including the premium prices. What do you make of that? Is it supply and demand, or something Formula One should look at?
MB - ''The market is what it is, and I'm sure Formula One will take it if they know people are willing to pay. F1 isn't cheap and it costs the equivalent of an average monthly income just to take your family to see the British GP! It isn't cheap, but it is a spectacle, and I hope it remains that way.
Vegas will always be expensive, but I understand that the prices have been heavily reduced in the past couple of weeks. It'll be all about entertainment, and if they fail to entertain the US audience, there will be some complaints. American sports are all about entertainment, both on and off-track, and they'll be hoping to get some bang for their buck.''
Q. What will define success in Vegas for you? Is it just a case of the spectacle? What would it take to convince you that Vegas belongs?
MB - ''The Vegas GP needs to be mesmerising and stick with you. For me, that means seeing GP drivers going wheel-to-wheel like gladiators. I want to see them fighting it out for the position. I don't want a procession - I want to see gladiators fighting into term one and beyond. I want to see it for two hours, too, and not just for the first lap. That's motorsports for me.
The Vegas GP will stick in my mind if that happens. If it doesn't, then I can still go to Vegas and see the same bright lights.''
Q. What do you think of Toto Wolff teaming up with Sir Jim Ratcliffe about joining his bid to buy a shareholding in Manchester United?
MB - ''I guess the Mercedes shareholders see him already and they're both part of the ownership situation. Jim Ratcliffe has been looking at Man United for some time now, and maybe it fits. Perhaps Toto wants to be involved in football. It's a different dynamic, and it'll be difficult to control 11 Lewis Hamiltons on the pitch!
Toto Wolff has been an incredible leader of Mercedes and he's taking the Grand Prix team to huge peaks. Perhaps he can bring that to the Man United team. They're not a small club, though, and it'll take a lot of people to take it forward - and you can't always do that from the directors' box.''
Q. What's your fondest memory of Michael Schumacher on the tracks and behind the scenes?
''I raced against Michael Schumacher on many occasions and, before we both got to F1, we raced in sports cars. He's a huge talent and a great mind, not just inside the car, but also outside of it. He was always putting people together to find the advantage. We saw that with Michael time and time again.
He was also ruthless and he was always prepared to do what he needed to do to get what he needed. I can't take anything away from him - he was a legend of the sport and still is. He was one of the greatest drivers in modern-day Grand Prix history. A phenomenal driver.''
Q. What was F1, as a sport, missed out on by not having Schumacher around the paddock or in punditry?
MB - ''Michael is a big loss for F1 as he had all of those titles under his belt, and we're sadly not able to hear about those accolades and how he went about getting them. We also missed on how he could support his son and other up-and-coming drivers. That's a huge loss.
At the end of the day, what happened to him was incredibly difficult to take. I don't know where we are today with Michael's health as he's rightly guarded. It's such a shame we missed out on his insight. He's still around, and hopefully he understands what's going on. That would be a plus. It's very difficult.''
Q. Have you spoken to any of his family or friends since the crash?
MB - ''I haven't spoken to any of his family or friends since the crash. Michael is incredibly well-protected and the information we get is from the outside. I hope the technology is advanced enough to help his recovery someday, but I really don't know. ''
Q. What did Michael do to establish himself as his own man, away from the legacy of Senna, for example?
MB - ''All of the greats have a different way of applying themselves, with their own strengths and weaknesses. Michael was renowned for his analytical skills. He was always thinking about what he needed to do to get the advantage. He achieved outstanding results and he had the grit and determination to get up in the morning and do it all again.
People may think it's easy from the outside, but it's not! It's a slog, and you have to be at your best. You know full well that there is the next Max Verstappen nibbling at your heels and you have to up your game, even if you're getting older. You do have more experience, but the pressure and responsibility can be a lot to take, especially if you've got a family. All of those guys went out and did it, and Schumacher took it to another level. We saw Senna do what he did, but Michael took it a step further.
Q. How does Michael Schumacher compare to Ayrton Senna? They're very different in terms of personality and driving. How do you rank those two greats? The current generation may not have seen them!
MB - ''I raced against Ayrton Senna and Michael Schumacher, and I would say Senna was the epitome of a racing driver. If I had to bet £50 on a Sunday, I'd put it on him every time. You always knew he'd finish at the front of the grid even if he started at the back, and that was Senna for me. He was one of the most naturally gifted drivers I ever saw in my generation.
"Schumacher was a bit more manufactured in his driving, though still naturally gifted. He was a bit more analytical in what he did, and I say that with the utmost respect for both of them. Senna would be my personal number one. I've seen him do things in a car I've never seen replicated.''
Q. What's the best example of Senna's incredible talent?
MB - ''I've driven an F1 car without any traction control and still at 800 horsepower, so I can relate to Senna. Cars still had manual gearboxes then, and I used to wonder how Senna did what he did, such as putting a lock into the wheel around a hairpin and still changing down two gears in one go! He had unbelievable nuances of genius. I got to the top 26 drivers in the world, but I was looking at the best in the world. It made me realise I still had a lot to learn, and maybe I'd never learn it all. He really was the best.''
Q. German broadcaster ARD will release a new five-part Michael Schumacher documentary in December following Netflix's Schumacher in 2021, do you think these documentaries are good for the sport?
NB - ''I think there are a lot of these programs around now. Ones that are focused on sporting heroes of yesteryear and trying to piece together how they achieved it and where they are today. I think the documentation is a good idea if it's done tastefully and remains authentic. Authenticity is the main thing for me. I don't want to watch fiction, I want something true to life and true to the individual. I very much hope the Schumacher documentary is like this.''
Q. It's also important that the documentary doesn't cross any intrusive lines.
MB - ''I'm not sure if the Schumacher family has endorsed it and supported it or if it's being filmed independently. It's today's world - we can all pick up a documentary from multiple streaming companies. It would be great to see something about Schumacher, but let's hope it's done in the right way.
Q. Are you looking forward to seeing the documentary?
MB - ''I am, and I hope it's something that resonates with me. I hope it remains authentic and respectful. The guy doesn't warrant anything but that. He's a legend and should be treated as such.''