Tips From Newcastle Racecourse
Newcastle Racecourse is a dual code course with National Hunt racing in the winter and All-Weather flat racing all year round.
Type of Racing: Flat (All Weather) & NH
The course currently holds over 50 race days a year, making it the busiest racecourse in the north of England.
Over 30 flat meetings are staged in the evening under floodlights.
There are around a dozen National Hunt meetings from November through to April.
Flat Highlights: The historic Northumberland Plate or Pitmen's Derby as the locals call it is held at the end of June and is one of the most valuable staying handicaps in world horse racing.
NH Highlights: The Fighting Fifth Hurdle held towards the end of November is an early-season pointer towards the Champion Hurdle, the Rehearsal Chase takes place on the same day and the Eider Handicap Chase in February is a long-distance staying chase for Grand National possibles.
TV Channel: Sky Sports Racing
Check our Best Bookmakers For Live Streaming Guide to see where you can watch the live-action after placing your Newcastle bets.
If you are going to Newcastle races today then why not download the OLBG app to get all the latest Newcastle tips at the course?
* All statistics below are based on the previous five years at Newcastle
Newcastle Outright Favourite Statistics
AW Handicaps: 356-1270 (28%) -185.30
AW Non-Handicaps: 182-419 (43%) -63.57
Handicap Chases: 39-116 (34%) -8.11
Handicap Hurdles: 34-103 (33%) -2.65
Non-Handicap Chases: 3-8 (38%) -3.09
Non-Handicap Hurdles: 41-83 (49%) -9.40
Newcastle Racecourse Map
Flat Course: An Oval 'All Weather' track with a Tapeta surface, floodlights enable evening racing. Races up to a mile are run on a straight course. No conclusive draw bias on the track.
National Hunt Course: Left-handed galloping, very flat like Newbury.
The 11 National Hunt fences per circuit are 'stiffish' and need to be approached carefully. Because it's a galloping track horses can bowl along too quickly, so caution is always needed. A run-in of over 1 furlong is uphill.
Newcastle Racecourse Address: High Gosforth Park, Newcastle upon Tyne, NE3 5HP.
Newcastle Racecourse Telephone: 01912 362020
To buy tickets for a race day at Newcastle, head over to their official ticket booking webpage.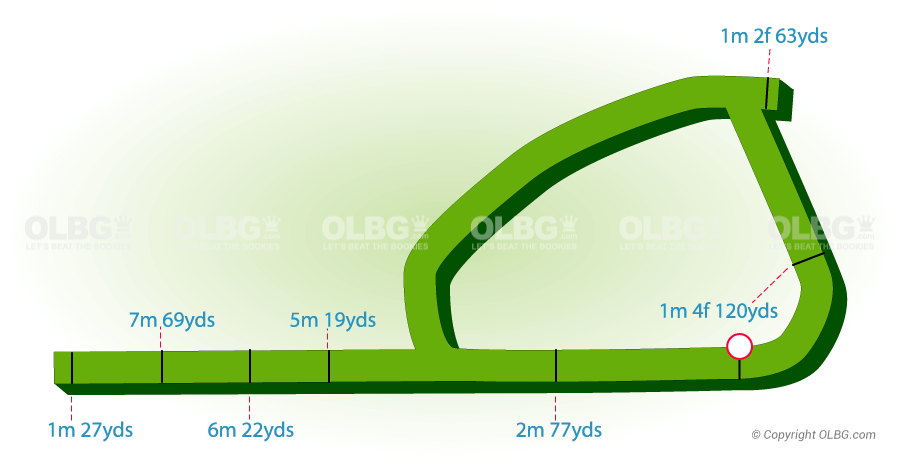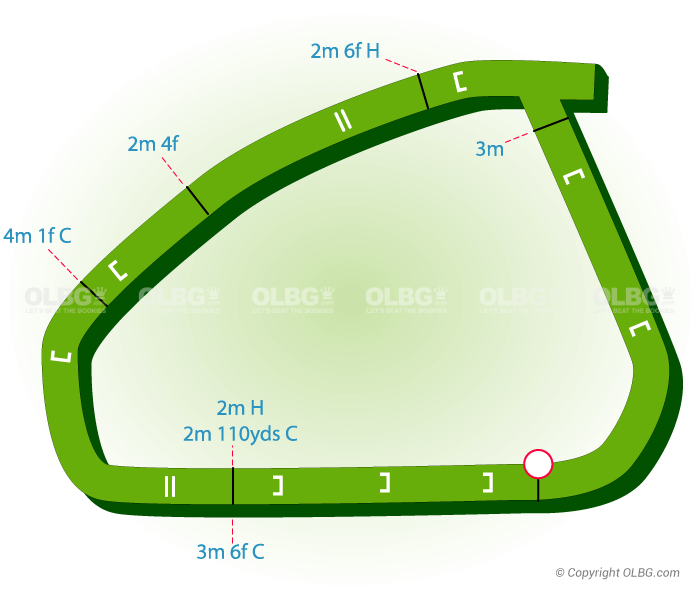 How To Use The Newcastle Tips
On this page, you will find the most popular Newcastle tips from OLBG's knowledgeable horse racing tipsters. Newcastle selections receiving the most picks are highlighted alongside each race time.
Also shown are the current odds and the number of tips received against the total number placed on the race giving a confidence rating. The 1 to 5-star value rating indicates a potential value bet which considers the number of tips received, the total placed and the betting odds.
Click on a race time to view all the predictions for the race, here you will also see the Best Tipster's tip which is from the best-performing profit tipster over the last 12 months. To place a bet on the Newcastle tips click on the 'Add' to betslip option and the selections will be saved on your betslip.
Check the odds comparison table at the top of the screen to see which bookmaker is offering the best odds.
Before finalising your Newcastle bets you may wish to check our Best Bookmakers for Horse Racing Guide to catch the latest offers for maximising your horse race betting.
When you are ready to place your bet select your preferred bookie and you will be directed to their site with your betslip selections already filled, just add your stake.
Newcastle Pointers:
Newcastle installed a tapeta all-weather surface in 2016 and since May of that year, all flat race meetings are now held on the tapeta rather than the turf. The track is the northernmost all-weather surface, prior to this trainers had to travel to Wolverhampton and Southwell to run their horses on the All-Weather. The tapeta is a similar surface to Wolverhampton, these two tracks are the only two all-weather tracks in the UK with this kind of surface. So worth keeping an eye on horses running here for the first time who have winning form at Wolverhampton.
When there is no racing at Newcastle, head over to the racing predictions page to see what the tipsters are backing today.
Newcastle Draw Bias (AW)
The most profitable stall at Newcastle in the win market when breaking it down to race trips is stall 3 over a trip of 1m, backing all runners in this stall over that trip over the past five years would have returned a profit of +120.10. With an LSP of -177.47, the most unsuccessful stall at Newcastle is stall 2 when backing runners over a trip of 6f over the last five years.
Here we have the draw bias for Newcastle taken into consideration races with ten or more runners, we will break down the figures by race distance, draws can be much more important over the shorter trips in which runners do not have time to find their position during the race meaning the draw is probably more important than the races over longer distances.
Sprints (5f to 7½f)
Mile (1m to 1m1½f)
Middle Distance (1m2f to 1m5½f)
Long Distance (1m6f or further)
The following table shows a breakdown over a group of trips and shows how each position of the draw does, for example in a twelve-runner race would be Low (Stalls 1-4), Mid (Stalls 5-8) and High (Stalls 9-12), the positions will always be lowest stall number to highest.
Newcastle Jockey & Trainer Statistics (AW)
Who are the best all-weather jockeys and trainers to bet on at Newcastle?
When looking at profitable trainers only, then it is J S Goldie who leads the way with a total of fifty winners producing an LSP of +35.50 whilst R A Fahey leads the overall list with eighty-five winners but shows a loss overall. With an eachway LSP of +52.26 at Newcastle, C W Fairhurst leads the trainers in profit for backing eachway which has been helped by their sixteen placings which include a total of six winners. Roger Fell does not have a great record at Newcastle, their LSP of -168.86 has them stone dead bottom of the trainers' list, which has come from thirty winners from four hundred eight runners which is a 7% strike rate.
When looking at the leading jockeys based on wins for those who are also showing a profit when backing all of their rides then it is B A Curtis who comes out at the top here at Newcastle With a total of ninety-three winners and an LSP of +41.98. Joanna Mason is the jockey to follow at Newcastle if you are backing eachway as they show the best LSP of all the jockeys in the eachway markets, that is +51.93 which is courtesy of their forty-one placings (fourteen winners). The jockey with the worst record at Newcastle based on LSP is G Lee who has only a 7% strike rate with thirty-nine winners from five hundred ninety rides which have returned an LSP of -326.19.
Newcastle Picks & Hints
Here are some factors at Newcastle for certain trainers or jockeys which have been profitable:
5-5 (100%) +47.58 - Backing Mrs H S Main runners when horses are aged 2yo
6-14 (43%) +29.00 - Backing W J Knight runners when horses are aged 4yo
7-17 (41%) +23.33 - Backing M Wigham runners when horses are aged 5yo
8-19 (42%) +19.20 - Backing George Boughey runners when over a trip of 1m
5-7 (71%) +20.14 - Backing Marco Ghiani rides when over a trip of 1m
Newcastle Top Jockey and Trainer Combinations
Here are the best trainer and jockey combinations here at Newcastle based on the number of winners:
30 Wins: J H M Gosden & Robert Havlin
23 Wins: B Ellison & Ben Robinson
22 Wins: B M R Haslam & Andrew Mullen
21 Wins: Antony Brittain & Cameron Hardie
20 Wins: Keith Dalgleish & Callum Rodriguez
Newcastle Top Trainers By Most Winners and a Level Stakes Profit
| Trainer | R-W-P | Win | EW |
| --- | --- | --- | --- |
| J S Goldie | 469-50-134 | +35.50 | +16.98 |
| K R Burke | 391-44-134 | +31.40 | +20.11 |
| M Appleby | 280-36-83 | +25.28 | -13.26 |
| B Smart | 251-30-78 | +5.86 | -8.57 |
| Archie Watson | 134-30-54 | +19.34 | +4.75 |
| Grant Tuer | 233-29-79 | +12.99 | -0.55 |
| J J Quinn | 188-26-46 | +15.32 | -22.53 |
| George Boughey | 91-24-50 | +8.66 | +15.43 |
| A M Balding | 96-23-40 | +25.79 | +10.11 |
| Hugo Palmer | 124-20-44 | +7.96 | -0.71 |
Newcastle Top Jockeys By Most Winners and a Level Stakes Profit
| Jockey | R-W-P | Win | EW |
| --- | --- | --- | --- |
| B A Curtis | 469-93-197 | +41.98 | +14.91 |
| Jason Hart | 539-61-139 | +12.69 | -48.23 |
| Hollie Doyle | 142-30-57 | +3.38 | -6.98 |
| Harry Russell | 211-26-63 | +7.59 | -0.48 |
| D Muscutt | 114-19-44 | +31.53 | +8.43 |
| Andrea Atzeni | 84-15-33 | +9.12 | +0.34 |
| Joanna Mason | 132-14-41 | +73.08 | +51.93 |
| Oisin Murphy | 62-14-28 | +16.43 | +5.35 |
| Marco Ghiani | 34-10-17 | +9.07 | +7.19 |
| Josephine Gordon | 66-9-17 | +10.00 | -6.94 |
Newcastle Jockey & Trainer Statistics (NH)
Who are the best national hunt jockeys and trainers to bet on at Newcastle?
When looking at the leading trainers based on wins for those who are also showing a profit when backing all of their runners then it is Rebecca Menzies comes out at the top here at Newcastle With a total of twenty winners and an LSP of +44.99. When looking at trainers and looking for some eachway value at Newcastle then the trainer who shows the best eachway profit is A M Thomson, that LSP is +63.43 which has been accumulated by a total of thirty-four placings which includes fifteen winners. At the other end of the spectrum is N W Alexander who has a terrible record at Newcastle, of all the trainers their LSP of -54.81 is the worse, they have a 7% strike rate with seven winners from ninety-six runners.
When looking at profitable jockeys only, then it is Sean Quinlan who leads the way with a total of twenty-two winners producing an LSP of +10.86 whilst Brian Hughes leads the overall list with forty-five winners but shows a loss overall. If you are more of an eachway player then you may want to know which jockey is best to follow at Newcastle and that would be Charlotte Jones who shows the best eachway LSP which is +45.87 thanks to their eleven placings (seven winners). A total of five winners from ninety-two rides at Newcastle has Callum Bewley at the wrong end of the jockeys' list with their 5% strike rate and worst LSP of -68.70.
Newcastle Picks & Hints
Here are some factors at Newcastle for certain trainers or jockeys which have been profitable:
7-17 (41%) +12.82 - Backing Henry Brooke rides when on horses aged 4yo
Newcastle Top Jockey and Trainer Combinations
Here are the best trainer and jockey combinations here at Newcastle based on the number of winners:
11 Wins: A M Thomson & Ryan Mania
11 Wins: Rebecca Menzies & Nathan Moscrop
10 Wins: Mrs S J Smith & Danny Cook
9 Wins: D McCain Jnr & Brian Hughes
9 Wins: N G Richards & Brian Hughes
Newcastle Top Trainers By Most Winners and a Level Stakes Profit
| Trainer | R-W-P | Win | EW |
| --- | --- | --- | --- |
| Rebecca Menzies | 119-20-45 | +44.99 | +27.49 |
| A M Thomson | 77-15-34 | +107.01 | +63.43 |
| B M R Haslam | 41-8-12 | +49.93 | +21.11 |
| James Moffatt | 35-8-15 | +80.50 | +56.10 |
| N J Henderson | 13-8-10 | +1.44 | +0.53 |
| Keith Dalgleish | 40-7-17 | +23.59 | +11.73 |
| T D Easterby | 36-6-11 | +35.00 | +15.22 |
| Mrs Susan Corbett | 56-5-14 | +54.50 | +31.51 |
| Jedd O'Keeffe | 20-5-12 | +17.25 | +12.00 |
| Richard Hobson | 16-5-8 | +6.25 | +2.34 |
Newcastle Top Jockeys By Most Winners and a Level Stakes Profit
| Jockey | R-W-P | Win | EW |
| --- | --- | --- | --- |
| Sean Quinlan | 186-22-50 | +10.86 | -24.41 |
| Ryan Mania | 93-16-33 | +87.76 | +45.73 |
| Nathan Moscrop | 89-14-32 | +28.79 | +11.74 |
| A P Cawley | 72-7-14 | +27.00 | +7.51 |
| Charlotte Jones | 28-7-11 | +72.50 | +45.87 |
| Jonathan Burke | 24-7-9 | +23.01 | +7.94 |
| Tom Midgley | 40-6-13 | +7.00 | +8.81 |
| Sam W Coltherd | 84-5-18 | +41.75 | +15.57 |
| J Colliver | 23-5-9 | +9.20 | +6.80 |
| C J Todd | 17-5-7 | +12.75 | +5.38 |