Fairyhouse Course Guide
A course in close proximity to Dublin, situated in Co. Meath, Fairyhouse is a popular course amongst jumps fans.
Type of Racing: National Hunt & Flat
Highlights: The race of the year comes over the Easter festival with the Boylesports Irish Grand National offering a whopping €460,000 in prize money in 2019.
The Fairyhouse Winter Festival also features some top-class racing with the following races:
The highlight on the flat is the Group 3 Brownstown Stakes, a race that has produced future Group 1 winners in the past.
TV Channel: Racing TV
If you are going to Fairyhouse races today then be sure to download the OLBG app to keep up to date with all the latest Fairyhouse tips at the track.
* All statistics below are based on the previous five years at Fairyhouse
Fairyhouse Outright Favourite Statistics
Flat Handicaps: 22-99 (22%) -17.39
Flat Non-Handicaps: 23-70 (33%) -5.09
Handicap Chases: 12-73 (16%) -25.72
Handicap Hurdles: 30-108 (28%) +0.16
Non-Handicap Chases: 52-107 (49%) +9.61
Non-Handicap Hurdles: 82-181 (45%) -16.53
Fairyhouse Racecourse Map
Jumps Track - A wide, galloping, square right-handed track, a mile and three quarters in extent. There is a steady climb on the side away from the stands before a steady descent in the back straight. The three-furlong home straight is slightly uphill but the track is not a testing one and favours no particular type of horse. There are eleven fences to a circuit and a run-in of around a furlong.
Flat Track - A wide, galloping and square-shaped course that is a mile and six furlongs in length and right-handed. The straight is three furlongs long and is slightly uphill.
Fairyhouse Racecourse Address: Ballybin, Co. Meath, Ireland
Fairyhouse Racecourse Telephone: 1 825 6167
To buy tickets for a race day at Fairyhouse, head over to their official ticket booking webpage.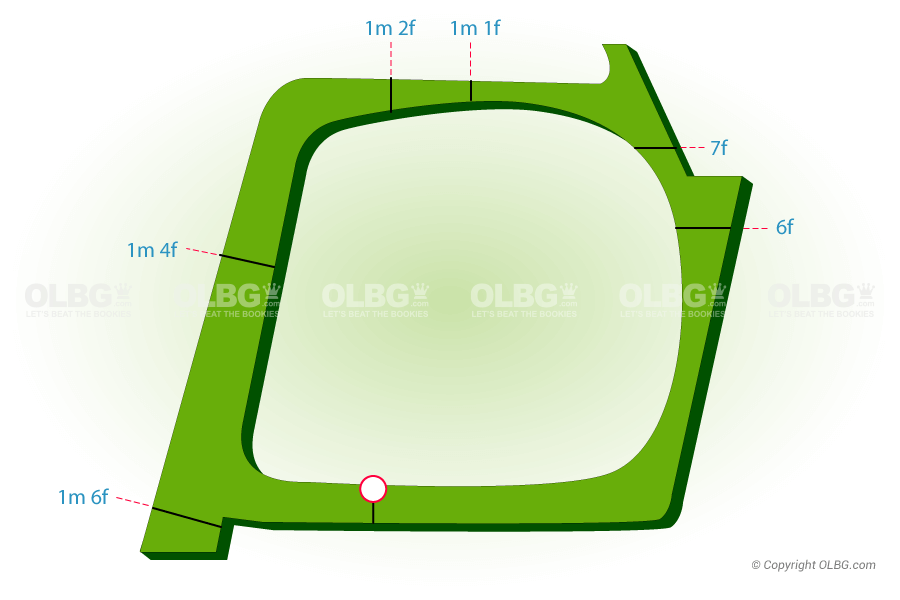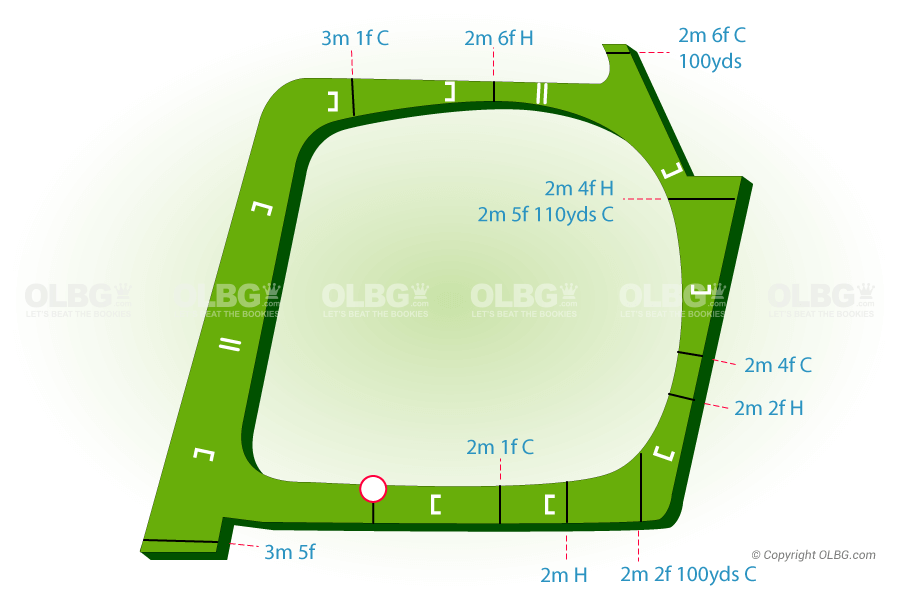 How can I use these Fairyhouse betting tips to my advantage?
Each race today at Fairyhouse is listed with the time and the runners in each race along with the latest betting odds for you to view in one place.
The hotly-tipped horses appear highlighted so you can see the most fancied runners at Fairyhouse.
You'll also notice the number of tips made for each runner which is shown in numerical & percentage form.
OLBG's star rating system combines the popularity of a tip with its latest odds for the runners at Fairyhouse.
To follow the opinions of a tipster, you can click the comments bubble beside a selection to see the reasoning behind this betting tip from Fairyhouse.
Click on the right-hand side of the screen to see a list of all the runners, tips and comments as you scroll down.
Use the OLBG price comparison feature to see the best betting odds for today's runners at Fairyhouse.
Click on the 'Add' to betslip icon to see the best odds for your particular horse and simply repeat the process the see the best betting odds for your combination bets at Fairyhouse.
How to win using Fairyhouse betting tips
You've got the tools at your disposal and it's up to you how you may want to use this valuable knowledge and information.
You can use the most popular Fairyhouse tips today to put into singles or put into a combo such as a double or treble

View and follow the tips of the most profitable tipsters from Fairyhouse racecourse

Use the OLBG star rating system to see the most valuable betting selections today at Fairyhouse
Are you a bit of a 'one bookmaker person'? You may enjoy the features and service of a particular firm but are you getting the best odds and money-back specials in horse racing? Give this comprehensive feature on our site a read to see the best bookmakers for horse racing betting.
If there are currently no tips displayed this is because there is currently no scheduled meeting at Fairyhouse, so why not head over to the main racing tips page to see what the tipsters are backing elsewhere today?
Fairyhouse Draw Bias
Backing stall 3 at Fairyhouse over a trip of 6f is the most profitable stall and trip combination at Fairyhouse returning an LSP of +107.71 over the last five years. When breaking Fairyhouse down into trips then you can look at which stall and trip combination has produced the worst LSP, that would be stall 5 over a trip of 6f which has, over the last five years produced an LSP of -61.75.
Here we have the draw bias for Fairyhouse taken into consideration races with ten or more runners, we will break down the figures by race distance, draws can be much more important over the shorter trips in which runners do not have time to find their position during the race meaning the draw is probably more important than the races over longer distances.
Sprints (5f to 7½f)
Middle Distance (1m2f to 1m5½f)
The following table shows a breakdown over a group of trips and shows how each position of the draw does, for example in a twelve-runner race would be Low (Stalls 1-4), Mid (Stalls 5-8) and High (Stalls 9-12), the positions will always be lowest stall number to highest.
Fairyhouse Jockey & Trainer Statistics (Flat)
Who are the best flat jockeys and trainers to bet on at Fairyhouse?
With a total number of twenty winners at Fairyhouse, Joseph Patrick O'Brien leads the way for winners from trainers who have shown a profit (+47.75) for all of their runners at Fairyhouse. If you are more of an eachway player then you may want to know which trainer is best to follow at Fairyhouse and that would be Joseph Patrick O'Brien who shows the best eachway LSP which is +23.71 thanks to their fifty-two placings (twenty winners). The trainer with the worst record at Fairyhouse based on LSP is Mrs John Harrington who has only a 9% strike rate with seven winners from seventy-five runners which have returned an LSP of -49.62.
Backing all of the C T Keane rides would have produced backing the most winners for a jockey here at Fairyhouse with seventeen but you would have returned a loss by doing so, Shane Foley leads the way for profitable jockey with an LSP of +5.96 from their thirteen winners. With an eachway LSP of +109.29 at Fairyhouse, J A Heffernan leads the jockeys in profit for backing eachway which has been helped by their twenty placings which include a total of ten winners. A total of seventeen winners from one hundred twenty-three rides at Fairyhouse has C T Keane at the wrong end of the jockeys' list with their 14% strike rate and worst LSP of -60.19.
Fairyhouse Top Jockey and Trainer Combinations
Here are the best trainer and jockey combinations here at Fairyhouse based on the number of winners:
11 Wins: G M Lyons & C T Keane
7 Wins: J S Bolger & K J Manning
5 Wins: Mrs John Harrington & Shane Foley
5 Wins: Joseph Patrick O'Brien & D P McDonogh
Fairyhouse Top Trainers By Most Winners and a Level Stakes Profit
| Trainer | R-W-P | Win | EW |
| --- | --- | --- | --- |
| Joseph Patrick O'Brien | 116-20-52 | +47.75 | +23.71 |
| Denis Gerard Hogan | 59-6-18 | +30.00 | +13.97 |
| Andrew Slattery | 38-4-10 | +7.75 | +0.00 |
| Kevin Coleman | 19-4-8 | +26.10 | +16.90 |
| John M Oxx | 14-4-4 | +22.60 | +9.25 |
| Karl Thornton | 11-3-4 | +48.00 | +30.26 |
| M C Grassick | 25-2-10 | +4.00 | +5.83 |
| Ross O'Sullivan | 20-2-5 | +17.50 | +6.54 |
| J J Lambe | 19-2-3 | +6.00 | +1.73 |
| Darren Bunyan | 18-2-3 | +14.00 | +3.45 |
Fairyhouse Top Jockeys By Most Winners and a Level Stakes Profit
| Jockey | R-W-P | Win | EW |
| --- | --- | --- | --- |
| Shane Foley | 105-13-35 | +5.96 | -4.60 |
| D P McDonogh | 83-13-29 | +48.03 | +21.51 |
| J A Heffernan | 63-10-20 | +207.96 | +109.29 |
| Gavin Ryan | 58-8-17 | +37.50 | +14.67 |
| Ross Coakley | 35-8-10 | +29.00 | +11.08 |
| Ben M Coen | 65-7-13 | +24.35 | +4.11 |
| J M Sheridan | 62-7-21 | +1.25 | -5.13 |
| L T McAteer | 40-6-11 | +20.93 | +8.15 |
| Joe Doyle | 42-2-7 | +24.00 | +20.47 |
| Sean Davis | 27-2-3 | +3.00 | -6.15 |
Fairyhouse Jockey & Trainer Statistics (NH)
Who are the best national hunt jockeys and trainers to bet on at Fairyhouse?
When looking at profitable trainers only, then it is D A McLoughlin who leads the way with a total of twelve winners producing an LSP of +155.00 whilst Gordon Elliott leads the overall list with one hundred six winners but shows a loss overall. If you are looking for a trainer to follow in the eachway market then it is D A McLoughlin who leads the way at Fairyhouse, they have had a total of thirty-five placings which includes twelve winners over the previous five years for an eachway LSP of +69.00. Gordon Elliott does not have a great record at Fairyhouse, their LSP of -165.73 has them stone dead bottom of the trainers' list, which has come from one hundred six winners from six hundred eighty runners which is a 16% strike rate.
Whilst P Townend is the most successful jockey at Fairyhouse with a total of forty-five winners, if you backed all of their rides you would be showing a loss. J J Slevin is the most successful jockey at Fairyhouse for those who show a profit if backing all their rides thanks to a total of eighteen winners and an LSP of +14.66. When looking at jockeys and looking for some eachway value at Fairyhouse, then the jockey who shows the best eachway profit is R Loughran, that LSP is +36.46 which has been accumulated by a total of six placings which includes two winners. With an LSP of -109.05 at Fairyhouse, S W Flanagan heads the list for worst jockeys at this course, which is a result of sixteen winners from two hundred sixteen rides which is a strike rate of 7%.
Fairyhouse Picks & Hints
Here are some factors at Fairyhouse for certain trainers or jockeys which have been profitable:
9-22 (41%) +34.13 - Backing J W Kennedy rides when in a Hurdle race
6-14 (43%) +19.00 - Backing Joseph Patrick O'Brien runners when in an NH Flat race
Fairyhouse Top Jockey and Trainer Combinations
Here are the best trainer and jockey combinations here at Fairyhouse based on the number of winners:
40 Wins: W P Mullins & P Townend
36 Wins: Gordon Elliott & J W Kennedy
34 Wins: Gordon Elliott & D N Russell
22 Wins: Henry De Bromhead & Rachael Blackmore
12 Wins: W P Mullins & D E Mullins
Fairyhouse Top Trainers By Most Winners and a Level Stakes Profit
| Trainer | R-W-P | Win | EW |
| --- | --- | --- | --- |
| D A McLoughlin | 140-12-35 | +155.00 | +69.00 |
| Peter Fahey | 64-9-20 | +9.75 | -6.77 |
| J P Dempsey | 71-8-21 | +15.58 | -3.30 |
| Padraig Roche | 38-8-14 | +10.00 | +8.22 |
| Matthew J Smith | 54-7-15 | +32.50 | +7.61 |
| Ms Margaret Mullins | 25-4-6 | +3.63 | -4.42 |
| W J Austin | 23-4-11 | +24.00 | +11.22 |
| A L T Moore | 23-4-8 | +7.00 | -1.70 |
| Conor O'Dwyer | 35-3-14 | +3.00 | -3.90 |
| Paul Stafford | 19-3-3 | +7.50 | -1.90 |
Fairyhouse Top Jockeys By Most Winners and a Level Stakes Profit
| Jockey | R-W-P | Win | EW |
| --- | --- | --- | --- |
| J J Slevin | 154-18-45 | +14.66 | -9.13 |
| Mr J C Gainford | 43-7-17 | +27.75 | +12.45 |
| Mr M J M O'Sullivan | 27-6-8 | +15.25 | +2.20 |
| Conor McNamara | 60-5-13 | +52.90 | +18.66 |
| R A Doyle | 86-4-21 | +92.50 | +23.59 |
| K C Sexton | 49-4-12 | +5.25 | -6.51 |
| P J O'Hanlon | 48-4-11 | +14.50 | -2.70 |
| D G Hogan | 35-4-9 | +15.50 | +2.40 |
| Miss A B O'Connor | 18-4-8 | +22.50 | +11.94 |
| Barry Browne | 77-3-10 | +2.38 | -11.96 |