Before you open your CopyBet Account
Full guide to everything you need to know before you click the link and sign up.
Latest CopyBet Free Bet Offer - Full Details
CopyBet offers a great, two-part welcome offer. Not only can users get £40 in free bets when they bet £10, but players also get a free £5 simply added into their account from the off. That means you don't even need to deposit money before you start betting.
We recommend that when signing up for any online bookmaker you don't base your decision purely on that sportsbook's current free bets or welcome offers – it should be a considered decision factoring in a number of different aspects. Because of that, it's worth reading the entire CopyBet, or certainly the specific areas that matter to you as a bettor.
Cash out
Asian Handicap
Live Streaming
Live Chat
Free Bet Club
Casino Betting
Bingo
Poker
Best Odds Guaranteed
Full CopyBet Bookmaker Review
CopyBet Review Contributors
Data Collection and Research By - OLBG's Expert team See details at the bottom of the page
PROS & CONS of CopyBet Online Betting Site
The below is all explained in finer detail later in this review, but these quick pros and cons give users an instant understanding of where CopyBet' strengths lie.
👍 PROS
💰 Two great welcome offers
🏀 Huge array of basketball coverage across the world
🤽‍♂️ Massive variety in sports markets, including pistol shooting, bandy, futsal and water polo
👎 CONS
🏇 Only UK and Irish horse racing
📞No live chat service
🖥️Navigation on desktop is jumpy
Who Are CopyBet?
CopyBet began its life in 2019. Members can use their services like any other sportsbook or, as an added extra, can make use of their network of tipsters and copy their bets, hence the name. Every day thousands of betting experts and tipsters post their tips, with ratings alongside. Likewise, if you have a sportsbook account with CopyBet, others can copy your bets.
Established in 2019

Copybet UK Ltd.

UKGC licence number - 53774
First Impression of CopyBet
By Luke Bradshaw Lee - In this CopyBet review, my first view was in October 2023. As a result, this review will reflect the service offered at that point in time.
I signed up on the desktop version of CopyBet, but also downloaded their app to compare, as well as seeing how the site worked on mobile more generally. Anyone who already has a betting account with other bookmakers will find the process incredibly simple, and even those who have never betted before would struggle to get lost during the process.
It does take a little working out beyond that, however, because you can open a sportsbook account (as you would anywhere else), or a copybet account (so you can automatically copy bets from tipsters), or you can open both. As it turns out, both open when you sign up. There is also a third option if you want to become a rated tipster, and this involves syncing up a Betfair Exchange account.
It's worth pointing out at this point that the app is the best option when using CopyBet as on desktop moving from different parts of the site, from the sportsbook to the tipster section, for example, keeps opening multiple tabs and different microsites which isn't the most appealing.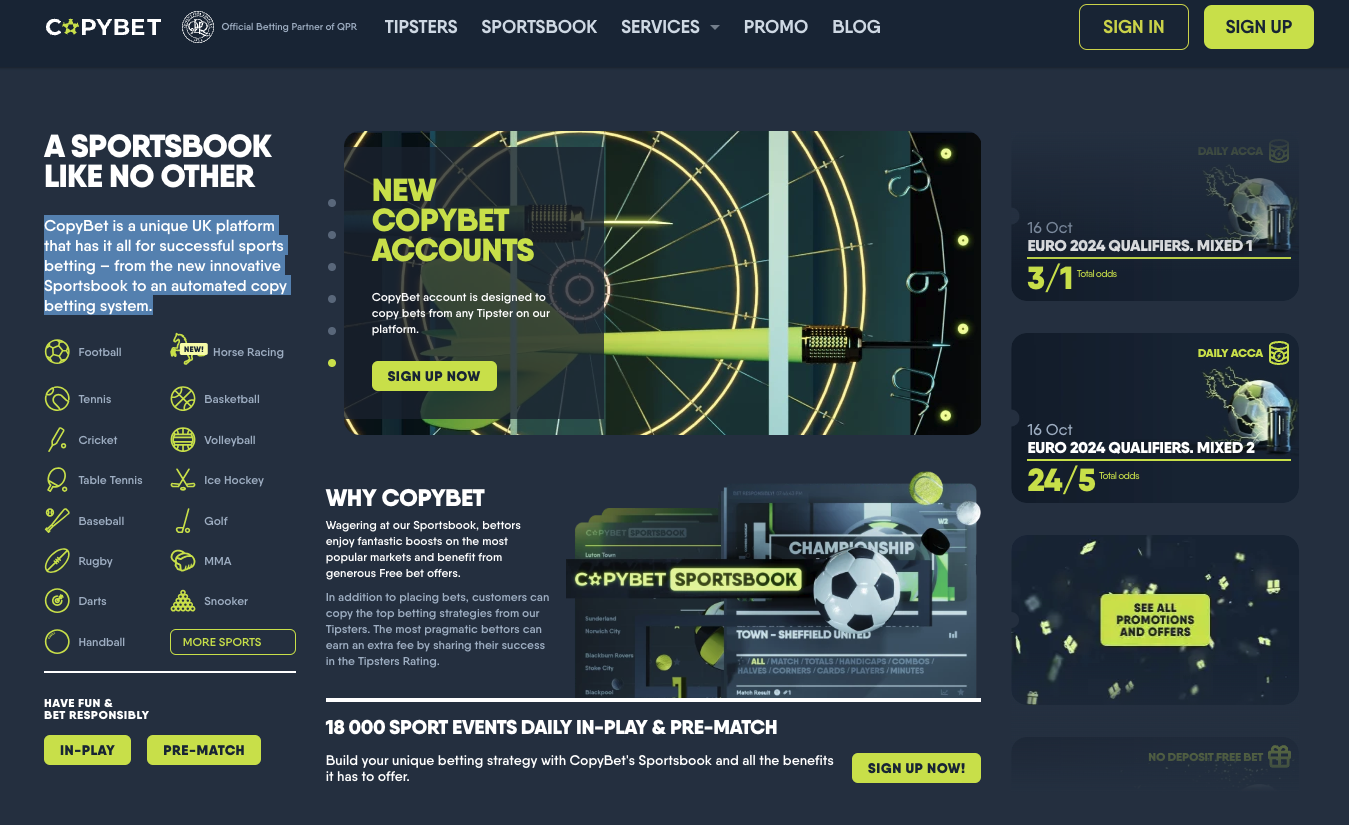 CopyBet Live Betting
Here in the UK on a Friday morning there should be a decent amount of in-play betting options, if not loads, and an initial scan suggests that there is plenty. The in-play section is super easy to find, first option on the main menu bar at the top on desktop, middle of the menu at the boom on the app.
There's the usual selection of football, basketball, tennis and the like, but also some very niche sports including bowls and pistol shooting. While there can't be a huge appetite for these markets, it's great to see smaller bases covered.
There is a part of the page, once you select the in-play markets that you're interred in, for graphics or statistics, but during the time of my review this didn't load. I'm not sure if this is a temporary thing, or the events were too small to have the data included, but either way it isn't something you should rely on as a bettor with CopyBet
CopyBet Live Streaming
As it stands CopyBet doesn't offer any live streaming.
CopyBet Betting Odds
After checking some other bookmakers at the same time, plus a few comparison sites, it appears that the odds offered by CopyBet are fairly standard. There are some longer odds, and some less competitive, depending on what sports and markets you're looking at. The nicher sports mean that there are odds that you'll get that simply don't exist elsewhere. Overall, it's nothing to write home about, but also nothing that will set alarm bells ringing.
CopyBet Betting App or Mobile Site
This CopyBet review is undertaken across the app, as much as the desktop version, as much as possible. Because of the product that CopyBet sells, combining classic sportsbook, with copying tipsters, it actually sits across different sites, so when you go from one to other other new tabs pop open and you're directly elsewhere. If you want to go back, the same thing happens and if you're not careful, you've suddenly got six tabs open without really knowing where anything actually is.
None of this happens on the app, as it's all contained. I found the user experience far better on the app and so began using that as my go-to as much as possible.,
CopyBet Football Betting
You can't have a sportsbook in the UK and not have a good football offering. Even if it's not your specialty, it's something that you simply have to cater to.
CopyBet's football section is decent. All the major events are covered, with plenty of markets in each. As mentioned above, the odds are fine, and finding your way through their football sections goes as it should.
Bet Builder
All games with bet builder available have a small "BB" icon, so it's easy to tell when that is a viable option as a betting preference. On top of that, you can choose the Bet Builder icon from the menu within the football section to filter just games that have bet builders. This is a nice touch that not many other sportsbooks do.
Bonuses
Like Bet Builder, you can filter football events to just show those with Enhanced Odds, a great way of getting straight to boosted markets.
In terms of bonuses I came across enhanced odds, a predictions challenge to win £50 in free bets, and pre-selected accas with 15% boosted winnings. On top of that there are free bets on QPR games, thanks to CopyBet's official partnership with the west London club.
Cash Out
Cash Out is available at CopyBet. It's a feature that is now par for the course for bookmakers, so it's reassuring to see it here. The cash out offered on a bet that I placed was neither incredible, nor awful, but pretty much bang on what I've come to expect from the feature generally.
CopyBet Horse Racing
The horse racing section at CopyBet is fine. There are markets for all UK and Ireland races with fairly standard odds across the board, but then it stops and there are absolutely no odds for any international racing. Scanning other sportsbooks sat the same time pulled up races today in Japan, the US, Australia, France, South Africa and a couple more, but none of these were on CopyBet.
CopyBet does offer Best Odds Guaranteed on UK races.
CopyBet US Sports Betting
A full range of American Sports is available. At the time of writing, only the NHL season isn't up and running, with the other major leagues in full swing. Beyond that, and maybe somewhat surprisingly given its lack of international racing coverage, there are lots of international markets for these sports, particularly for basketball.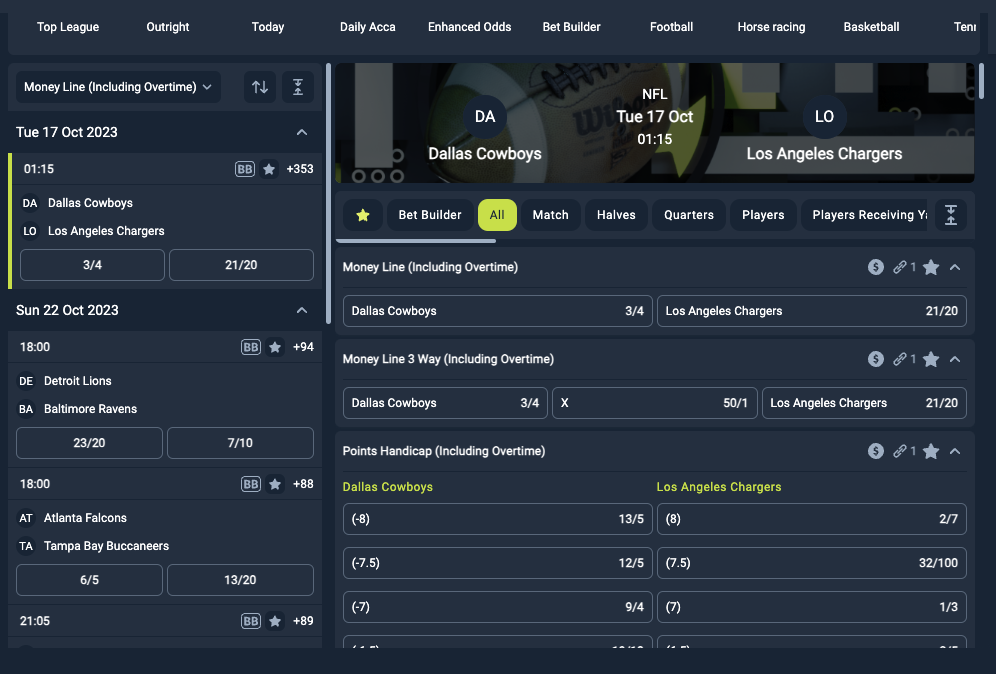 American Football Betting
When you land on an American football section, you want to see game lines, with spread, total and moneyline markets right there. You don't get that at CopyBet.
The first thing you see is the moneyline market, and then spread after that (although they call it Points Handicap), but it's not immediately obvious what the actual points spread is, which is essentially what you want to know before anything else.
You can choose to filter games by the spread (or Points Handicap according to CopyBet), but you can only see what the spread is if you do so on the app. If you do it desktop, it doesn't quite populate because it's not given enough room.
It's worth checking out our best NFL betting sites to see how CopyBet compares overall.
Basketball Betting
There is a huge array of leagues on offer at CopyBet. Of course there is the NBA, and it's good that there are some game odds already, alongside the outrights for Championships and Division winners, but on top of that there is a very good range in world leagues. Basketball punters can choose from matches in Bulgaria, Turkey, Georgia, Brazil, Iraq and a load more on top of that. I don't think I've ever seen more domestic basketball leagues covered on any other sportsbook.
Keep tabs on the top basketball betting sites though, to see if they make it onto our list.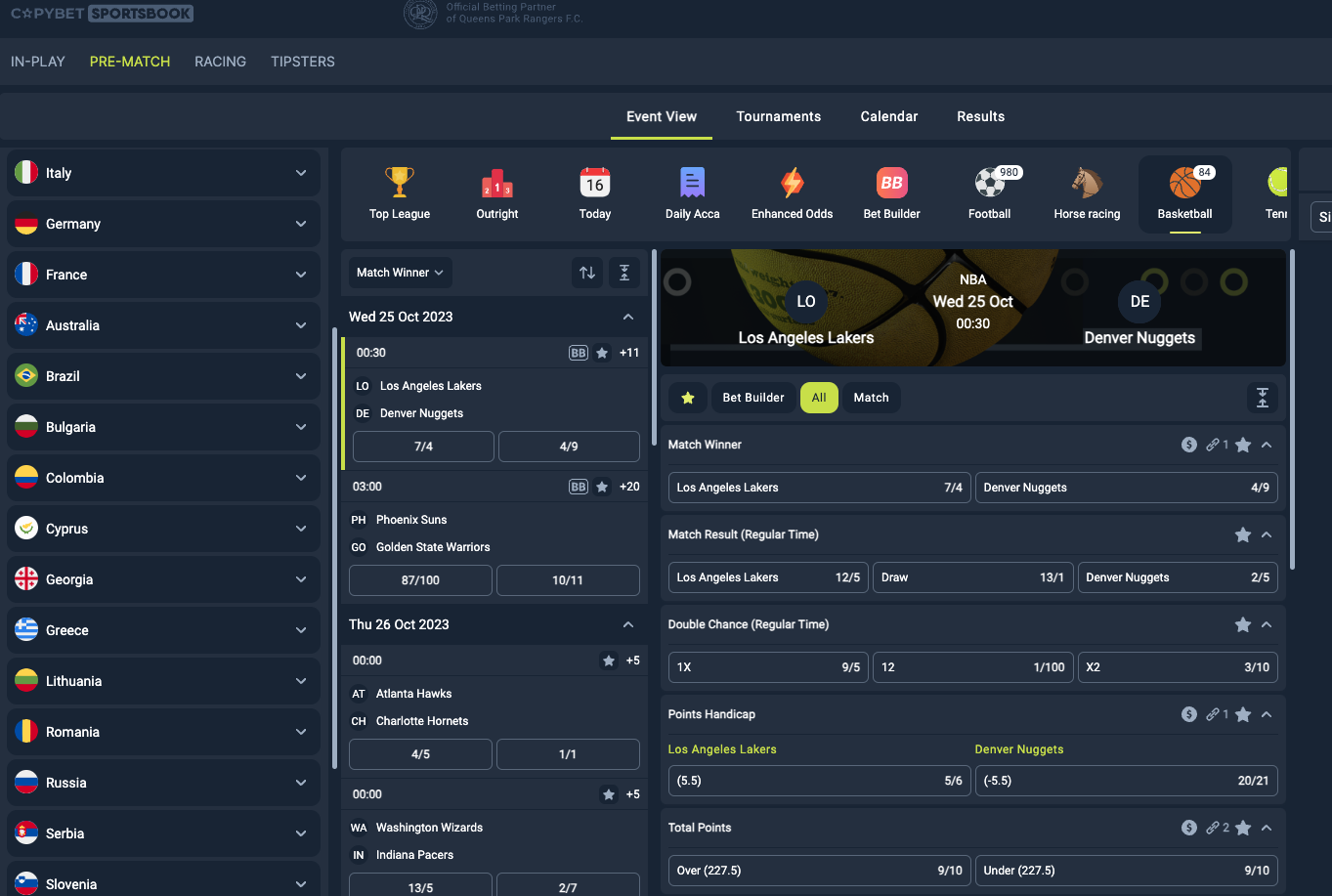 Baseball Betting
CopyBet's baseball section is fine. Across its US sports markets it's the same story in a lack of player bets. The markets that they do have for games are decent aside from that, but nothing to write home about, but weirdly, given how many basketball leagues are covered, there's only US baseball here. I can't find any Japanese or Korean lines, which seems a big miss.
CopyBet Darts Betting
In terms of darts betting sites in the UK, CopyBet is limited. There are markets for the PDC World Championships, but only outrights. That aside, there are no markets for the World Grand Prix, or Modus Series, despite matches due to be played today, which is disappointing to see.
CopyBet Snooker Betting
By Steve Madgwick - I'm always on the lookout for great snooker betting sites. At the time of writing there are markets just for the World Championships, Masters and UK Championship, and each of these are just outrights.
As with some of the other sports, it's clear that CopyBet only covers the major events in a lot of sports. I'd hope that they increase the amount of markets for the tournaments that they do cover when it gets closer to the time, but it's all pretty limited at the moment.
ALSO READ
The Best Snooker Betting Sites for 2023
CopyBet Rugby Betting (Union & League)
Unfortunately, right in the middle of the Rugby World Cup, there aren't any promotions or boosts on tournament markets, but this is across the board if it's not football to be honest.
Event coverage is pretty good though, with domestic games in England, Wales, France and New Zealand all featured, as well as the Rugby World Cup games.
There does need to be more markets per match, but the odds that they do have are very good when compared to our best Rugby betting sites.
CopyBet Cricket Betting
By James Banting - It would have been nice to see some sort of promotion going on given that the Cricket World Cup is underway, but unfortunately there is nothing here along those lines.
The event coverage is okay, with domestic competitions in India, Australia and the UAE all there, as well as outrights for future World Cups and the Ashes, also.
Betway currently tops our Best Cricket betting site right now, with huge market depth, great odds and lots of promotions. CopyBet actually matches them odds-wise, so hopefully they can up their market depth and they'll be in with a shout of being one of the best around.
CopyBet Tennis Betting
By James Banting - The tennis betting at CopyBet is pretty good. There are all the majors listed for next year, with outrights offered on all, and for upcoming matches there is a decent selection of ATP matches, as well as Challenger Series matches across the world. It doesn't go down to ITF level, but that's fine.
The odds are great, though. Scanning the ATP matches over the next couple of days I can definitely get more value here than most of bookies. If they could add in more markets then they'd definitely be closer to getting into the top 10 tennis betting sites on OLBG.
CopyBet Golf Betting
By James Banting - I'd like to see greater event coverage to be honest. Aside from the Ryder Cup and the four Majors, all of which are being played next year, there aren't any other tournaments listed. There are definitely some LIV Golf Events that I'd expect to see, and a number of smaller events – Andalucia Masters, BMW Ladies Championship, plus a few more. That said, the odds are better than most so I'll keep CopyBet in mind when the majors roll around.
ALSO READ
Best Bookmakers for Golf Betting
CopyBet Motorsports Betting
By Andy Powell - Unfortunately, there is only Formula 1 or NASCAR listed at CopyBet. That means no Speedway, Superbikes, or MotoGP. I'd like to see more market depth for the Grand Prix – they only have winner, even for this week's event, which is pretty disappointing to be honest.
CopyBet Boxing Betting
By Frank Monkhouse former professional boxer - There are a lot of upcoming bouts, but definitely not as many as some other bookmakers, so some people may have to look elsewhere. On top of that, there aren't that many markets, particularly on the smaller fights, although these may increase when closer to the time. Most of the bouts listed just have winner as a market and I'd definitely like to see more.
CopyBet Other Sports Betting
Whilst these sports might sound very niche, there is a massive market for fans, and millions of them in the UK, so good coverage of niche sports and events is key to be reviewed on OLBG; let's dig in.
Handball Betting
Handball is increasingly popular and CopyBet looks to be offering plenty for punters to bet on various handball events and tournaments worldwide. As well as the World Championships and Champions League, there are domestic competitions in Denmark, France, Poland, Turkey and more. This is a really good handball option if that's where your betting takes you.
Cycling Betting
CopyBet offers betting on cycling for sports bettors who like to dabble in cycling betting, and comparing it with others out there it's what we'd expect. There isn't a load of markets, but that's true of anywhere to be honest. What you can get is odds on next year's Tour de France winner, as well as some of the Classics. This includes Paris-Roubaix, Milan-San Remo and the Tour of Flanders, and that's better than a lot of other sportsbooks have listed at the same time.
Aussie Rules Football
There isn't a big market for betting on Aussie Rules in the UK, but it's worth factoring in that there are few, if any, sports that rival the statistics on offer for the most intense, fast-paced sport south of the equator - AFL betting is available for at CopyBet, and it's actually covered pretty well.
Both the men's and women's AFL competitions are covered, although there's nothing below that. In games themselves, there's result, margin betting, half time, quarter markets and a few others.
Political Betting
By Nigel Skinner - The political betting section is laid out nicely and easy to navigate. Split into US Politics and UK Politics, you can do a deeper dive into the UK once you're in, beyond the US Presidential election and UK General Election. There are markets for the London Mayoral race, next party leaders and next Prime Minister.
Unfortunately there isn't anything beyond the UK or US, and I'd like to see some more interesting markets, such as moat seats, or by-election stuff, so overall CopyBet delivers a decent job, if a little unimaginative. You can compare them to other political betting options and see if you agree.
Entertainment and Specials
By Jake Ashton - This isn't great. Strictly Come Dancing has started, as has The Great British Bake Off, and beyond the more time-sensitive stuff you'd like to see some competitions and award shows featured. The only market here is BBC Sports Personality of the Year.
Virtual Sports
CopyBet doesn't have any markets for virtual sports. For more options, check out the best Virtual sports betting sites guide.
CASINO
CopyBet doesn't have a casino. Check our Casino Sites page for dedicated new online casinos and slot sites.
CopyBet Account Opening Process
This couldn't be easier. Three steps clearly signposted, and only having to input the usual information makes this a very straightforward process. When I signed up I did so using the app.
Enter your email address and choose a password. Click "Sign Up" when you are ready.

Create a passcode and choose whether you want to use Face ID.

Verify your account using a personal ID. This can be a driving licence or something else

Unlock the welcome offer.
Navigation and user experience [desktop v mobile]
I definitely preferred the app when it comes to user experience. In fact, it wasn't long before I was exclusively using it.
The main reason I have already mentioned. Because the sportsbook and tipster section are housed on different sites, it's impossible to go back and forth between them without jumping tabs. Now, you may not actually want to do that, you may just stay betting on the sportsbook, or simply follow tipsters and copy their bets, but if you do want to move seamlessly from one to the other, the app allows you to do so, with everything housed there succinctly.
Placing a bet
This section should only really highlight if there are issues, as the process is almost identical on every site. Within a few minutes of signing up to CopyBet I placed a couple of bets on different sports, one of which took advantage of the welcome offer, and I used their bet builder feature, which was very indeed.
Managing your account
As mentioned above, the design really makes this tick. On the desktop version, it's stuff left and right of screen (menu and search to the left, account and bets to the right). On the app, it's at the bottom, with search, account and bets at the top, with a main nav bar at the bottom that can get you to different sports, in-play options and casino (plus return to the home page).
CopyBet Responsible Gambling Features
This is a strong point from CopyBet. By going to their Responsible Gambling menu in the navigation, you can turn deposit limits on or off, and then obviously set what these limits are. You can also deactivate your account through their Self-Exclusion tool, add a timer to monitor how much time you're spending betting or take a self-assessment test to monitor your behaviour more closely. Overall, it's a really good showing.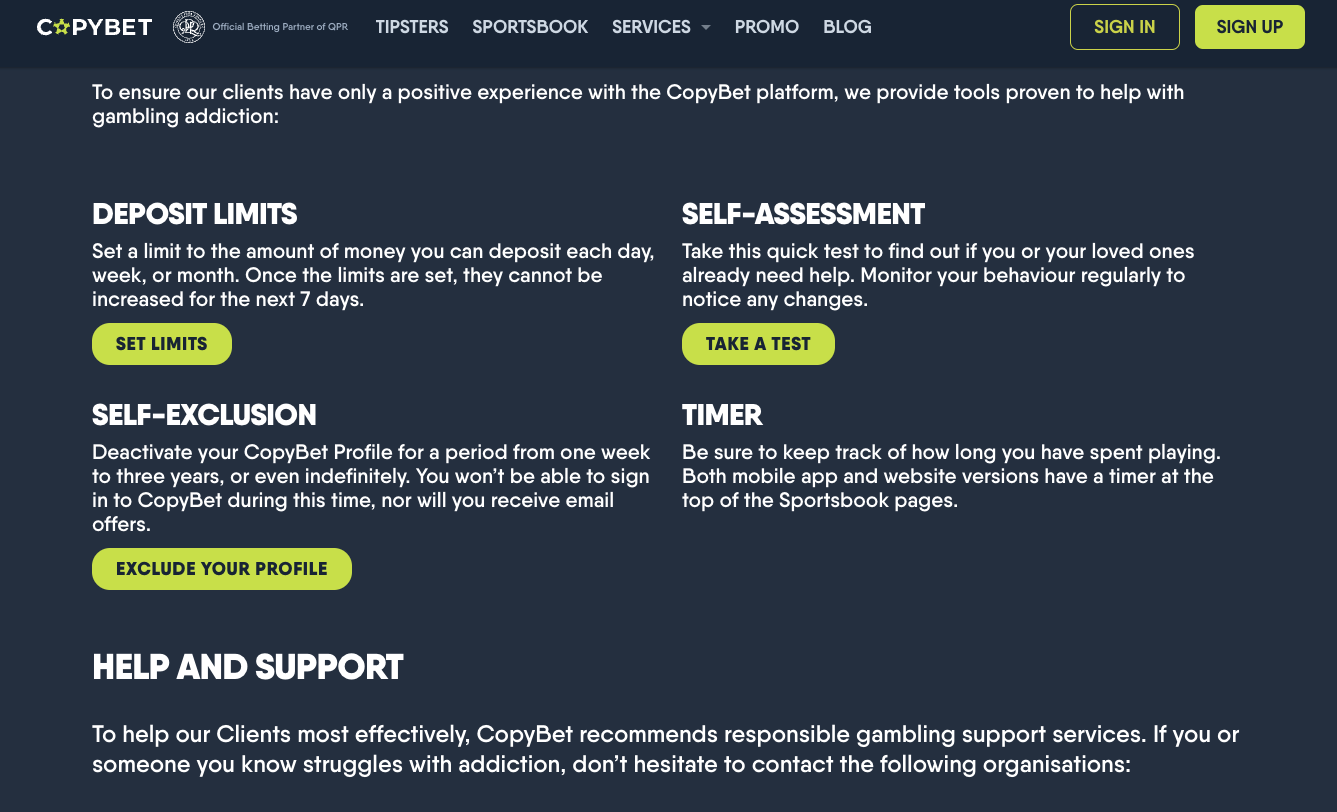 Bookie Review Expert Contributing Team
Opinion, research and data collection for this CopyBet review by
CopyBet Review Summary
Overall, CopyBet is a very solid option. I think to properly love it and get on board with it you need to be following different tipsters, and copying the best of the ones that you like.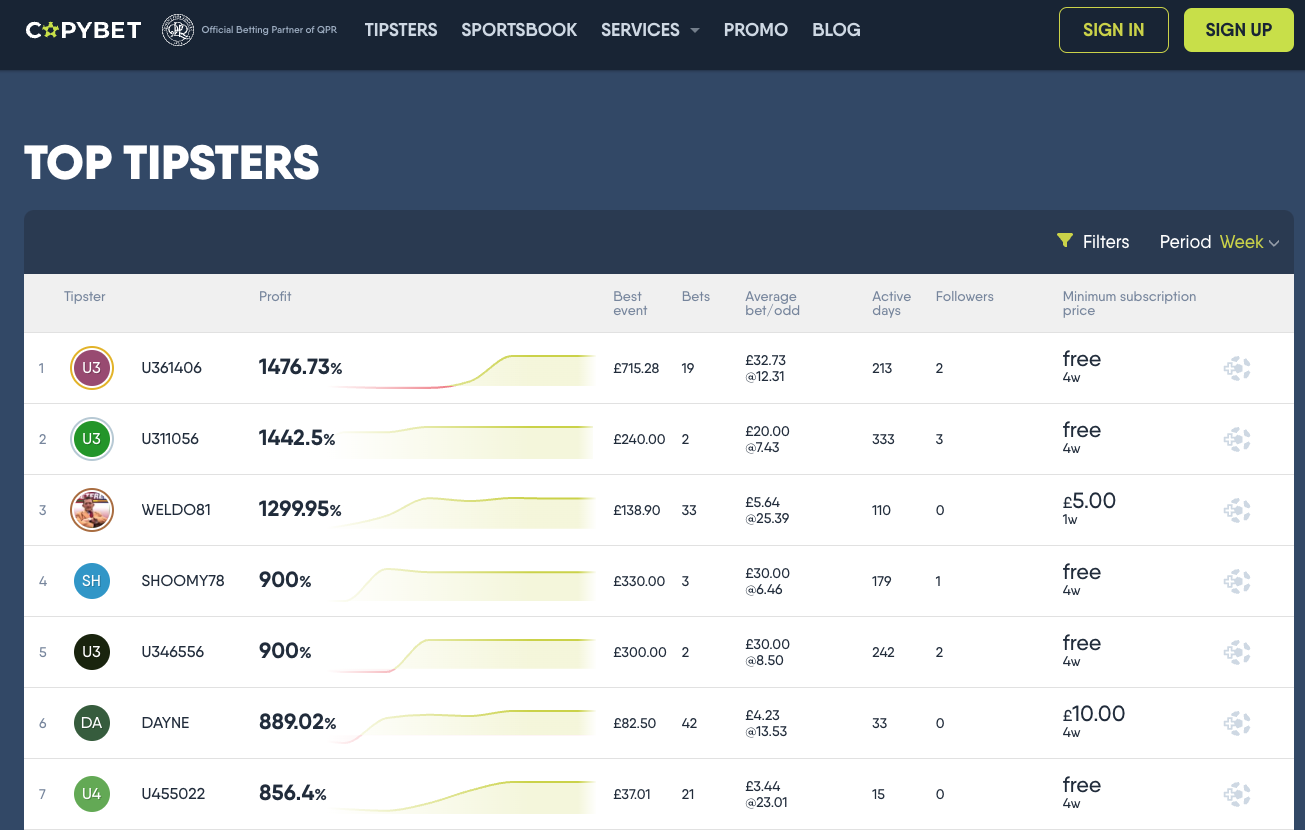 This is what CopyBet does well, and what sets them apart from virtually all other sportsbooks in the industry. If you do this, then you can keep abreast of tipsters that you like and, as CopyBet maintains, it takes the agonising over making decisions out of the process. Obviously you want to trust the tipsters, but the form guides and data that they provide on the tipsters allows you to do this, and once you're happy with that side of it, you can copy their bets and follow the intended user experience that CopyBet designed this model for.
If, however, you don't follow tipsters then there is only one aspect that would make you bet here than elsewhere. That's the coverage of smaller sports, because there are few that can rival CopyBet – they have everything. On top of that, there are some sports that have huge event coverage – basketball, handball etc. – so keep that in mind if it's a sport that you're a fan of.
CopyBet Mobile Offering
Rated: 3.40 / 5
Rated: 2.20 / 5
Rating not available
CopyBet Info & Bookmakers Reviews
Check What Others Say About CopyBet and Write Your Own Review
5
"A new , interesting way to bet."
---
CopyBet offers different methods to place a bet on various sports markets - you can read all advice from the experienced tipsters / sports people who have an affiliation with CopyBet and you can actually Copy the exact tips given by the tipsters and place those tips into your betting slip , that's new and exciting which im not sure has been done before?! CopyBet has some very good promotional offers and many enhanced offers on various sporting events.
---
Lots of sports to pick from friendly site useful tools if struggling with gambling good offers to choose from
---
Decent website to get on friendly different type of sport markets.
4
"Good all round betting experience"
---
I think this bookie is a great new online bookie is amazing one of the better ones, lots of great features and new things, really good to be honest
---
I have used them a few times since I have online betting and found nothing but helpful and I would recommend them to family and friends
---
stake restrictions
3
"Where to begin..the opening web page"
---
The main web page is over run and crowded, promoting name's of ex footballers seems more important than having web page which is easy to navigate round.
There are no reviews with 2 stars yet.
There are no reviews with 1 star yet.