Best Bookmaker for Betting on Virtual Sports?
Quinnbet have by far the best and easiest to navigate and use section for virtual betting online. They have recently separated the Virtuals betting to its own dedicated section so that sports, casino, and Virtuals operate alone.
They have a great range fo various sports and wagering options and should be considered first choice for betting on Virtual sport.
First Choice for Virtual Sports Betting
The best range of weekly promotions you'll find online. Quinnbet are rapidly becoming one of the most popular bookmakers newly listed on OLBG.
Dedicated Section
Great Range
Tons of Promos
Virtual Sports You Can Bet On
Virtual sports betting remains a huge growth area of online betting following the trends of the high street bookmaker when it was first introduced in 2005
Examples of Virtual Sports
Virtual Events Available for Sports Betting
Horse Racing
Greyhounds
Cycling
Speedway
Motor Racing
Trotting
Football
Tennis
Basketball
The first 6 types in the list above are race events, with football, tennis, and basketball coming under sports events.
Race events have between 6-30 participants and potential winners, whereas tennis football and basketball, only two. The differentiation is the types of bets that can be made with more options on the latter.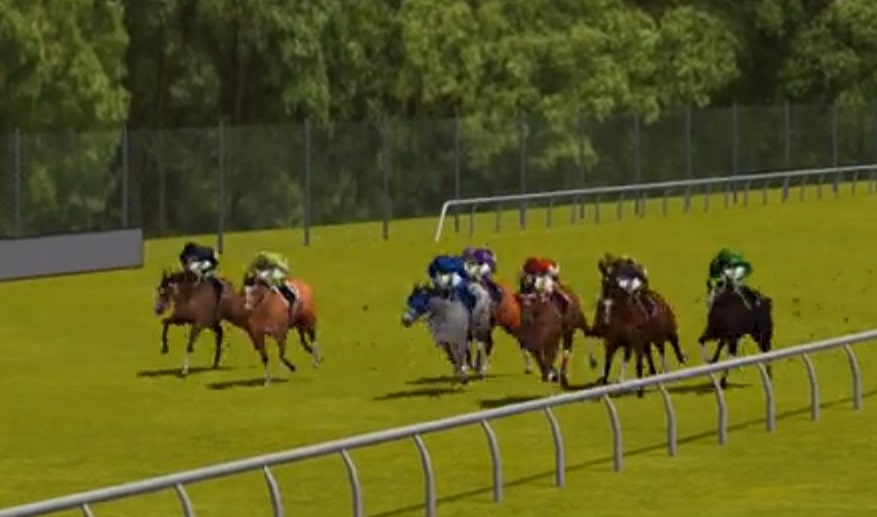 I will go into the different bet types for each event below, but for now, let's highlight the best online bookmakers for Virtual sports - By sport.
Which Bookmakers Offer Virtual Sports Betting?
List of Online Virtual Betting Sites
The following online bookmaker websites and betting apps all offer virtual horse racing. Some will have greyhounds, motor racing speedway, football tennis and basketball too.
Best Bookmaker for Virtual Sports Betting
With online betting from home or on the go becomes more and more popular, so does Virtual sports betting. Once 20% of over the counter betting turnover in high street betting shops, I thought I would take a look at the online offering and how offers the best virtual sports betting options in the UK
What is Virtual Sports Betting?
Virtual sports betting is a process whereby you bet on virtual events, that is 'not real', with a view to predicting the correct outcome of a variety of sports presented in a pre-recorded video event with a variety of possible outcomes. An algorithmic result will ensue for these virtual events which can take place every one minute or so 24 hours a day.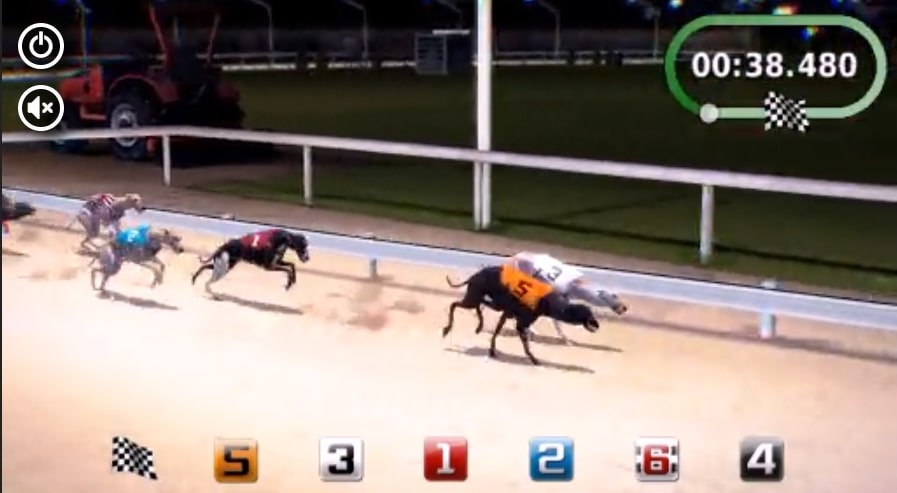 Virtual betting began as a feed into UK high street betting shops to complement the live sporting action that is bet on day in day out. It began with virtual horse racing and soon expanded into a variety of other sporting scenarios.
Its popularity has grown and continues to grow. In the early years, with the cards on bookmakers screens representing quite closely the normal racing cards, punters just looking for a bet, picking a name or number could mistakenly write out a slip, bring it to the counter and place a bet on a virtual event without realising what they were doing.
If you think it's not possible, think again. I used to manage shops for William Hill around the time virtual horse racing at Portman Park was introduced and received many a betting slip on 'The Fav', only for the punter to look in horror when the race started and spotted the computer graphics on the TV screens!
These days, it is very clear that is not 'normal' horse racing, but that has not halted its growth in popularity, driven by its availabilitly t satify the desire to make a bet at any gven time of day of night.
Virtual Sports Betting Free Bets
A question often asked is if you can use free bets for Virtual sports betting, and in most cases the answer is 'yes'.
Most free bets and welcome offers are available to use on any sport or event, often with odds restrictions, or returns restrictions.
The best way to discover if you can use a welcome offer or free bet for wagers placed on virtual sports is to check the individual terms and conditions of the offer you are interested in. Here you will find the answer and be able to make an informed decision before registering and signing up for a new online bookmaker account.
Our free bets page has a complete list of bookmaker welcome offers which you can compare and check virtual bets availability on by clicking the banners to read the terms and conditions.
How Does Virtual Sports Betting Work?
Virtual Sports Betting works through fixed odds games, based on various sports using a random number generator and algorithm to generate an outcome. Customers are provided a fixed-odds list of potential outcomes and can make bets on any of the possibilities. The virtual event is run and bets settled as in normal sports betting circumstance based on winning and losing bets.
Virtual Race Betting
A variety of sports are used in virtual race betting, and as the name suggests play out a race between anything from 6 to 30 participants
Virtual RACE Betting Events and Participants
Horse Racing
6-30 runners
Greyhounds
6-8 runners
Cycling
6 riders
Motor Sport
8-12 cars
Speedway
4 riders
Trotting
8 runners
In terms of the number of single selections that can be made, one might consider Speedway with just four riders the preferable virtual sport for betting and increased frequency of winners. Indeed, with only four outcomes, mathematically and from a random perspective that has to be true.
Race Events with 4 - 30 participants
From 4 speedway rider up to 30 horses in a race, you can choose the difficulty of picking a winner by the number of competitors in an event
I tried it out and being a fan and attendant at real-life speedway I thought it would leave me cold. In actual fact with commentary and sound effects as well as really unpredictable action throughout the race [with no crashes or injuries I might add], it was actually quite exciting.
This is in contrast to horse racing where you can find upwards of 20 different horses lining up. Apart from the numbers, the real difference is in the range of odds on offer. you can often find horses at 66/1 and 100/1 whereas in Speedway this will happen far less wit so few competitors.
Virtual Sports Betting
In this category we have the sports where is terms of a winner, we are looking at only two possible options in head to head competition.
Virtual SPORTS Betting Events and possible outcomes
Football
2
Tennis
2
Basketball
2
With two players in tennis, there can only be one winner, in basketball and football, the same is true but we have the added possibility of the draw in terms of score too.
With these sports, there are introduced further types of bet that mirror the types of bet you can make on real events. You can make bets on the outcome of the event, the winner, correct scores, and under/over markets you would expect to find in real life. So pretty much the same as real sports betting there.
Virtual Sports Events are Quick
Lasting not much more than a minute, you can make the same types of bets on virtual tennis, soccer, and basketball as you can the real thing.
The main difference here is the time it takes for the events to run through from start to a conclusion. no waiting 90 minutes for the football to finish, No siree! These games take around a minute in total to complete, so expect the action to come through thick and fast.
Betting on Virtual Sports
Placing a bet on virtual sports with an online bookie is exactly the same as placing a bet on any other sport.
If it the first time you have used a bookmaker then it may seem a little different in that you will be clicking buttons rather than writing out a betting slip and handing it over the counter.
It is an easy process though
Find the event
Make your Selection
Choose Your Stake
Last check to make sure all is OK
Confirm the bet
Once you have found the event you wish to bet on and made your selections by clicking on them on the screen, they will appear in the bet slip. This will be clearly marked on the betting app, or will most likely be in the top right-hand corner of your screen if you are using a computer.
You will be able to see the selections you have added to the betslip, with an option of adding a stake for each, or an each-way betting options as applicable.
You will also if available have the option of creating a double treble, accumulator, permed bets like the Yankee. The choice is yours
You have to enter a stake, which in most cases will display the potential returns, and then be asked to confirm the bet by clicking on the button. Once this is done the bet will be visually confirmed and a betslip receipt available.
Pros & Cons of Betting on Virtual Sports
There are many advantages [percieved] and disadvantages [real] of betting on virtual sports online.
| Pros | Cons |
| --- | --- |
| Options when no other sport is on | House Edge |
| Regular Events 24/7 | Too Frequent |
| Events start every 1-2 minutes | Unpredictable |
| A Variety of Sports | Luck Required |
| Never Affected by Weather | Can be Expensive |
Is Betting on Virtual Sports Worth it?
Look, you are not about to figure out the form or follow a jockey to fortunes betting on virtual horse racing.
Yes, it is possible to land a lucky forecast or huge tricast, but the odds offered for these outcomes are big and even bigger in real probability than the odds you are being offered. Many people do still hit that £400 forecast or tricast every day when they go in,
This is not to put you off betting on virtual horse racing, or any other virtual sports betting that is available online. Indeed, 20% of high street betting shop turnover can be attributed to Virtual sports, so there is plainly a good number of people who think it is very much worth it?
But virtual sports betting should be treated in the very same way you would treat playing a roulette wheel in a casino. For fun, for entertainment, but still in the knowledge that you will never have the edge over the bookmaker when betting on it.
Virtual Sports Betting Tips
It is possible to look for and find tipsters offering tips on virtual horse racing. This is quite ridiculous in all honesty but even more crazy if people offering virtual horse racing tips that you have to pay for!! Can you even imagine? But they do exist.
If you are ever looking for horse racing tips, it should be for real horse racing and not the virtual type. You have been warned.
There are no sequences and no cycles, there are certainly no draw advantages, trends or systems that will help you beat virtual horse racing in the long term.
Virtual racing is pure luck and chance, and should be treated as such, and with the gambling respect it deserves to avoid any financial problems.
Best Online Betting Site for Virtual Horse Racing Betting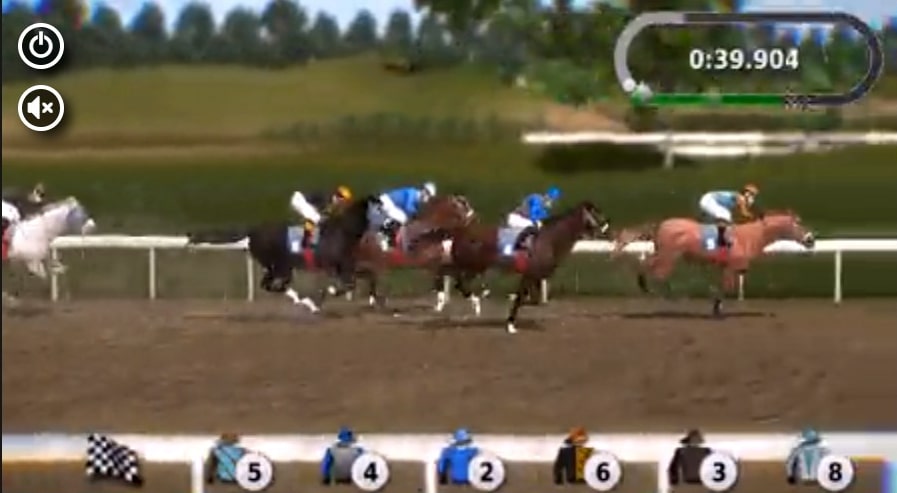 The best online bookie for virtual racing is......
The following online bookmaker apps include virtual horse racing betting action
Whare to bet on Virtual Horse Racing
bet365
Betfair
BetVictor
888Sport
Ladbrokes
William Hill
Betway
Coral
PaddyPower






Best Online Betting Site for Virtual Football Betting
The best online bookmaker for virtual football betting is Unibet. They offer one of the widest range of bet types to make on a single game. There were 35 different bet types available to make including over/under betting, totals goals, and many many more that you would recognise from normal football betting.
The following online bookies also have virtual football betting available on their website and betting app.
bet365
Ladbrokes
BetFred
BetVictor
William Hil
In addition to the 35 markets available on a single game, because Unibet offers bets on all the games on the match day as well as running the virtual season, you can have longer-term bets than just the single matches that last for only a few minutes.
Unibet Virtual Football Match Betting
As mentioned there is up to 35 of the most popular traditional football match betting options when playing their virtual football games online. Of course you have no form or prevailing conditions to consider when making your selections, so your choice and outcome are purely down to luck, but virtual football betting does offer far more than other virtual sports betting options
Unibet Virtual Match Day Betting
Virtual match day betting collates all matches contained within the virtual match day and allows you to make prediction n things like:
Unibet Virtual Season Betting
Best Online Betting Site for Virtual got Virtual Tennis Betting
The best online bookmaker site for Virtual tennis is....
Virtual tennis betting is not available everywhere but you can find it on the following bookmaker betting apps
Where to bet on Virtual Tennis
bet365
William Hill
betway
PaddyPower
Betfred
Coral
Best Online Betting Site for Virtual for Virtual Greyhounds Betting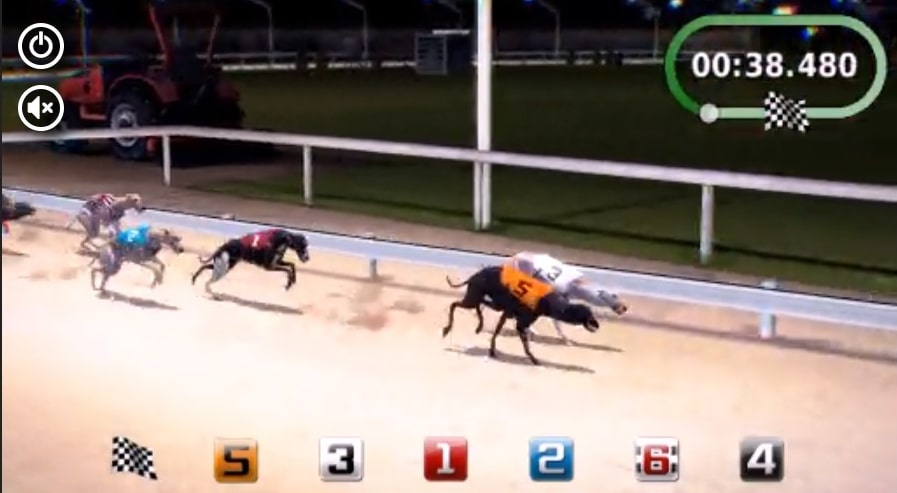 The best bookmaker offering online virtual greyhound racing
BetVictor
BetFred
Betfair
bet365
PaddyPower
Best Online Betting Site for Other Virtual Sports Betting
As you have seen in this article, there are a host of bookmakers offering betting action on virtual sport, and a lot more virtual sports outside of horse racing, greyhounds, tennis and football. So which bookmaker has the best range of other virtual sports to bet on?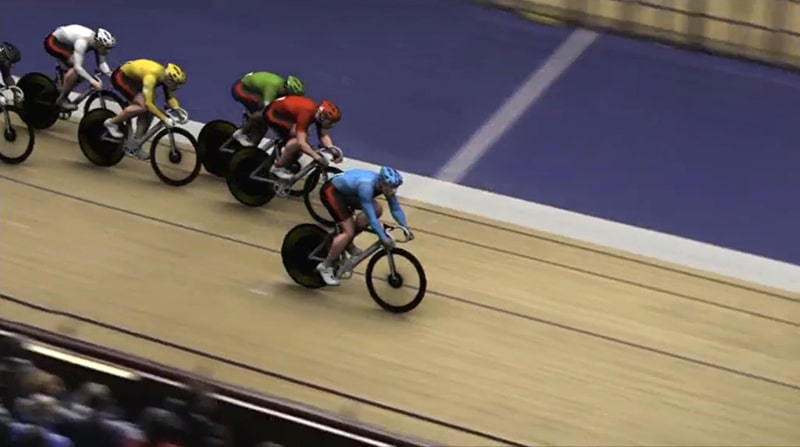 This accolade goes to Betfair, who cover cycling, motorsports and speedway too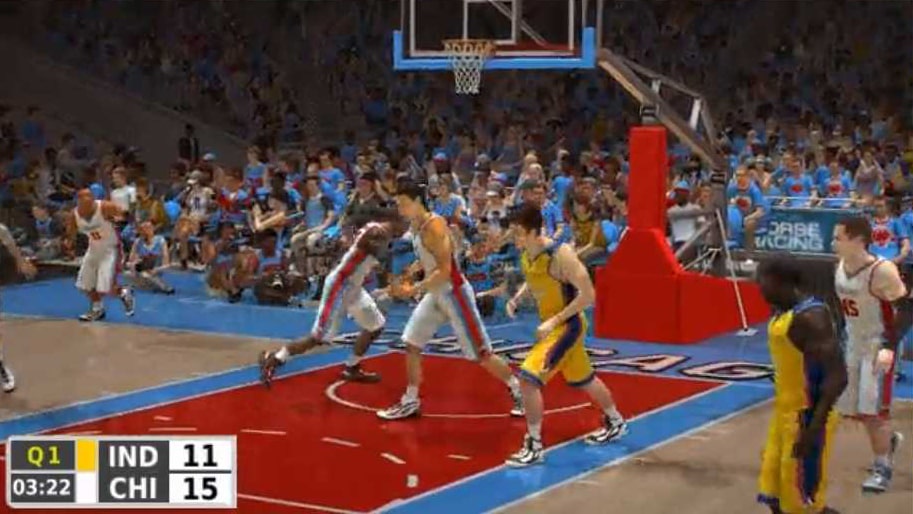 How Virtual Horse Racing Works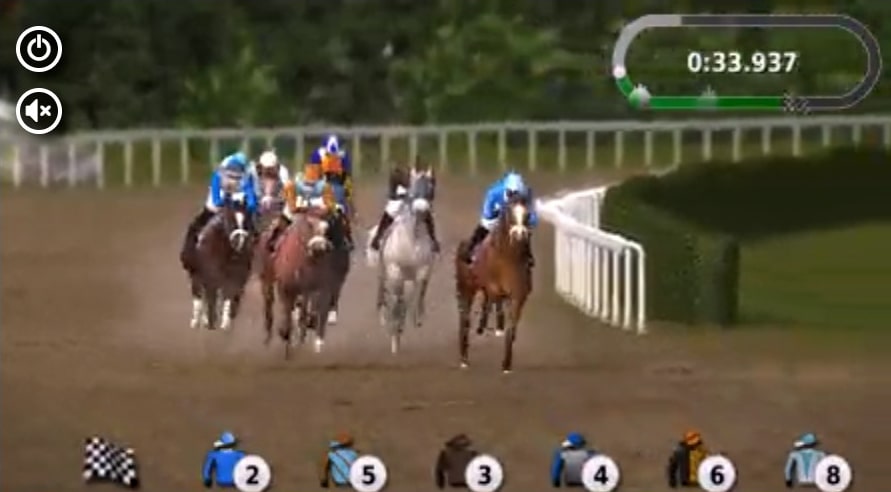 Virtual horse racing works the same way as all virtual sports betting events, and you will find this opening a bit repetitive if reading through each of the sports. But for clarity, the process of the visual aspect of the virtual horse race is featured on a video representation of a mathematical outcome based on an algorithmic process, determined by a random number generator.
the visual aspect of the virtual horse race is featured on a video representation of a mathematical outcome based on an algorithmic process, determined by a random number generator
It is as simple as that
Sounds complicated? Well, it can be viewed as such but it is basic maths, combined with fixed betting odds with a margin built-in for the bookies to make a long term profit. Winning at virtual horse racing is based entirely, purely on luck in picking the right number.
Horse names, jockeys, colours, etc are there for no other purpose than to make it a bit more interesting than numbers scrolling around on the screen until an eventual end is put to proceedings. Punters like to follow numbers, colours names, etc in random outcomes and some will have a strategy based on this, that may work in the short term but can not work in the long term. Approach strategy based virtual horse racing betting with caution. - With that...
How to Make Virtual Horse Racing Bets
Making virtual horse racing bets is just the same as normal horse racing bets in terms of the process.
Head to the virtual racing cards to see the upcoming races. The nature of virtual horse racing betting means that usually, the punter will bet on the next race, rather than make selections in advance as you might with normal horse racing with permed bets like the Yankee or Lucky15. Selecting a particular race is not hugely important given the random result outcome nature of virtual horse racing. However, some punter will choose a specific race with certain numbers of runners, etc. I will look deeper into that in the Virtual horse racing guide section further down this article.
For now, this is how to make your selection and place your bet
Go to the virtual sports section of the bookie app
Locate horse racing - usually very obvious
Make your selection by clicking on the horse name
Decide your bet - Win, EW, Forecast or Tricast
Choose your stake for the bet
Check the details in the betslip
Confirm
Now you probably only have to wait for 30 seconds or so before the race is 'off'. The option to place bets will be closed shortly before the due off time, which is never delayed. A countdown timer will be present so you know when to expect the event to start.
Races only take around a minute to complete, results are displayed instantly, and bets are settled almost instantly too. So no waiting for stewards inquiries, photo finishes to decide, or Sp's to be confirmed. everything is done in an instant, and the next race countdown clock begins.
How Virtual Greyhounds work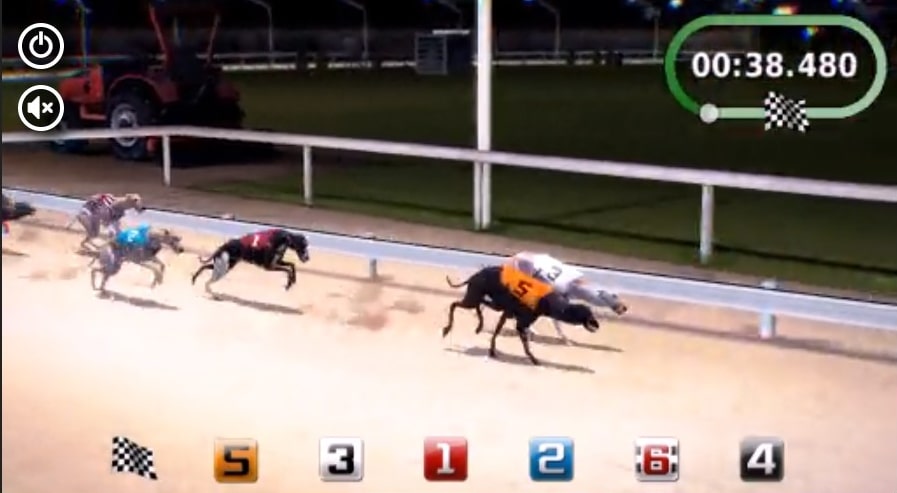 Virtual greyhounds racing can consist of races of between 6 or 8 greyhounds in a video format. You can place bets for various outcomes including winner, forecasts and tricasts and variations thereof. Results are predetermined by a random number generator and online bet settlement is generally instant.
Virtual greyhound races when running usually take place every four minutes or so, providing ample time to select the next race and select the best you wish to place.
Virtual Greyhound Betting is Almost the Same as Real Greyhounds
With the choice of betting on the winner, forecasts and tricasts, options are available in a similar vein to how you would bet on the real thing.
Predetermined fixed odds are assigned to each greyhound in the race. The main difference from real greyhound racing you will notice in this regard is that prices will not move with weight of money wagered, so there will be no steamers!!
What Bets Can I make on Virtual Greyhound Racing?
Most online bookmakers hosting virtual greyhound racing will offer:
Win
Place
Forecast
Tricast
Reverse Forecast
Combination Forecast
Combination Tricast
If you have never placed a bet on greyhound racing before, and would like more information on forecast and tricast betting on greyhounds, then we have a handy betting school for greyhounds betting. Here you will find more information on greyhounds betting, including advice on the different bet types that are also available on virtual dogs.
How Virtual Speedway Works
Virtual Speedway is an animated version of the real thing. Albeit on occasion, speedway fans may find it strange to see 6 riders lining up for a race. Bets are taken on predictions on the winner, finishing order and more across races taking place regularly throughout the day and night online.
Simple, Swift and Exciting
Usually 4 racers over 4 laps and only 2 betting options, Speedway is one of the more simple virtual sports available to bet on.
Races take place over the traditional 4 laps of an oval track, and results of the race are predetermined by a random number generator that also offers fixed odds on each of the competitors. Sometimes there are just 2 laps undertaken. this is a configurable choice made by the host, and where possible, to get a little more enjoyment we would advise looking for the 4 race version for a little more entertainment value.
Of all the virtual sports available for betting speedway is the most simple with only two bets types available to predict -
Bet to Win
Forecast
Reverse Forecast
Head to Head
Whilst there are four bet types listed here, not all hosts offer more than just Win or Forecast as options. It is the same with the lap duration, most will show only 4 lap races.
How Virtual Cycling Works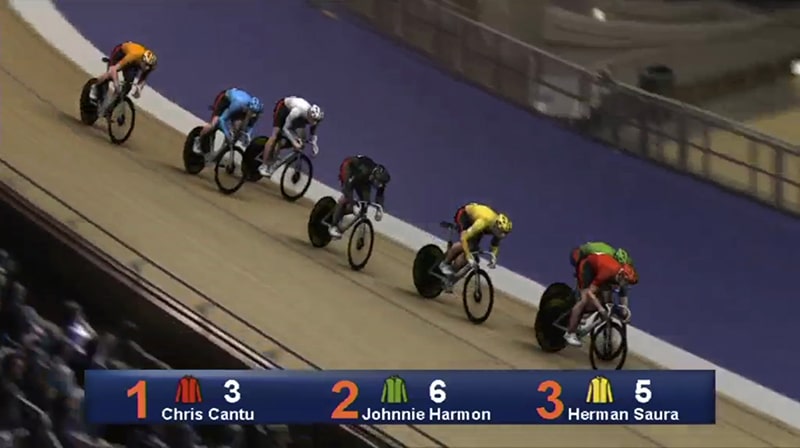 How Virtual Football Works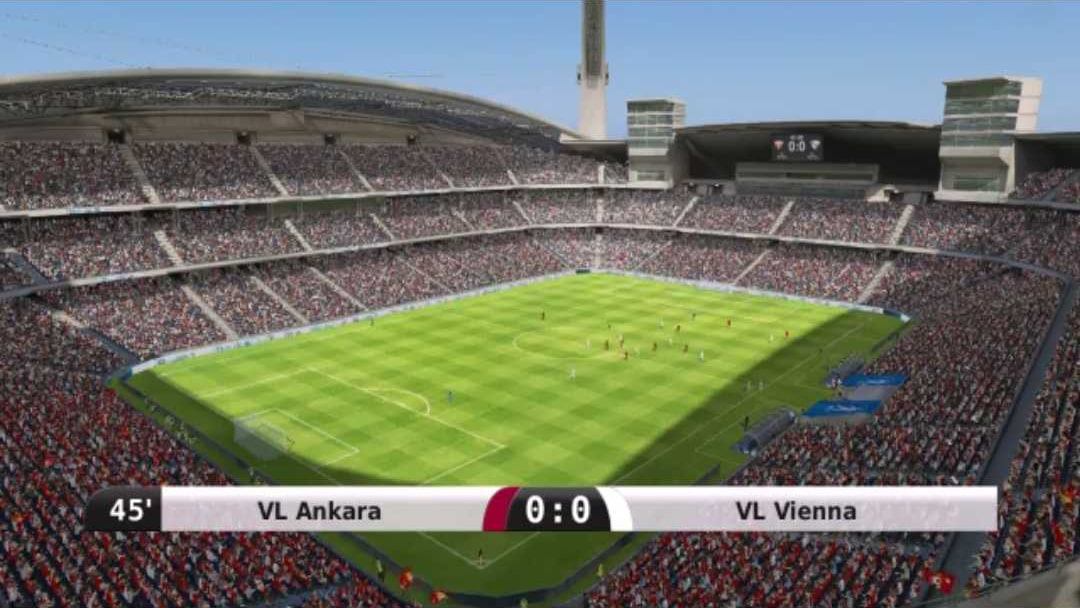 Virtual Football Betting is an animated game played over a short period of time, with a whole
Essential Guide to Virtual Horse Racing
What is Virtual Horse Racing
Online Virtual Horse Racing
How to beat The Bookies Virtual Horse Racing
How Popular is Virtual Sports Betting?
Around 20% of over the counter betting turnover in high street betting shops is attributed to virtual sports betting - I know, I was shocked to discover that figure to, but it is a representation of just how much traction virtual sports betting has gained in such a short period of time in our traditional bookmakers.
With access so much easier online, and the ability to follow the action 24 hours a day with events for a single sport, going off for most of those hours and at a rate of an event every one to two minutes, it will come as no surprise that the popularity and growth are being replicated with online punters too.
It has taken some 15 years for Virtual sports betting to take off. It certainly was not the most popular launch initially as the first foray into casino-style fixed odds betting was introduced to the traditional chalkboard sports betting turf accountants shops. But now at all these years later, virtual sports betting fans are understanding what virtual sports betting is, and is about. It is the realization that no one is trying to pull the wool over anyone else eyes with virtual sporting events being made available for betting, but just another betting option available for those that like their gambling action thick and fast.
Originally introduced to offer betting alternatives whilst punter waited for breaks in between races, particularly on the quieter racing days, that is no longer the case. instead of being scheduled only when real horse races are in between events, Virtual horse racing has its own standalone schedule, that punters are looking for in their daily betting activity plans.
Online Virtual Sports Betting FAQs
Can I Use Free Bets on Virtual Sports?

Whether you can use free bets, or online bookie welcome offer on virtual sports or not will depend on the individual terms and conditions of each offer.

Hot the links in the banner on this page and take a read. In most cases, you may find that they are accepted. After all, there is very little chance of you gaining an edge by betting on virtual sports to abuse your free bets.

How do You Bet on Virtual Horse Racing?

You bet on virtual horse racing in pretty much the same way as you would bet on normal horse racing. Only without the form analysis, tips or fallers in a race.

Make your selections
They will appear in your bet slip on the betting app
Choose your stake
Confirm

That's it, you have made your virtual horse racing bet.

Can You Win on Virtual Horse Racing?

Strictly speaking YES! If you make a selection and it returns the winner of the virtual race you will win.

However, the question probably pertains to trying to find long term profit or a betting system for virtual horse racing. There is a pre-programmed edge to virtual horse racing, and given you are looking at luck only and no skill element, in the long term it would become harder and harder to maintain a profit betting on virtual horse racing.

Is There a Pattern to Virtual Horse Racing?

NO!

If anyone tells you there is, or tries to sell you tips or a system to beat virtual horse racing, walk away - QUICKLY and don't look back.

The results of virtual horse racing are algorithmically programmed and chosen by a random number generator. The chance of each horse if weighted which provides the odds offered, but the odds do have a margin built-in so that in the long run the operator offering the best on the race can not lose.

There is no patter, you will not find one, and not be able to exploit one.

Is Betting on Virtual Sports Legal?

If you are looking to bet on virtual sports in the UK and they are offered on an online bookmaker featured on OLBG, you can be assured that they hold all the correct licenses and accreditation to offer Virtual sports betting legally to registered customers.

Is Virtual Sports Fixed?

Erm! Yes and No!

So, no it is not fixed in terms of waiting for your bets to be placed and then the event is run according to your selection with the sole purpose of you losing.

But yes it is fixed in terms of a house edge being applied to ensure the margin is big enough for the operator of the virtual sports to make a profit in the long run.

This is exactly the same as considering the margin applied to all ods offered for normal horse racing or a football match.

How Do You Win A Virtual Bet?

You win a virtual bet by making a correct prediction and placing a bet on it prior to the virtual event starting. If your prediction is correct, you win.