We now know what we want to do and how we are going to do it and all you have to decide now is what is a reasonable return on a daily, weekly, annual basis for you. I am happy to suggest that given the outlay of £20 a week for the papers, TV etc as explained earlier, to cover that and win the same amount would be sufficient. Who wouldn't say no to an extra £20 a week?
It doesn't really matter what the figure is, but you can see that £20 a week is £80 a month and you can adjust your bank, staking levels, and daily, weekly expectation to fit the circumstances you desire. Certainly, I would be more than happy throwing 1-2% of my bank at bets, and stop at a certain level each week, either with a view to drawing down my profit as and when it comes, for those treats, or reinvesting the profit by leaving it in the bank to create higher stakes.
So now we have our target profit and maximum risk per bet, so how do we work on a daily basis. Do we go for the target profit gung-ho style or do we stop at a winner regardless of where we are to target?
Well, that is entirely up to you but I would advise going for slightly more than target each day, by doing so, and stopping when you get there, you can account for some losing days.
Also equally important is losing.
BETTING LOSSES ARE INEVITABLE
BETTING LOSSES WILL HAPPEN
BETTING LOSS HAS TO BE ACCEPTED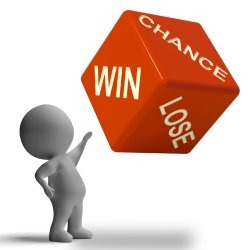 What you do when you lose is the single most important part of your plan.
Indeed include losing in your plan. Create a faux run of results and throw in losses and see how it will affect your bank, stake etc. It will help you understand how your plan could turn out.
The biggest mistake people make when saying what could happen, is that they do not include gambling losses.
This deems these plans to failure straight away as when they come along, that person now doesn't know what to do. By planning ahead for losses and understanding the effect they will have on your targets and timelines, it will make them that more acceptable emotionally when they happen.
You will not be affected by them and won't go chasing the loss. They have become part of your plan, you will welcome them eventually.
I know that sounds strange but it keeps the business plan real. On a daily basis, you should have a plan for losses outside of your main plan, how much of your bank are you willing to lose on any given day.
This may be dependent on your betting style or original plan. 2% of 500 is 10, 2% of 490 is 9.80, 2% of 480.2 is 9.60 - your bank stands at 470.60, you have lost 5.9% of your bank with those three consecutive losers. For me, this would be the maximum of my bank I would want to lose in a single day, so worth considering a stop loss at three bets.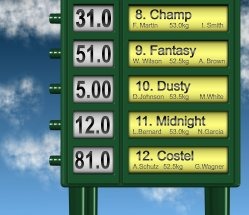 Again though, this may be something that would be a regular occurrence if you are backing at higher odds, or less often at odds on say. It is important to understand the probability of losing runs based on required strike rates for certain betting odds. If you look to bet at all manner of prices from odds on to 20/1 say, then when your records come together, work out the average odds of your selections, the average odds of winners, check you strike rate and you can work out from there how long you might expect a losing run to last from time to time.
The final thing is what you bet on in your business plan. That's not something I can have an element of control over, it is up to you. But you have now a plan in place.
It is vitally important now to STICK TO THE BETTING PLAN.
Don't divert, do something silly or out of the ordinary. If you feel the urge to do it, then use a different bank or account to do it.
Leave this one just as it is, and make sure every bet is recorded along the way with as much information about the event that you can record.
If it's horse racing I would suggest the following areas to record
DAY OF THE WEEK
DATE
TIME
HORSE
COURSE
DISTANCE
GOING
DRAW
TRAINER
JOCKEY
INDUSTRY SP
BETFAIR SP
HIGHEST OR LOWEST IN RUNNING PRICE
FLAT/NH
HANDICAP OR NON HANDICAP
SPEC OF RACE
AGE OF HORSE
CLASS OF RACE
NO OF RUNNERS
FINISHING POSITION
WHAT DISTANCE WON OR BEATEN BY
Also and most obviously, record the stake, profit or loss, a running balance of the bank and a return on investment figure
For other sports apply the same logic; record as much detail about the event as you can, it will pay off in the end
With all these details noted; once you have say one hundred live bets recorded, you can start analysing your records and see which areas you are best or worst in and eliminate those that you have recorded losses on.
These first 100 bets can be painful, and recording them can be a chore, but trust me, when you get to 100 bets, you can see so much from the effort you have put in. It may be that you have little bank left after 100 bets but it will be the best £500 you ever spent. The next £500 will last twice as long and the next may never run out.
You have to run and maintain your business and as with any business or any aspect of life, you will reap the rewards of your efforts eventually.
You simply have to have a plan and have a goal and the inclination to work hard at plying your trade and you can make it work, most importantly by recording what you do, you can have a tangible view of the rewards for your efforts.