If you like playing the Irish Lotto like me then why not try a few perms.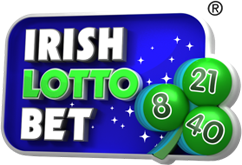 We all know what monster odds we get for a treble or a four-timer and I use a particular strategy or system when playing the lotto.
However the odds are so big because you have to pick 3 numbers and get them all right in order to get your rewards.
Many people have said that the National Lotto is rubbish compared to the Irish Lotto,but they don't seem to realise that you can pick 6 numbers for only 1 pound and win with either 3, 4, 5, 5, and the bonus or all 6.
So despite many people thinking that the National Lotto odds are rubbish let's have a further look at this.
You pick your 6 numbers for your £1 and they are split into the following -
20 x Trebles
15 x Fourfolds
6 x Fivefolds
6 x Fivefold's & Bonus Ball
1 X Sixfold
This is a total of 48 bets for your £1, compared to just 1 bet for your £1 on the Irish Lotto.
The Irish Lottery can be played at many bookmakers including:
Say you pick 3 numbers on the Irish Lotto and do the 6 number draw.
If they all come out you will win between £575 & £600 depending on which bookie you use, that's great if you are lucky enough to have your numbers drawn out.
If you're like me and you often get 2 numbers and then end up winning nothing, maybe it's time for a change.
For less odds you can increase your chances of winning by using the Bonus Ball, so instead of having to pick 3 numbers from the 6 main numbers drawn you actually pick from 7, the main numbers and the Bonus Ball, you often win around £300 for predicting 3 from 7.
How about stretching the perms a bit further and picking 4 numbers and crossing them for any 3 and all 4.
This is 5 bets, 4 x trebles, and a fourfold,
If like me you do all 3 draws every Saturday & Wednesday then this can run quite expensive so i would normally perm these for just 20p's and this would cost just £1 per draw, a total of £6 per week.
If I am lucky enough to get 3 numbers drawn I would win £60 as i always include the bonus ball and if I was lucky enough to get all 4 drawn then i would win over £800 for my £1.
If I didn't include the bonus ball my returns for 3 numbers would be around £120 and for all 4 numbers, it would be around £1,800.
I normally pick the same 4 numbers every draw - 11, 22, 33 & 44, and on the odd occasion i would do another bet with the numbers 10, 20, 30 & 40 and still only for 20p bets.
This week only (Saturday 29th December) i have decided to do a different perm and have decided to pick all 8 numbers and perm them for any 4 and any 5 with the bonus ball included.
The 8 numbers picked work out as -
70 x Fourfolds
56 x Fivefolds
Again, using the 7 number draw i have done the Fourfolds for 2p unit stakes and the Fivefolds for 1p unit stakes, a total of just £1.96 per draw and covering all 3 draws.
If I am lucky enough to get 4 numbers drawn from the 7 drawn I will win £60.
I just thought I would give it a go and try something new.
If you do Lotto perms on the Irish Lotto then please share them with us here.
If you are interested in researching strategy or systems please visit this betting school article.