Manager Merry Go Round: insight into football's love affair with the great sack race
We'll miss Steve Bruce. The cricket loving, sausage roll snacking, spy mystery writing manager was let go 'by mutual consent' by Newcastle United, just days after completing his 1,000th game in management, and only weeks after the club's takeover by a group of billionaire Saudi Arabians.
Coincidence? Of course not. Football clubs have a long, proud history of sacking managers, especially when super rich new owners come in.
We've looked back through the entire history of the beautiful game to see which club has had the most managers, which league they're most likely to last in, and which decade they'd be safest in their career.
Football managers, look away now. It does not make for pretty reading. There is a lot of pressure on managers in the top roles and this is perhaps added to when managers can see that betting sites are taking bets on them to lose their job! The next premier league manager to be sacked is a market named The Sack Race, whilst you can also bet on managers successors, for example right now the next Celtic Manager odds & the next Man Utd manager odds are popular. If you are interested in betting on these markets, then some of the revealing data below may be useful!
Which football clubs are the most perilous for managers?
Who gives their managers the least time in the job? Does sacking your manager always lead to an upturn in form, or maybe even a trophy? While Watford have gained recent notoriety for constantly sacking their manager, they're relatively midtable compared to the big hitters on this list.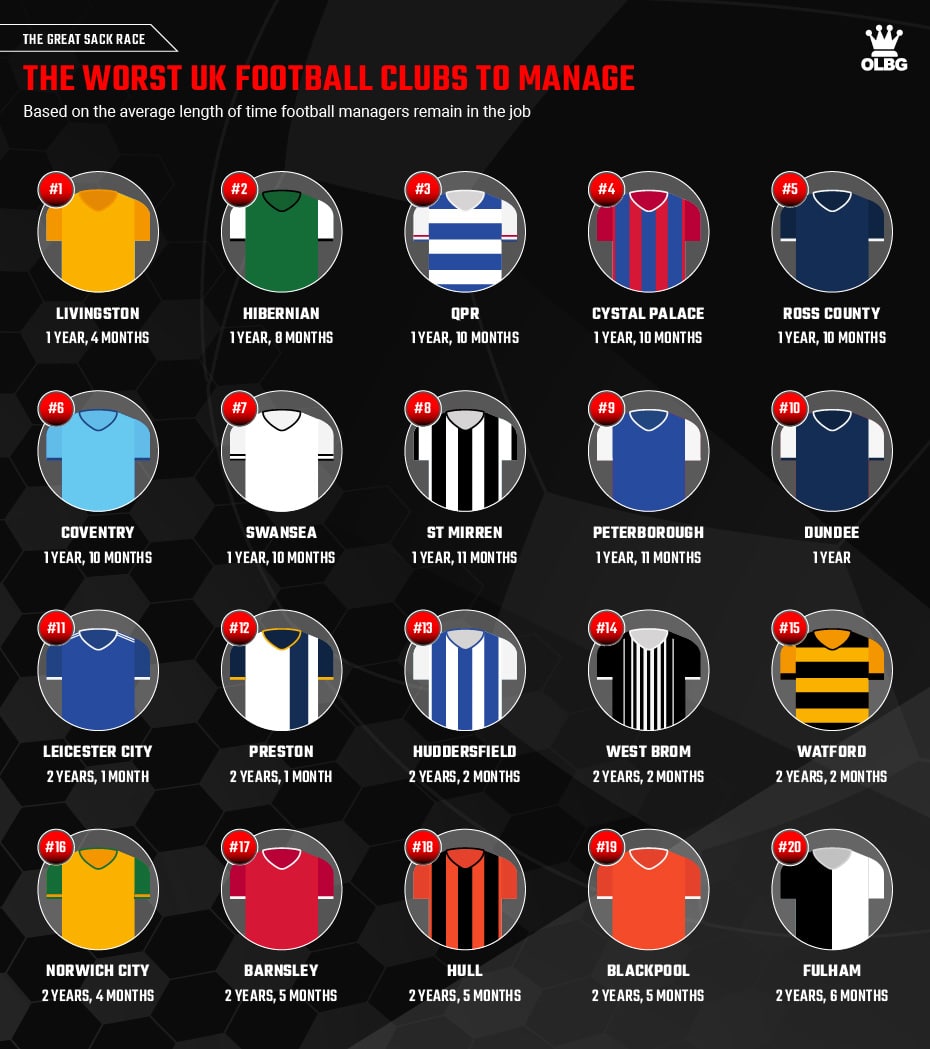 Which football clubs have employed the most managers?
Crystal Palace and QPR have had more managers than any other English league club in the top two divisions, while Livingston comes out on top for Scotland.
Why do you fire a manager? It's nearly always because you think the next person you get in will do a better job.
But for Palace and QPR, who are now both on manager number 64, all that chopping and changing hasn't won them many trophies!
QPR have enjoyed a little more success, spending a number of seasons in The Premiership and once even reaching the quarter finals of the UEFA Cup (RIP). In recent years they've been the plaything of the super rich, which led to rumours that the best players in the world would grace Loftus Road. However, their club record signing remains at £12.5 million for Chris Samba, and no offence to him, but he doesn't quite fit the bill.
Crystal Palace are another of London's big boys. After a recent period of stability under Roy Hodgson, they finally parted ways and employed manager number 64, former New York City FC icon Patrick Viera. One of the founding members of the Premier League, Palace have spent most of their history in the top flight of football, although only survived relegation to League 1 with a final day draw against Sheffield Wednesday in 2010.
Livingston is another club that is all too eager to give their manager the chop before their time. This is another example of how sacking your manager doesn't always bear fruit (unless you're Chelsea) as they only have the Scottish Challenge Cup to boast about in recent years.
Which UK football clubs give their managers time?
While it might be tempting to sack your manager after, say, losing 5-0 to Liverpool, some clubs are more patient than others.
Alex Fergusson and Arsene Wenger are both good examples of managers who've been given time and achieved success, but it's not just their teams willing to give the people in charge a second chance.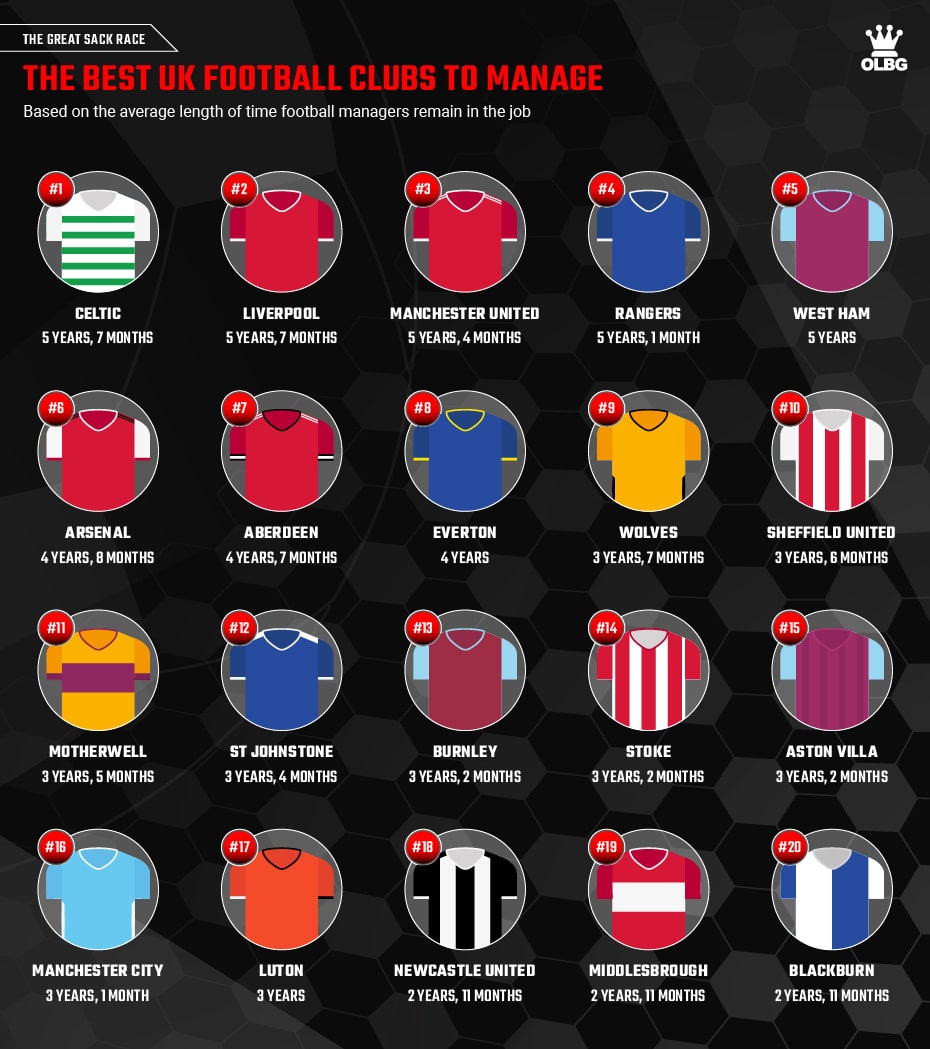 Which football clubs have had the least managers?
Celtic, Liverpool and Manchester United have all had 22 managers - but Celtic's have had the most days in the job!
Three of the biggest clubs in the UK have all had the same amount of managers. Celtic, one of Scotland's most successful sides, join Liverpool and Man Utd in having 22 managers throughout their history, just pipping Rangers and West Ham at the post with 24, and Arsenal and Aberdeen with 26.
Celtic's managers last longer than anyone else's. They spend an average of 2,050 days in the job, leading The Bhoys to an incredible 51 Scottish league titles and counting. (Only four less than Rangers, sorry.)
Liverpool's man in charge stays in the dugout for an average of 2,039 days, a figure no doubt helped by Jurgen Klopp's recent successes and the likes of Gerard Houllier and Rafa Benitez, who both enjoy long stints in the role.
Manchester United's average - 1,932 days - owed a lot to Alex Fergusson. The Scot was manager for 26 incredibly successful years, longer than any of the managers since have even come close to.
The length of time managers have stayed in their jobs by decade.
Football's safest time to manage?
Management wasn't always such a risky game. In decades gone by, you could be in a club for enough years to take out a mortgage and settle down.
But when was the safest time to be in a job, and when did things get a little more uncertain?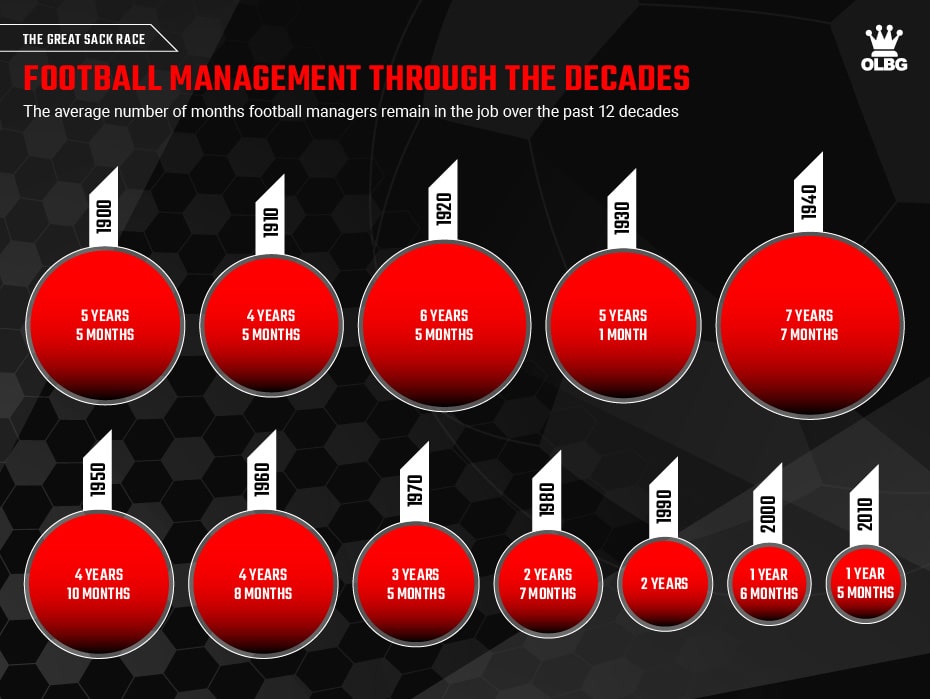 The 1940s were the best time to manage in England
Football management has never been the most secure of career choices, but things have definitely got worse in recent decades. If you were in charge back in the 40s, you could expect to stay in your job for an average of 7 years and 7 months, a very respectable section on your CV.
Things have gotten less certain ever since.
Just a decade later and 50s managers were in their jobs for an average of 4 years and 10 months - almost half of what they were 10 years previous. By the turn of the 70s it was down to 3 years and 5 months, with greats like Alex Fergusson, Brian Clough and Don Revie constantly looking over their shoulders.
When the 80s came along, the number was even lower. Average jobs only lasted 2 years and 7 months, and then something major happened - the Premier League was born.
In 1992 a new era of football was created, attracting more money, bigger crowds and better players to our national game. All of that came with added pressure on the people in charge, taking the average time spent in a job down to 2 years, then 1 and a half years in the 2000s, and a mere 1 year and 5 months in the 2010s.
The average length of time for a football manager by country
If you want job security, pack your tracksuit and head to France. Managers there last for an average of 1 year and 10 months, which while no means a long-term job, at least gives you chance to pick up some of the local lingo and befriend a talented young striker to sign later on in your career. Jose Mourinho first saw Didier Drogba while he was playing for Le Mans, so you never know what sort of gems you could uncover.
The Premier League offers you a month's less protection, but with 1 year and 8 months in the job, you can guarantee some good Match of the Day screen time and lots of Alan Shearer doubting your tactical nous.
Germany will give you 1 year and 7 months to prove your worth. Be sure to sign all the best young English talent and give them the chance to shine they'd never get at home.
The Championship on the other hand, probably best to give this a miss. With just 1 year and 2 months to ply your trade and earn that sweet promotion to the Premier League, only the strong will survive. That's good news for Neil Warnock, then.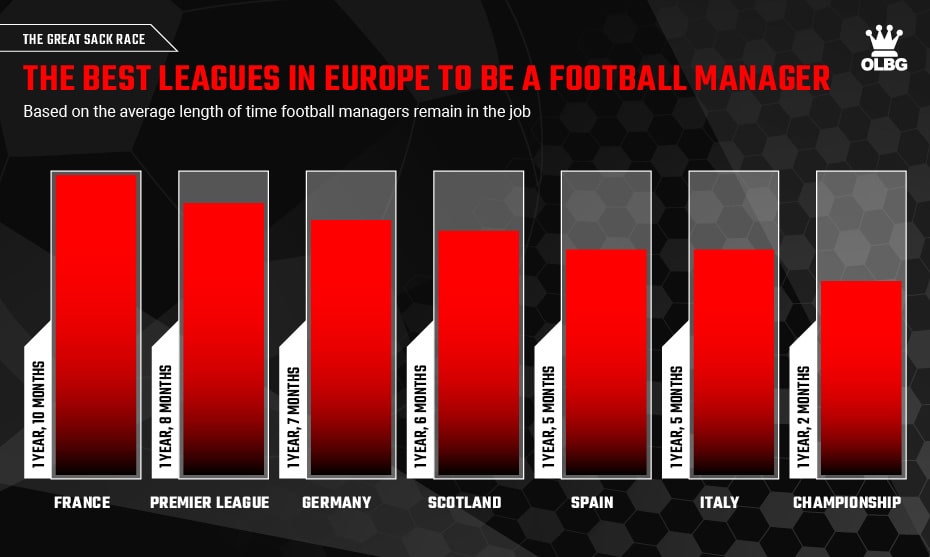 Since the 2000's, managers across Europe average less than 2 years for their entire tenure
Three years isn't a bad run in a job. It's long enough to not look suspicious on your CV, but not so long that you become Arsene Wenger and forget how to do your coat up.
If you're a Premier League manager, three years is about as long as you can expect to last, making it - unbelievably - the most steady out of all English leagues.
On the other hand, there's Italy. Italian football fans are known for being a passionate bunch, which might explain why managers in the Serie A have an average career span of only one year and five months. Barely worth unpacking.
Which football managers have had the longest careers?
Some managers just refuse to hang up their flipchart. Whether they stick with one club throughout their careers, or move their way through the football pyramid to keep the pay coming in, for these stalwarts management isn't a job - it's a way of life.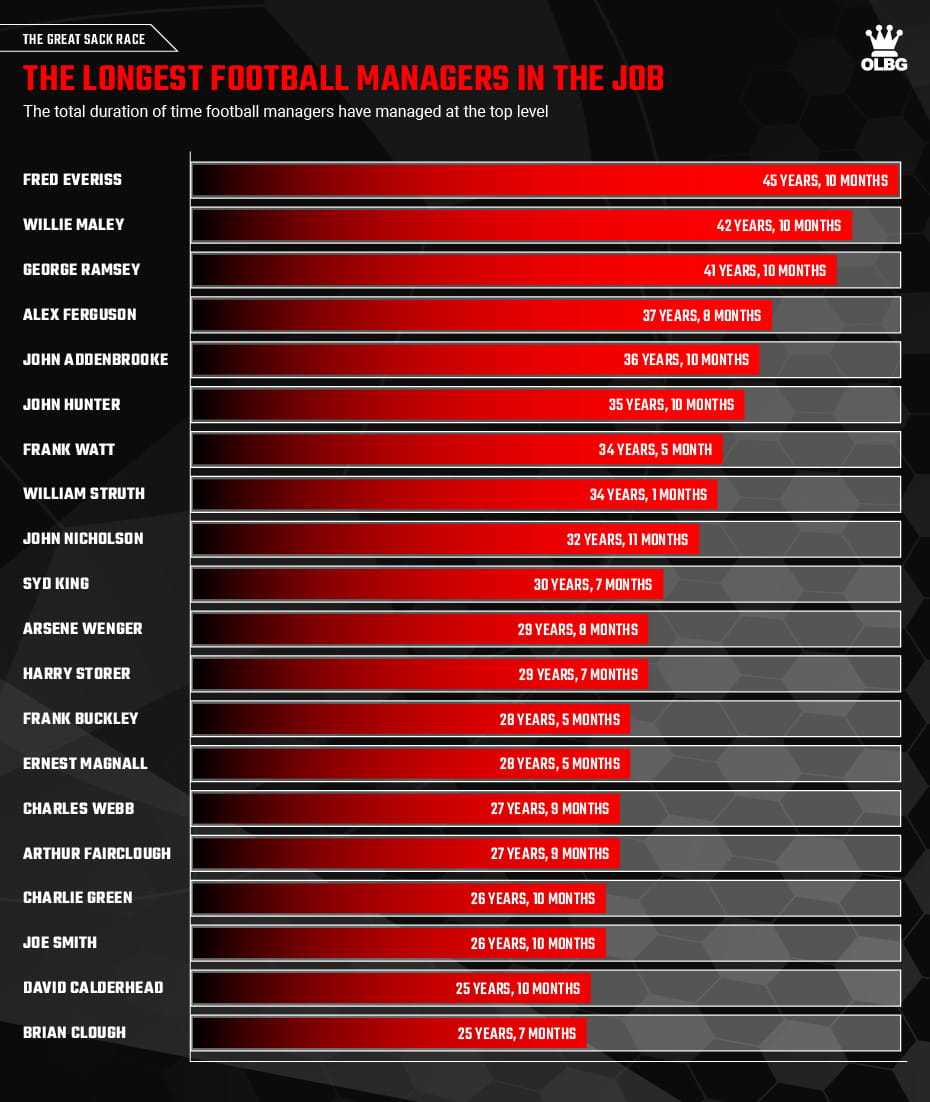 While Fred Everiss, Willie Maley & George Ramsey are all 1-club men, Alex Ferguson's record speaks for itself
We all know Fred Everiss, right? West Brom's manager from 1902 to 1948? Winner of the - checks Wikipedia - 1931 FA Cup? Well, he's had the longest career of any football manager, sticking with the Baggies for 16,740 days before going on to serve as a director.
If Fred's name doesn't ring any bells, how about Willie Maley? No? He's one of Celtic's most successful ever managers, and their first after the club was formed. During his 15,644 days in charge, he led The Bhoys to 16 league titles and 14 cup championships.
George Ramsay, of Aston Villa fame, has the third longest record in football. Legend has it he was the first manager to ever be paid, and he kept that money coming in for 15,277 days. He just beats the only manager to make the top five from the modern era - Alex Fergusson. He managed three clubs during his career (if you don't count the part time job at East Stirlingshire), taking charge of St Mirren and Aberdeen before his most famous spell at Manchester United. He managed for a total of 13,743 days, chewing more and more gum the older he got.
Which football managers have managed the most teams?
Oh, you've hired that guy, have you? The man who never seems to be out of a job, and just about does well enough to keep his name in the running. The man who lives and breathes football, and is linked to every job ever going. Yes, we're talking about your Neil Warnocks, your Rafas and your Coppells. Proper football managers who will keep you in the league and look furious while doing it.
Claudio Ranieri has managed more clubs than anyone else. His current spell at Watford is the 12th time he's been revealed at a press conference, with chairmen across the world hoping he can come in and do a Leicester on any budget.
Speaking of Leicester, former fox Nigel Pearson is next on our list. He's managed 10 clubs throughout his career, although has lasted an average of under a year at each one. Well done to any director for being brave enough to fire him face to face.
Steve Coppell is the third most prolific manager in the game. He enjoyed his most successful spell in charge of Reading, where he set a new league record of 106 points in a season as he won promotion to The Premier League.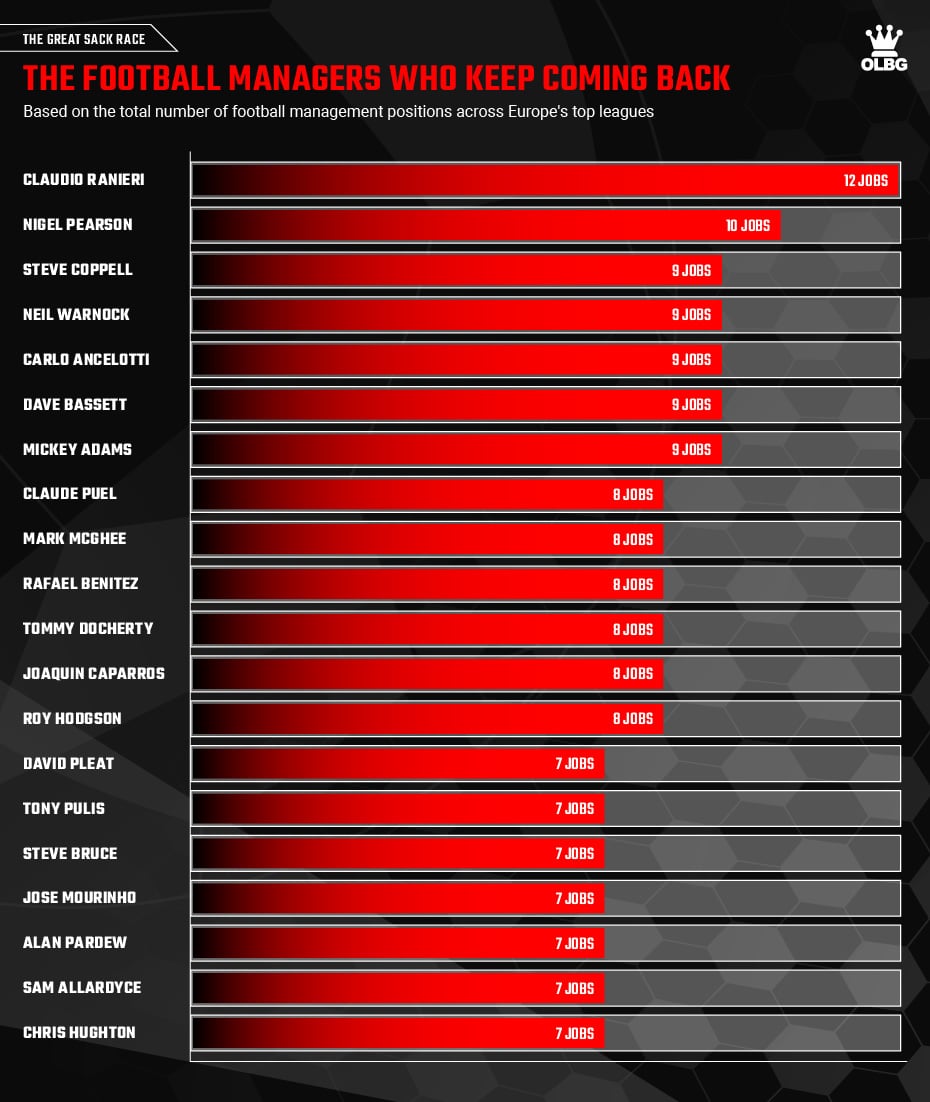 How long will football managers stay in their jobs in the future?
Judging by our research, half a year gets cut off a manager's time in charge every decade, meaning by 2050 they should have about one week in the job to work their magic. For the latest odds changes in the manager markets check out OLBG news.
Methodology
Using the Soccerbase manager database, we looked at football managers date started, and date ended for clubs from the following divisions:
English Premier League

English Championship

Scottish Premiership

French Ligue 1

Italian Serie A

German Bundesliga

Spanish La Liga