The longlist of thirteen is out. A difference of opinion between
Ladbrokes
,
Paddy Power
and
William Hill
.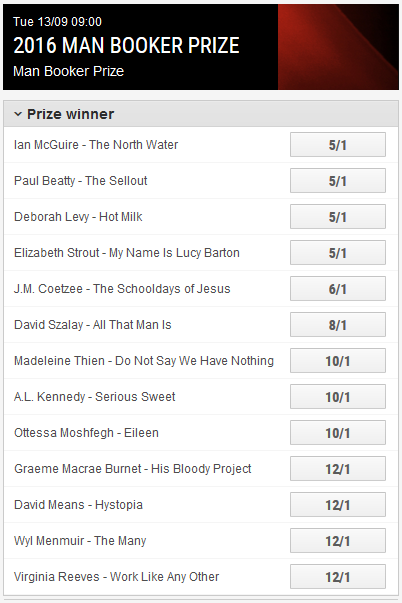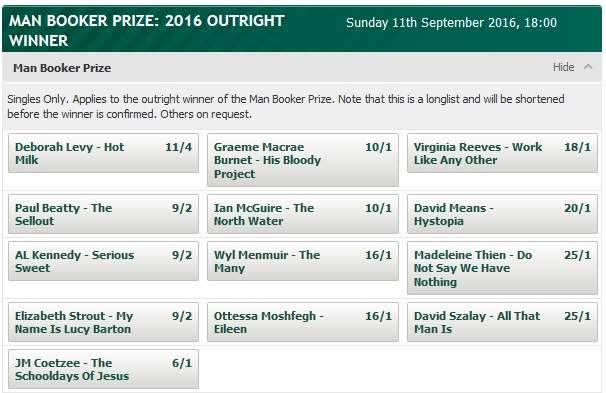 I will be disappointed and a little bit surprised if JM Coetzee and/or AL Kennedy gets in the shortlist of six.
These are your judges this year:

Amanda Foreman is this year's chairman and these are her initial thoughts...
https://www.theguardian.com/books/2016/ ... passionate
Without even thinking, my gut reaction as to the winner is that I have no handle on which female author will win it this year but I confidently predict a woman will win it.
The shortlist of six will be announced on Tuesday 13th September. The winner will be announced on Tuesday 25th October 2016.
I hate having the Americans on board as it kind of messes up the prize. It was always a Great Britain and Commonwealth award...the Americans have plenty of 'international worthy' book prizes but we don't.
Do watch out for what the very last minute word is and what the head of Waterstones might be tipping up on 'Front Row' as if he didn't already know who the winner was.
Oh...and a "Hello, Mr Smith! Good luck, this year!" from me.