Football Acca Betting
'Team To Score' Multiples; My New Favourite Bet Type
Over the last few weeks, I have been trialing a new, or at least new to me, betting system/strategy.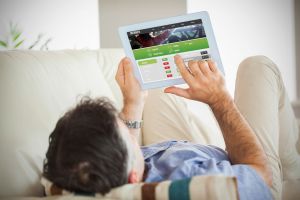 It goes like this:
I choose no fewer than 8 teams to simply score a goal and put them into an accumulator.
I've found it to be both great fun and also nicely profitable in the early weeks of testing, so I thought I'd share my experience on OLBG.
I'll be posting a few selections from time to time on my blog.
Betting Systems
At the OLBG betting school, we have a comprehensive article on betting systems. If you are a systemite please check it out.
Systems and Strategys
Strategy
I've mostly been doing the bet to cover fixtures over the course of one day but on quieter occasions (like mid-week for example) I would recommend including selections over the space of a few days; that way you are more likely to cut out the 'bad' bets.
The trouble with that approach is if you lose at the first or second hurdle you are likely to want to place another bet on the later selections which then increases your outlay
My advice is to be disciplined and just accept defeat should the bet lose early on and do not re-invest.
So the bet only allows 1 team per match, it's not 'Both Teams To Score'.
Can you find 8 teams to score a goal?
The Acca relies on the selected teams scoring. If you are NOT a football expert then firstly check out the how to assess football form article at the olbg betting school.
Football Form Assessment
I have been focussing on home teams that seem a little overpriced or under-backed against the tougher middle of the road opposition.
I will choose teams playing tougher, top-end opponents but only if I have enough reason to believe in the upset.
As with any multiple, the effect of multiplying odds together means that the shorter the odds the slower it takes to build a decent price,
The longer the odds the faster they multiply to larger numbers.
I have never been one for backing really short prices anyway so I have decided not to include any selection shorter than 1/6.
Is the risk really worth the reward on prices like 1/8 or 1/10, I would suggest not.
I have already had the joy of avoiding a few teams that have fired blanks at these prices which would have otherwise scuppered a winning bet had I included them.
At first sight, my disliking for cramped odds and liking for this bet type appears contradictive because of course 'Team To Score' bets are short prices
However, I feel that odds of 10/1 are actually quite lucrative when looking for a dozen or so teams to simply find the back of the net.
I have already landed a 20/1 14-fold, and this weekend just gone I was very close again.
That's the other part of the bet that I really like. It always seems to give you a run for your money.
An acca bet that gives you a run for your money
This acca often keeps you in the bet much longer than a 1X2 bet.
After about 10 accumulators placed I have not been more than 3 selections away from a winning bet and the minimum I have placed is an 8-fold.
The weekend past only 2 of 36 home teams failed to score in the English Football League (of course one was a team that I selected!).
A few more days like that will mean that this strategy prospers over the course of the season.
Away sides are less fanciable. I think they are worth adding if they are priced at Evens or greater in the Match Odds market but any shorter than that and you are looking at prices of 1/4
This is very short on an away team considering the strike rate of away wins and goals compared to homes.
My Golden Rules
Focus on backing home teams
No away sides at odds higher than 1/2 to be selected
Avoid odds shorter than 1/6
No fewer than 8 selections OR total odds no shorter than 10/1
Aim for selections in the region of 1/2 to 1/4
Only back away teams to score if they are priced above Evens in the Match Odds
Stick to leagues with GPG (Goals Per Game) averages of Over 2.5
Bookies and Markets
Most online bookmakers a nice coupon on their site that covers most of the big leagues, you must check the best odds for your acca.
PaddyPower, Bet365, and William Hill offer odds on plenty of games but it will require you taking a few minutes to find the markets under each game.
Some bookmakers call their markets Over 0.5 team goals whilst others call them, for example, 'Man United to score', PaddyPower's is called 'To Score 1 or more goals in the match' and so on.
Basically, make sure you shop around.
Ladbrokes, Betfred, and Coral are often best price whilst some bookies even have odds on both Over 0.5 and Team To Score markets that differ;
I have found odds, both with William Hill, on a team to score at 2/7 whilst Over + 0.5 is 1/4 - when they are the same bet.
For a list of matches and to check out the live betting odds please go to the OLBG TIPS pages.