NFL Betting - A Beginners Guide
Over the last five years or so American Football (NFL) has gone from the 20th most watch sport in the UK to the 6th most-watched.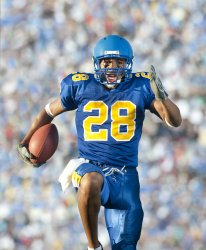 The success of the International Series (NFL games played at Wembley) has gone from strength to strength
More and more people are watching the sport in the UK and many like to have a bet to add to their enjoyment of the game.
Some of the betting terminology is a bit different, so this is an introduction to the three main types of betting opportunity punters can enjoy when watching the NFL.
NFL Main Betting Markets
MATCH BETTING
POINT SPREAD
TOTAL POINTS
NFL Money Line - Match Betting
The Money Line is the odds for each of the two teams to win their respective match.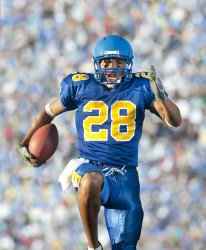 Now as you may have noticed in American Football unlike Soccer there isn't any betting available on the draw (tie) and the match prices will reflect this.
For example, in Soccer the home team may be available to back @4/6 (1.67) the draw @3/1 (4.0) and the away team @4/1 (5.0),
Now if you were to take a look at that on the money line in American Football the one side may be @4/6 (1.67) and the other will be @5/4 (2.25).
When the bookmaker's price up an NFL game the match prices (money line) the draw (tie) has been taken out of the equation and factored in to the pricing.
That's not to say that there can't be a draw (tie) in American football but they are very rare indeed (if the game is tied at the end of full time they go in to overtime in an attempt to find the winner).
NFL Point Spread - Handicap Betting
The Point Spread is a Handicap bet.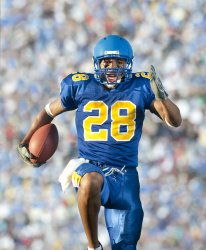 When a team are heavy favourites to win a particular game say @2/7 (1.27) the bookmakers will price up the game with one side receiving a points start and the other side having a points deficit.
Using the earlier example:
The Atlanta Falcons are heavy favourites to win their particular game
They are - 7.5 point favourites to win their game (-7.5@10/11 (1.91), meaning they will have to beat their opponents by more than 7.5 points for that bet to be successful.
The bookmakers use 0.5 of points to ensure there is a winning and losing bet if the points were just -7, which they sometimes are and the Falcons won 24-17 then the bet will be pushed (stakes returned).
Conversely the underdog would be getting a + 7.5 point start,
This means when the game starts they are already winning by 7.5 points
For that bet to be a winner on the handicap then as long as they don't lose by more than 7.5 points then that bet would be successful,
Handicaps can vary from +/- 0.5 to as high as +/- 30-40 (generally in college football), in the NFL you would generally see them ranging from +/-0.5 to +/-14.5.
NFL Total Points
As the title suggests this is a bet on the total amount of points to be scored in an individual match.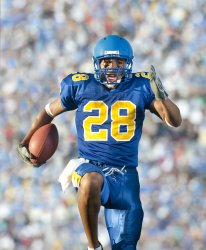 This bet is generally priced up around the 10/11 (1.91) mark, the bookmakers then give you the chance to bet Under or Over.
Again the bookmakers will use 0.5 points to ensure a winner.
For example, if you had two teams that had particularly good defences and generally don't score many points you could expect the total points for that game to be around 40.5,
If you think that there will be than 41 points in that particular game then you would bet over
If you think there will be less than 40 points scored in the game then you would bet unde.
If two high-powered offences were playing each other then you could expect the line to be around the 58.5 mark.
Again if you think that there will be less than 58 points in the game you would bet under
If you think there will be more 59 points in the game then you would bet over.
There are many more markets available to bet on in NFL games but these three are the most popular
If you new to the sport I would suggest these would be the best starting point until you get used to the terminology.
Hopefully this introduction will help you find your feet and give you a better insight into betting on the NFL.
NFL Bookmakers
Once you have grasped the most popular betting opportunities on the NFL you need to find a bookie who offers you great odds and a comprehensive range of NFL markets.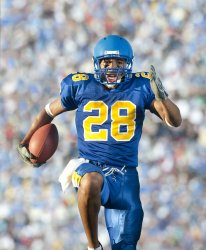 Luckily our experts have undertaken the research allowing readers to benefit in our article the best bookmakers for NFL betting.
We have visited 80 NFL bookmaker sites and betting apps, and thoroughly analysed all that is good and as importantly all that is .... bad!
The emphasis we focused on was best odds and most markets on offer.
We all want to be able to take the best prices and have a wide choice of markets.
We highlight bookies who offer the best
NFL acca insurance.
NFL free bets.
NFL bookmaker promotions.
NFL live streaming.
NFL rewards.
By using all that is on offer from the selected American Football bookies you can get a head start over other bettors, especially those who are betting with an inferior bookmaker.
It's not just deciding on a bet, you need to make sure you are getting true value from your wagers.
One operator who you may not be familiar with, and who came out very well in our study is 10bet bookmakers.
Their promos, range of markets and value odds outperformed bigger bookies last season, + they offered acca insurance which is a rarity in NFL betting.
We hope 10bet will continue to offer such good NFL service in seasons to come.