Stage Racing
This includes the three grand tours:
Giro D'Italia
Tour De France
Vuelta Espana
These form much of the road racing calendar, and is usually a mixture of daily races over varying terrain.
Different skills from the riders are required on these stages.
Bookmakers offer different types of bets these days on Cycling, with the bigger bookies always covering the three grand tours.
You can view all betting types on all sports at the OLBG betting school.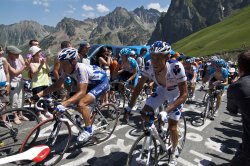 Finding The Winner
Many punters shy away from trying to find the winner of a stage that is less predictable.
That is to say, they only bet if it seems likely to finish in a bunch sprint, or if it's a big mountaintop finish which the main contenders will fight for, but not if it's just likely to be left to a breakaway group to try for the stage win.
Finding the right man for the breakaway isn't easy, but nor is it totally unpredictable, and I'll try to show you where to look.
First of all, barring some miscalculations from the main bunch, a breakaway simply cannot usually stay out in front.
Riders in the peloton are said to be saving something around 30% of their energy compared to those in a 5 or 6 man breakaway.
Peloton Riders
Riders in the Peloton will be conserving energy compared to those who have forced or followed a breakaway.
When the breakaway is bigger it tends to work less well, because some riders don't pull their weight, therefore the others resent this and won't put in the required effort. (there will be exceptions).
Breakaways succeed when the overall lead and pecking order have been firmly established, usually after at least one big mountain stage, or in less demanding races perhaps after the time trial as well.
Thereafter, any quality rider who is in good shape, and no threat to the podium positions (or even top tens in the case of a grand tour), might be allowed to ride away and take a stage win.
Always remember that each stage is a race in itself, and carries both prize money and prestige for winners, for their teams, and for their sponsors, so nothing is gifted.
Making A Selection
Now choosing, from over 160 riders, requires some homework.
There is likely to be some fairly challenging climbing to be done in the stage, therefore the climbs and their proximity to the finish have to be considered.
If it's a mountaintop finish then it's likely a climber will take the win. If the mountain is some way from the finish then a stronger punchier rider might prevail.
Two things to look out for once you've assessed the course.
First of all, consider a team's ambitions.
Are they working hard for their leader to the extent that all will remain with him throughout the race.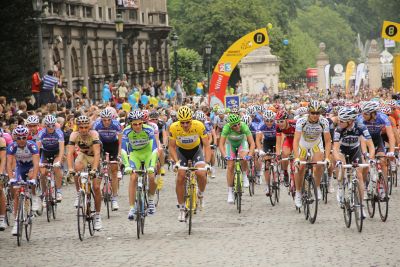 This again is likely to be influenced by whether the stage is deemed difficult enough to make a difference to the general classification standings.
Teams who, for whatever reason, have no chance in the overall standings, will likely set a stage win as their main target for the contest, and their riders need to be viewed as contenders.
The second thing to look for, and this is often overlooked, is to observe which riders have tried, successfully or otherwise, to get into a breakaway on previous days.
Getting into a breakaway, unless the race begins going up a mountain, is by no means easy.
Those who try are displaying both ambition and well being, and these need to be considered as likely to try again.
The thing about the breakaway winner is that he's likely to be offered at big betting odds, and even if you think it's a stage which a rider may not be best suited to, the betting exchanges present an opportunity to bet and to lay back once in the breakaway.
Team Ambitions
Has the team targeted a stage win as their main focus?
This only really applies to the bigger events, where a strong enough market is formed, and there's good television coverage.
Occasionally, finding the right one seems obvious, but that is unusual.
What makes this worth looking into is the very big odds on offer, therefore you don't need to be right all the time, and I generally back several riders in such a stage, always hopeful that one will get into the breakaway.
I recommend just keep your stakes small and give it a try.
In-Play Cycling Bets
Why not cover a few riders in play to small stakes.
Finally, on that day when the breakaway looks likely to succeed, consider a bet in-play on the rider you think most likely to succeed from within the break.
William Hill, Paddy Power, bet365, and others, depending upon the event, are likely to offer prices in play once television coverage begins.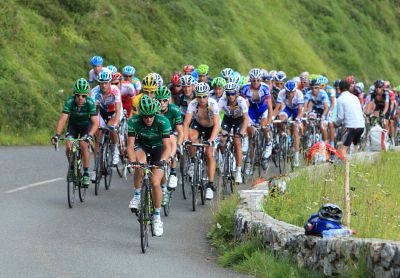 If you have limited knowledge of the riders' specific attributes, and new riders come along all the time, just take a quick look in the form book at procyclingstats.com.
That website will show you everything there is to know about the riders, and often a chance to bet with odds in your favour.
If you wish to place tips on the major tours cycling tipping is available on OLBG.