To play a progressive jackpot slot, you no longer have to travel to a land-based casino. Freely available online, the choice is even broader and better than before. This guide and list of progressive jackpot slots, huge wins, and where to play online, will help you find which one to play and where to safely do so.
Ah, the old 'Pokies' as they call them down under. Or 'Fruit Machine' in the UK. The term slot is becoming more widely used worldwide since the availability to play online has come about.
While progressive Jackpots have been available even before the days of the internet, they are now accessible to anyone playing at a legal online casino. There are lots of them, and some of the Jackpots are genuinely staggering.
Where Can I Play Progressive Jackpot Slots?
SELECT YOUR STATE ABOVE
Choose your state or the state you wish to play online casino in above, to see information for available online casinos. Remember you have to be located within that state to connect and play online.
Biggest Jackpot Slot Games
If you are new to online slots or Jackpot slots games you may be surprised to find that Jackpots up to $20,000,000 have been won.
While it took five years for the world record €17.8m to be broken, Mega Jackpots are not uncommon.
Jackpots of $20,000,000+
Mega Moolah paid $20,057,734 to a lucky winner in January 2019
Here are four jackpot slot games that have paid huge jackpots in recent times and where to play them.
Progressive jackpot slots tend to have a lower RTP than many games because for each spin a small portion of the stake goes directly to the progressive jackpot fund.
Mega Moolah ( Microgaming)
The current World Record holder is Mega Moolah from Microgaming. The best thing about mega moolah is that any stake level can win the jackpot. You don't have to bet 'MAX'
Reasons to Play Mega Moolah
Huge Jackpots
up to 25 lines
Free Spins
Wild Symbols
Any Stake Wins Jackpot
88.12% RTP [Low]
Consolation for 2 Free Spin Symbols
Autoplay
Paying out nearly €19m to one player in September 2018 it wasn't the only time the jackpot paid out that year. Mega Moolah has several jackpots and the biggest one, starts at €1m - It had already paid out over €5m to one player in June too!
Mega Moolah paid yet again in January 2019 with a massive $20,057,734 payout and again in May £8,165,457
It was the 9th time since 2015 that the jackpot has been over $10,000,000
Mega Moolah Progressive Slot Machine Wins.
9/28/2018
€18,915,721
1/30/2019
$20,057,734
10/6/2015
£13,212,882
3/5/2019
$12,945,603
11/5/2016
$11,633,898
8/28/2016
$11,609,942
4/8/2016
$10,423,223
6/17/2016
$10,143,123
5/3/2019
£8,165,457
Interesting to note that [to date] all these $10m wins have come in different months so far. There has not been one in February, July or December yet. I wonder?
What makes Mega Moolah so popular, and the jackpots rise so fast, is how popular it is. And the reason for its popularity is that any player can win the full jackpot no matter what the stake per spin is.
Mega Moolah is one of the Most Popular Jackpot Slots
Because anyone can win the jackpot, this is not just for high-rollers!
Mega Moolah Review
The biggest progressive multi jackpot slot in the world right now. There are up to 25 lines to play. No Bonus Rounds, unless you count the random jackpot round. Free Spins starting at 15 paying x3 all wins and potential retriggers. Autoplay is also available. RTP is 88.12% That's low!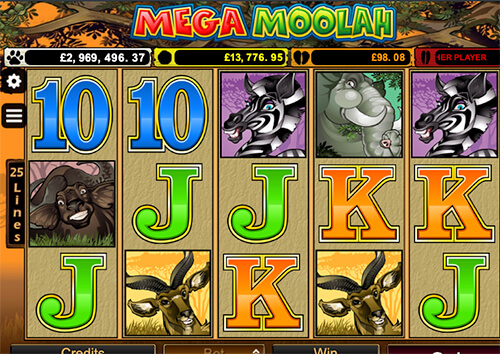 Mega Moolah Bonus/Free Spins
In terms of scatters or bonus rounds, I'm afraid Mega Moolah has no scatter features at all.
Free Spins are triggered from landing 3,4 or 5 symbols, awarding 15 free spins with unlimited retriggers. During free spins, all wins are awarded at x3 value.
There is a consolation x2 stake if two free spins symbols appear.
Volatile Free Spins Wins
Bonus round wins seem to be either very big or disappointingly small. I hope you get on the big side.
Free Spins winnings can be one of two things, disappointingly low, or ridiculously high. I've yet to experience anything in between. And it is fair to say the free spins award doesn't come round that often.
Mega Moolah Progressive Jackpot
There are four jackpots available to be won in the random jackpot round,
MINI - seeds at 7.50 and rarely gets to 8.00
MINOR - which hovers around 100
MAJOR - sitting around 10,000
MEGA - seeding at 1m this has paid €18m recently
Multiple Jackpots - Not just the Big one
There are several jackpots seeding at various levels on Mega Moolah Progressive Jackpot Slot
A great slot in that winning the full jackpot is not dependant on stake and only reserved for the high rollers. Although it is correct to say the higher you stake (max 6.25 per spin), the more chances you are awarded to play for the jackpot.
Mega Moolah Review Summary
Standard reel wins can keep you playing as some can be very good, especially when the 'wild' lion appears. However, this is a low RTP slot, and losing runs can be both brutal and devastating for your bank.
Definitely a slot for the Jackpot hunters at any stake level but be prepared to pay!
Jackpot Giant (Playtech)
This slot paid a mega $12.3m Jackpot in October 2018 not a bad days work for someone.
With fun graphics, great looking symbols, and Wilds to boot, Jackpot Giant is a fun play, but if you want to qualify for the jackpot you will have to bet max £4 to be in with a chance.
Reasons to Play Jackpot Giant Progressive Jackpot Slot
Wild Symbols
Huge Jackpots
Bonus Round
50 Play Lines
94.33% RTP [OK]
Stacked Symbols
Jackpot Giant Progressive Slot Review
We find a 5 column, a 3-row grid of 9 different symbols. Four lower value, then 2 x Stacked Giant symbols and three higher value gem symbols. Wilds are available too
Also, there are Bonus symbols on reels 1 and 5, and Scatter Symbols, on each reel.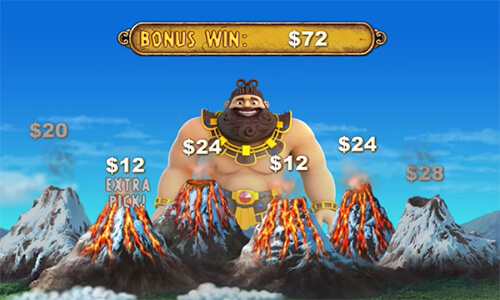 Jackpot Giant Bonus
The GIANT Bonus is gained by landing the bonus symbol anywhere on both reels 1 and 5 - A new screen option with Five Volcanos, each containing a prize.
Jackpot Giant Bonus Round
Flip coins into volcanos to make them erupt with cash
You are awarded the flip of three coins into chosen volcanos which then spit out a prize. You can be awarded further volcanos in the game, or all five can erupt at once.
The combined value from each volcano is awarded as the bonus round prize
Jackpot Giant Progressive Jackpot
As mentioned this progressive jackpot is only available for players betting MAX. That is $4 per spin.
Jackpot only Available for MAX Bet Spins
Jackpot Giant is good but you need to bet big stakes per spin to qualify for the progressive jackpot
Jackpot Giant Review Summary
Jackpot Giant is one for high roller jackpot hunters. Standard reel wins are frequent and usually losing runs of only 3 or 4 spins can occur.
There are a lot of lower value wins below x50 which is the number of lines being played so while wins are frequent, they are often below spin value
Jackpot Giant has an OK RTP level of around 94.33% which is not bad for a progressive slot.
On the volatility scale, it ranks LOW, so is suitable for lower level players for good RTP fun or fabulous for higher staking Jackpot players
Joker Millions (Yggdrasil)
There are a good number of 'joker' based slots out, there but none have paid out €7.8million recently. That's a claim to fame Yggdrasil have with their progressive jackpot slot Joker Millions, paying out to a Swedish player in November 2018
Reasons to Play Jokers Millions Progressive Jackpot Slot
25 Lines in Play
Only 7 Symbols
Re-Spins on Wins
Bonus Multiplier
Joker Bonus Round
94.3% RTP [OK]
Joker Millions Progressive Jackpot Review
You either like lobby music, or you don't. It takes nothing away from the game, but you might want to turn it off. That said, I didn't mind it at all.
Looking at a five-reel three deep board of symbols, we have minimal symbols to play with, a total of just seven plus the jokers in fact. For this reason alone I like it.
Fewer Symbols on Joker Millions
Fewer symbols = less confusion and a clearer board.
We have five fruits, a bell and a 7 - All offering wins of a minimum 3 x line stake. Be aware we are playing 25 lines here, so we are looking for combinations of four of a kind or a five of a kind to be gaining on the spin.
That said, the fun part is when you get a win, the winning symbols lock in place and re-spins occur. If additional winning symbols land, then the respins continue until they stop. This sets up some exciting winning round.
Every Win Triggers a Respin
A great feature with bonus multiplier and big wins possible
Also, there is a column multiplier whereby if consecutive columns are complete matching symbols in a win. The multiplier is equal to the number of consecutive columns filled left to right.
Joker Millions Bonus/Free Spins
No bonus or free spins rounds specifically, the free spins and bonus are the respins when a winning combo is landed increasing the chance of growing the reel win.
No Bonus, Scatter or Free Spins Rounds
There is enough going on to compensate for the missing features
Joker Millions Progressive Jackpot
The jokers themselves have no winning value unless one appears on each reel which triggers the jackpot spin. An amount is revealed under each joker. The game continues as above and as long as more jokers appear with each spin adding more prizes.
The progressive jackpot is landed if all 15 jokers are revealed.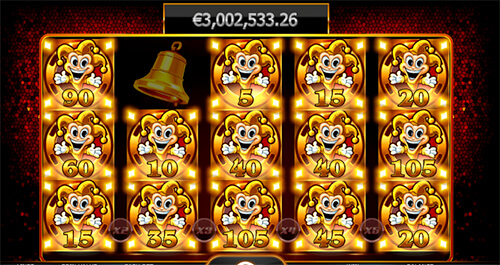 Joker Millions Review Summary
Minimal symbols in play, regular respins and increased win and frequent enough jackpot spins make this an enjoyable, progressive jackpot slot to play with a straightforward format. May not suit the feature hungry players, but overall an excellent progressive jackpot slot game with a favorable theoretical 94.3% RTP
Spin bet size does provide a proportional probability for the jackpot
Mega Fortune (NetEnt)
NetEnt joins the progressive jackpot lot party with their Mega Fortune slot. A jackpot of just under €6m was won in July 2018. That win still pales into insignificance against this former world record holder, when it paid a massive €17.8m back in 2013
Reasons to Play Mega Fortune Progressive Slot
Huge Jackpots
25 Bet Lines
Wild Symbols
Bonus Symbols
Scatter Bonuses
Free Spins
96.6% RTP [best on this page]
Frequent Re-Triggers
Mega Fortune Progressive Jackpot Review
With a couple of smaller jackpots as well, Mega Fortune can appeal to both high and low staking slot gamers and has a favorable RTP of 96.6%
Once again we have a 5x3 reel grid with 25 bet lines.
Eight symbols are paying between x3 coin up to x1000 across 3-5 of a kind reel wins.
The game also features wild symbols which do what wild symbols do but also pay for two consecutive.
96.6% RTP Value is Good
It is a good percentage for a progressive slot and the best of those featured on this page.
Also, there are bonus and scatter symbols too.
The permutations are quite high in comparison with Jokers Millions above.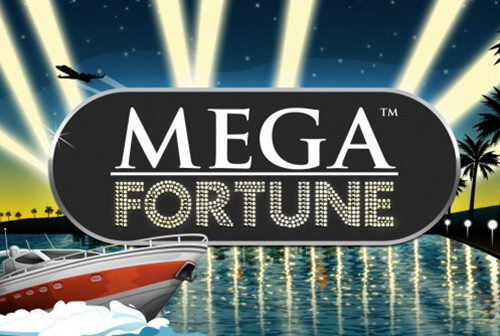 Mega Fortune Bonus/Free Spins
Three or more scatter symbols activate the free spins feature. Two or more scatters during free spins award more free spins. There is also an x multiplier determined by the game being played.
Three or more Bonus symbols have to be landed in succession left to right to start the bonus game. The bonus can also be won within the free spins round.
Lots of Bonus Round Action
Mega Fortune has an entertaining bonus round and seems to retrigger quite frequently.
The bonus wheel consists of three wheels in one. Your first spin is the outer edge where there are prize values or an arrow to progress to the next wheel.
The 2nd reel has 24 sections 2 of which are the Rapid Jackpot, and four arrows to the 3rd reel, the remainder are prize values. Hit an arrow, and you are in with a chance of the Major or mega jackpots.
The 3rd and final reel has 12 sections, 1 of which is the major jackpot and won, a diamond-encrusted arrow to the Mega Jackpot, the other 10 are prize values.
Mega Fortune Progressive Jackpot
There is a triple Jackpot bonus game, The Rapid Jackpot, Major Jackpot and of course the Mega Jackpot.
Additional Jackpots
Not just the progressive jackpot. High-value consolation jackpots can be won
These can be won in the Bonus game by landing a jackpot symbol on one of the reels.
Mega Fortune Review Summary
A lot is going on here with eight symbols, a wild bonus and scatter spots too. That said, the free spins are not the quick spin, and its over type you find in many places. Retriggers seem more common then I have seen elsewhere, and last quite some time, giving an exciting feature.
Frequent Asked Questions about Progressive Slots Online
US Progressive Slot Jackpot FAQ's
Here I try to answer some of the most frequently asked questions about progressive jackpot slots. Some questions are quite general and often, while an answer is desired it is not possible to give a definitive one. You'll see what I mean.
How do progressive slots work?

A progressive slot works by taking a small portion of the cost of every spin made by every player and putting into a rising jackpot fund. RTP's tend to be lower on progressive jackpot slots for this reason, but those jackpots can be huge and have paid out more than $20m in on hit before.

How often do slot machines payout jackpots?

If considering the general sense of the question and using every slot everywhere around the world, then very often would be the answer.

It is impossible to use past events t predict the future, of course, because of the random nature of the result of each spin. There is nothing to say on jackpot spin will not follow another, however unlikely it may seem.

Using the mega moolah Jackpot example above, you can see with the big jackpots they can be quite frequent. Smaller, static jackpots can drop more frequently. There are also slots with daily jackpots of 4-figure sums that have to be paid every day

Should you play progressive slots?

Playing for a progressive jackpot or not, is a personal choice. It is possible to win a big jackpot such as Mega Moolah with minimum stakes, as shown by one of the recent wins when the player was staking just £0.25 per spin. Be aware, however, that some jackpots are only available to players betting 'MAX' on the game. Ensure you understand how to win the jackpot before playing.

How are progressive jackpots paid out?

Jackpots are enormous, and how they are paid out will depend upon the terms and conditions of the casino you are playing with.

This is where you have to be very careful. Some casinos have a maximum payout whereby you would not be able to access the entire win in one payment. Instead, you would receive a smaller amount every month. All very well, but you probably don't want to wait 30 years to receive it all. There are no guarantees either you or the casino will still be around.

There have been documented cases such as this. Also, there are documents cases where an agreed amount far less than the real jackpot has been negotiated, to get paid at all. Please ensure you are playing with a casino that is happy to pay you the full amount and is legal and regulated.

What are the odds of winning big on a slot machine?

Odds of winning on a slot machine will vary wildly depending on the slot, the provider, the prize in question and more. It could be 1 in 5,000 spin or 1 in 10,000,000 spins.

What you can find it the Return to Player % [RTP%], information which will tell you at what level each slot is set. There is a minimum level, and the upper levels can be as high as 99.5%. Progressive slot jackpot odds are somewhat lower, given their nature, and you would be looking at a lower RTP% for this type of slot game.

What slot machines have the best payouts?

Should you bet MAX on a slot machine?

Not always but some progressive jackpots can only be won if betting max.

Betting max will offer you the chance for bigger wins and better profits when getting in front. They can also deplete your bankroll in devastating fashion.

Your denomination level is relative to your affordability but if you can't afford to bet MAX avoid slots where is required for Jackpot wins.