Average UK House Price at over £268,000 according to UK Price Index
House prices in the UK have been continuously rising over the last year, with more and more people looking to move into new properties across the UK.
There are lots of reasons for the sudden demand in housing and the rise of costs despite a global pandemic affecting the country.
Bookmakers are taking bets on whether the average hose price in the UK has risen above £275,000 for the month of December or not, with betting exchange Smarkets opening up the following options.
Average UK property price for December 2021
What will be the average price of a property in the UK in December 2021, as reported by the official UK House Price Index?
| Under or Over | Odds | Probability |
| --- | --- | --- |
| Under £275,000 | 1.86 | 53.76% |
| Over £275,000 | 2.16 | 46.30% |
We await the official figures for December but there is the confidence that the market has slowed and the average price of a house in the UK has not topped £275,000 supported by betting odds as short as 1/2
Jake Ashton - Betting Specialist - OLBG.com
With many people now working remotely, the demand is there as people are commuting far less, wanting office space for their jobs and were also helped last year by the removal of stamp duty.
We Polled our Twitter Followers for Their Thoughts
Based on polling information from our Twitter followers, it looks like inflation is set to continue for housing prices, with over 58% thinking that there's another rise.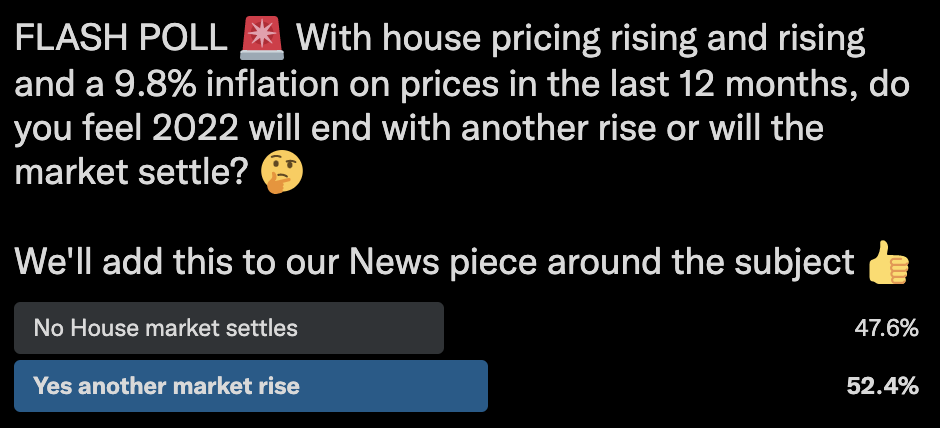 It is quite uncannt just how close out question produced results right in line with the odds on offer about the December average prices.
| Will House Pricing end with positive inflation in 2022? | Odds (Decimal) | Probability |
| --- | --- | --- |
| Yes | 1.91 | 52.4% |
| No | 2.1 | 47.6% |
6 months in a row there has been a rise in average house prices according to Halifax
The UK has seen house pricing rise for 6 months in a row now and this looks set to continue throughout the year.
With the reintroduction of Stamp Duty, pricing was expected to slow down and even fall but that doesn't look like happening any time soon.
The fact that many people will have saved thousands due to lockdowns and various other pandemic measures which meant they couldn't go out as much means that budgets are getting higher and higher.
With an increase for house prices of £24,000 in the last year according to Halifax, this doesn't look like it will change any time soon.
House prices look like they'll continue to rise in 2022 and it's just under evens that there's another rise this year, with a probability of 52.4% chance of happening.
Jake Ashton - Betting Specialist - OLBG.com