Wincanton Racecourse Guide
Celebrated its 150th birthday in 2017, Wincanton lies to the very east of Somerset with Taunton and Salisbury roughly 30 miles or so on either side. Along with Exeter, Newton Abbot and Taunton, it forms part of a longstanding and strong West County jumps tradition that still thrives today.
Access is gained from the sometimes tricky A303 but this friendly and ever-popular course is well worth the visit, especially given that competitive and often high-quality National Hunt racing is assured with strong support from numerous West Country trainers.
In Somerset alone, there are over 25 licensed trainers, including Paul Nicholls (Ditcheat, 10 miles away), Philip Hobbs (Minehead, 62 miles), David Pipe (Wellington, 45 miles), Jeremy Scott (Brompton Regis, 58 miles) and Nigel Hawke (Bridgwater, 32 miles). Colin Tizzard is based just 10 miles away across the Dorset border and like Paul, has runners aplenty at this his local track. Consequently, racing at Wincanton always features horses from top yards.
Seventeen or so meetings take place each year between mid-October and mid-May and five of these usually fall at the weekends, although as mentioned before competitive action is nearly always served with the highlight of the season being the Grade 2 Elite Hurdle. Wincanton is a gem of a place and a 'proper' winter jumps track.
Type of Racing: National Hunt Only
Highlights: The Badger Ales Trophy Chase (November) run since 1962 and the Kingwell Hurdle (February), a known Champion Hurdle trial are the annual highlights.
TV Channel: Racing TV
Bookmaker Streaming Services Available from: Paddy Power, William Hill.
* All statistics below are based on the previous five years at Wincanton
Wincanton Outright Favourite Statistics
Handicap Chases: 45-144 (31%) -12.37
Handicap Hurdles: 36-130 (28%) -25.27
Non-Handicap Chases: 13-26 (50%) -2.02
Non-Handicap Hurdles: 57-122 (47%) -17.09
Wincanton Racecourse Map
Right Handed, one mile three furlong circuit which rides very sharp. Mainly flat with slight undulations, the approach and turn into the home straight is a little downhill.
Wincanton Racecourse Address: Wincanton Racecourse, Wincanton, Somerset, BA9 8BJ
Wincanton Racecourse Telephone Number: 01963 435840

To buy tickets for a race day at Wincanton, head over to their official ticket booking webpage.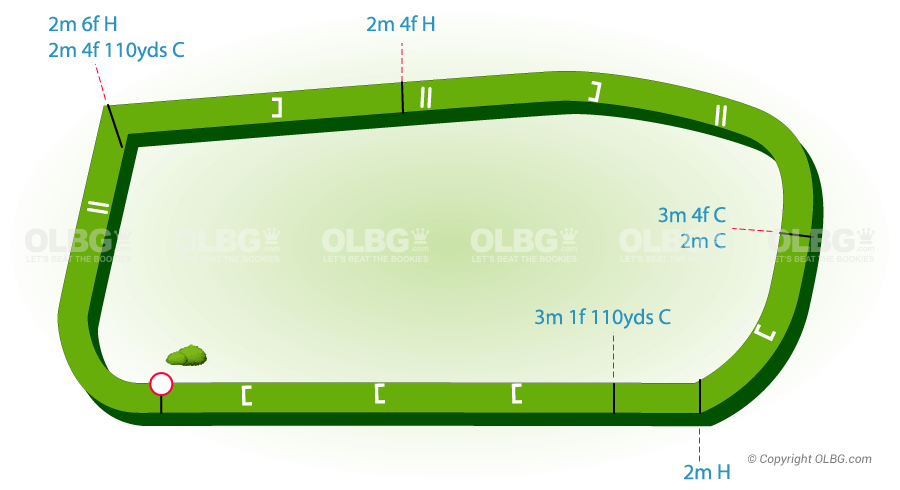 Wincanton Tips From The Racecourse
With such a hive of training activity nearby, money tends to talk. Being at the heart of a buoyant West Country racing scene any betting moves for horses trained locally should be noted, especially 'early moves' the night before, or early in the morning.
Of particular interest is where a betting move for a horse representing a smaller local yard is observed. Similarly, any local horses 'on the drift' should be noted and are best avoided. The OLBG horse racing tipsters will be aware and will advise via their informative tip comments.
The track itself rides fairly sharp, meaning it favours prominent runners over known hold-up horses and many a race has been won from the front at Wincanton. The ground can get quite soft in the harsh winter months which brings stamina into play if the leaders go off too quickly but generally when the ground is riding decent then the nippy front runners can get the staying types off the bridle fairly quickly.
Like many other courses, the fences are not as stiff and formidable as they used to be but are still a true test, especially the three up the home straight which come soon after the turn for home. Evidence of this was witnessed at Christmas, 2016 when all nine runners in a handicap chase fell or refused with the race eventually being declared void. A wide-berth should be given to chancy novices or horses with a history of letters in their form figures.
If you are off to the races at Wincanton today then be sure to download the OLBG app for all the latest Wincanton tips from OLBG horse racing tipsters.

Wincanton Trainer and Jockey Statistics
Who are the best national hunt jockeys and trainers to bet on at Wincanton?
Backing all of the P F Nicholls runners would have produced backing the most winners for a trainer here at Wincanton with eighty-one but you would have returned a loss by doing so, J Scott leads the way for profitable trainers with an LSP of +125.55 from their twenty-one winners. When looking at trainers and looking for some eachway value at Wincanton then the trainer who shows the best eachway profit is Mrs Alex Dunn, that LSP is +55.04 which has been accumulated by a total of nine placings which includes five winners. At the other end of the spectrum is J W Mullins who has a terrible record at Wincanton, of all the trainers their LSP of -80.00 is the worse, they have a 2% strike rate with two winners from ninety-three runners.
When looking at the leading jockeys based on wins for those who are also showing a profit when backing all of their rides then it is Harry Cobden who comes out at the top here at Wincanton With a total of sixty-three winners and an LSP of +16.78. With an eachway LSP of +35.47 at Wincanton, Rex Dingle leads the jockeys in profit for backing eachway which has been helped by their twenty-three placings which include a total of twelve winners. The jockey with the worst record at Wincanton based on LSP is J A Best who has only a 2% strike rate with three winners from one hundred twenty-eight rides which have returned an LSP of -102.50.
Wincanton Picks & Hints
Here are some factors at Wincanton for certain trainers or jockeys which have been profitable:
5-11 (45%) +20.72 - Backing Daniel Skelton runners when in a Novices Hurdle race
5-10 (50%) +13.73 - Backing Daryl Jacob rides when in a Handicap Chase race
23-44 (52%) +11.40 - Backing Harry Cobden rides when in a Novices Hurdle race
Wincanton Top Jockey and Trainer Combinations
Here are the best trainer and jockey combinations here at Wincanton based on the number of winners:
47 Wins: P F Nicholls & Harry Cobden
12 Wins: C L Tizzard & Harry Cobden
11 Wins: P J Hobbs & T J O'Brien
11 Wins: P F Nicholls & Lorcan Williams
8 Wins: C L Tizzard & Brendan Powell
Wincanton Top Trainers By Most Winners and a Level Stakes Profit
| Trainer | R-W-P | Win | EW |
| --- | --- | --- | --- |
| J Scott | 123-21-42 | +125.55 | +48.05 |
| Miss E C Lavelle | 70-13-27 | +10.80 | -0.96 |
| C Gordon | 52-12-21 | +35.83 | +19.83 |
| M F Harris | 60-9-18 | +31.75 | +12.16 |
| Jonjo O'Neill | 54-9-21 | +0.10 | -5.14 |
| N A Twiston-Davies | 55-7-21 | +9.10 | +5.51 |
| W J Greatrex | 37-7-16 | +3.50 | +2.00 |
| A J Honeyball | 58-6-17 | +12.38 | -1.17 |
| V R A Dartnall | 40-6-12 | +8.75 | -1.16 |
| David Dennis | 37-6-10 | +1.25 | -6.70 |
Wincanton Top Jockeys By Most Winners and a Level Stakes Profit
| Jockey | R-W-P | Win | EW |
| --- | --- | --- | --- |
| Harry Cobden | 217-63-120 | +16.78 | +8.01 |
| Daryl Jacob | 54-17-26 | +15.28 | +7.67 |
| Rex Dingle | 77-12-23 | +81.63 | +35.47 |
| Gavin Sheehan | 42-12-19 | +43.71 | +21.16 |
| Jonjo (Jr) O'Neill | 50-11-21 | +7.68 | -2.69 |
| Chester Williams | 28-10-17 | +3.28 | -0.12 |
| Sean P Bowen | 60-8-15 | +1.13 | -12.72 |
| Bryan Carver | 55-7-14 | +14.23 | -7.57 |
| Adam Wedge | 49-7-16 | +62.16 | +34.25 |
| Mitchell S Bastyan | 48-7-16 | +1.75 | -2.67 |