ONE A DAY JANUARY 2022 RACE 1 (1st to 15th)
Hello and welcome to the One A Day competition for January. Regular runners will have a good idea of how this works already but for maiden runners and for those with plenty of experience please read on as there are a couple of subtle changes this month.
How It Works
Nothing has changed in terms of how we run the race. They'll be two races each month. The first will run from the 1st day of the month to the 15th with the second running from the 16th of the month to the last day of the month. Each day a race will be nominated and you are asked to provide a selection for this race. You must also give reasons for your selection but please note the following as this is crucial:
Anyone who doesn't put in the effort and writes something like "I fancy X to win because he is white and they are faster", "I like his name", "my friend told me so" etc. etc. won't be considered nor will any copy + pasting from other sites. YOU MUST INCLUDE AT LEAST 4 SEPARATE POINTS ON WHY YOU FANCY THE HORSE.
You need to make this reasoning at least 30 words but feel free to be as detailed as you like.
Please also note the following information:
- Do not edit your post once made.
- If your selection is a non-runner you can select again but please do this in a separate post.
- You can post a backup selection in case your first selection is a non-runner and you don't believe you'll be able to update your selection in the case of a non-runner. However, if your first selection runs then that is the one that will be scored.
- Failing to post a selection will see you not scored for that race. You can PM myself or another member to post on your behalf but again, the selection must be posted before the race starts.
- On the last race day if the competition is tight those in contention can PM me their selections and I'll hold them until the race starts. If I'm involved then I'll ask for a neutral to step forward and hold the selections until the off. This is so copying a fellow runners selection to assure the win/place is avoided.
- If a day's nominated race is on a card that is abandoned we will have two races the following day. If this occurs on the last day of the race we'll run an extra race the following day whilst also starting a new competition.
Selecting Races - Back to one thread (for each race)
After discussions with regular runners in our races via PM it's clear that the thread a day isn't too popular and that you would all like some input in picking races so we'll revert back to one thread for picks and you can all have input in picking races. I've started the new thread (we'll do a thread for race 1 then a new thread for race 2 so it's easier for me to trace back for selections as I score up the races). I will usually pick the first race and the Saturday races but feel free to offer a race up if I seem to be taking my time.
I reserve the right to void a race if circumstances significantly change the dynamics of the race - ie, multiple late withdrawn horses significantly reducing the field (below 6 runners).
Hope that makes sense, any questions ask here or PM me.
Please note, when selecting races, please refrain from MAIDENS/NOVICE events including BEGINNER CHASES as these can be difficult in placing a reasoning to. Handicaps and higher class races (listed, graded or group) are preferred but please try to find a race with a competitive sized field.
Scoring
We score as in previous months:
1st = 30pts + 5x SP
2nd = 20pts + 3x SP
3rd = 10pts + 2x SP
4th = 4pts + 1 x SP
5th = 1pts + 1 x SP
To encourage people to look away from favourites as well there will be bonus points for the price of the horse as shown above. This means that if someone picks a 2/1 horse that wins they will get 40pts (30 for winning and then 5 times 2/1 is 10 -> 30+10=40) while if someone picks a 10/1 shot that comes second they will get 50pts (20+30=50).
Please note, scores will be rounded up to one decimal place from January's second race!
Dead heats - the points of the places are added together and divided by the number that dead heated. i.e. if 1st place is a dead heat then both 1st placed will get 25 pts (30+20pts) and x4 SP (5+3/2 = 4).
Results and leaderboard
I will update this thread with race results and they'll be contained in the post directly after this one and an updated leaderboard. I hope to do this every three days and daily towards the end of the race but please be patient as occasionally life will get in the way of me doing this promptly.
In the event of any ties for prizes, the tied runners will be split by their highest scoring selection for the month, regardless of actual finishing position (ie, a 1st place scoring 100 pts does not outrank a 2nd place scoring 120 pts).
Please also check your scores. Mistakes do happen, I am only human. I keep the scores on a Excel spreadsheet (which I can access from my home and work so it's easy for me to keep it updated). Any scoring queries please PM myself rather than posting in either this thread or one of the daily selection threads.
PRIZES
Those generous powers that be at OLBG are offering up cash prizes for the runners and riders:
1st place overall - £10
2nd place overall - £5
***Player with the highest combined score over both races in a month who has not already won a prize £5 ***
If you know anyone interested in taking part or you've been a long time viewer of the forum who hasn't been inclined - for whatever reasons - to post much before please come and have a go, it is great fun, costs nothing and you can win real cash!! Take a look through previous competitions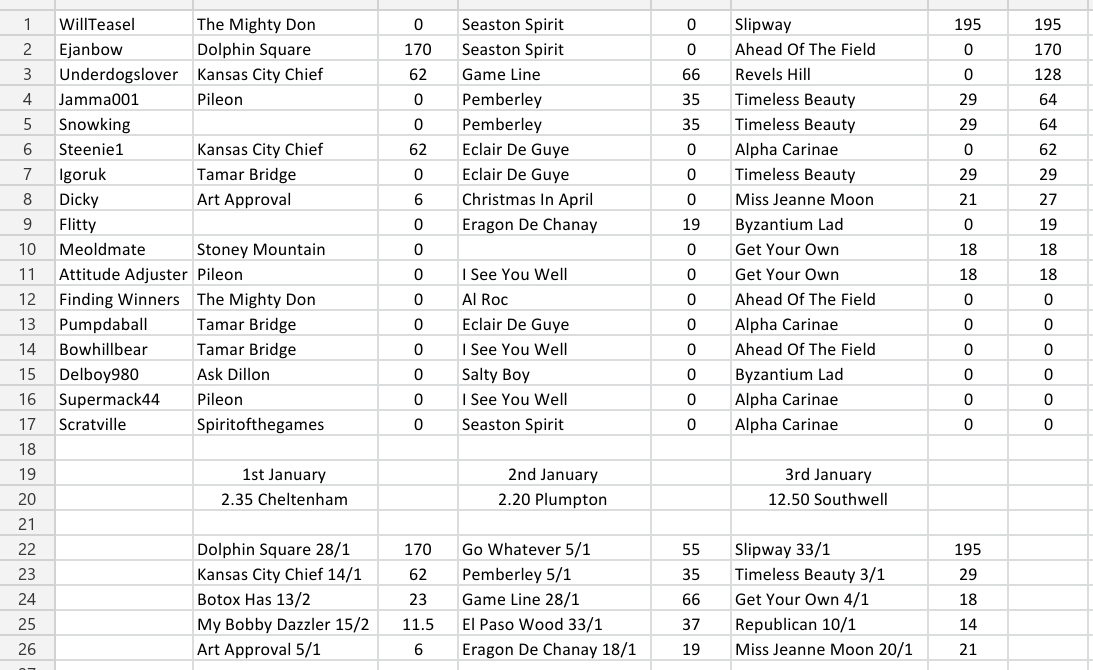 Well it has been three days of extremes with two players scoring in the 100's and the other half scoring nothing but don't panic it is early days yet. I started off with a 28/1 winner giving me 170 points but I was surpassed on the third day by WillTeasel who got a 33/1 winner, nice pick
, putting him into 1st place and I am in 2nd place. Also in the 100's is Underdogslover who got two scores in the 60's to put him in the 100's as well. Low scoring overall with 3 scoring on day 1, 4 on day 2 and 7 on day three so climbing up slowly. Nobody scored on all three days. The zero points scorers are in the order that they put up their first post as it didn't seem fair to do it alphabetical.
Good luck all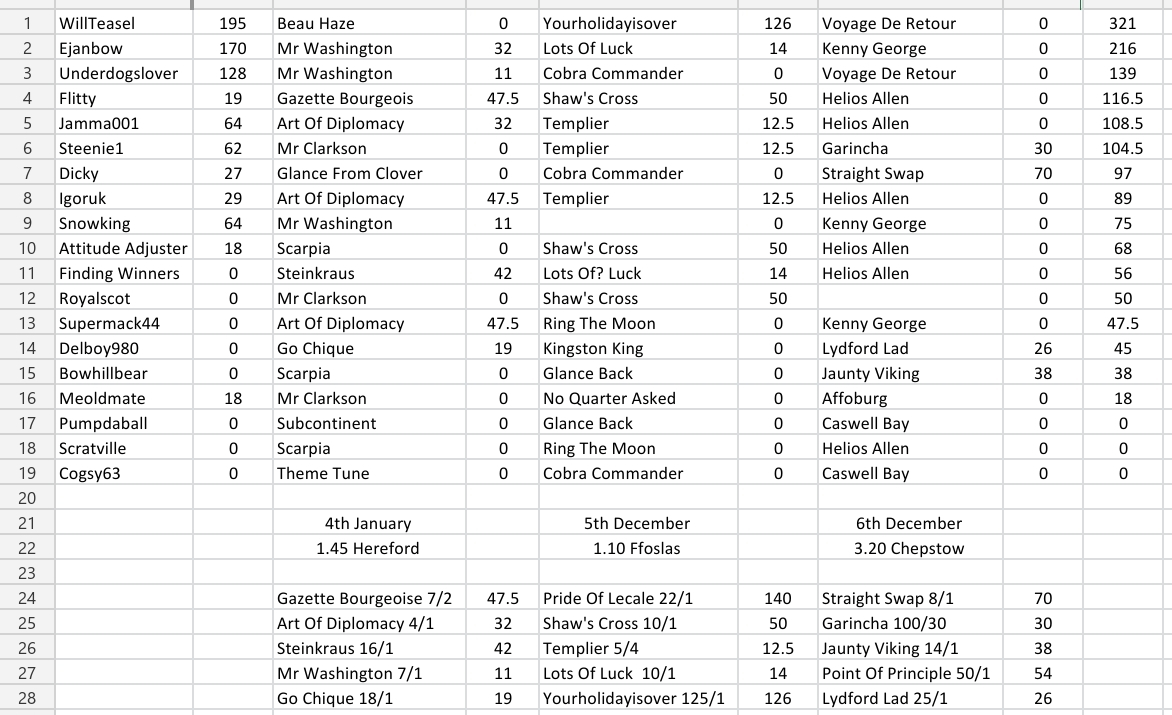 WillTeasel maintains his lead courtesy of a very good 125/1 5th place on the second day. I am still in 2nd place after two small scores. Nobody scored on all three days and we missed the biggest score but WillTeasel got the second best. Heavy ground playing havoc with the races with a few big outsiders coming in the frame.
Good luck all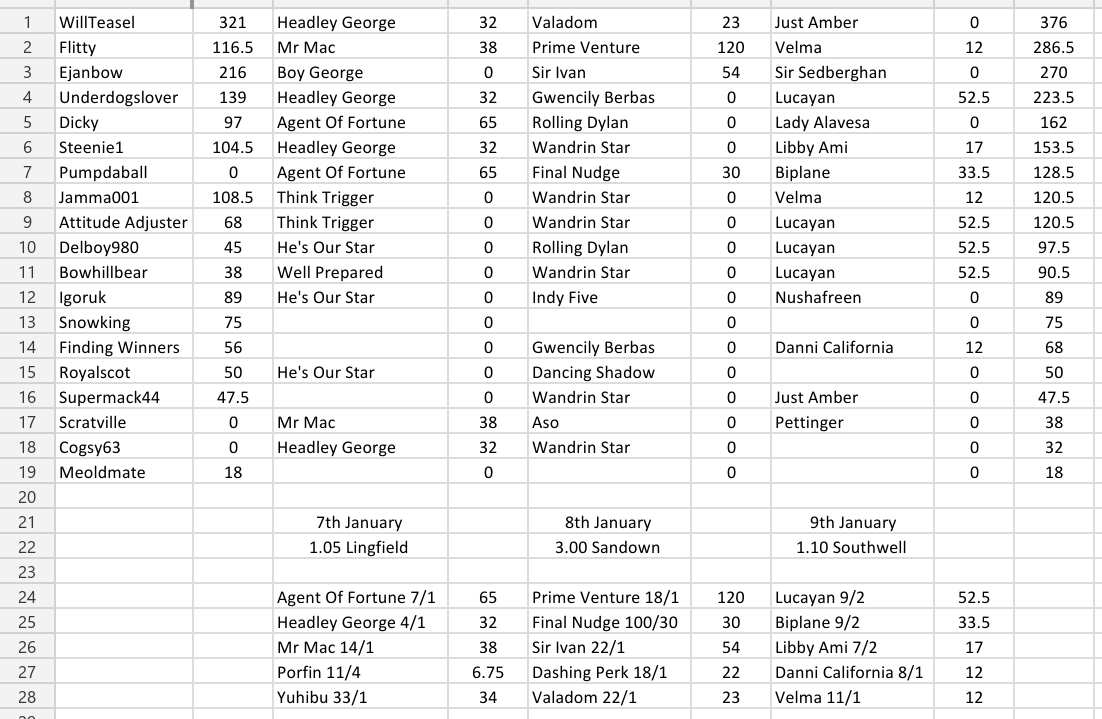 WillTeasel is still in the lead after scoring on two days but Flitty has overtaken me in to 2nd place after selecting the 18/1 winner of the Veteran Chase on the second day giving him 120 points which was the top score of the three days and was one of two to score on all three days with the other being Pumpdaball who had a win and two 2nds which boosted him up from one of the zero pointers to 7th place.
Good luck all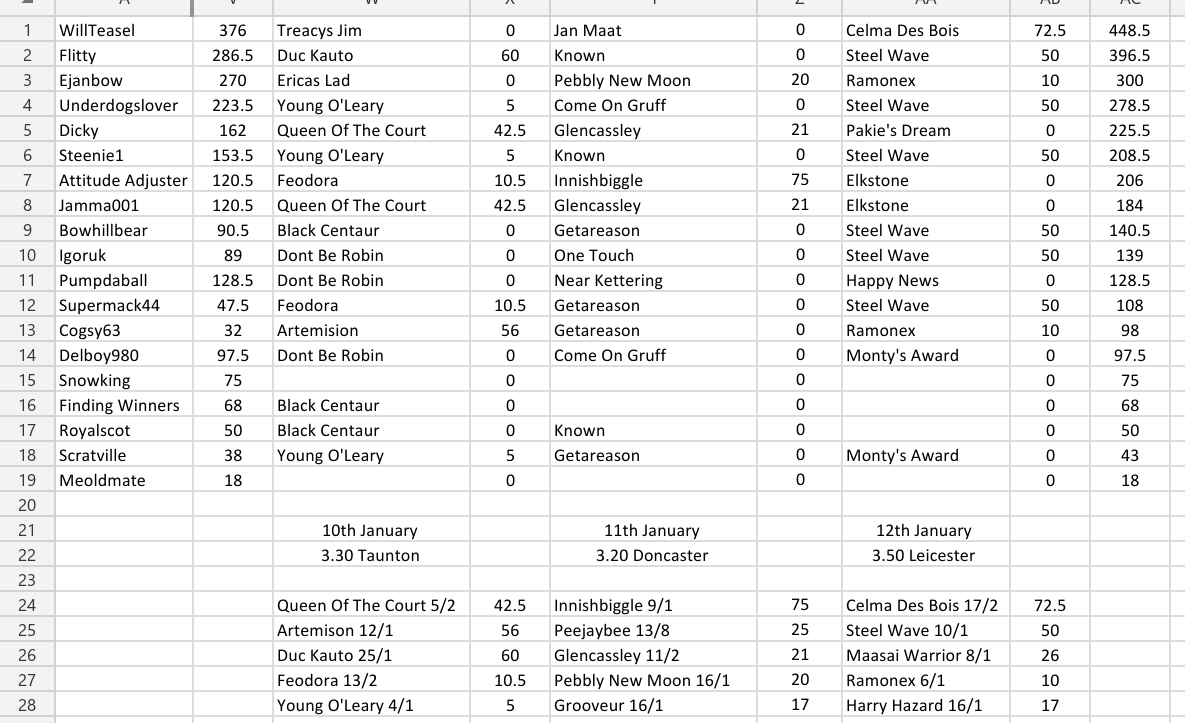 Flitty was starting to reel WillTeasel in after two good scores but WillTeasel put his foot down and shot off again courtesy of the third days winner. Attitude Adjuster got the biggest scorer of the three days with Innishbiggle on the second day and nobody scored on all three days but several scored on two days with Steel Wave being a popular choice on the last day scoring 50 points. Only three days to go.
Good luck all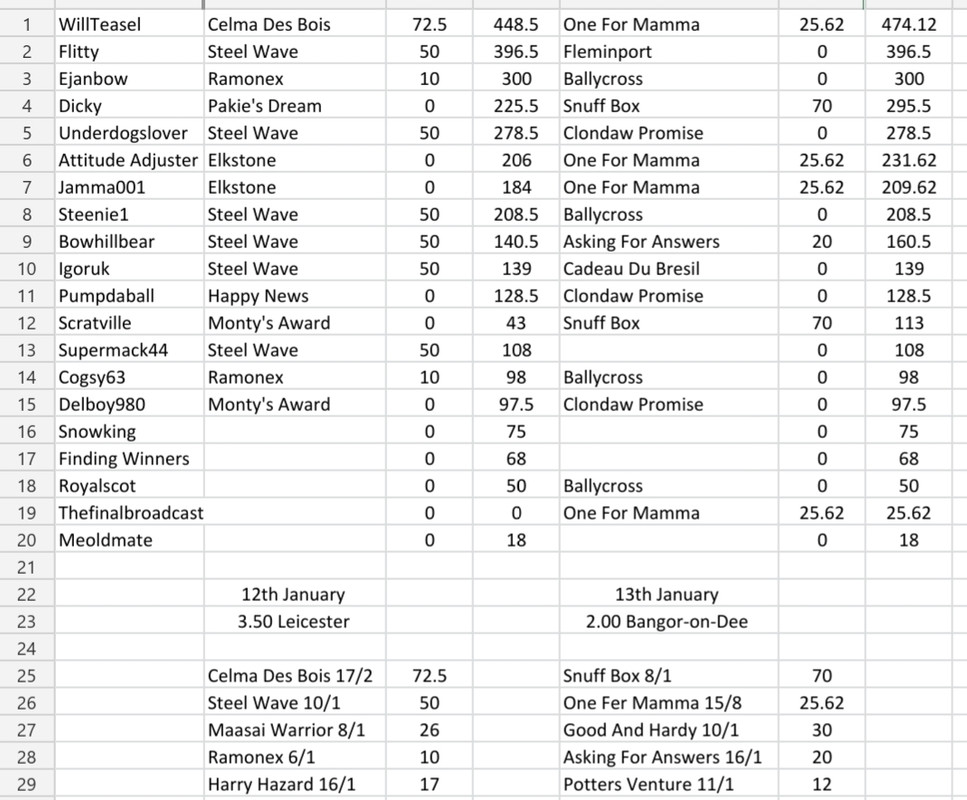 WillTeasel has gone another step towards securing the win in this race by selecting today's 2nd place and Flitty and I drew a blank and he is also heading towards the magical 500 points mark. Two players got today's highes points namely Dicky and Scratville to put Dicky into 4th place five points behind me
Good luck all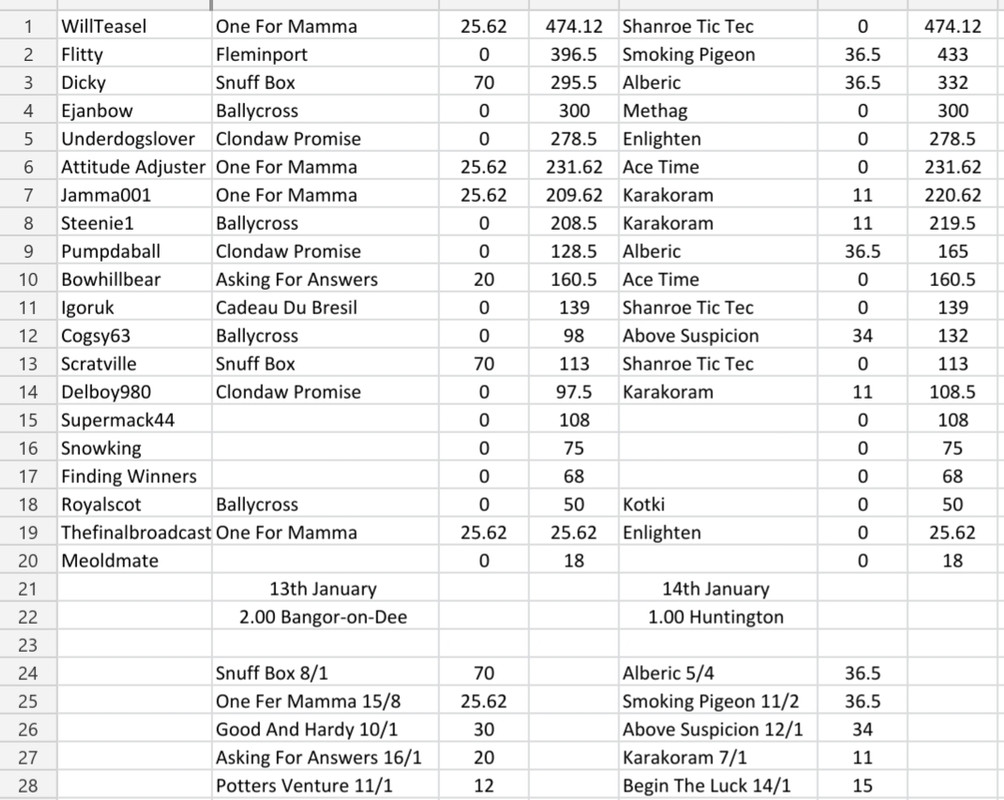 Flitty is creeping up on WillTeasel after scoring today making it an exciting race which could end up with a photo finish. Very close scores today with the top three places varying by a 2.5 points.
Good luck all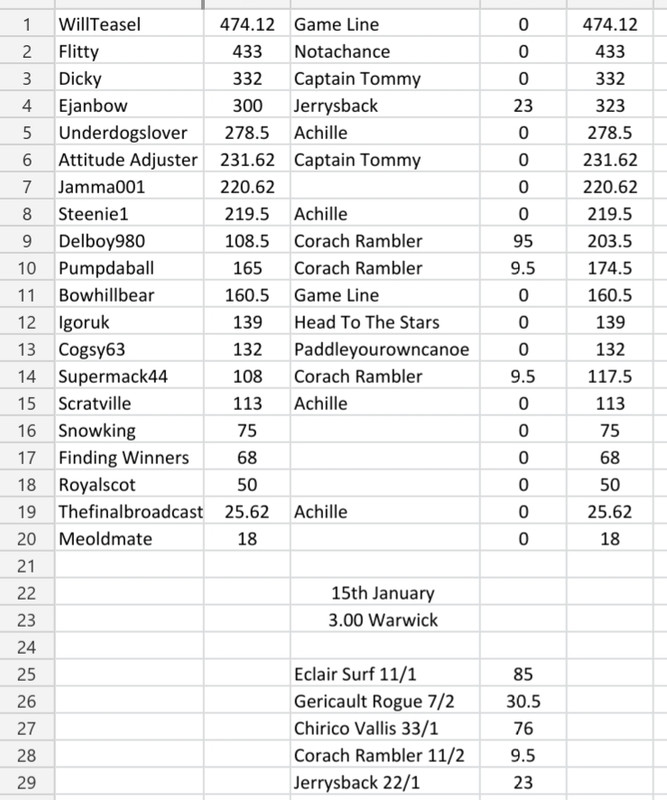 Congratulations and well done to WillTeasel on winning this race after being in the lead from the outset with a 33/1 winner on the 3rd day and a 125/1 5th on the fifth day and scored on six days of the race. Congratulations and well done to Flitty for coming 2nd after scoring on eight days including an 18/1 winner on the eighth day and finished 41.12 points adrift. Top score of the month also goes to WillTeasel with 195 points on the third day.
Thank you all for taking part and good luck for the next race