Very late to this but I generally don't care for the award any more. I've usually cared enough to put up what the odds were ante-post but this year, nope.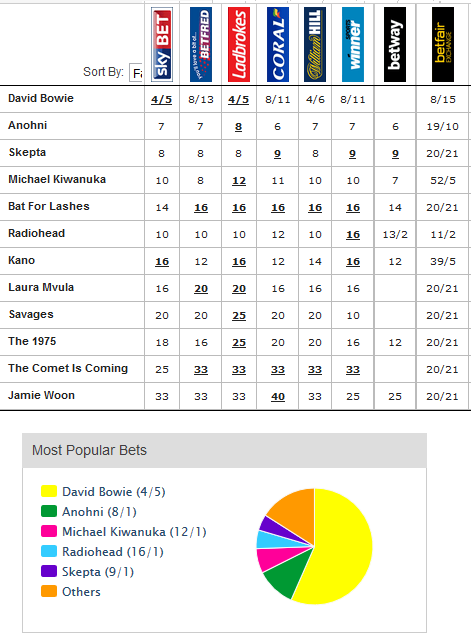 A fairly large amount of money collectively on David Bowie to become the first posthumous winner of the award but I can't quite see it even if there will be on the night, someone performing songs from 'Blackstar'.
It's the 25th anniversary so I suppose David Bowie winning wouldn't be out of the unusual with the last few winners generally being absolute duds (James Blake!? Young Fathers!? Benjamin Clementine!?) but I do suggest to keep a watching brief as to the odds. Occasionally more of a hindrance and red herring but sometimes gambles do land.
I'd be surprised if Anohni or Skepta (REALLY!?) were actual spoilers. I'd probably see Michael Kiwanuka (
Richard Osman's tip
as soon as the nominations were announced) or Bat for Lashes might provide the opposition instead.
David Bowie would be a very popular winner though (even if it goes against the general ethos of the award to reward unheralded acts that deserve a bigger platform and more attention) and I'm sure that the new sponsors Hyundai wouldn't mind the huge amount of press it would generate so betting wise, I'm keeping my money in my pocket as I'm thoroughly expecting the gamble on David Bowie to be landed but not so much that I'm putting any money on it.
If an upset occurs, I'm looking at Anohni, Michael Kiwanuka or Bat for Lashes to provide it.
http://www.bbc.co.uk/programmes/article ... -shortlist
http://www.redbrick.me/music/mercury-pr ... -reaction/
The winner will be announced at around 10pm on Thursday 15th September.