The surprise tonight was that was
NO
surprise.
http://www.digitalspy.com/tv/celebrity- ... e-evicted/
Ricky apparently got the most votes of the five. Lewis the fifth evictee then James the sixth evictee.
Another double eviction for Tuesday leaving six left for next Friday's final...the producers can weed out the ones they don't want to win then.
I wouldn't be surprised if all eight were up for eviction just to get rid of 'deadwood' like Frankie Grande, Aubrey O'Day and Katie Waissel. I wouldn't be surprised if they sneakily got rid of two of Ricky, Stephen, Renee, Marnie or Sam to make sure their 'chosen one' has a clearer path to victory either though.
Which storyline will we see!?
http://www.digitalspy.com/tv/celebrity- ... ion-twist/
Kneejerk reaction as to who the outright winner will be from the bookies...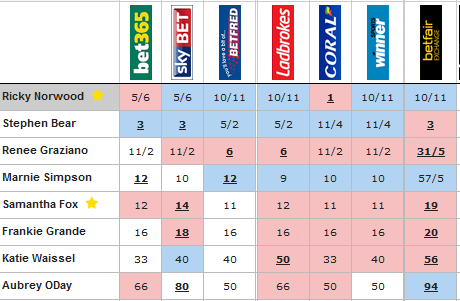 Haven't been paying too much attention but Stephen Bear seems to have his share of support if only in the betting. Marnie Simpson has been drifting but can the 'Geordie Shore' fanbase which is usually strong for these types of things propel her past say, Renee Graziano?