Legend

Posts: 12313
Joined: Sun May 04, 2008 11:00 pm
Location: RCT
---
Aye. Judge Rinder out losing to Ore. Now who's their chosen one!?

Always hate that neither on 'SCD' or 'TXF' can you have a go back at the judges/mentors without getting slapped down by the watching audience at home like you're supposed to take the nonsense that theses judges/mentors spout as valid criticism when most of the time it isn't.
---
---
Legend

Posts: 12313
Joined: Sun May 04, 2008 11:00 pm
Location: RCT
---
---
Legend

Posts: 15051
Joined: Mon Jul 31, 2006 11:00 pm
Location: Coventry
Last night i watched the SCD show with Zoe Ball and the 3 guests were past winners who when asked who they wanted to win chose Louise and Ore. Now if this is an indication of the public vote then the fav Danny Mac who most think is the best contestant may be in trouble, and may not win. The best price for Louise is 13/8 (
Betfair
) and after hearing those sentiments from the 3 past winners she may be the bet, or a dutch of her and Ore.
---
I would say putting my PC hat on that Danny Mac winning would be the first time that a non-white professional dancer has partnered a celebrity to a win. Ore Oduba would be another instance of BBC in-house talent triumphing but the first non-white employee to do so (Mark Ramprakash, Alesha Dixon and Louis Smith don't count).

Pity the Clifton siblings particularly Kevin who has been in the final numerous times without winning if that's the case but Oti Mabuse is likely never going to have a better chance of winning. Mind you, neither will Kevin Clifton.

From the lessons of last week's 'The X Factor' final, it seems those in the know are adopting the traditional 'Braveheart' stance and waiting until the last possible moment in that they can see the proverbial 'whites of their eyes' as it were as to who the chosen one is...if Louise is the chosen one then I'm surprised the odds haven't fallen through the floor in that's the only possible outcome. She certainly has been bet on though and Danny has drifted to 'evens'. It's only Wednesday so 72 hours or so to manipulate the odds.

Who's the better dancer? It doesn't matter and 'SCD' has arguably never been about that. The 'weakest' winner is, imho, Chris Hollins somehow beating Ricky Whittle...another case this year when someone from 'Hollyoaks' gets beat again!?

If Louise Redknapp wins then well done by all means. If the 'Hollyoaks' fanbase get their act together this time around for Danny Mac then it shouldn't even be a contest though.

If Louise goes odds-on then it's almost assuredly game over with Louise as this year's winner.

I'd be stunned if Ore isn't just the third wheel here and pulls off a stunning Darren Gough like upset to win though.

Past history suggests 'SCD' finals betting in-running can be fraught with red herrings such as when Abbey Clancy survived the melee against the apparent ringer Natalie Gumede (nobody from 'Coronation Street' will ever win this!) and morning favourite Susanna Reid where all three flip-flopped as to who was favourite to win.
---
Legend

Posts: 12313
Joined: Sun May 04, 2008 11:00 pm
Location: RCT
It's a difficult one all right. The conspricay theorists were banging on, on Saturday about Claudia (going out) and Danny (how could he ever be in the dance off!). I was even tweeted a petition to reinstate Claudia because of the so called injustice of it all!
I think it will be difficult for Ore to win because of the public backlash to the judges who were to have perceived to have kept him in by overmarking him last Saturday. Being in the Dance Off could have helped Danny as there was shock/horror on social media. I do like Louise though and think that she should win, but not sure if she will. She will get my votes on Saturday regardless. She's the one who has gone on the 'journey' as they say! There's no doubt who the better dancer is, but I don't think it's good for the show.
When it comes down to it, it depends where Claudia's votes go, if her followers bother. I don't think Ore will get them, Danny put her out, so I'm hoping for girl power!
Good Luck if you have a bet!
---
Hmmm. Darcey will be the head judge next year?
https://www.thesun.co.uk/tvandshowbiz/2 ... continues/
Odds from
William Hill
as to who'll be replacing Len Goodman.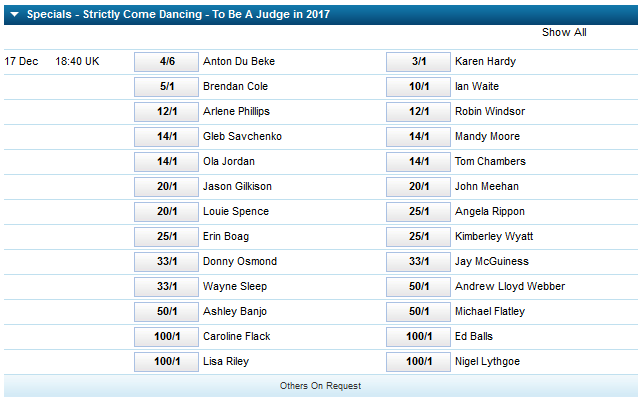 If it's Helen Richey then I'm surprised she hasn't been included in the odds by now. Hope they don't add two judges or something...it'll make it like 'Dancing on Ice'.
---
Legend

Posts: 12313
Joined: Sun May 04, 2008 11:00 pm
Location: RCT
I would go for Karen Hardy to replace Len on the panel and Bruno for Head Judge Stereoman. I'm not sure either will be right as in the betting, Anton looks to be favorite to become a Judge and Darcey the favourite to have the final respected vote.
Here's my thoughts on the Final
https://www.olbg.com/blogs/post.php?id=412049
to be updated once they dance, of course!
and the betting -
Danny Mac 1.66
Louise Redknapp 2.62
Ore Oduba 9
All with
bet365
Too close to call or do you have another insight?
---
The final odds:

Slight opposition for Danny Mac but if there truly was a difference of opinion, I'd have expected it to be firmer...it might become more apparent betting in-running but then again, it might not. Am surprised by some money on Ore Oduba.
Ladbrokes
have come up with a 'buzzword bingo' market because obviously they're bored.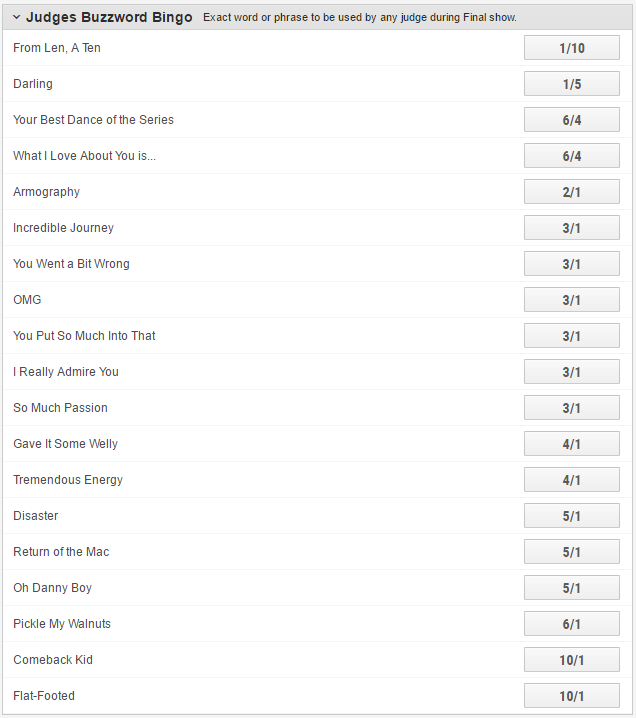 Danny's had to laugh off the 'drama school has given him an unfair advantage' accusations.
http://www.digitalspy.com/tv/strictly-c ... omplaints/
Both Joanne and Kevin want to win (duh).
https://www.thesun.co.uk/tvandshowbiz/2 ... g-rivalry/
---
Listed Class
Posts: 46
Joined: Thu Nov 17, 2016 5:26 pm
---
Who is online
Users browsing this forum: No registered users