Huh.
William Hill
have come up with odds as to who will take part in next year's series...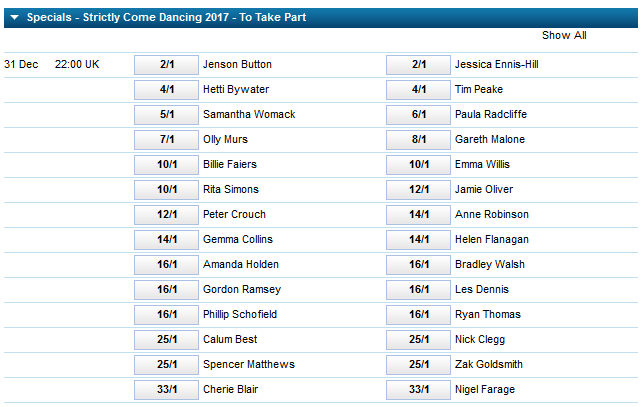 I think Samantha Womack could be worth a shot. She needs the money. Gone are the heady days of the 1990s where it was seemingly wall-to-wall Samantha Janus on TV. RIta Simons will be joining her in exiting 'EastEnders' next year so she's a lively outsider at 10/1. Hetti Bywater has been rumoured for like the last two years...her stint in 'EastEnders' is long gone. Will very probably be someone from the show but will it be any one of these three!? Meh...who knows!?
Jenson Button!? Rich enough not to do it. Jessica Ennis-Hill or Paula Radcliffe if either need the money. Tim Peake fever has um, peaked. Mostly everybody else who has mentioned is more than just a tad unlikely to appear with perhaps oooh, Helen Flanagan most likeliest....yes, she's back in 'Coronation Street' for a short stint but other than that she doesn't seemingly have a lot on her plate in 2017. Ryan Thomas was rumoured for 2016 but I think for whatever reason he's no longer in contention ever. Les Dennis fits the 'too old' guy that they always have on but will it be him?