BEST ACTRESS ~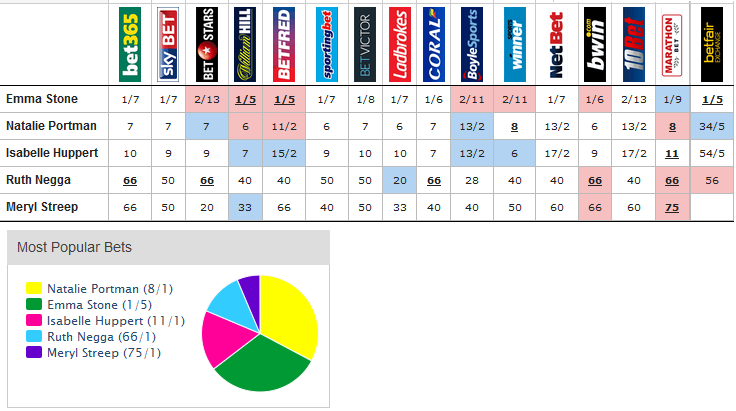 How much do you want to believe that Isabelle Huppert is the one to derail the apparent Emma Stone cold certainty here? A bit of nibbling here and there. I think you're wasting your money backing Natalie Portman as
she ain't turning up as she's pregnant
...I highly doubt she 'Butterfield 8s' (Elizabeth Taylor had an apparent sympathy vote for having a tracheotomy due to pneumonia and couldn't attend beating out the likes of Shirley Maclaine in 'The Apartment') her way to an absentee win.
I think the Isabelle Huppert gamble is merely 'hopedicting' and that Emma Stone isn't that divisive despite 'Aloha' and the apparent and slightly cheekily vindictive narrative of her being a 'white saviour' in both 'The Help' and now 'La La Land'.
USELESS STATISTIC: The Best Actress winner hasn't been in a Best Picture winner since Hilary Swank in 'Million Dollar Baby'.
https://en.wikipedia.org/wiki/Academy_A ... st_Actress
VARIETY PICKS: Emma Stone - 'La La Land'.
AWARDS CIRCUIT PICKS: Emma Stone - 'La La Land'
STEREOMAN PICKS: Emma Stone - 'La La Land'
http://www.awardscircuit.com/oscar-pred ... t-actress/