How the incredible 9-fold accumulator sent out on e-mail for free by OLBG bashed the bookies on Saturday
On Saturday OLBG Weekend 100/1+ Multi-Sport Acca email subscribers went on an 8-hour rollercoaster ride to bookie bashing heaven
A great day for punters following OLBG's new sports betting tips acca with 9 winners from 9 tips and an 184/1 Acca!
OLBG has built up thousands of knowledgeable sports bettors who compete in tipster competitions to win cash prizes. The records of the tipsters are analysed, forming a pool of expert tipsters for each sport.
The best of the best tips from OLBG are then used to suggest tips to followers. As many followers like to try and land a bit bet, OLBG suggests a weekly all sports acca at 100/1 or more.
Just one week after missing out on a 100/1 + acca by one goal, OLBG tipsters landed all 9/9 tips in last weekends 184/1 Acca! This is how the story unfolded…
The amazing roll-up bet consisted of 9 selections chosen from the most profitable and consistent OLBG Tipsters and included
4 Football Bets

4 Horse Racing Bet

1 Olympic Tennis bet
Time line of events
12:06 – The Email lands in subscribers inboxes for free.
14:59 – Subscribers have placed their bets and the first events are getting underway..
15:00 – Carlisle v Plymouth (home win) – Burton Albion v Bristol City (Over 2.50 goals) get underway.
15:37 – Carlisle take the lead at home to Plymouth.
15:44 – Bristol City take the lead at Burton Albion, but the bet needs at least 2 more goals in the game.
15:45 – Half time in the football and no sign yet of what is to come.
15:50 – The first of the horses run at Newmarket, the aptly named RICH AND FAMOUS lands the victory.
16:00 – Andy Murray begins his match with Kei Nishikori at the Olympic in Rio.
Things started to go a little bit crazy...
16:45 – 2 minutes to go between Burton and Bristol and the score remains 0-1 – the bet looks like it's going down with 2 goals required in 2 minutes.
16:46 – Burton Albion equalize – 1 minute left of normal time, could this possible happen.
16:47 – Referee at Burton awards 5 additional minutes, in the meantime, they are about to off at Doncaster for the next horse race.
16:50 – FIDAAWY wins at Doncaster for the 2
nd
horse racing bet to land.
16:51 – Carlisle v Plymouth – FULL TIME and Carlisle have won.
16:52 – Incredible scenes as Bristol City score a winner in the 4
th
minute of injury time at Burton and in doing so, score the 3
rd
goal of the game and land the next leg of the accumulator.
17:00 – Andy Murray is 2 sets up and cruising to victory at the Olympics.
The first tweet arrives from excited subscribers
17:15 – 5 of the 9 bets have landed, all remains on 2 more horses and two more football matches.
17:30 – Manchester City v Sunderland Kicks off – We need a Man City Win.
17:33 – Man City are awarded a penalty.
17:34 – Aguero steps up – Scores – City Lead!
17:45 – E-mail subscribers start to take to Twitter – Cash out or let it ride?
18:15 – Half Time at the Etihad, City still lead – Sporting Lisbon kick off.
18:20 – a 3
rd
winning horse racing bet as MY DIRECTION win in Ireland at Tramore.
18:35 – the 4
th
and Final Horse Racing selection wins at Lingfield ETERNALLY has got everyone's pulse racing – Just wins for Manchester City and Sporting Lisbon now will land this 184/1 accumulator.
18:37 – 2 minutes later – Sporting Lisbon score – If nothing else changes the 9 fold at 184/1 is going to land.
Cash out screens were starting to look a little tempting - Too tempting for some!!
18:40 – A few follower's hearts have had enough, they have cashed out, not wanting to rely on the final football matches.
18:56 – Just 16 minutes later, those that cashed out might have made the right call as Sunderland equalize.
19:00 – Half Time in Portugal Sporting Lisbon hold a 1-0 lead.
19:11 – 3 minutes left in Manchester City v Sunderland, and those cashing out are thanking their lucky stars. It remains 1-1 against Sunderland.
19:12 – Manchester City score the winner with no time for Sunderland to reply – 8 winners now in the 9 bet accumulator - It's all down to Sporting Lisbon in Portugal but they have only a slender 1 goal lead.
Another tipster bails with huge profit from small stakes
19:16 – Sporting Lisbon score a second one minute after the restart and it looks like nothing can stop the huge accumulator rewarding OLBG Email Tips followers.
20:00 – The celebrations begin – Sporting have won 2-0 and OLBG Email Tips subscribers have landed at 184/1 9 fold accumulator.
Here is the Acca as delivered by Email in its full Glory. If you want to be on the next Weekend 100/1+ Multi-Sport Acca or our Daily Horse racing and football four folds,
Click here to subscribe
and you will begin receiving the emails daily to your inbox
If you want to unsubscribe at any time, simply choose which you want or don't want by checking and un-checking the boxes

How Do I Get OLBG Tips?
All the tips at OLBG are completely free. Anyone can check out tips across a variety of sports and markets on the site or in the app.
http://www.olbg.com/app/
From more than 500 app store reviews the OLBG app has an average rating of over 4.5/5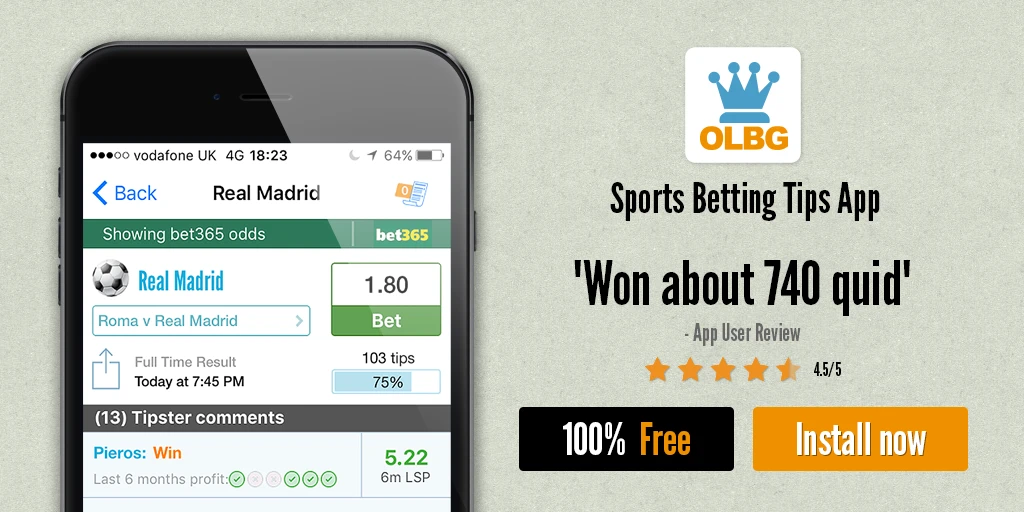 What about the email alerts?
Daily football and racing 4 fold alerts are also available. To get the acca email alerts you simply need to register your email address by visiting the site
here
. If you have any problems please email
support@olbg.com
and ask to be added to the list.